Bizarre Interior Map with Walkthrough - Wasteland 3
Detailed, revealed and described Map with Walkthrough for Bizarre Interior Location in Wasteland 3 Video Game with Missons Starters and Quest Steps, NPCs, Skill Use, Skill Books, Cassette Tapes, Creepy Dolls, Animal Companion, Weapons, Armours, items, Secrets and Companions, Wasteland 3 Maps & Walkthrough.
Bizarre Interior Map Wasteland 3
Map of Bizarre Interior in Wasteland 3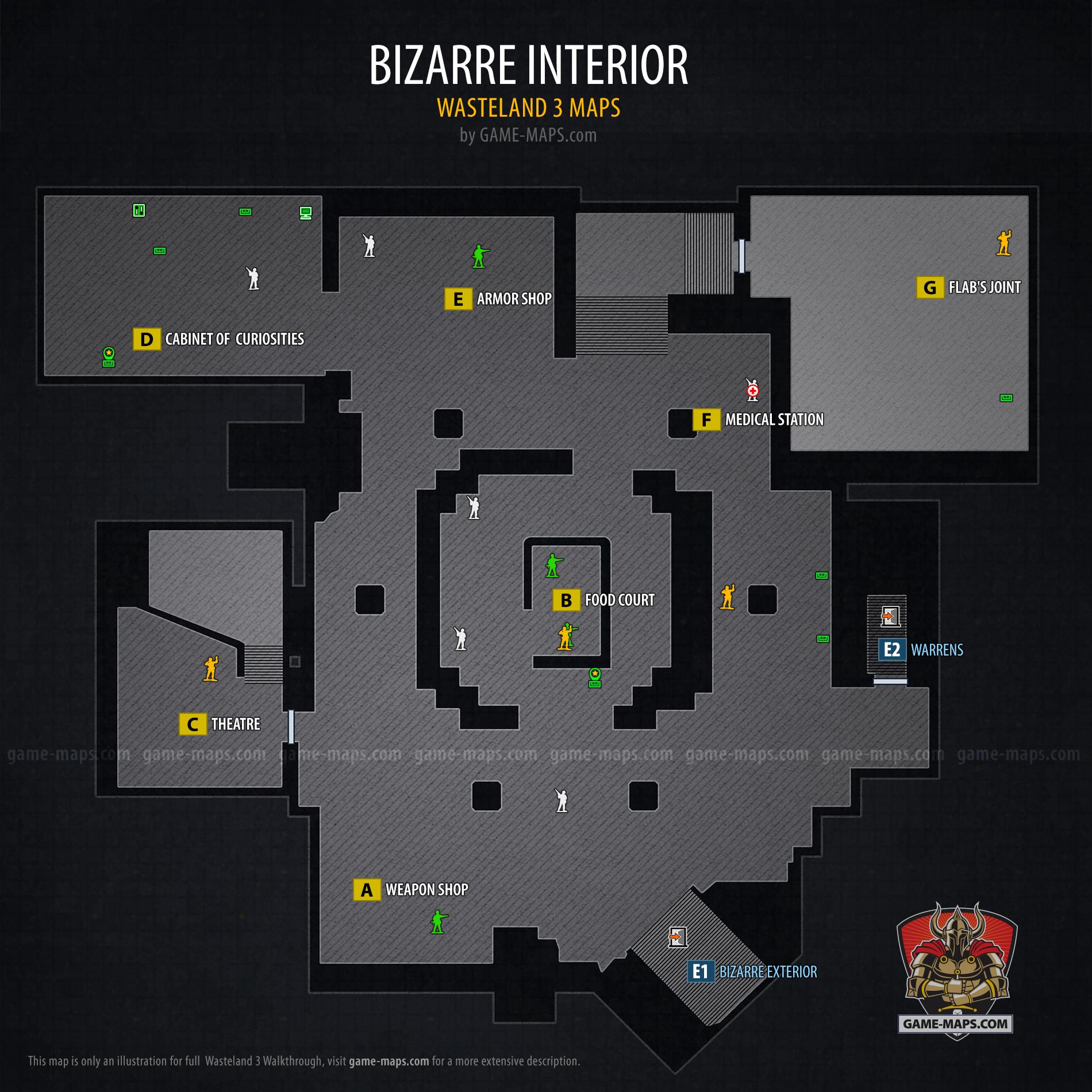 Bizarre Interior
Walkthrough Wasteland 3
Bizarre Interior is located below Bizarre Exterior in The Bizarre.
You can enter here during the mission Knock, Knock from Ananda Rabindranath in Bizarre Exterior.
The main goal of staying in Bizarre Interior is to complete Unwelcome Guests Mission. The next task is to receive a quest about Warrens.
Exit to Bizarre Exterior
After you enter Knock, Knock
See cutscene and get mission.
A Nightmare in the Bizarre A Nightmare in the Bizarre Mission. Level 6 - Secondary Mission
Someone is terrorizing the Monster Army and the inhabitants of the Bizarre.
Talk to the person in charge of The Bizarre.
Something strange is going on in the Bizarre, but the Monster Army seems to be trying to keep it quiet. We should talk to their boss.
Simon the Squatch
We were told to speak with Flab, the leader of the Bizarre. He's up the stairs at the far end of the main floor.
Weapon Shop
The Sanctified Piscitelli (shop) Modder's Kit Weapon Modding +1 and Armor Modding +1, some nice weapons and amo.
6 for small reward
Food Court
near Masato Noodles Ad
Masato (shop)
My Body Requires This My Body Requires This Mission. Level 7 Secondary Mission
Masato is obsessed with finding a package of pre-war Ramen Noodles, so he can reverseengineer the magic recipe of the beforetimes. [Reward: Ranger HQ mess hall recruit]
Search the Warrens for Ramen Noodles.
Masato asked us to find a package of pre-war ramen noodles. He thinks we might be able to find one somewhere in the Warrens below the Bizarre.
After this mission Masato may be recruited as a Chief into the Mess Hall in Ranger HQ
Pareidolia Jones talk to her about "refugees need transport to Colorado Springs" [300 Dolars] or 7 or 6 or use Rubber Ducky from Bizarre Exterior.
Find someone in The Bizarre who can help the Refugees reach Colorado Springs.
Pareidolia Jones, a caravan master at the Bizarre, is willing to transport the refugees to Colorado Springs... for a price.
Have a talk with Mama Cotter in Downtown Colorado Springs.
According to Carmen, a woman named Mama Cotter hired the smugglers to illegally sneak refugees into Colorado Springs. She was supposed to meet the refugees near the city gate. We should find her there and confront her.
Pareidolia Jones transported the refugees safely to Colorado Springs.
Long John he is hiding Synth.
With Ironclad Cordite in team you can "[Bait Long John outside] ...", Long John will be waiting for you in Bizarre Exterior, Parking Garage [C].
Bartender Finn
Randy Gett
Thicker than Water Thicker than Water Mission. Level 7 - Secondary Mission
Randy Gett, an experienced mechanic, wants our help saving his family from kidnappers. [Reward: Randy Gett recruited to Ranger HQ garage]
Travel to the Gett Family Homestead and free the family.
Randy Gett showed us where his family homestead is located. Once we get there, we'll need to negotiate with or eliminate the kidnappers.
Theatre
Eidilon talk to her about movies.
Cinéma Vérité Cinéma Vérité Mission
The Chix Flicks theater has only been at the Bizarre for a few years, yet their material is already growing stale, and its stars bored. Eidilon wants our help finding some fresh content. [Reward: $250, Guitar Ornament]
Find the old Monster Army Bunker and the Movie Reels inside.
Eidilon told us about an old Monster Army bunker that was abandoned years ago. She believes we can find the old film reels the gang used to watch there. If we can find them, she can use them as a basis for new shows.

After Monster Army Bunker
Talk to Eidilon and give her Movie Reels
Cinéma Vérité
Eidolon has the remains of the reels and some big plans for Chix Flicks.
Cabinet of Curiosities
Quarex
Problem with recruiting Quarex
Quarex is potentially a character you can recruit to Ranger HQ as help from the Museum. You cannot do it now, you will be able to recruit him after you complete Quarex's Hellacious Journey Mission for him. This is where the problem begins ...
I couldn't logically understand at which point in the story I should talk to Quarex again.
Now the game is your first time in Bizarre Interior, you will have many dialogue options with him, but they end and I never learned anything from him again.
Possible variants of talking to Quarex again
Clear all Warrens at first visit - thats what i do. I dont get Quarex's Hellacious Journey Mission. After we have finished touring all of Bizarre and Warrens and return to Colorado Springs to complete the Unwelcome Guests Mission, Charley Knowes will call us by radio and give us A Very Hostile Takeover Mission. This mission is to take control of Bizarre. During it, you can take the side of Monster Army or Cartel. I sided with Monster Army and Quarex was quiet, said nothing new.
Do not enter Warrens before finish Unwelcome Guests after Bizarre Interior return to Colorado Springs to complete the Unwelcome Guests Mission, then you should get A Very Hostile Takeover Mission. Then go to Warrens, maybe Quarex will be inside
Ally with Cartel in A Very Hostile Takeover Mission take the side of Cartel, there will be chaos in Bizarre and maybe then Quarex will need our help. You will meet him again in Warrens and he will give you the Quarex's Hellacious Journey mission there. And this is probably the only way to get this mission
Don't take anything from Cabinet of Curiosities don't open a Container or steal weapons from the showcase. Do not deal with this topic until you finish A Very Hostile Takeover Mission
Other in Cabinet of Curiosities
Take tour with Quarex for Pre-Apocalyptic Tourist Achievement.
[Steal] Mega Scope Sniper Rifle
6
Storage Unit 105 Key you can use it in Warrens, Quarex Tape
Tarjan Machine and Tarjan Tokens
Tarjan use Tarjan Tokens
By throwing Tarjan Tokens into the machine, the character that does this has a random chance for a permanent or temporary bonus.
List of bonuses you can get from Tarjan
Cunning of Tarjan - Temporary Experience Bonus +25%
Eye of Tarjan - Cold Resistance +1% and +2 to Penetration
Fortune Cookie - Permanent +15 Constitution
Lightning Strikes Twice - 100% Critical Chance in next 5 attacks
Magic Fingers - Temporaty Barter +1
Precognition - Permanent +10% Evasion
Location of Tarjan Tokens
Ranger HQ - Mess Hall - Toaster 3
Old Survivalist Bunker - Toaster 6
Union Station Bunker - Toaster 6
Corridor in between Playground and Diner in Warrens 5
Armor Shop
Gwyn Talbot (shop)
Paris Handler
Medical Station
Dr. Cold Cuts (medic)
Flab's Joint
Flab the Inhaler
Investigate the Warrens.
Flab the Inhaler, leader of the Monster Army, wants us to investigate whoever has attacking his people from the Warrens. [Reward: The Drill Sergeant's Phrase Book, $666]
There is a safe in the room, but you can't open it without conflict with Monster Army. This will be possible later in the game if you decide to take over Bizarre together with the Cartel.
Warrens
Go now to Warrens using E2 Entrance
After clearing Warrens
Food Court
Masato give him Ramen Noodles from Warrens
My Body Requires This
We handed the ramen noodles over to Masato. He was incredibly excited to experiment with them.
Now we can ask Masato to become chief in mess hall in Ranger HQ
Flab's Joint
Flab the Inhaler
A Nightmare in the Bizarre
Flab thanked us for eliminating the circus of horrors.
+15 Rep. +1 Rep.
The Drill Sergant's Phrase Book Permanently Hard Ass +1 for one character

After Thicker than Water Mission
Tell Flab that you Randy Gett recruited to Ranger HQ +1 Rep.
Return to Bizarre Exterior
For A Very Hostile Takeover Mission.
Flab's Joint
Flab the Inhaler warn him from The Cartel attack
Meet the Cartel in the ruins outside the Bizarre.
We told Flab about the Cartel plan, and he offered us a reward if we side with him instead. He wants us to eliminate the Cartel.
Now go to Dealership Hideout [H] in Bizarre Exterior to deal with The Cartel.

After defeating The Cartel
A Very Hostile Takeover
We let Flab know we wiped out the Cartel goons, and he gave us our compensation.
+15 Rep. and some money.
For Head Hunter Mission.
Food Court
Alfredo Garcia 1 to make him return to Cannibal Jamboree