The Provost and Mysterious Cave Map with Walkthrough - Wasteland 3
Detailed, revealed and described Map with Walkthrough for Mysterious Cave Location, The Provost Secret, Illuminati and the darkest conspiracy in Wasteland 3 Video Game with Missons Starters and Quest Steps, NPCs, Skill Use, Skill Books, Cassette Tapes, Creepy Dolls, Animal Companion, Weapons, Armours, items, Secrets and Companions, Wasteland 3 Maps & Walkthrough.
Mysterious Cave Map Wasteland 3
Map of Mysterious Cave in Wasteland 3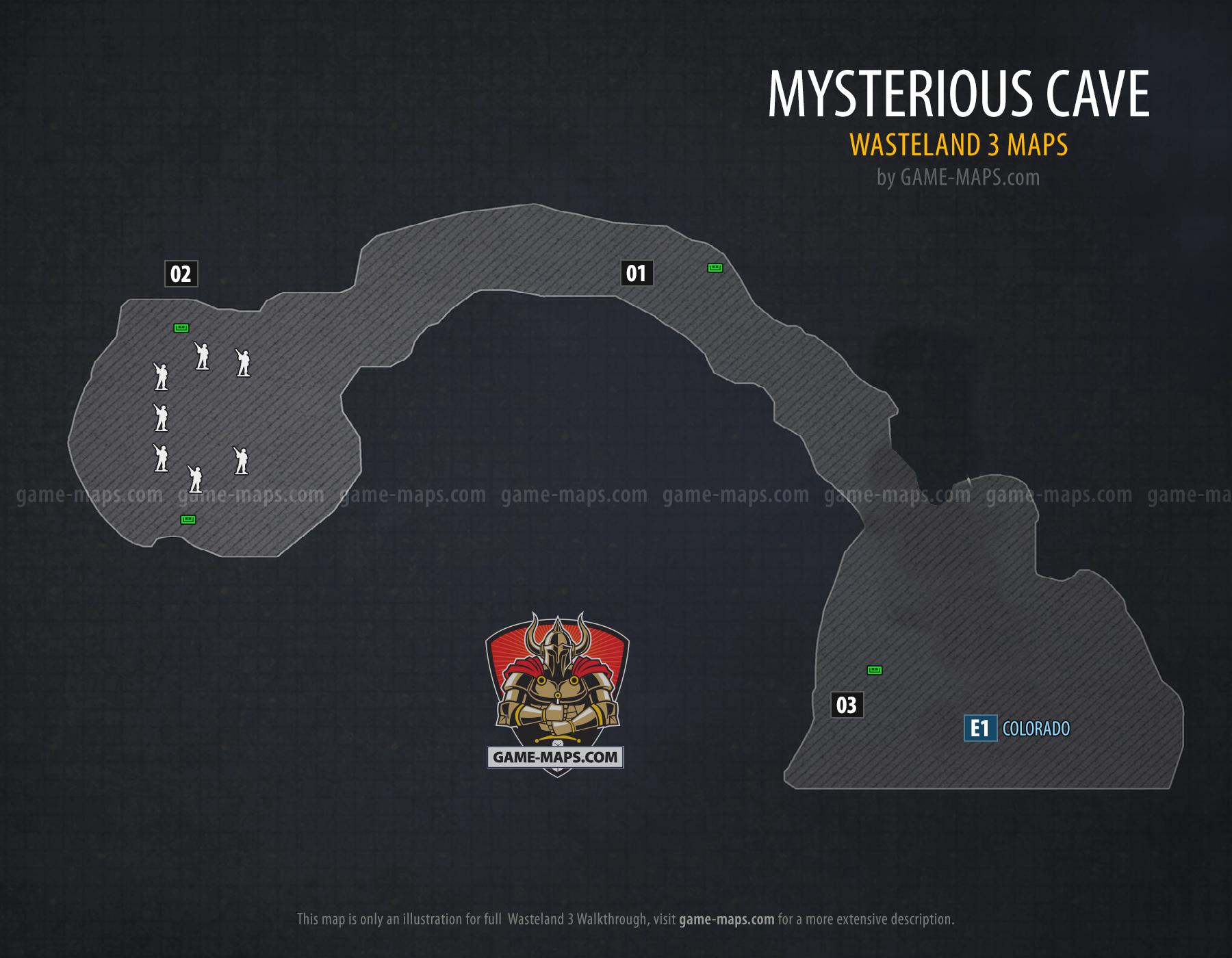 The Provost and Mysterious Cave
Walkthrough Wasteland 3
Mysterious Cave is located in far north west side of Colorado.
The Mysterious Cave location is the ending and solution to the mystery of The Provost, the character you meet in Wasteland 3.
Warrens
You meet The Provost for the first time in Warrens Warrens Map, in locked room 107.
You'll find the key to this room in the safe in the Warrens Chapel, or if you want to open the door of room 107 without the key, you'll need an 7.
If you open Room 107 and talk to The Provost, he will follow your team throughout the game. You will not have control over him, he will help you in the fight, but you'll have to make sure The Provost doesn't die, which will be difficult sometimes.
So you can keep Room 107 closed for now and come back when you're ready to travel to the Snowed Inn Resort.
This give you Quid Agit?! Achievement in Wasteland 3 - You found the Provost.
Snowed Inn Resort
If you are ready to continue your adventure with The Provost, make sure he follows your team and take him to Snowed Inn Resort.
In Right Cabin you will find Toster to repair, you will need 7 and inside is Owl of Minerva.
When The Provost sees you found Owl of Minerva, he will react and mark the location of the Mysterious Cave for you on the Main Map.
After exiting Snowed Inn Resort, follow the western edge of the map north until you reach Mysterious Cave.
Mysterious Cave - Hearth of a Mountain
Enter inside
Corridor in the cave
I found here Street Cleaner 72-105 damage.
The Circle
You see a circle of seven Knight Kadosch, the last eight is clearly missing. The eighth is The Provost which we brought with us.
When the circle is closed, the mysterious characters disappear and you receive: Illustratio Perk which gives you Perception +1.
This also give you Illuminati Achievement in Wasteland 3 - You uncovered the darkest of conspiracies.
In containers I found Power Armor Armor +21 (requires 8 Strenght), Plasma Grenade
Outside Cave
In the ground outside cave I found Purifier 83-122 damage
And so you solved the mystery of The Provost, the Illuminati and the darkest conspiracy.