Garden of the Gods Map with Walkthrough - Wasteland 3
Detailed, revealed and described Map with Walkthrough for Garden of the Gods Location in Wasteland 3 Video Game with Missons Starters and Quest Steps, NPCs, Skill Use, Skill Books, Cassette Tapes, Creepy Dolls, Animal Companion, Weapons, Armours, items, Secrets and Companions, Wasteland 3 Maps & Walkthrough.
Garden of the Gods Map Wasteland 3
Map of Garden of the Gods in Wasteland 3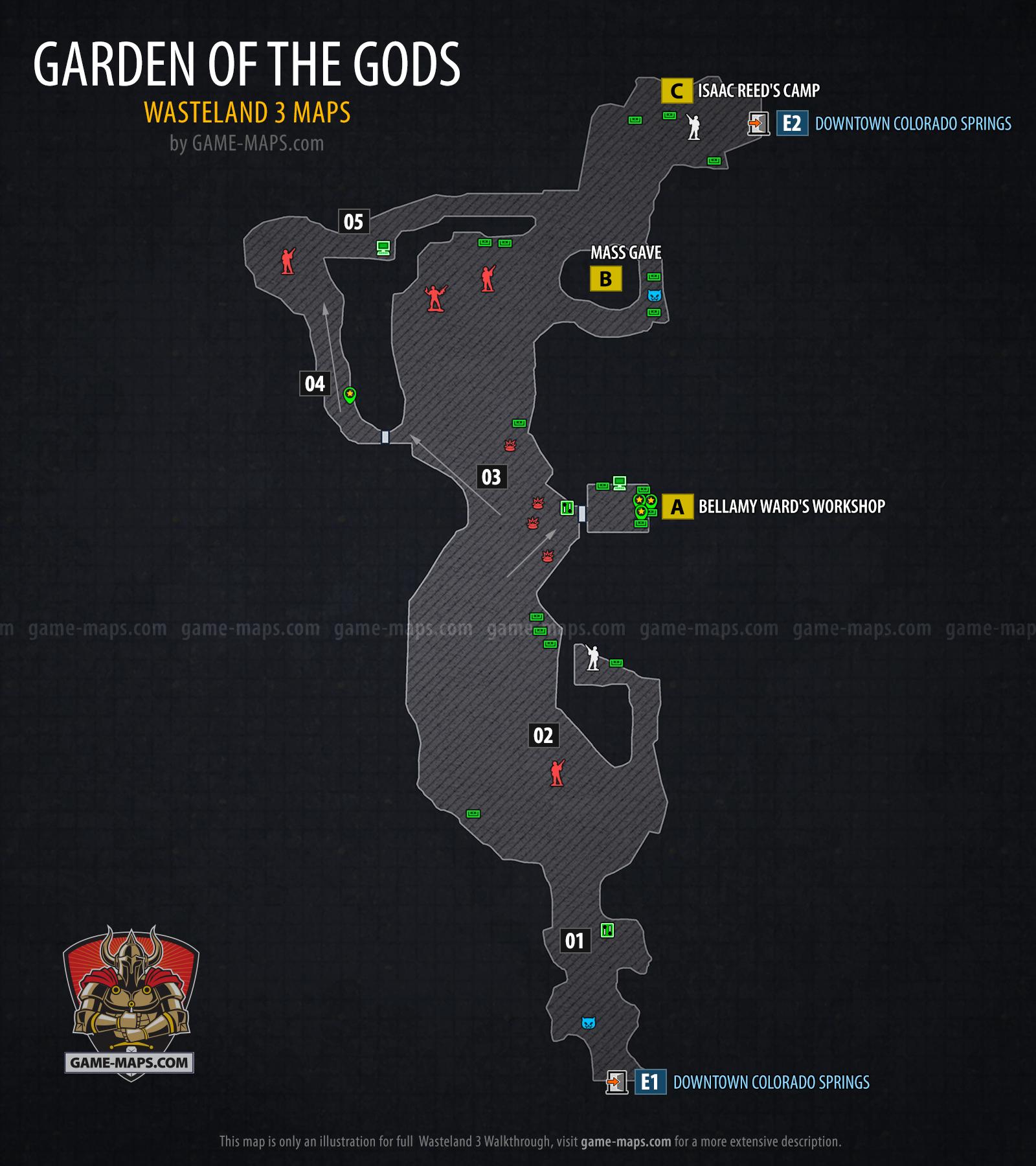 Garden of the Gods
Walkthrough Wasteland 3
First visit in Garden of the Gods
You arrive at the Garden of the Gods to finish Cornered Rats mission from Downtown Colorado Springs.
Exit to Downtown Colorado Springs
Bellamy Ward He calls you on the radio and asks for help. Offer him to help +1 Rep..
Chicken Experience Bonus +3%
Swith use it to melt ice near, take some stuff.
Dorseys and Bellamy Ward
Dorseys
The Dorseys are trying to kill Bellamy Ward, you must hurry as they may succeed. But don't fight them, come and talk.
Get them to surrender 4 or 4 if you fail, there is a fight.
If they surrender [Arrest] them and send them to Ranger HQ. You will lose nothing on this, all mission conditions will be met. +1 Rep.
Bellamy Ward talk to him.
Bellamy Ward's Workshop
Fix 2 to open gate.
Open 1 nice weapons and Kumite: A History Permanently Brawling +1 for one character, Bellamy Test #110 and Razor Box very powerful weapon mod.
Take Dynamic Cross-Photon Matrix it helps you at [05]
Computer To get the electricity needed to start the computer, place one of your characters on a square platform shining on the sides, and with the other character turn on the computer.
Play "Bellamy game" then use 3 to open open it, inside some regular stuff.
Don't go straight towards your opponents. Turn left into the secret passage.
Dig Keen Karen (Team Perception +1) from under the snow.
P.A.L. Controller
Console use it.
Install Dynamic Cross-Photon Matrix taken from [A]
Adjust photon collection amount
Increase photon collection to its highest level
Activate Photon Amplification Lens
... and fire from heaven will flood your enemies.
Dorseys kill all enemies.
Mass Gave
Examine Grave and talk with Lucia Wesson in your team.
Cyborg Chicken you will need 4 to tame it and take her to Ranger HQ [02] - Cyborg Chicken Farm.
Isaac Reed's Camp
Isaac Reed talk to him.
Dont allow Lucia Wesson to kill them, and neither do you kill them.
Arrest them and send to Ranger HQ
Return to Sheriff Daisy in Downtown.
We wiped out the Dorseys in the Garden of the Gods and learned that Faran Brygo may have been working with them. We should head back to the Marshal station in Downtown and inform Sheriff Daisy.
Exit to Downtown Colorado Springs