Privacy Policy
What personal data does game-maps.com collect?
Game-maps.com does not collect any personal data and does not use cookies.
And will not do so in the future, you are completely anonymous to us.
What are cookies?
To make site work properly, sometimes small data files called cookies are placed on your device. Most websites do this too.
A cookie is a small text file that a website saves on your computer or mobile device when you visit the site. It enables the website to remember your actions and preferences over a period of time, whenever you come back to the site or browse from one page to another.
What third-party cookies will you find on game-maps.com?
Advertising cookies
Third-party companies use ad objects to place cookies on your device to better manage the ads you see.
You have complete control over these cookies.
To set your preferences, select the "Privacy" object located in the lower right corner of the screen. It looks like this: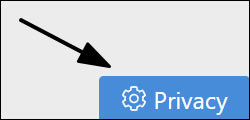 When you select the "Privacy" object, the "We value your privacy" panel will open. On this panel, select "ACCEPT ALL", "REJECT ALL" or set the preferences according to your needs.
Close the panel by selecting "SAVE & EXIT", your preferences will be saved for future use.
Google Analytics
This website uses Google Analytics, a web analytics service provided by Google, Inc. Data collection for Display and Search Remarketing or User-ID feature are not enabled on game-maps.com
Google AdSense
This service is needed to display ads on this site. Google will show only non-personalized ads to users in the European Economic Area. No personalized data will be stored for EEA users. Cookie is required to remember this functionality.
Disqus
This service is for site comments. We are not displaying disqus.com ads. You can Opt Out from collecting informations by Disqus using this link Disqus Opt Out. Cookie is required to remember this functionality.
How to control cookies
You can control and/or delete cookies as you wish on www.youronlinechoices.com.