Godfisher Windfarm Map with Walkthrough - Wasteland 3
Detailed, revealed and described Map with Walkthrough for Godfisher Windfarm Location in Wasteland 3 Video Game with Missons Starters and Quest Steps, NPCs, Skill Use, Skill Books, Cassette Tapes, Creepy Dolls, Animal Companion, Weapons, Armours, items, Secrets and Companions, Wasteland 3 Maps & Walkthrough.
Godfisher Windfarm Map Wasteland 3
Map of Godfisher Windfarm in Wasteland 3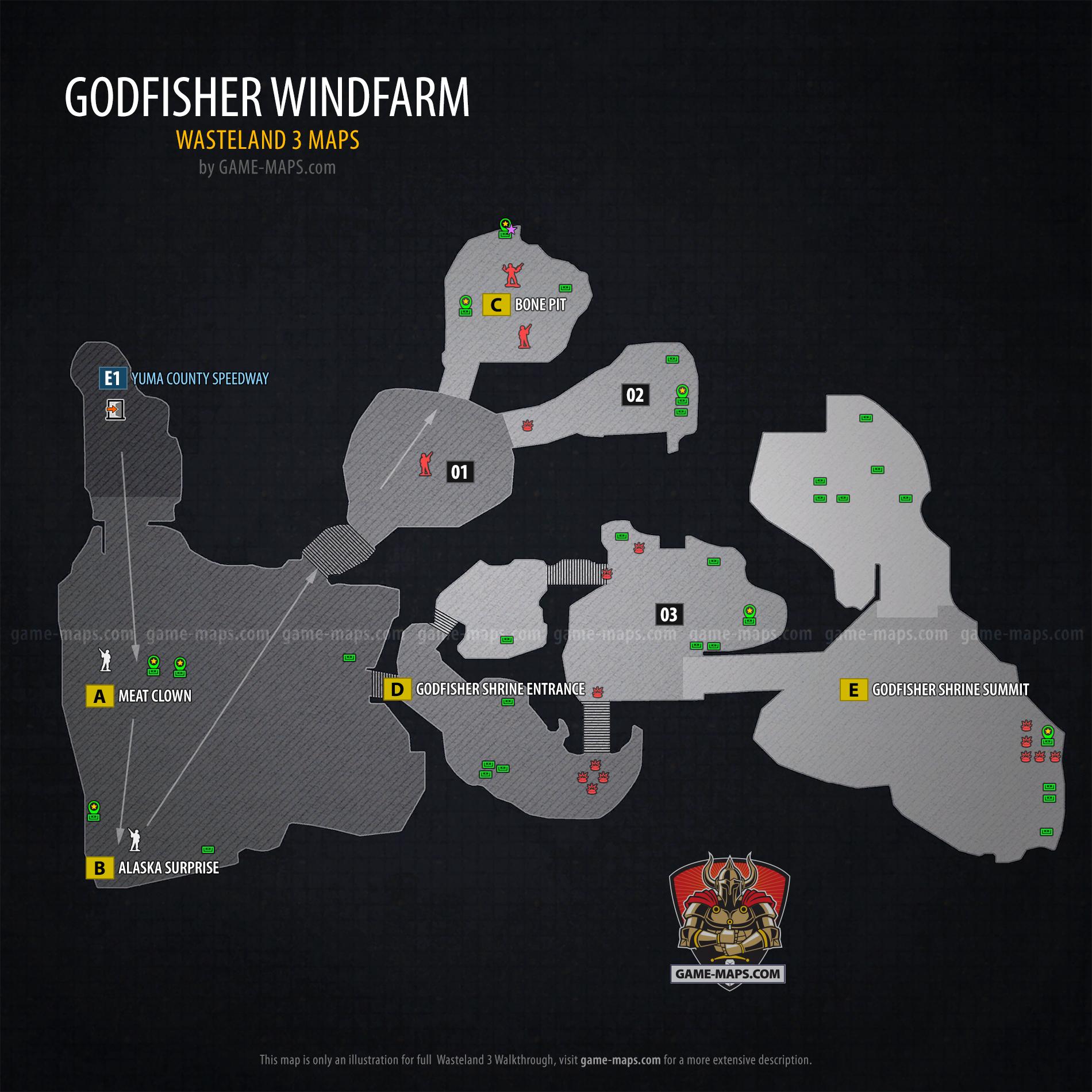 Godfisher Windfarm is a location that can be accessed via Yuma County Speedway. This is important zone related to the main storyline of Wasteland 3.
The following description is for the version of Godfisher Windfarm that will appear when you arrive in Yuma County with Ironclad Cordite and try to make him the leader of all the ganags.
You come here from Yuma County Speedway for The Gods Have Spoken Mission, Haloed Moon in Yuma County Speedway will direct you here. You should meet Haloed Moon at The Wrecked Ice Cream Truck .
The Gods Have Spoken The Gods Have Spoken Mission
Find a way to convince the Godfishers to abandon the Liberty Buchanan and leave Yuma County Speedway.
Meet Haloed Moon at The Wrecked Ice Cream Truck near The Windfarm.
Haloed Moon has a plan to convince Star-that-Dreams to leave. We'll fly her from a kite above a wrecked ice cream truck. She says that will be understood as a portent by the other Godfishers. She told us not to mention anything to Star-that-dreams, but we'll have to decide how to procede.
Entrance / Exit Yuma County Speedway
Meat Clown
Risky Briskett
Let her "cheat you" to gain the Achievement.
"What's in a Clown Burger?"
"Okay, we'll try a Clown Burger."
What's In This Thing? Achievement - You ate a Clown Burger.
Toster 9 Toaster Helmet
Clown Burger Risky Briskett's Recipe
Alaska Surprise
Alaska Surprise Jingle
Haloed Moon
Steal an Unused Kite from The Bone Pit near The Windfarm.
We need a prepped but unused Godfisher kite. Haloed Moon said we might find one near the bone pit, an unguarded area where the Godfishers throw the discarded limbs of their sacrificial victims.
Haloed Moon wants you to steal an Unused Kite from The Bone Pit, so do not enter main camp but go straight to Bone Pit [C].
Drools
Drools Kill them and go on
Bone Pit
Waste Worm Queen Waste Worms
Windfarm Engenering Report
Unused Godfisher Kite
Return to Haloed Moon at The Alaska Surprise Truck in The Windfarm.
Now that we have the kite, Haloed Moon will tell us the rest of her plan.
Take Kite to Haloed Moon.
Make My Day Permanently Small Arms +1 for one character
The Retirer
Alaska Surprise
Haloed Moon give her Kite, and finish mission.
The Gods Have Spoken
Star-that-Dreams proclaimed Haloed Moon's flight as an omen. Since the truck was labeled "Alaska Surprise," the Godfishers are venturing north.
Tell Steel-Trap we're ready to duel at his Garage at Yuma County Speedway.
With Los Payasos on our side and the Godfishers long gone, we can face Steel-trap in a fair fight. We should tell Steel-Trap we're ready.
That's all you have to do in Godfisher Windfarm in this version of the story.
But since the Godfishers are gone, you can search their camp before returning to the Yuma Country Speedway.
Godfisher Shrine Entrance
use 10 to unlock Proton Axe
Godfisher Shrine Summit
use 10 to unlock Angry Aaron Crit Resistance +5%
Return to Yuma Country Speedway