The Gods Have Spoken
Mission Description
You will receive "The Gods Have Spoken" Mission in zone: Yuma County Speedway from Ironclad Cordite.
This is Secondary Mission with recommended Level 20.
The story of this mission takes place in: Yuma County Speedway Map, Godfisher Windfarm Map.
Mission Steps:
Find a way to convince the Godfishers to abandon the Liberty Buchanan and leave Yuma County Speedway.
Gather intel on The Godfishers around Yuma County Speedway.
Cordite thinks there's no way to turn the fanatical Godfishers to his side, so the only option is convincing them to leave altogether. We should talk to some Godfishers or their slaves to get ideas on how to accomplish this.
A former Godfisher told us that Star-that-Dreams' wife, Haloed Moon, doesn't like her cult's alliance with Liberty. Maybe she could help us convince her husband to leave.
Meet Haloed Moon at The Wrecked Ice Cream Truck near The Windfarm.
Haloed Moon has a plan to convince Star-that-Dreams to leave. We'll fly her from a kite above a wrecked ice cream truck. She says that will be understood as a portent by the other Godfishers. She told us not to mention anything to Star-that-dreams, but we'll have to decide how to procede.
Steal an Unused Kite from The Bone Pit near The Windfarm.
We need a prepped but unused Godfisher kite. Haloed Moon said we might find one near the bone pit, an unguarded area where the Godfishers throw the discarded limbs of their sacrificial victims.
Return to Haloed Moon at The Alaska Surprise Truck in The Windfarm.
Now that we have the kite, Haloed Moon will tell us the rest of her plan.
Star-that-Dreams proclaimed Haloed Moon's flight as an omen. Since the truck was labeled "Alaska Surprise," the Godfishers are venturing north.
Map of starting location
for The Gods Have Spoken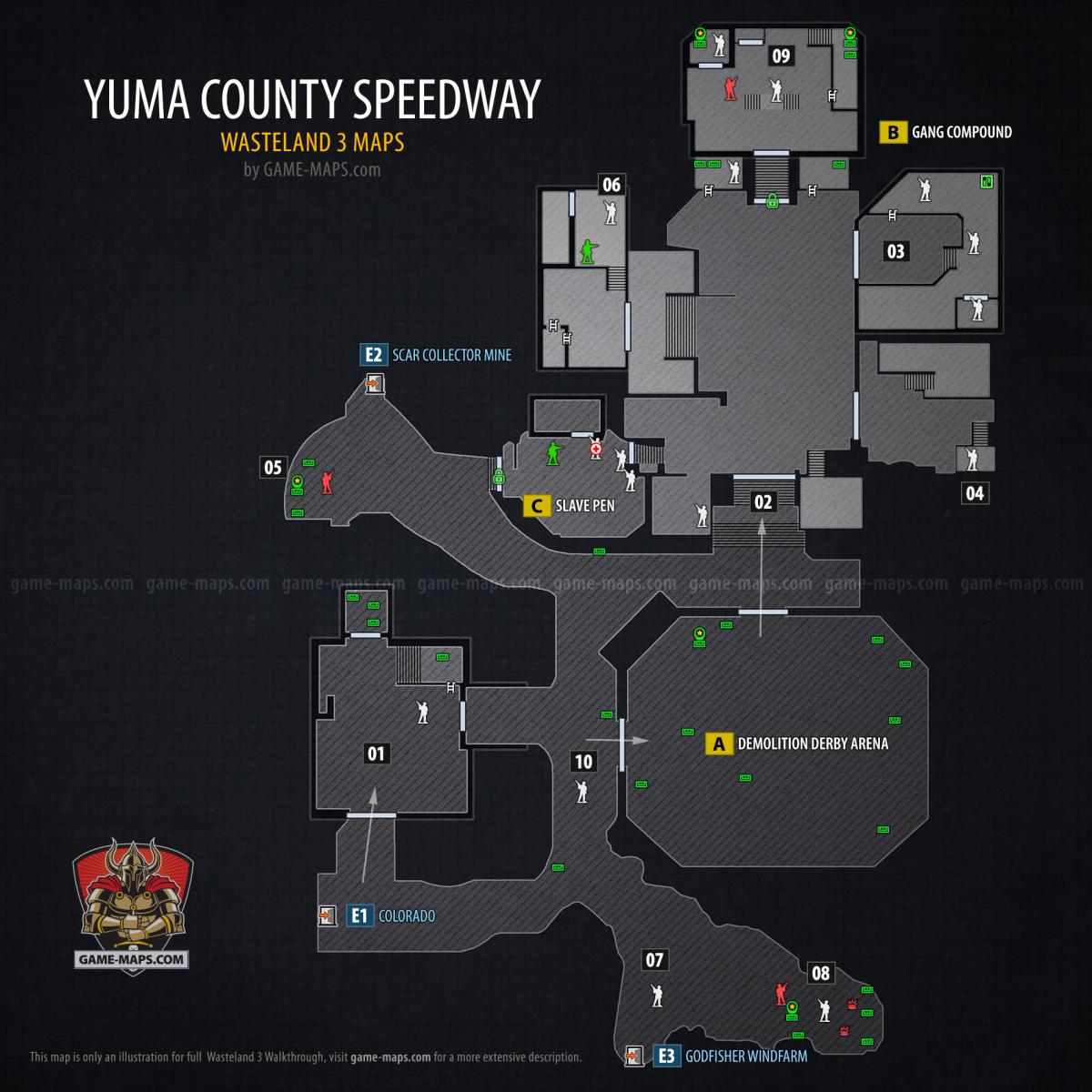 The Gods Have Spoken

Walkthrough

This mission is active only when you come to Yuma Country with Ironclad Cordite and side with Angel Deth.
After finishing One of Us Mission go to Slave Pen and talk to Not-Yet-Skinned and Patsy about Godfishers.
They will direct you to Haloed Moon in Godfishers part of Yume Country Speedway
Haloed Moon talk to her about Liberty, "Maybe your gods have send us ...", "True. But gods work ...", "He'd belived a sign from the gods ...".
And you complete mission.
Go to Godfisher Windfarm
Meet Haloed Moon at The Wrecked Ice Cream Truck and talk to her.
Steal an Unused Kite from The Bone Pit to the north.
Return with Kite to Haloed Moon.
Finish mission.
Choices and Consequences
Full Maps for
The Gods Have Spoken Mission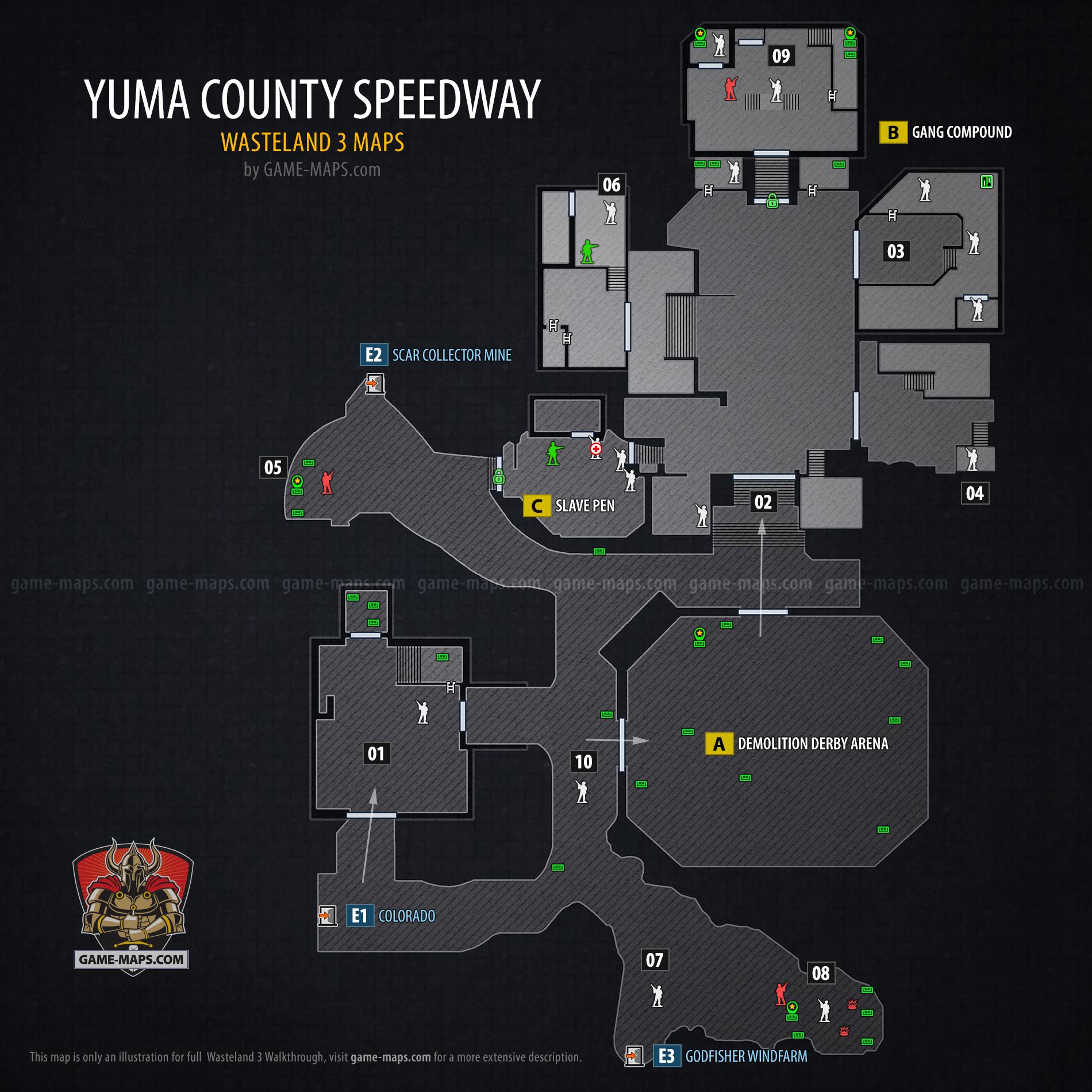 Yuma County Speedway
Yuma County Speedway - Wasteland 3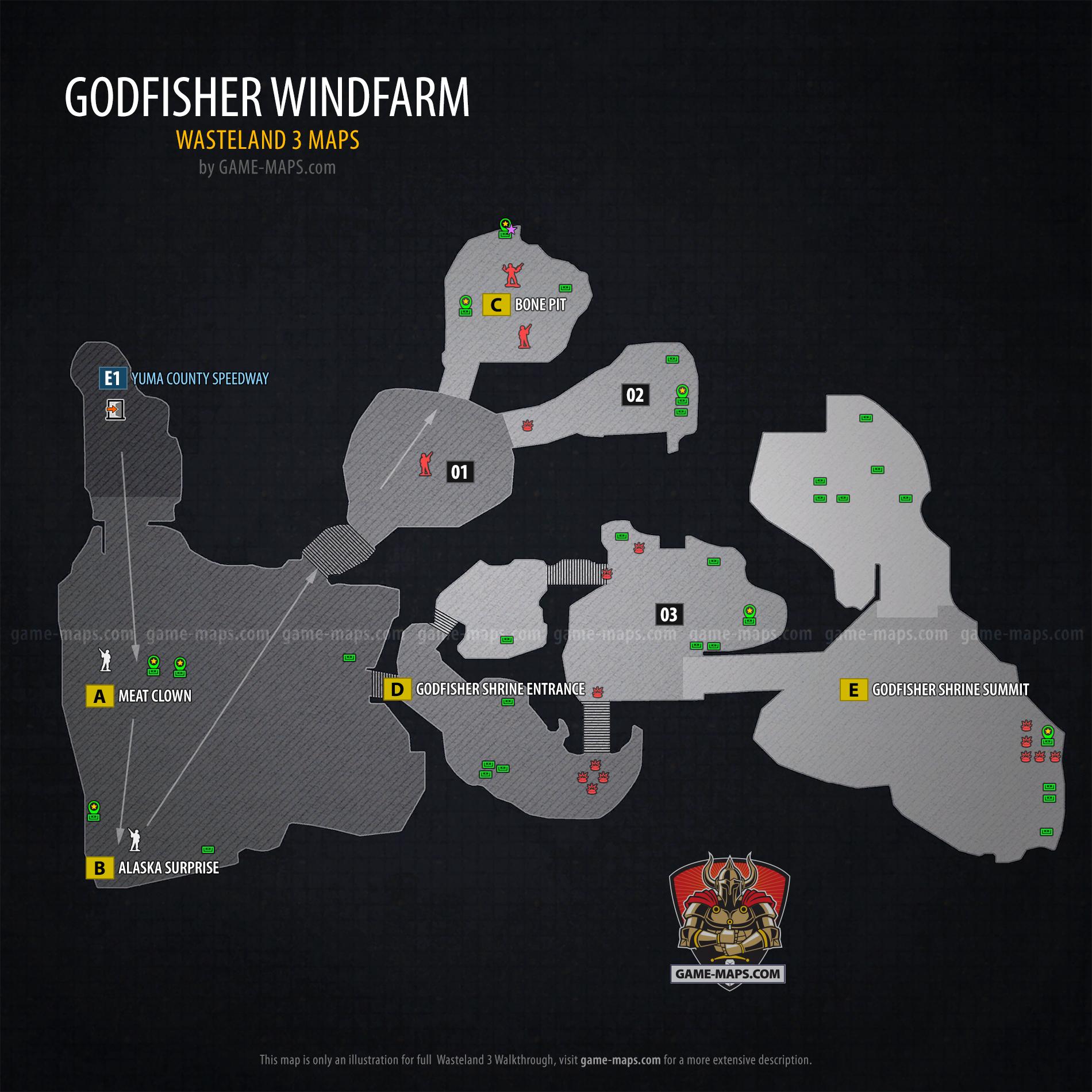 Godfisher Windfarm
Godfisher Windfarm - Wasteland 3