Cannibal Jamboree Map with Walkthrough - Wasteland 3
Detailed, revealed and described Map with Walkthrough for Cannibal Jamboree Location in Wasteland 3 Video Game with Missons Starters and Quest Steps, NPCs, Skill Use, Skill Books, Cassette Tapes, Creepy Dolls, Animal Companion, Weapons, Armours, items, Secrets and Companions, Wasteland 3 Maps & Walkthrough.
Cannibal Jamboree Map Wasteland 3
Map of Cannibal Jamboree in Wasteland 3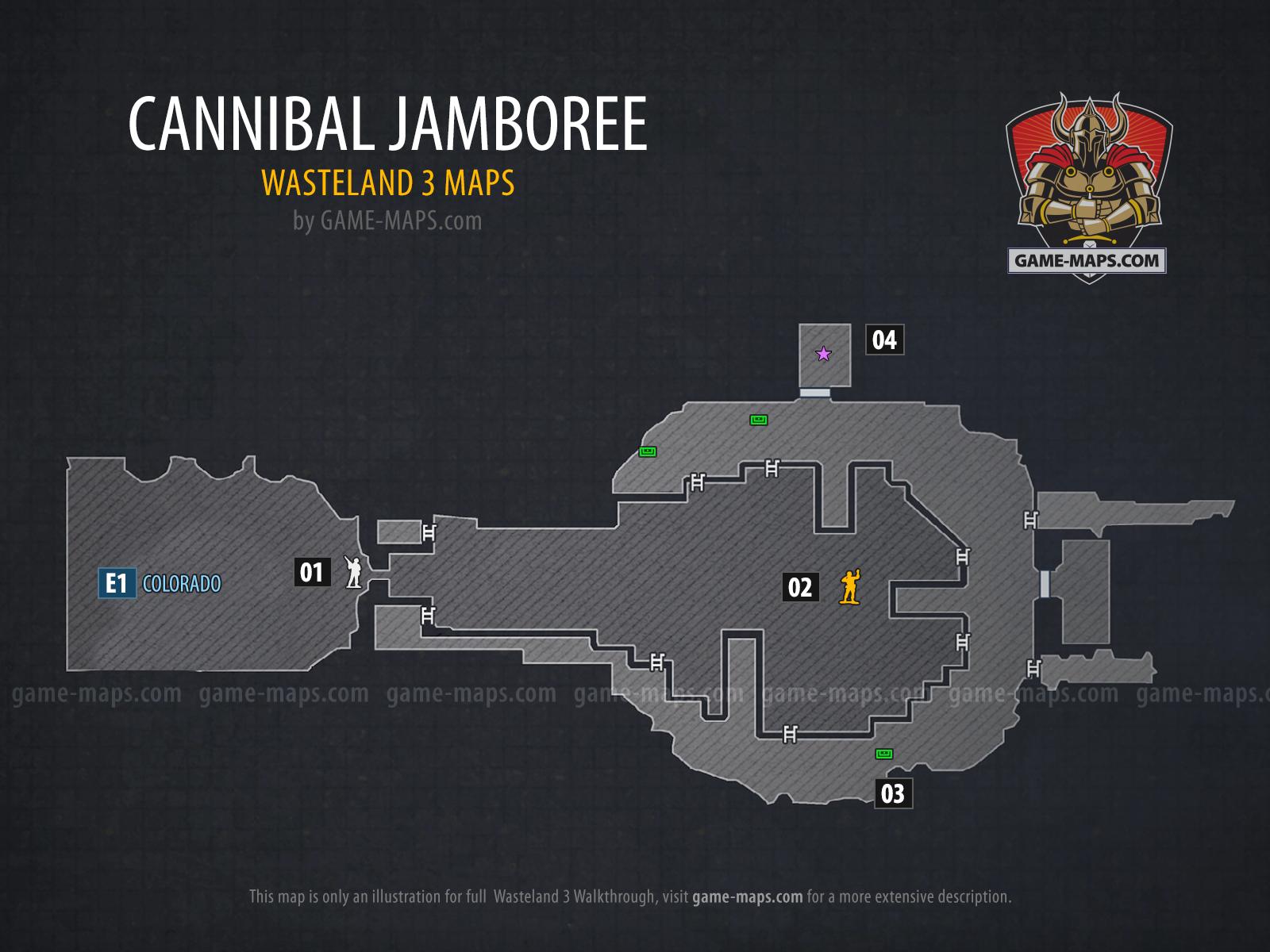 Cannibal Jamboree
Walkthrough Wasteland 3
Cannibal Jamboree is located west of Colorado Springs on main Colorado map.
As you drive past the Cannibal Jamboree, you will hear clearly on the radio a call for help from a woman who is about to die. Head to the nearby Cannibal Jamboree location.
The case is 100% clear, a group of Cannibals catch and eat people, as a crystal Defender of the Oppressed, you don't have to wonder, you come to the rescue and kill all the cannibals ...
BUT WAIT A MINUTE, stop for a moment. You will always have time to kill them all, so for now try to find out about the situation.
Do not betray yourself that you have seen the Cannibals and that eating human flesh comes first in what you do not accept.
Enter the Cannibal Jamboree.
Entrance
Cowboy Val talk to him.
"Smells delicious ..."
Enter camp.
Campfire
Rollan Giff talk to him.
"... We just ate"
8 "Thanks ..."
Head Hunter Head Hunter Mission
Rollan Giff has asked us to track down five deserters and bring them back to his compound. [Reward: Purifier, Power Armor, Power Armor Helmet, Power Armor Legs]
Track down the Five Deserters
We need to look for Rollan's people. Last he heard, Larry, Darryl, and the other Darryl are bison ranchers, Alfredo is working inside the Bizarre, and Earline is somewhere in Downtown Colorado Springs. Dead or alive, he wants them all accounted for.
Workshop
Power Armour is here. You will need 9 to get it ... but you will never succeed. To get armor, you must complete the Head Hunter mission.
Cannibal Jamboree and Head Hunter
If you attack the cannibals or try to break into the workshop, you won't get Power Armor.
The only way to get Power Armor is to complete the Head Hunter mission commissioned by Rollan Giff.
Where are five deserters for Head Hunter?
Larry, Darryl, Darryl are in Knox Bison Ranch Knox Bison Ranch but this location can be found as you move on with main storyline of the game The Psychopath Mission (Aspen). Check the Wasteland 3 World Map for location.
Alfredo Garcia is at Bizarre Interior in Food Court, as long as you dont side with The Cartel in A Very Hostile Takeover Mission. If you side with The Cartel he will be dead and you cant finish this mission.
Earline is at Market Square[D] in Downtown Colorado Springs.
So it's up to you to decide whether to attack the Cannibals now and not get the reward or complete the mission, get the Power Armor as a reward and then kill them.
After you track down all five deserters
Campfire
Rollan Giff talk to him about deserters
Head Hunter
We brought back Rollan's people. Not sure if he's happy about how things turned out, but he was looking pretty hungry when we finished talking.
Workshop Key
Go to the Workshop and collect your reward.
Workshop
Unlock doors with Workshop Key
Purifier Power Armor Power Armor Helmet Power Armor Legs
Vehicel Upgrade (Mortar): Goat Cannon
In Container outside Workshop: Vehicle Upgrade (Utility): Turbocharger
Now you can kill them all (quite possibly they deserve it) and free the prisoners you brought in, or leave everything as is.