Fallout 4 Maps, Walkthrough & Game Guide
Fallout 4 Maps, Walkthrough and Game Guides. World Map and area maps with important locations, POIs, landmarks, quest starters, secrets, friendly and enemy NPCs, skill books, fractions, companions. Perks, S.P.E.C.I.A.L. and stats. Crafting stations and components.
About Walkthrough & Maps
Only once every few years, once a year if I am lucky, I get this enormous pleasure to sightsee, explore and describe the world of video games as extensive and multi-layered as Wasteland, the world of the Fallout 4 video game.
The purpose of this game walktrough is to discover all the Locations available in Wasteland, mark them on maps, write down the Main Quests, Side Quests, and minor Objectives as well as provide solutions to quest challenges.
I would like to find all non-player characters (NPCs) important to the storyline as well as fractions ruling the land and learn how to join them and gain their trust.
I will also try to discover all the locations where Magazines, Bobbleheads and other key items have been hidden.
I will show you how to set up the characters using the S.P.E.C.I.A.L system as it is not an easy task, especially when the player wishes to do something more than just kill the enemy. I will try to help you safely explore the wild world that is awaiting you behind the doorway to Vault 111.
As with other Game Guides, I encourage you to provide me with information that I have missed or your solutions to the problems we encounter while playing the game.
Hints about Character Creation in Fallout 4
Strength: damage in melee combat, carrying capacity.
Perception: awareness, accuracy of firearms
Endurance: health, length of sprint
Charisma: persuade in dialogues, lower prices
Intelligence: number of Experience Points
Agility: number of Action Points, ability to sneak
Luck: Critical Hits
About Video Game
Fallout 4 is the latest title in the Fallout series. This is an open world action role-playing video game set in a fictional, post-apocalyptic Boston 200 years after a global nuclear war. The game was developed by Bethesda Game Studios which also released "The Elder Scrolls V Skyrim".
The Fallout 4 world is large and diverse, full of amazing Landmarks and extended Quests and inhabited by various creatures from friendly NPCs to violent mutants.
A new feature to the series is the ability to build settlements and buildings. Players can select and scrap objects and use them to build their own structures and tools.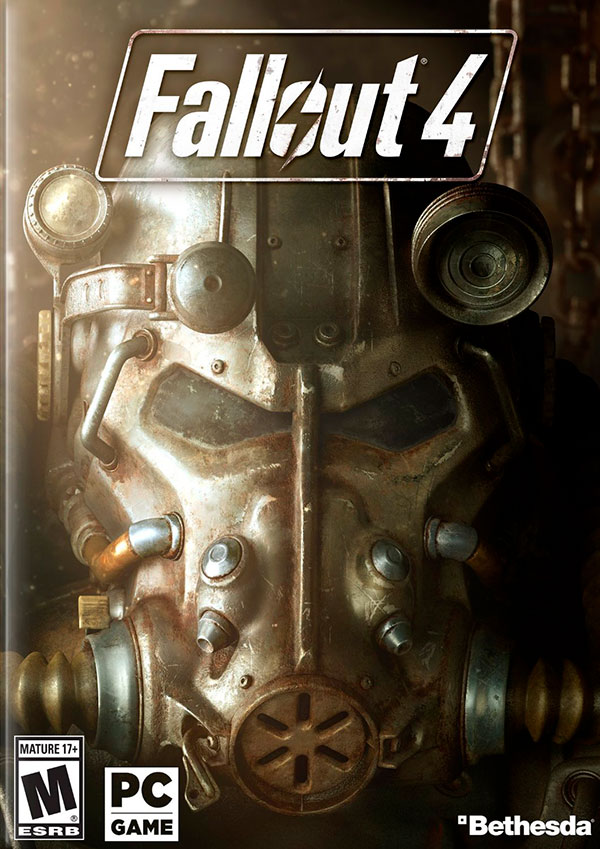 game name Fallout 4
official game page https://www.fallout4.com/
game genre Role-Playing Game, Adventure, Open World, Third-person Shooter, Post-Apocalyptic
developer Bethesda Game Studios http://bgs.bethsoft.com/
publisher Bethesda Softworks http://bethsoft.com/
game mode Single Player
release date 10 November 2015 (Worldwide)
hardware platforms MS Windows, PlayStation 4, Xbox One
languages English, French, Italian, German, Spanish, Polish, Portuguese-Brazil, Russian
age and content ratings Mature 17+, Blood and Gore, Intense Violence, Strong Language, Use of Drugs
description Fallout 4 is a next installment in a cult post-apocalyptic RPG series. As the sole survivor of Vault 111, enter Wasteland a world destroyed by nuclear war, and only you can rebuild and determine its fate. Do whatever you want in a massive open world with hundreds of locations, characters, and quests. Join multiple factions or go it alone, the choices are all yours. Collect, upgrade, and build thousands of items in the most advanced crafting system ever.
Minimum PC System Requirements
64-bit Windows 7/8/10
Intel Core i5-2300 2.8 GHz/AMD Phenom II X4 945 3.0 GHz
8 GB RAM Memory
NVIDIA GTX 550 Ti 2GB/AMD Radeon HD 7870 2GB
30 GB Hard Drive space
Recommended PC System Requirements
64-bit Windows 7/8/10
Intel Core i7 4790 3.6 GHz/AMD FX-9590 4.7 GHz
8 GB RAM Memory
NVIDIA GTX 780 3GB/AMD Radeon R9 290X 4GB
30 GB Hard Drive space