Fallout 76 Walkthrough & Maps
Fallout 76 Video Game Maps with Walkthrough and Game Guide - work in progress ...
About Fallout 76 Video Game
My Rating Great Game
Game Name Fallout 76
Game Genre Online Action Survival RPG
Subgenre Co-operative Multiplayer
Setting Post-apocalyptic, retro-futuristic
World Shared online world
PvE PvE
PvP PvP
Release Date November 14, 2018
Game Mode Multiplayer, Single-player
Windows PC
PlayStation PS4
Xbox One
Developer Bethesda Game Studios
Publisher Bethesda Softworks
Official Webpage fallout.bethesda.net
Engine Creation Engine
Series Fallout
Bethesda Game Studios, the award-winning creators of Skyrim and Fallout 4, welcome you to Fallout 76, the online prequel where every surviving human is a real person. Work together, or not, to survive. Under the threat of nuclear annihilation, you'll experience the largest, most dynamic world ever created in the legendary Fallout universe.
Minimum PC System Requirements Intel Core i5-2500K 3.3GHz or AMD FX-8320, Windows 7 or later 64-bit, 2GB GPU NVIDIA GeForce GTX 960 / AMD Radeon R9 380, 50 GB HDD.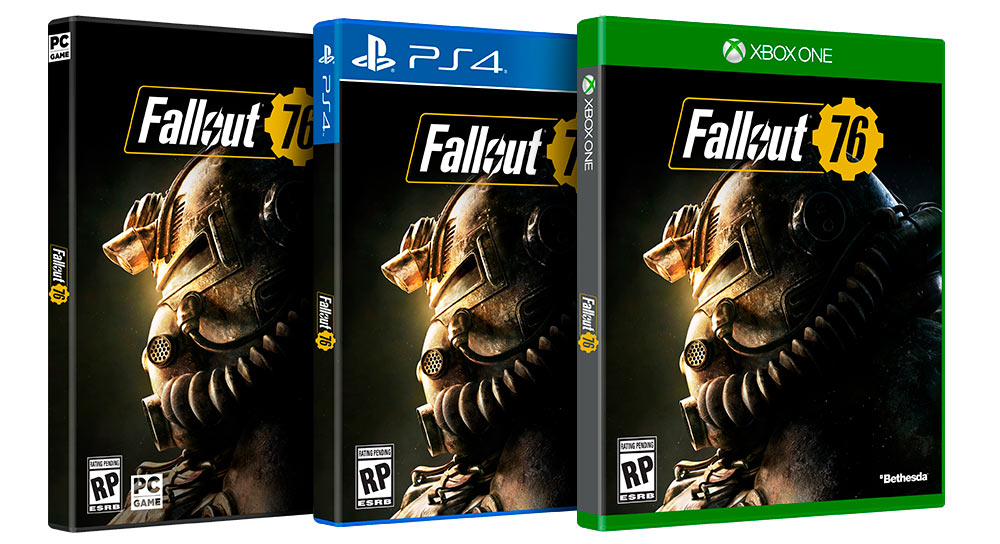 The game is set in the year of 2102 in the state of West Virginia. Action of the game is set 25 years after the Great War, at the begining of Fallout game series timeline. Your character leave Vault 76 on Reclamation Day.
You can play Fallout 76 solo despite the fact that the game was created as a multiplayer game. If you want, you can limit contact with other players to a minimum or cooperate with them by joining the groups.
The main plot of the game is to complete the task assigned to you by your vault Overseer. She left the vault first and as you explore the world, she leaves you tips and tasks in the game world.
Another goal of the game, apart from completing the main campaign and exploring the game world is "Rebuilding America". You can build your own settlement, farm fields and resource harvesters.
Game World
Game world is divided into six regions differing in appearance and level of difficulty.
Falout 76 game world is four times larger than Fallout 4 world.
No human NPCs. The world is extinct after the war. All the humans you meet are avatars of other players, characters who like you have left other Vaults. The function of the standard quest givers will take over robots, holotapes, notes, terminals and other non-living creatures or items.
Loot from containers is instanced, which means that each player opening the chest will find his own items that other players will not be able to take it away from you.
There will be fast travel to your party members.
The main campaign's conclusion in Fallout 76 it is possibility of use Nuke, ultimate weapon. Nuke impact zone will hold rare drops and high level beasts.
Player Character
S.P.E.C.I.A.L ability system. Strength, Perception, Endurance, Charisma, Intelligence, Agility, and Luck the skill based system used in all Fallout games.
Perks will be allocated through card system. Players will be able to equip cards in relevant S.P.E.C.I.A.L category.
Charisma cards are aimed at improving the capabilities of the human player group and do not to improve your relations with NPCs as in previous Fallouts.
You can freely use different sets of cards to change your character's characteristics.
There will be no microtransactions to get the cards.
There is no level cap in Fallout 76
You will need water and food to survive.
Game Mechanics
Playing Fallout 76 will require a permanent internet connection.
Only up to 24 players can play on one server. There will be many game servers.
A team can consist of four players.
Character death does not result in loss of progression, however, when you die you lose additional items that you carry with you.
You can have multiple characters under the same account.
Communication with other players is done using the set of emotes or with a headset if you are in close proximity to other player.
You can build your settlement alone or with cooparation of other players.
Player versus Player combat
There is no PvP combat below character level 5.
If you kill somebody that didn't want to engage in combat you becomes a wanted murderer and you are visible on map to other players with a bounty on your head.
Wanted murderer will get no reward, no caps, no XP for killing other players.
PvP will be turn off on group events.
Search The Bard's Tale IV Walkthrough & Maps