Quests and Events in Fallout 76
Fallout 76 Maps & Walkthrough
List of Quests, Main Missions, Side Quests, Daily Quests, Events in Fallout 76 with quest starter marked on map.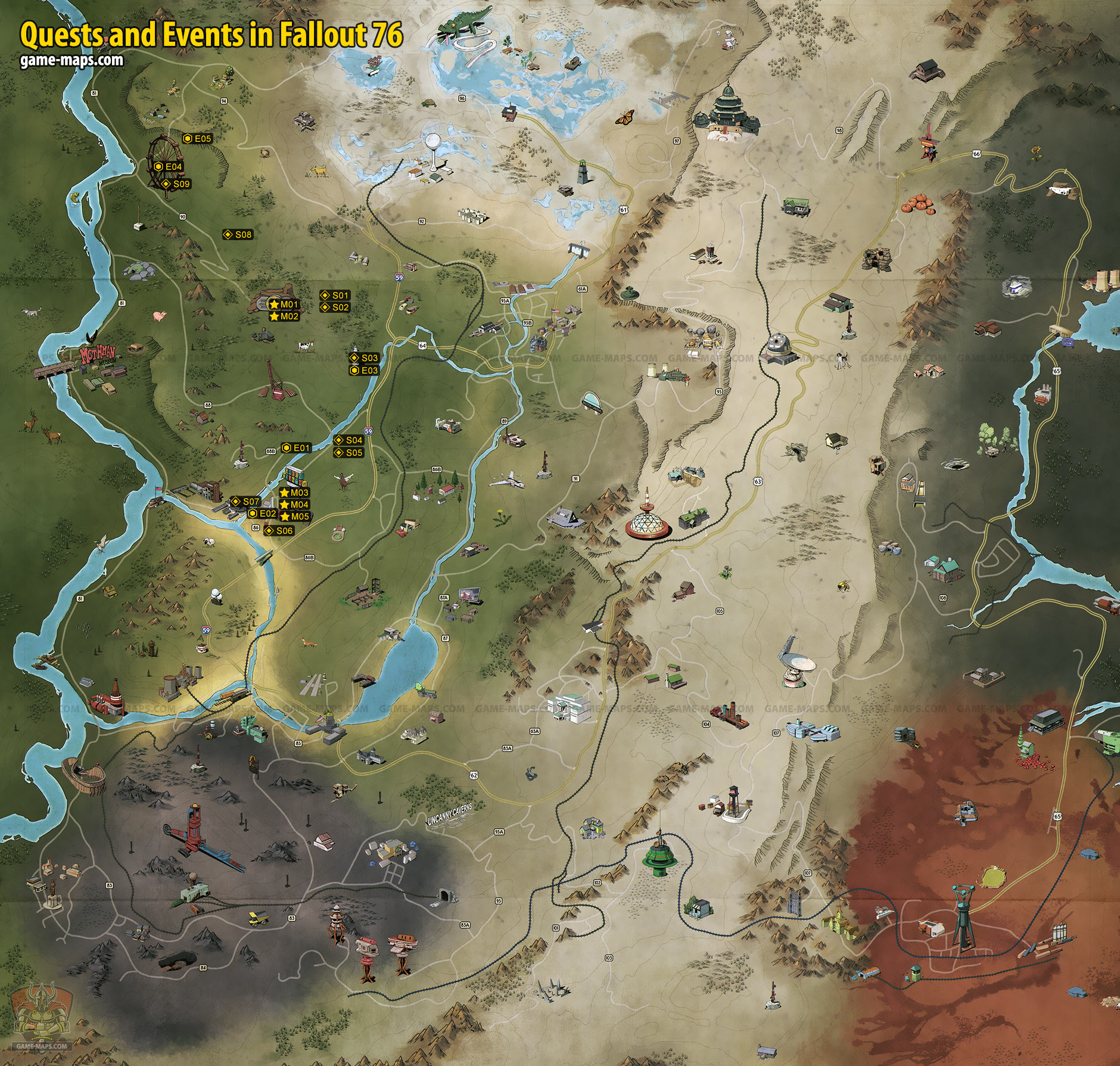 There are four types of Quests in Fallout 76.
Main Quests - A set of plot tasks that will guide you through the land of Appalachia in the footsteps of Overseer Vault 76. This is the main storyline of the game.
Side Quests - Additional tasks, not related to the main plot of the game, which allow you to earn rewards, equipment and experience.
Daily Quests - Tasks similar to Side Quest only repeatable. They allow you to get raw materials, equipment and experience.
Events are group tasks. You can do it yourself, but it will be difficult or with other players. You do not have to group anyone. If you see the Event marker on the map, just go there, eg using Fast Travel and follow the task sequence.
Main Quests
Main QuestM01 Reclamation Day - when pickup Pip-Boy in Vault 76.
Reclamation Day has finally arrived. It's time to leave the Vault and rebuild America!
Main QuestM02 First Contact after you exit Vault 76.
The Overseer set up a C.A.M.P. south of the Vault. If I follow the road, I can probably locate it. Would be logical to set it up near the river, so I should head towards that intersection.
Main QuestM03 Thirst Things First after Register as a Volunteer in Flatwoods Tavern.
Become a Volunteer Responder by completing basic training courses.
Main QuestM04 Second Helpings after finishing Thirst Things First in Flatwoods Tavern.
Main QuestM05 Final Departure after finishing Second Helpings in Flatwoods Church.
I learned that the Responders were headquartered at Morgantown Airport. It seems like a good place to search for clues about what happened to them.
Side Quests
Side QuestS01 Tune in to WGRF Grafton radio. - this quest will appear automatically when you approach WGRF Grafton Radio.
Side QuestS02 Bureau of Tourism - after Tune in to WGRF Grafton radio
Talk to Grafton Mayor
Side QuestS03 Visit the Giant Teapod - read Giant Teapot Advertisement, Landview Lighthouse, Lighthouse Keeper's House
Side QuestS04 Craft a piece of Armor - Overseer's Camp
Side QuestS05 Craft a Weapon - Overseer's Camp
Side QuestS06 Search Vault-Tec Agricultural Research Center - After entering Flatwoods
Side QuestS07 Personal Matters - After Listen to Overseer's Journal, Entry 1
Side QuestS08 Request Government Air Drop - start by random drop item US Government Supply Requisition.
US Government Supply Requisition holotapes have one-use codes that allow the request of a supply drop from any operational radio relay. But I need to repair the relay tower terminal in order to do that.
Side QuestS09 Jangles got lost at the fair - find him - enter Tyler County Fairgrounds
Side QuestS10 Lucky Strike - starts with Miner's Map bought in U-Mine-It! Vending Machine near main entrance to Kanawha Nuka-Cola Plant.
Side QuestS11 - starts with Excavator's Map bought in U-Mine-It! Vending Machine near main entrance to Kanawha Nuka-Cola Plant.
Side QuestS12 - starts with Prospector's Map bought in U-Mine-It! Vending Machine near main entrance to Kanawha Nuka-Cola Plant.
Side QuestS13 Visit the Giant Teapot - starts with flyer or when visit Giant Teapot
Daily Quests
Side QuestD01 Daily: Strange Brew - talk to Sweetwater in The Giant Teapot
I need to find some honey if I want to try out this special tea.
Events
Event QuestE01 Event: The Messenger
Ensure Mr. Messenger gets to his destination to deliver his message. The Mr. Messenger robot needs someone to replace a nearby component that came loose so it can continue its task.
Event QuestE02 Event: Fertile Soil
Event QuestE03 Event: The Path to Enlighment - near lighthouse
Event QuestE04 Event: Leader of the Pack - near Tyler County Fairgrounds
Responders alert warned us that packs of wolves have been spotted in the forest. If we can eliminate the wolf pack leaders, we can draw out the alpha wolf.
Event QuestE05 Event: Wolf Horde: The Forest - after Event: Leader of the Pack.
Destroy the source of the Wolf horde before The Forest is completely infested.
Event QuestE06 Event: Tea Time
Search Fallout 76 Walkthrough & Maps