Downtown Colorado Springs Map with Walkthrough - Wasteland 3
Detailed, revealed and described Map with Walkthrough for Downtown Colorado Springs Location in Wasteland 3 Video Game with Missons Starters and Quest Steps, NPCs, Skill Use, Skill Books, Cassette Tapes, Creepy Dolls, Animal Companion, Weapons, Armours, items, Secrets and Companions, Wasteland 3 Maps & Walkthrough.
Downtown Colorado Springs Map Wasteland 3
Map of Downtown Colorado Springs in Wasteland 3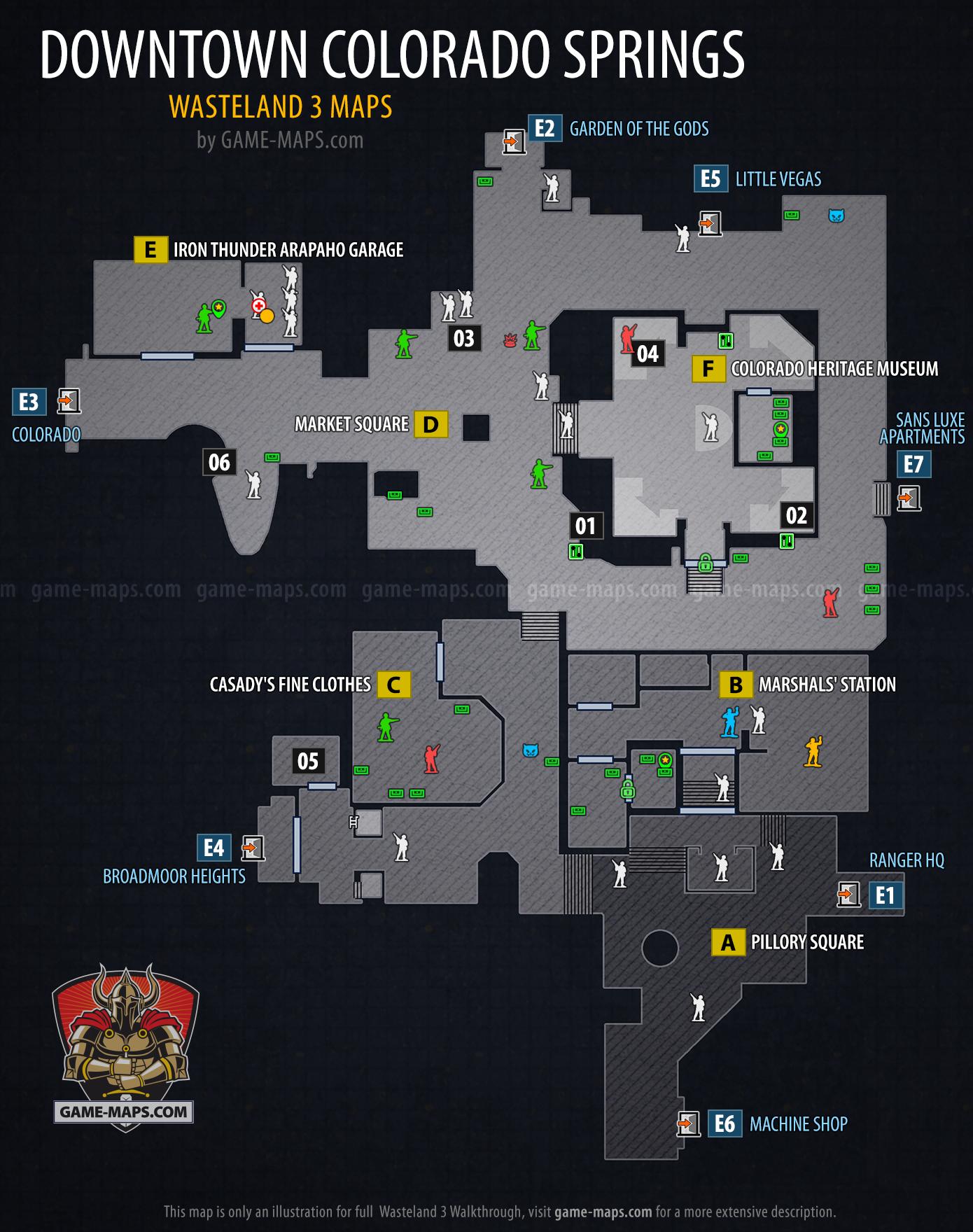 Downtown Colorado Springs
Walkthrough Wasteland 3
First visit in Downtown Colorado Springs
Exit to Ranger HQ
You come from Ranger HQ for Cornered Rats Mission
Pillory Square
Emaline Pease she asks you for help with her accused son, Austin Pease, who is standing next to him in the attic.
Austin Pease talk to him and offer help.
Magistrate Silas Watkins talk to him Dorsey Prisoner's Note, ask him about Austin Pease 4 or offer to pay for the damage out of pocket, which will cost you $200.
You free from accusations Austin Paese +5 Rep. now go ant tell him and his mother about it .
Hallie remember her, you will have to find her in the future for one of the missions.
Paperboy
Marshals' Station
Lucia Wesson you will be able to recruit her after completing Garden of the Gods. So far Lucia has a problem and you are not able to help her too much.
Deputy Marshal Torres ask her about Sheriff Daisy.
Sheriff Daisy
Eliminate the Dorseys in The Garden of the Gods.
We can reach the Garden of the Gods through a checkpoint on the north side of Downtown. Sheriff Daisy asked us to take Lucia Wesson along.
Return to Lucia Wesson and talk to her, you have to take her to Garden of the Gods so she will join.
Locked Room 4 inside in contener An Interrogation
Exit to Broadmoor Heights
To use this exit, you must have an invitation, you will receive it via radio broadcast and it is Unwelcome Guests Mission.
Ceputy Marshal Pitts
Casady's Fine Clothes
The store was taken over by thieves.
Josiah Casady Martha Casady they ask for help.
You can 4 or just attack and kill them, its better option, but do not take Josiah Casady with you to fight, he can be killed.
Return to Casada, next time you visit you will find a shop here.
5 Ancient Love Letter
Ancient Love Letter is the first clue to find the treasure. Next one is in park in Broadmoor Heights. You don't need all the clues to get the treasure, you will need high Lockpicking.
Market Square
Taiwan Jones got a problem with trap, you can lie to her 4 that you defuse mine or just defuse it 1 and this is better .
Mary Milk-Teeth
Snappin' Jimmy Bob
Theodoric Cure
Mama Cotter you will talk to her later in the game for the mission
Junko Murayama she stands near closed Museum entrance. Talk with her about Museum. Invite her to become a Curator at the museum in Ranger HQ, Junko will happily agree.
Iron Thunder Arapaho Garage
Jimmie Longhaul you can but from him Tool Kit Permanently Mechanics +1 for one character
Doc Parker besides he can heal you, he is an important NPC, you will try to recruit him to Ranger HQ. He will agree when you do Mission for him.
Top Doc Top Doc Mission
Doc Parker, the finest doctor in Colorado Springs, has set up a makeshift clinic Downtown to take care of people who were injured during the Dorsey attack. He is under staffed and under supplied.
Find and return the supplies to Doc Parker at The Clinic in Downtown Colorado Springs.
Doc Parker asked us to bring him supplies to tend to the victims of the Dorsey attack. He needs a Suture Kit, an Injury Kit, and a Medic Pack.
This mission is a bit tricky. Doc Parker asks you to bring Suture Kit, Injury Kit and Medic Pack, which you probably have with you when talking to him, if you opened containers from the beginning of the game. So after getting this mission, if you find any of the listed items, the mission will go to the next phase. Then go back to Doc Parker and heal three needy patients in the room with the ingredients you brought. Then talk to him and the mission will be successful. Then you can ask Doc Parker to be your medic in Ranger HQ.
Top Doc
A Medbay Doctor.
Colorado Heritage Museum
Front doors are closed, but you got locked entrance from South 3.
Ol' Baldy talk to him.
Turn on 3.
In closed room some nice weapon and New Tour introduction, Version 1

Later in game
October-11 is hiding among Animatronics, its for Wolfe's Hunt Mission.
Talk with her 4
October-11 and kill or let her go the problem.
If you free October-11 she will continue killing people in Colorado, Wolfe and Mercenaries will leave Ranger HQ and you will not receive any more missions from them.
If you kill October-11 you'll be sorry, but the story will continue to develop.
So I suggest you kill October-11 (use the dialogue options).
Unless you feel sorry for the Synth with the voice of a child and you are curious what will happen to her next and whether you will meet October-11 again (which I have not checked, and I am curious myself).
Collect the Synth's Head.
We've destroyed the synth. We should collect its head for Wolfe.
Bring the Synth's head to Gary "Nacl" Wolfe at Ranger HQ.
Now that we have October-11's head, we should bring it back to Gary "NaCl" Wolfe in Ranger HQ
Return to Ranger HQ and talk to Wolfe
Exit to Garden of the Gods
Marshal Lupinski He will only let you through the gate when Lucia Wesson will be in your team.
Go to Garden of the Gods to finish Cornered Rats mission
After you return from Garden of the Gods
Exit to Garden of the Gods
If you did not kill Isaac Reed in Garden of the Gods, you will have to talk to Lucia Wesson and explain to her why you did it.
Agree to help her.
Frontier Justice Frontier Justice Mission
Lucia wants our help bringing those responsible for her family's murder to justice - starting with Nelius Dorsey, who ordered their deaths.
Hunt down Nelius Dorsey.
Nelius is camped out with his most powerful weapons and best-trained fighters in the mountains west of Colorado Springs. We'll have to explore the area to find it.
Marshals' Station
Sheriff Daisy talk to her about Garden of the Gods.
Cornered Rats +1 Rep.
You didn't kill Dorseys in Garden of the Gods, that's why Sheriff Daisy wants to help you keep an eye on the prisoners and delegates Hope Emerson as Brig Jailor to your prison in Ranger HQ.
A Brig Jailor
Sheriff Daisy
Big trouble in Little Vegas Big trouble in Little Vegas Mission
Faran Brygo - or someone in his organization - may have helped the Dorseys slip into Colorado Springs. Sheriff Daisy sent her best inspector to investigate, but she hasn't heard back from him. She asked us to check on her agent and take down Brygo. [Reward: Ranger HQ armory officer]
Look for Delgado at The Little Vegas Nightclub.
Sheriff Daisy sent Inspector Delgado to Brygo's nightclub, Little Vegas. We should talk to Brygo, his lieutenants, and the patrons to find leads.
Swith
The does not work. When you try to switch it, you see electrical discharges on the ground. Flip the switch with one character and follow the discharges with the other and you will get to [02].
Broken Wires
Fix it with 3. Go back to [01] and toggle the Switch again.
Talk about it with Snappin' Jimmy Bob on Market Square and you will receive your reward
Exit to Little Vegas
You can enter here for Mission Big trouble in Little Vegas Level 3 from Sheriff Daisy in Marshals' Station.
Exit to Machine Shop
You can enter here during Mission Big trouble in Little Vegas Level 3 from Sheriff Daisy in Marshals' Station.
After you return from Little Vegas and Machine Shop
Marshals' Station
Sheriff Daisy talk to her about Little Vegas.
Big trouble in Little Vegas +10 Rep.
Sheriff Daisy was happy that we raided the nightclub. It sounds like she's wanted to shut down Faran Brygo's organization for a long time. She sent Inspector Delgado to manage our Armory at Ranger HQ.
An Armory Quartermaster
Exit to Sans Luxe Apartments
To use this exit, you must have an invitation, this location is for Don't You be my Neighbor Mission Level 4.
After you return from Sans Luxe Apartments
Book Store
Bookseller
Irv talk to him about Clones for Don't you be my neighbor Mission.
Be nice to him and invite him to cooperate in Ranger HQ. Thanks to it, you will be able to perform Clones of your characters.
Return to Rosie Wong in Sans Luxe Apartments.
We should tell Rosie what we decided to do with Irv. She's still at the Sans Luxe Apartments in Downtown.
Return to Rosie Wong in Sans Luxe Apartments.
Clossed Room near Exit to Broadmoor Heights
I have not found a peaceful way to open this room. You must attack the Marshals so that you can get there.
There is nothing interesting inside. There's a switch to open the gate to Broadmoor Heights and a second copy of Cassette: An Interrogation.
You probably enter this room during a different, very dark version of the game.
After you return from The Bizarre
Mama Cotter near Market Square
Mama Cotter talk to her about caravans.
"... we bought them passage" +5 Rep.
What to do with Mama Cotter in Unwelcome Guests Mission.
[Arrest] Mama Cotter - you will lose your reputation with Wastelander Refugees, you will gain reputation with Hundred Families, and Gideon Reyes will send you mechanics to Ranger HQ and become your advisor.
Keep helping Refugies - you will gain reputation with Wastelander Refugees, you will lose reputation with Hundred Families and Mama Cotter will send her mechanics to Ranger HQ.
In my opinion it is better to side with Mama Cotter and I did +15 Rep. -15 Rep. and A new Home Achievement
Return to Gideon reyes in Broadmoor Heights.
We should report back to Gideon Reyes in Broadmoor Heights and tell him how things turned out.
This is also end of Full House Mission.
Full House
Our headquarters can provide all the basic support we need to complete our mission. We should continue to look for talented individuals to recruit, to help us with our goals.

Later in game
Carmen you will meet Carmen from Bizarre near Market Square [D], she will thank you again for help.
For Slaver's Bounty Mission
Pillory Square
Hallie
You can:
Warn Hallie about the Slave Hunters
Lie to her and direct her to Ranger HQ
If you lie
Return to La Perla in the Ranger HQ courtyard.
We convinced Hallie to head back to HQ. We should return to LA Perla to get the access code.
After Denver
Market Square
Theodoric Curie will thank you for Oil Supply from Denver.
For Head Hunter Mission
Market Square
Earline 6 to make her return to Cannibal Jamboree.
After Yuma Country - Ending
Go to the Museum.
You will meet Sheriff Daisy on your way. Depending on what ending you are going to be able to do different things, but there is no need to kill her.
In the museum, you have to place one character on the press plate and press the red button on the wall with the other. This will open access to the Computer. Turn off the alarm on your computer.
Go out to Market Square and finish your Wasteland 3 adventure after the fight.
At the end, you will have one of several "singing" Epilogues that sum up your history in Colorado.