A Nightmare in the Bizarre
Mission Description
You will receive "A Nightmare in the Bizarre" Mission in zone: Bizarre Interior from automatically upon entry.
This is Secondary Mission with recommended Level 6.
The story of this mission takes place in: Bizarre Interior Map, Warrens Map.
Mission Steps:
Someone is terrorizing the Monster Army and the inhabitants of the Bizarre.
Talk to the person in charge of The Bizarre.
Something strange is going on in the Bizarre, but the Monster Army seems to be trying to keep it quiet. We should talk to their boss.
Investigate the Warrens.
Flab the Inhaler, leader of the Monster Army, wants us to investigate whoever has attacking his people from the Warrens. [Reward: The Drill Sergeant's Phrase Book, $666]
Clear the Warrens Of Payasos.
Los Payasos have taken over the Warrens and are using it as a base to launch attacks on the Bizarre. We need to cull the clown population.
We found a door that requires us to enter the lines of a Payaso limerick. We should search the Warrens for clues.
We found Flab's missing people. Looks like they were murdered by killer clowns.
Report back to Flab the Inhaler inside The Bizarre.
Los Payasos have been defeated. Flab will be happy to learn that the Bizarre can return to peaceful commerce.
Map of starting location
for A Nightmare in the Bizarre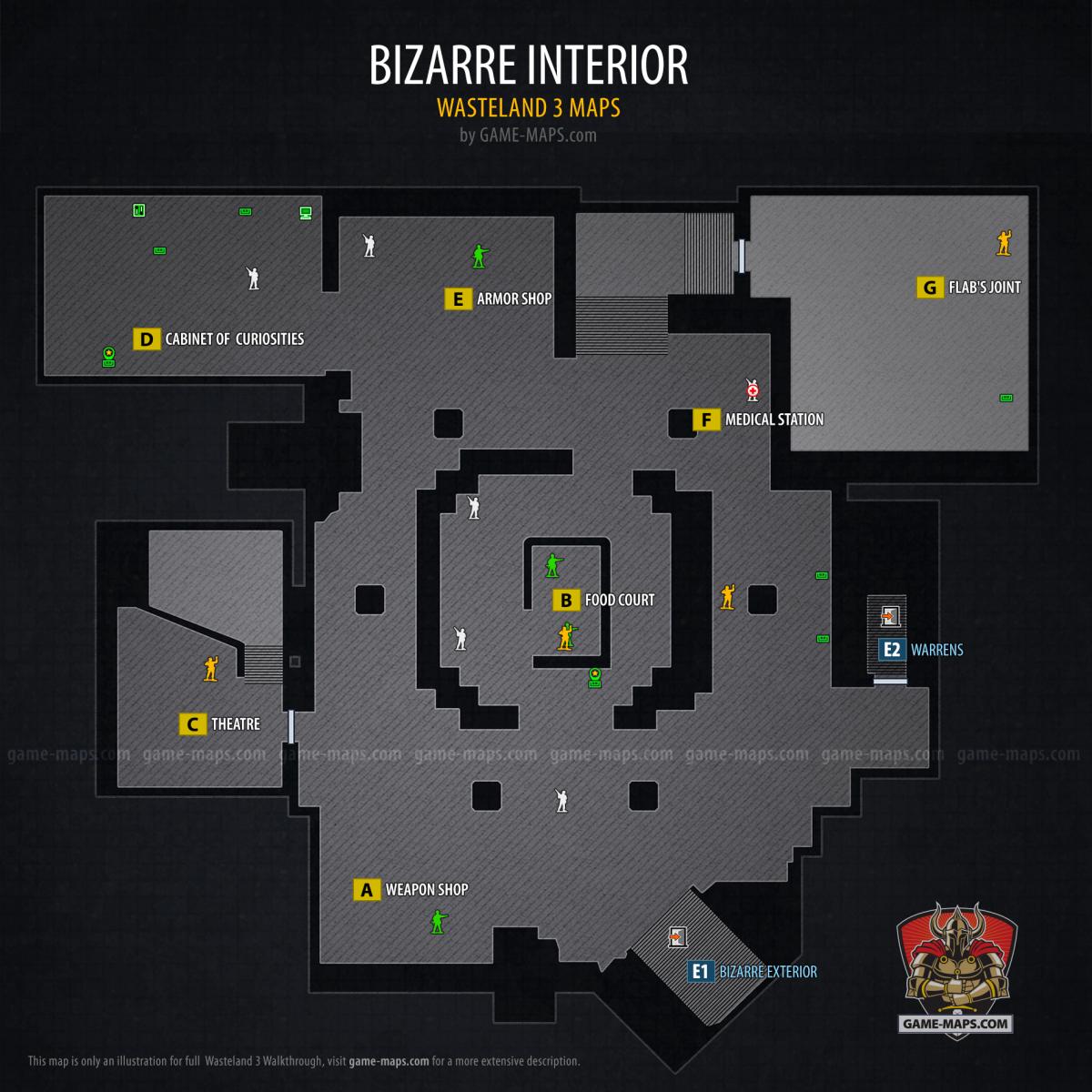 A Nightmare in the Bizarre

Walkthrough

You will get this mission automaticaly after entering Bizzare Interior
Go to Flab the Inhaler and talk to him about problem with Warrens
Enter Warrens from entrance in Bizarre Interior
In Prison Block kill Payasos and loot Limerick Note Pt.1
In Diner kill Payasos and loot Limerick Note Pt.2
In Playground kill Payasos and loot Limerick Note Pt.3
Go to entrance to Chapel, use Computer and enter:

"[Item: Limerick Note Pt.1]"
"[Item: Limerick Note Pt.2]"
"[Item: Limerick Note Pt.3]"
"And shit down your ..."

Kill enemies inside Chapel
Return to Flab the Inhaler in Bizarre Interior for reward.
Choices and Consequences
If you wait too long before completing the mission or you don't complete it, The Bizzare will empty the inhabitants.
Full Maps for
A Nightmare in the Bizarre Mission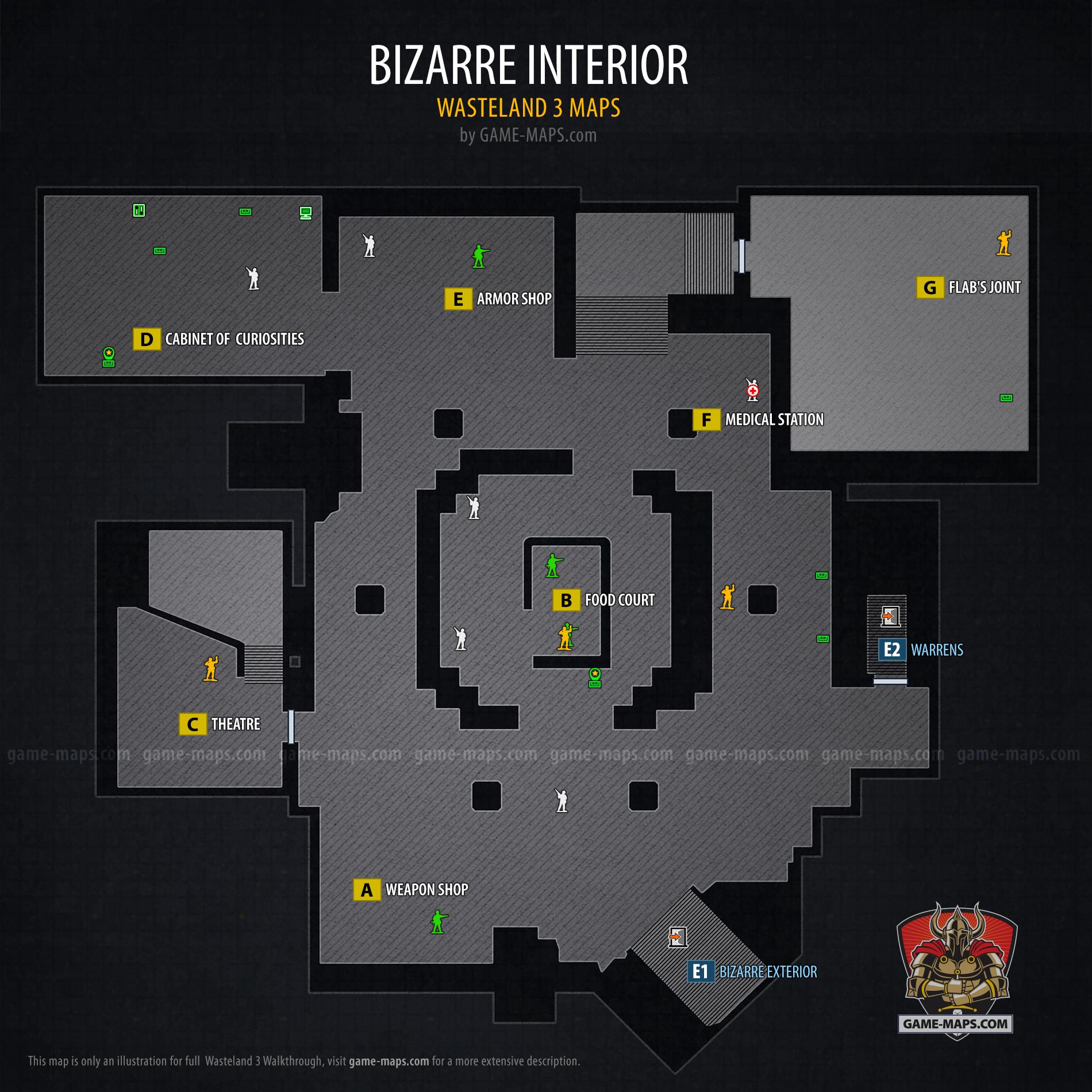 Bizarre Interior
Bizarre Interior - Wasteland 3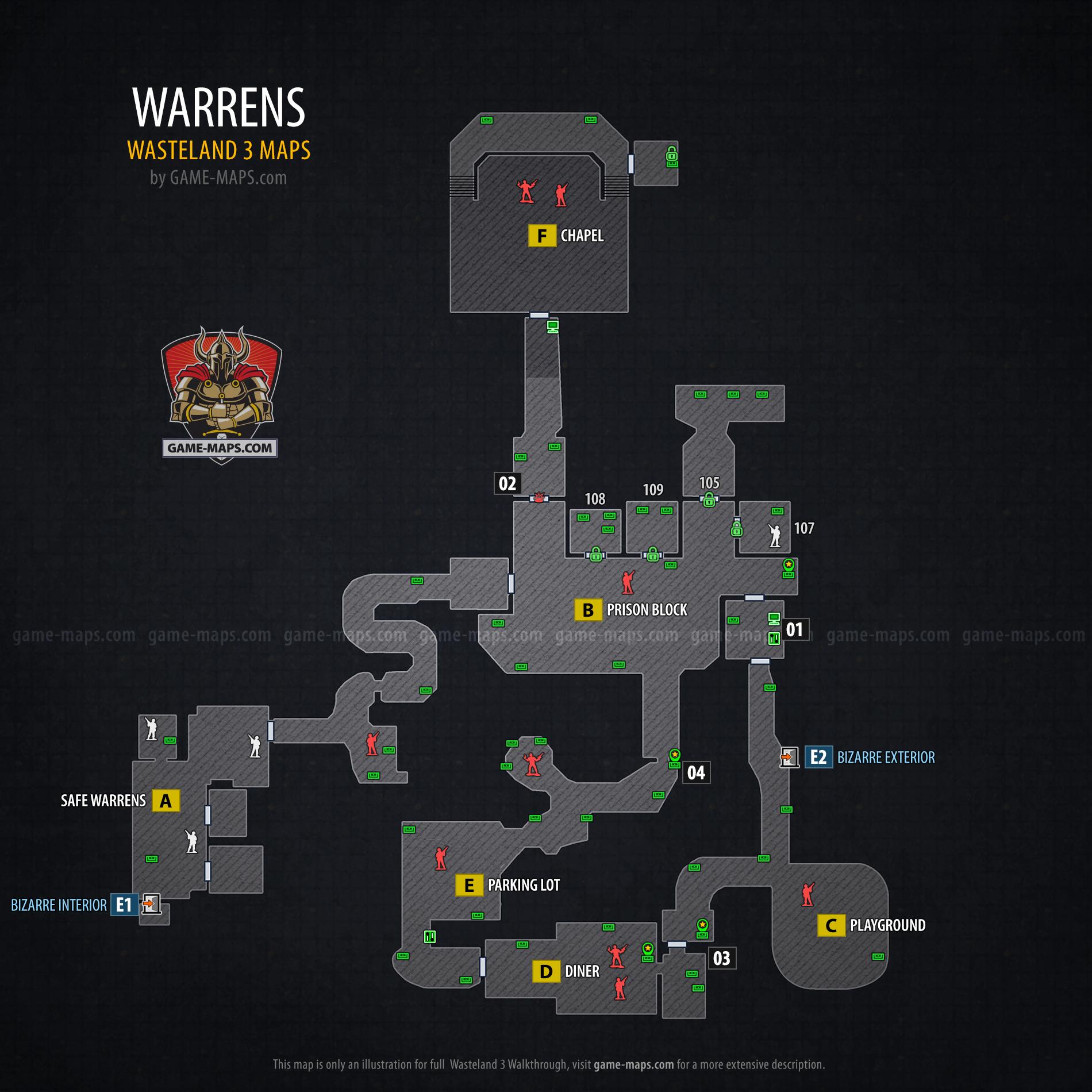 Warrens
Warrens - Wasteland 3