Slavers Bounty
Mission Description
Slavers Bounty is Radio Broadcast Mission, when traveling in Colorado, you will receive the information you need via Radio.
This is Secondary Mission with recommended Level 15.
The story of this mission takes place in: Ranger HQ Map, Downtown Colorado Springs Map.
Mission Steps:
A slaver named La Perla has asked us to find an escaped slave in exchange for acess to pre-war tech locked away in our base. [Reward: Access to vaults in Ranger HQ basement]
Find the escaped slave, Hallie and trick her back into La Perla's hands.
La Perla said she tracked Hallie, an escaped slave, back to this area. She's given us a description: female, early 20s, dirty blonde hair, probably trying to conceal her identity.
Hallie was last seen heading towards Colorado Springs. We should start Downtown.
We were able to open the vault with La Perla's code, but there's still another locked door.
Return to La Perla in the Ranger HQ courtyard.
We convinced Hallie to head back to HQ. We should return to LA Perla to get the access code.
Slavers Bounty

Walkthrough
Access to Vaults in Ranger HQ
Mission Slave Hunters will give you access codes for Vaults in Ranger HQ.
The mission has no real negative consequences, but is morally debatable.
To get to Vaults in Ranger HQ you need two codes.
You will receive the first code to the first door for just agreeing to complete the mission. Already then you will have access to some of the inventory.
The second code, to open second door, you will get only after completing the mission. And only then you will then have access to the equipment in the second room.
How to finish Slave Hunters Mission.
Talk to La Perla
If you attack Slavers in this momemnt, you won't receive the any codes and misson will stop.
Agree to complete the mission and you will receive the first code.
Go open the first door in the Vault
Go to Downtown Colorado Springs to Pillory Square and find Hallie, and do one of the following:

Warn Hallie about the Slave Hunters
Lie to her and direct her to Ranger HQ

Go back to Ranger HQ and depending on what you've done before:

If you cheated on Hallie - you will get the second code, you can open the second door.
If you saved Hallie - you won't get the second code and the contract with the Slave Hunters will end sooner or later in the fight.

Go open First Vault Door
Downtown Colorado Springs for Hallie

Warn Hallie about the Slave Hunters
Lie to her and direct her to Ranger HQ

Return to Ranger HQ and get second code as reward.
Open Vault
There is no way to save Hallie and get both codes at the same time. Do as you see fit, none of the decisions will be meaningful to the plot as a whole.
What is in Vaults in Ranger HQ
Fist Room
PDA Nerd Stuff +1
Tank Armor Armor +9
Tank Helmet Armor +6
Tank Helmet Armor +6
Second Room
Commandant's Helmet Critical Chance +15%, Armor: +6, Initiative +101%
Power Armor Legs Armor +11
Incinerator 103-151 Damage
Nuclear Knight's Helmet Armor +6, Resistances
Power Armor Helmet Armor +11
Laser Turrets x2
Proton Axe, Power Gauntlet and some others.
Choices and Consequences
If you do warn Hallie you will not get code to second doors.
If you lie to Hallie -10 Rep.
If you attack Slavers in the begining and do not agree for mission, you won't receive the any codes
Full Maps for
Slavers Bounty Mission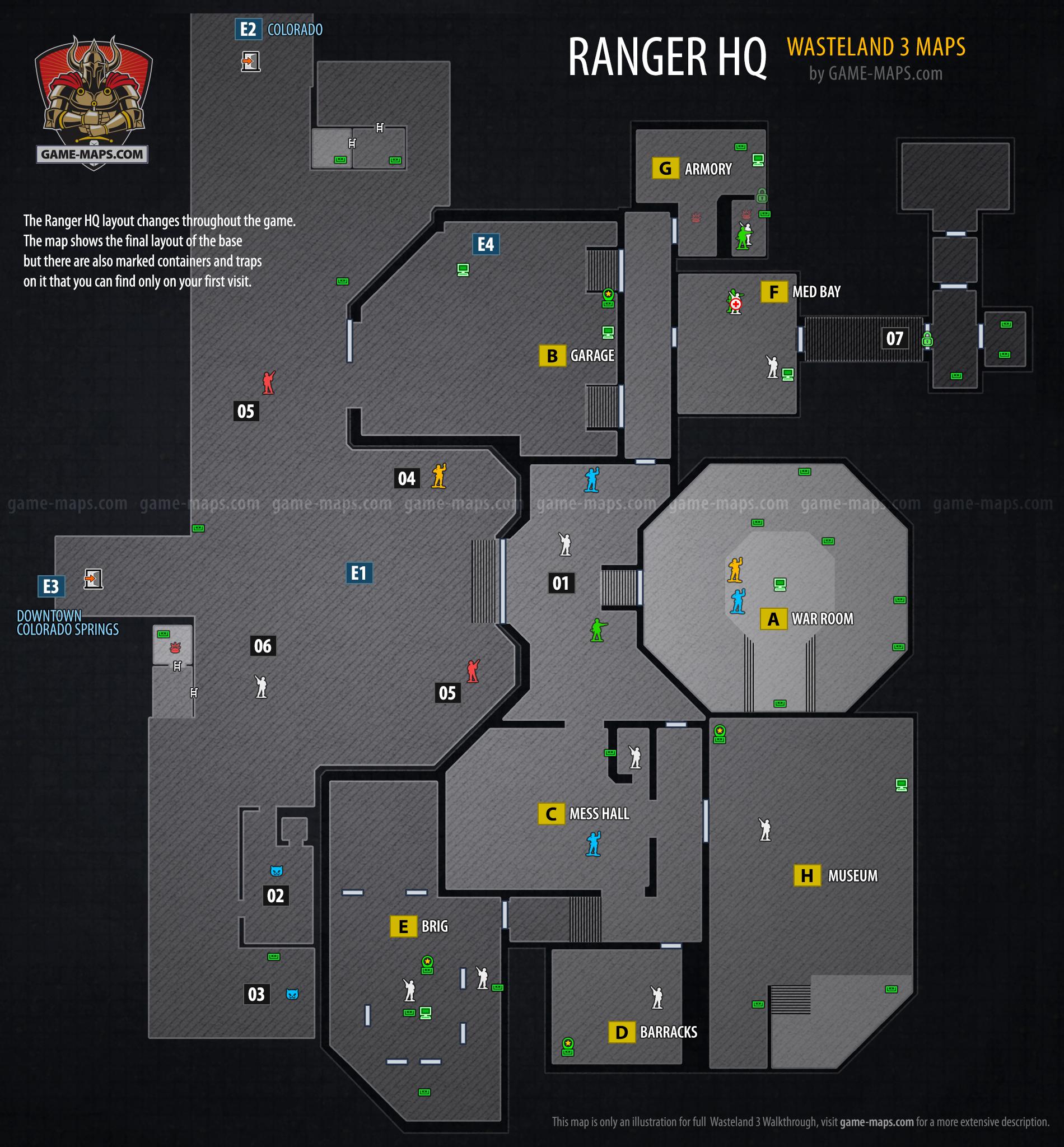 Ranger HQ
Ranger HQ - Wasteland 3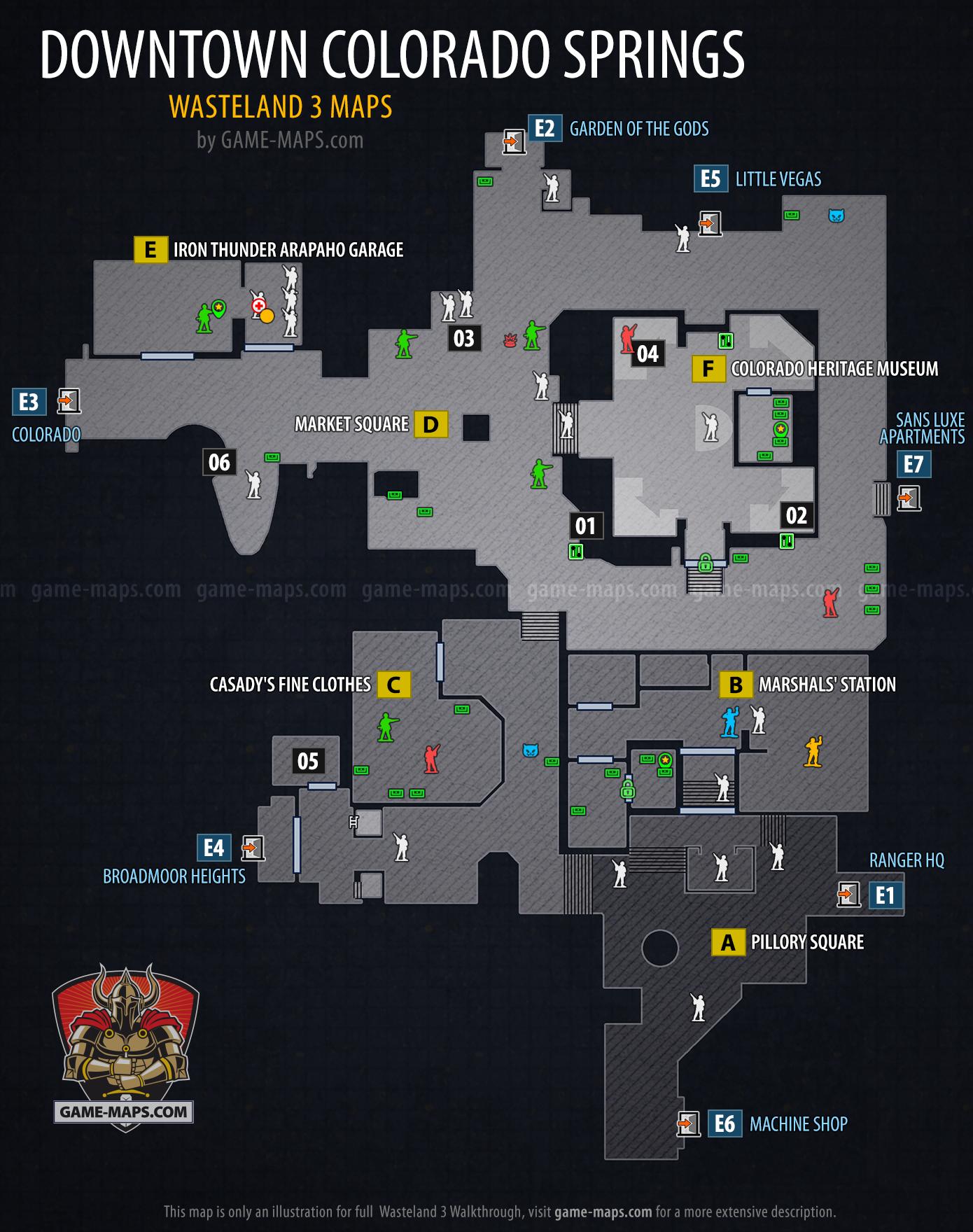 Downtown Colorado Springs
Downtown Colorado Springs - Wasteland 3