Raising a Little Hell
Mission Description
You will receive "Raising a Little Hell" Mission in zone: Aspen from Riley Woodson via Radio.
This is Primary Mission with recommended Level 17.
The story of this mission takes place in: Aspen Map, Little Hell Map.
Mission Steps:
Riley Woodson wants us to rescue his Ranger team and the Hundred Families members who are being tortured by Victory Buchanan and the Breathers in Little Hell.
Find a Way to Lower the Bridge In Aspen.
If we want to rescue the hostage Rangers, we'll need to find a way to lower the drawbridge blocking our way forward.
We found a computer that lowered the bridge. Crossing the bridge should bring us one step closer to finding Woodson.
With the bridge down, we can head deeper into Aspen.
Cross the Bridge and explore Aspen for a way up The Mountain.
Reach the Gondola building in Aspen and take The Lift to Little Hell.
A ski gondola is the only way to the top of the mountain. We'll need to reach it and ride the lift to the summit.
Woodson mentioned a weapons cache inside of a bunker. We should take a look if we have time.
We dealt with some robots inside the bunker and secured the weapons cache.
We've made our way to the gondola building. We should be able to take the lift up to Little Hell.
Speak with Woodson In Little Hell.
Riley Woodson is our best point of contact on top of the mountain. We should talk to him to get the lay of the land.
Find and rescue the Tortured Hostages in Little Hell.
According to Woodson, a few Ranger and Hundred Families hostages are still alive and being tortured. We need to locate and rescue the hostages.
There are three Hundred Families members being tortured, including members of the Reed and Ward families.
Woodson told us Ranger Pizepi Joren was taken to a science lab, but he thinks she is safe. He doesn't know where the other two Rangers in his squad, La Loca and Rook, were taken.
Pizepi Joren, a Ranger from Woodson's squad, told us that she knows of five hostages who may still be alive in the ski lodge - two Rangers, Rook and La Loca, and three civilians, a man being held in a sauna, and two women.
All hostages are safe and accounted for. Hostages Rescued: 5
Map of starting location
for Raising a Little Hell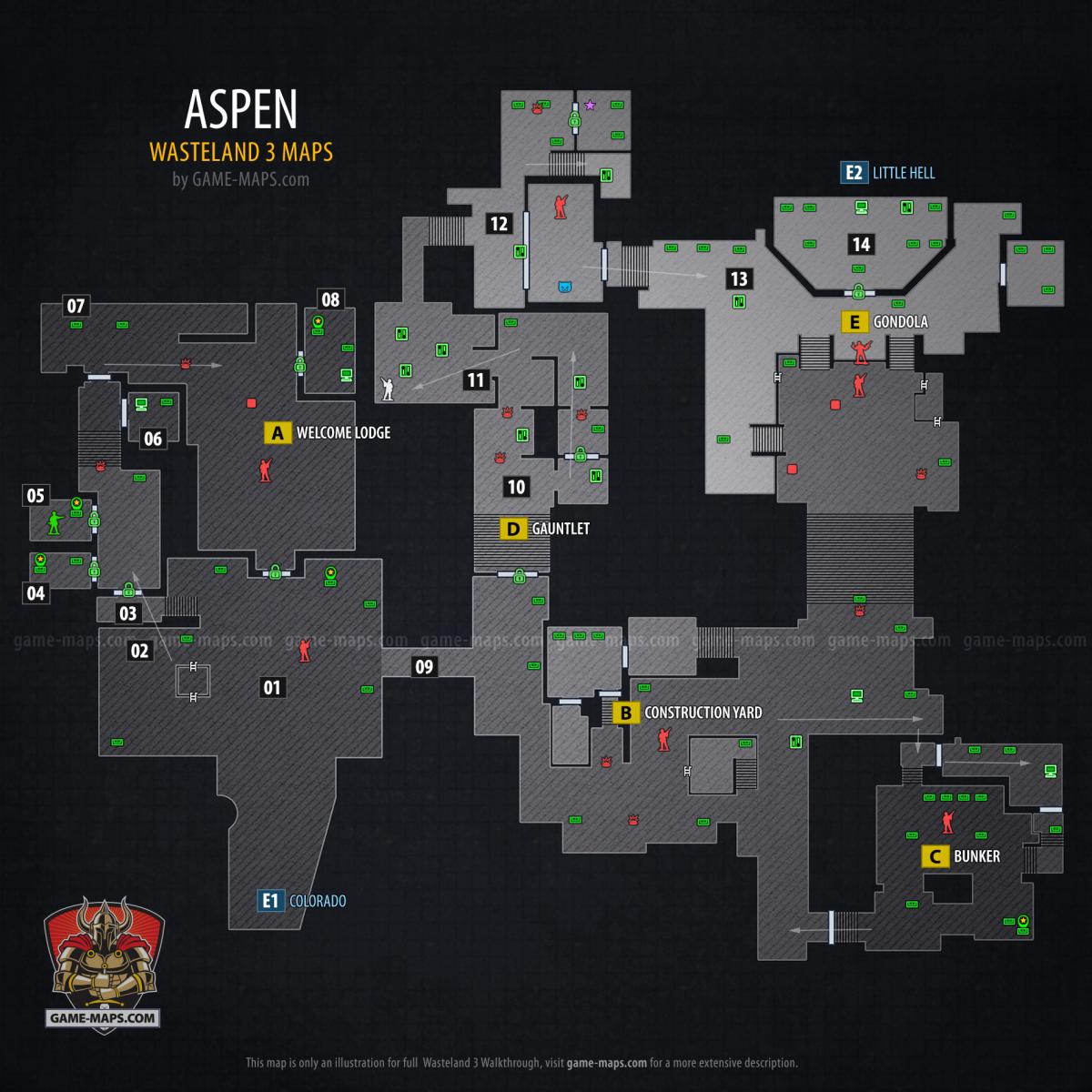 Raising a Little Hell

Walkthrough
We will get this Misssion from Riley Woodson via radio when entering Aspen
Kill all Breathers in front of the building and do not enter the building through the main entrance.
Search Truck standing near entrance and pickup Employee Lounge Key
Use Employee Lounge Key tu unlock side entrance, enter inside.

Computer 6 "Reprogram network to target Breathers"

Kill Breathers and take Gift Shop Key
Use Gift Shop Key to enter room,

Computer "Type LOWER"

You left the drawbridge, cross it.
Reach Gondola
Kill Breathers and take Gondola Building Key
Use Gondola to travel to Little Hell
You have to Rescue 5 Hostages and prevent them from dying:
La Loca in Cold Storage [D], kill Gertrude The Gruesome, take Freezer Key, unlock freezer, talk to her.
Estin Ward in Sauna [G], you have to use Mechanics 7 on Breather Gas Tank in Pool Storage [F] to open Sauna Doors.
Violet Reed - Guest Suites 1 - Don't let the girls get off the floor plates, use Mechanics 8 on fuse box.
Priscilla Reed - Guest Suites 1 - Don't let the girls get off the floor plates, use Mechanics 8 on fuse box.
Rook - Guest Suites 2, unlick cage
Optional Pizepi in Lab [C]
Optional Llewellyn in Basement [H]
A detailed description, step by step, How to Rescue Hostages is at Little Hell Map becouse practically the entire location is devoted to this Mission.
How to get Vault Key from Llewellyn:
You can just kill him and take key from body - but this is not recommended solution.
You can give him a laxative and get the key out of whatever shoots out of him. This is the recommended solution, except that it doesn't work as it should due to a bug in the game. I hope that when you will play the bug will be corrected.
You can smash the door to Vault [I] with an explosive weapon. I needed a few shots from Stringer Rocket to get inside.
You can use 10 on the Vault door if you have such a skill and just open it.
How to make laxatives for Llewellyn in Little Hell:
You can find the recipe for laxatives in the Lore Book "Everybody Shits!", I found it in the container in the Pool area.
If you haven't found the recipe, the ingredients (one of few sets) are as follows: Na-2, H, O-4, P will give you Laxative.
You can make laxatives in Chemical Mixing Table at Lab [C]
Return to Llewellyn and give him laxatives via a dialogue option
The key should appear next to it on the ground in the pile of what fell out of him. (Bug)
Choices and Consequences
This mission has basically only one solution. The way it is done may differ, but you don't have to make any irreversible decisions or deal with their consequences later.
Full Maps for
Raising a Little Hell Mission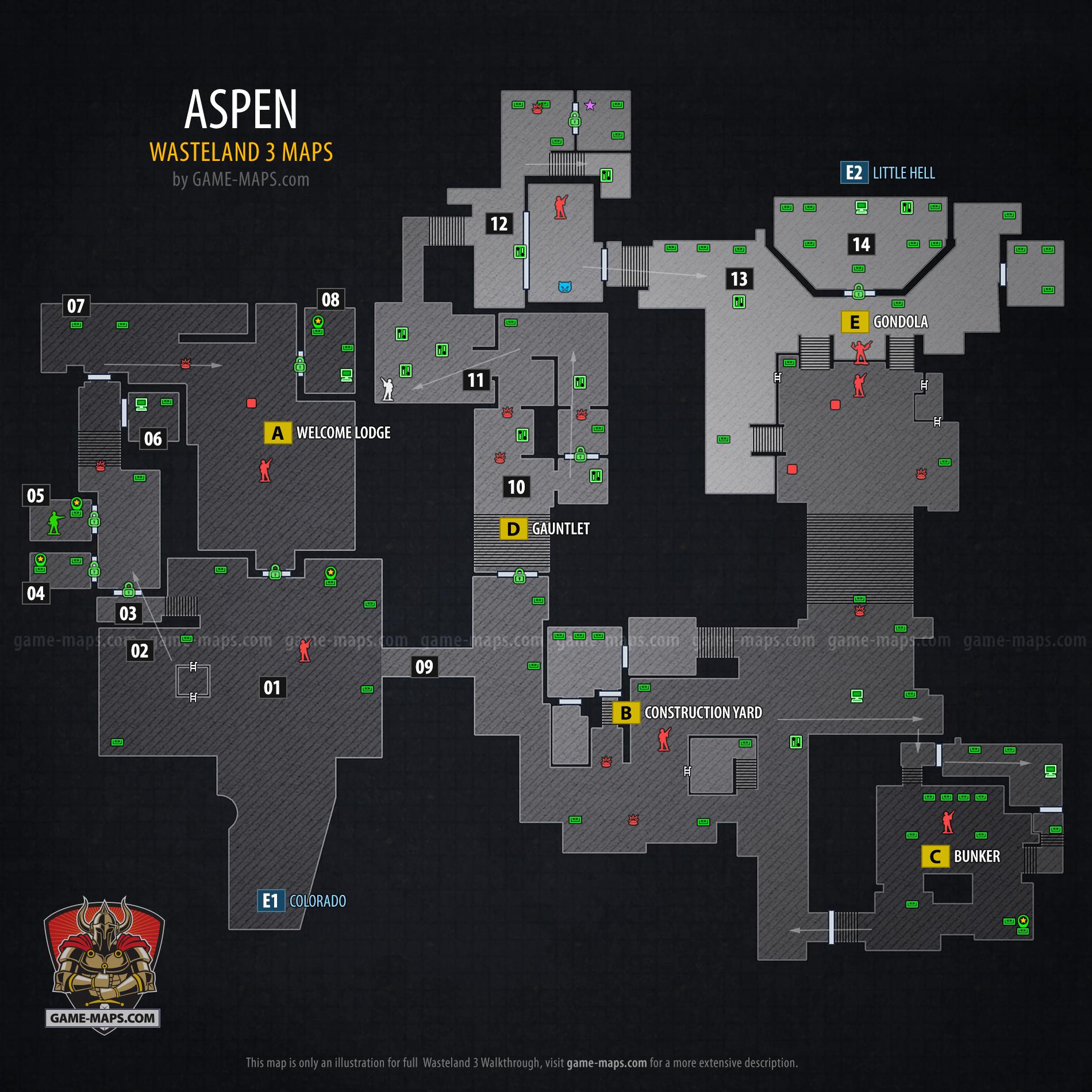 Aspen
Aspen - Wasteland 3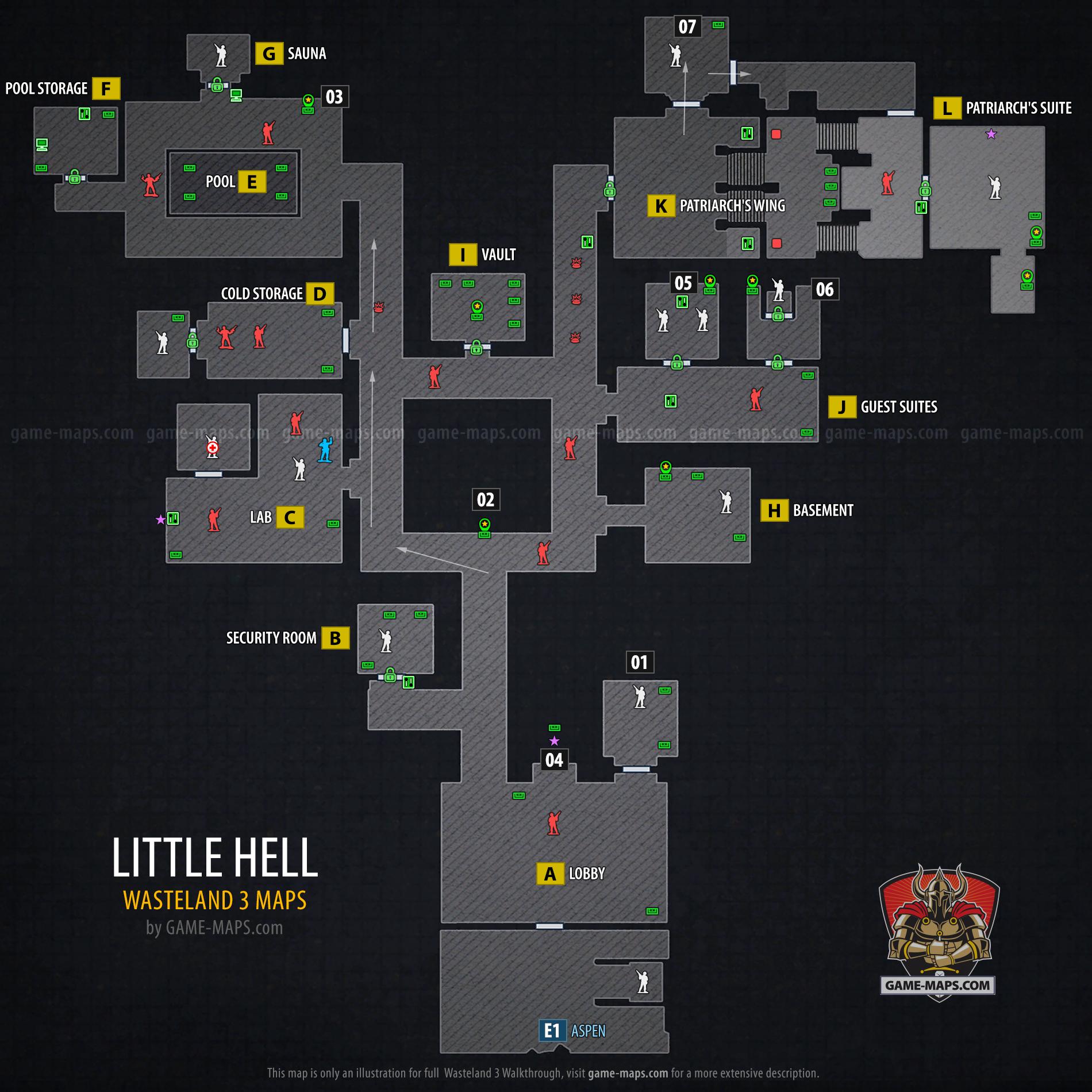 Little Hell
Little Hell - Wasteland 3