Hard Knox Life
Mission Description
Hard Knox Life is Radio Broadcast Mission, when traveling in Colorado, you will receive the information you need via Radio.
This is Secondary Mission with recommended Level 19.
The story of this mission takes place in: Knox Bison Ranch Map.
Mission Steps:
The Knox Bison Ranch is under attack and calling for help.
Investigate the Knox Bison Ranch.
We received a distress call from the Knox Bison Ranch. It's under siege by unknown assailants.
Confront the Scar Collectors Outside the Knox Bison Ranch.
The head rancher flagged us down as we entered and explained the situation: Scar Collectors looking to rustle some bison have the place surrounded. We'll need to deal with the gang members one way or another.
Clear out the Vermin behind the Knox Bison Ranch building.
The Scar Collectors are dead, but during their siege, some kind of vermin have moved in behind the ranch. The ranch leader asked us to exterminate them.
Report back to the Ranchers at Knox Bison Ranch.
We've killed the vermin. Now, we just need to report back to the head rancher.
We've saved the Knox Bison Ranch from the Scar Collectors, and removed a vermin infestation so the ranchers can get back to tending to the bison. A delivery of bison meat should arrive at Ranger HQ shortly.
Hard Knox Life

Walkthrough
Whether to side with Ranchers or Scar Collectors in conflict:
Help the Ranchers fight Scar Collectors (Recommended)
Take the side of Scar Collectors and attack the Ranchers (not recommended)
Kill Scar Collectors and Kill Vermins
Return to Ranch Leader for reward.
Ranch Leader will let you train a bison during the conversation.
9 Bodacious
Choices and Consequences
This mission has basically only one solution. The way it is done may differ, but you don't have to make any irreversible decisions or deal with their consequences later.
Full Maps for
Hard Knox Life Mission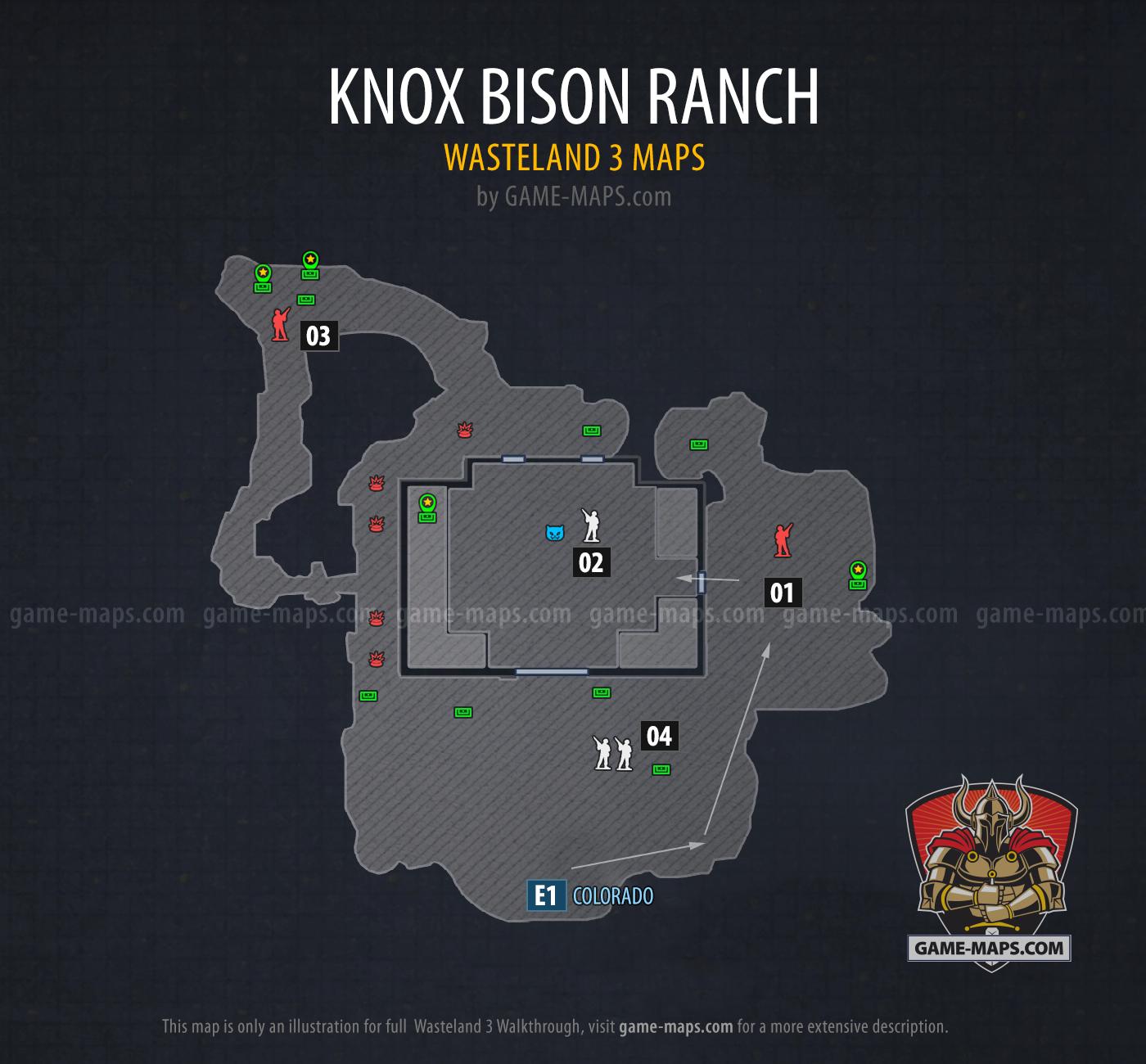 Knox Bison Ranch
Knox Bison Ranch - Wasteland 3