Disappeared
Mission Description
Disappeared is Radio Broadcast Mission, when traveling in Colorado, you will receive the information you need via Radio.
This is Secondary Mission with recommended Level 16.
The story of this mission takes place in: Sans Luxe Apartments Map, Paint Mines Map.
Mission Steps:
A group of mothers, wives, and siblings of convicts who were sentenced to hard labor at the Patriarch's work camp want us to find out where their loved ones are being held. [Reward: $400, Nitro-Ray]
Find Frank Pappas in Downtown Colorado Springs.
Frank Pappas was the marshal who delivered the women's loved ones to the work camp. He lives somewhere in downtown Colorado Springs. If anyone can give us the location of the work camp, it's him.
Explore the Cave in The Paint Mines area that Pappas marked on your map.
Frank Pappas admitted that he used to deliver convicts to a cave outside the city. He gave them to a "tattooed plains motherfucker," but he doesn't know what happened to them after that. Maybe we'll find some clues at the cave.
Ask Wind-That-Tangles about The Missing Convicts.
We found a man living at the cave we were directed to, and he matches the description of Frank Pappas's contact. He might know more about the missing convicts.
Return to Betsy.
After talking to Wind-that-tangles, we decided to leave him in peace. We should tell Betsy and the other women what happened to their loved ones.
We chased off the vengeance-seeking women, keeping them from their extra-judicial killing of a reformed Godfisher. Wind-that-Tangles is safe for now, but he'll spend the rest of his life looking over his shoulder.
Disappeared

Walkthrough
You will get this mission by radio broadcast from Betsy after you finish Denver
You can find Betsy in Ranger HQ main hall.
Go to Sans Luxe Apartments and talk to Frank Pappas
If you "How about you join the Rangers? ..." to him he will
He will tell you about the Paint Mines location, which will be marked on your map.
Go to Paint Mines
Find Cave and talk to Wind-that-Tangles
"We'll keave you in peace ..."
Return to entrance to location and talk to Betsy
You have to 9 or return and kill Wind-That-Tangles or fight Betsy
Choices and Consequences
What to do with Wind-that-Tangles in Disappeared Mission?
You can leave them in peace. Recognizing that they are innocent and deserve a second chance. No reward for how proud you are [Recommended].
Or you have to convince Betsy near entrance to location with 9 to leave them alone.
Or you will have to kill Betsy and her companions (near entrance), you will then get your reward, you will take reward from her corpse.
You can temporarily leave the Wind-That-Tangles alive, meet Betsy, be persuaded to kill again, return to the cave and kill them. Then you also get an award.
Regardless of what you do, you will always be able to come back and kill Wind-That-Tangles and collect your reward from the character waiting at the entrance to the location.
Full Maps for
Disappeared Mission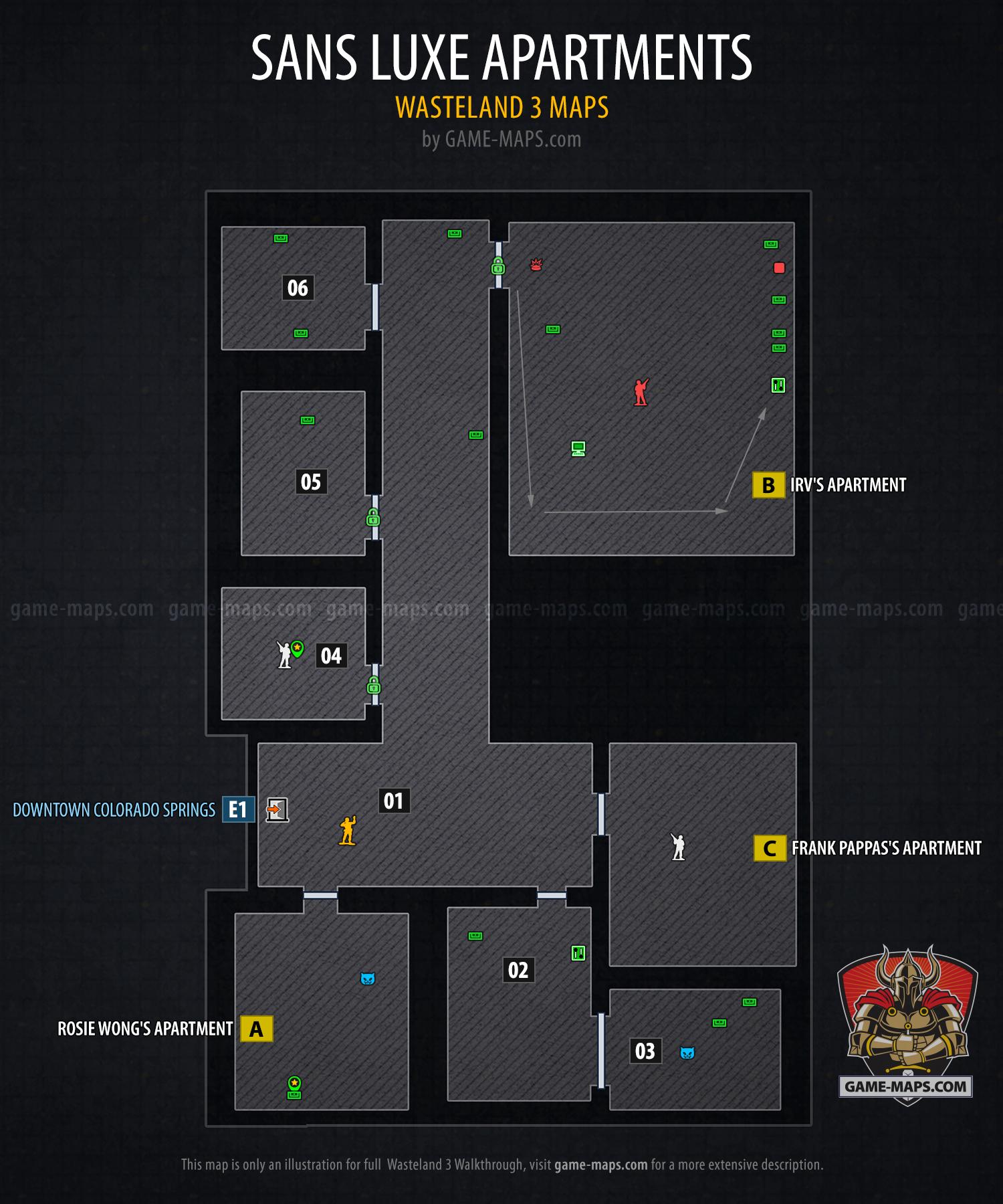 Sans Luxe Apartments
Sans Luxe Apartments - Wasteland 3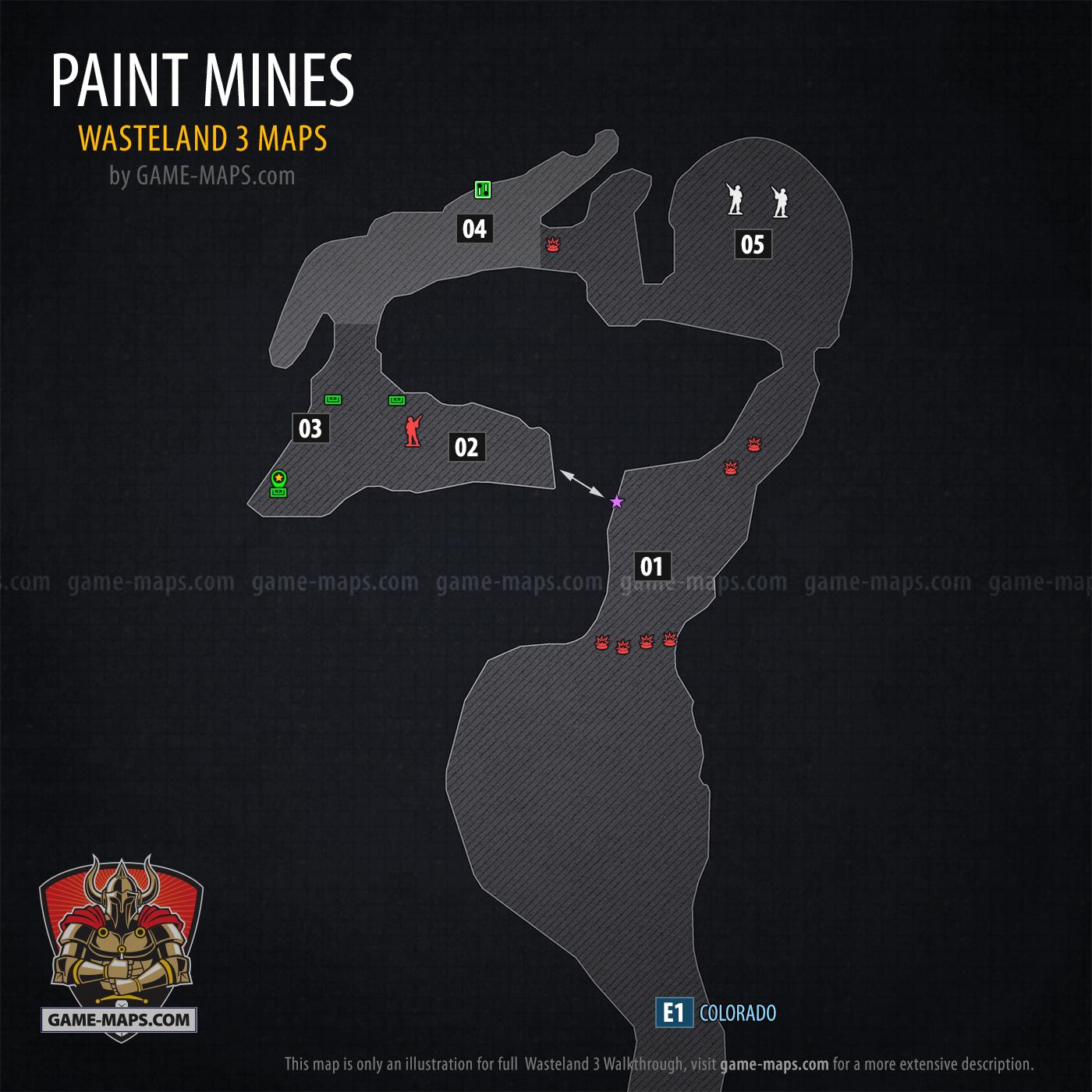 Paint Mines
Paint Mines - Wasteland 3