Cornered Rats
Mission Description
You will receive "Cornered Rats" Mission in zone: Ranger HQ from The Patriarch.
This is Primary Mission with recommended Level 2.
The story of this mission takes place in: Ranger HQ Map, Downtown Colorado Springs Map, Garden of the Gods Map.
Mission Steps:
Shortly before we arrived at Peterson Airforce Base, a large group of Dorseys attacked Colorado Springs. The attack failed, and most of the holdouts are holed up the Garden of the Gods. The Patriarch asked us to help his Marshals deal with them. [Reward: Ranger HQ brig warden, Merc Armor, Merc Helmet, Merc Leggings]
Talk to Sheriff Daisy in Downtown Colorado Springs.
The Patriarch said we can start earning some goodwill by helping his Marshals deal with the remainder of the Dorsey forces. We should talk to Sheriff Daisy at the Marshal Headquarters in Colorado Springs.
Eliminate the Dorseys in The Garden of the Gods.
We can reach the Garden of the Gods through a checkpoint on the north side of Downtown. Sheriff Daisy asked us to take Lucia Wesson along.
Return to Sheriff Daisy in Downtown.
We wiped out the Dorseys in the Garden of the Gods and learned that Faran Brygo may have been working with them. We should head back to the Marshal station in Downtown and inform Sheriff Daisy.
Map of starting location
for Cornered Rats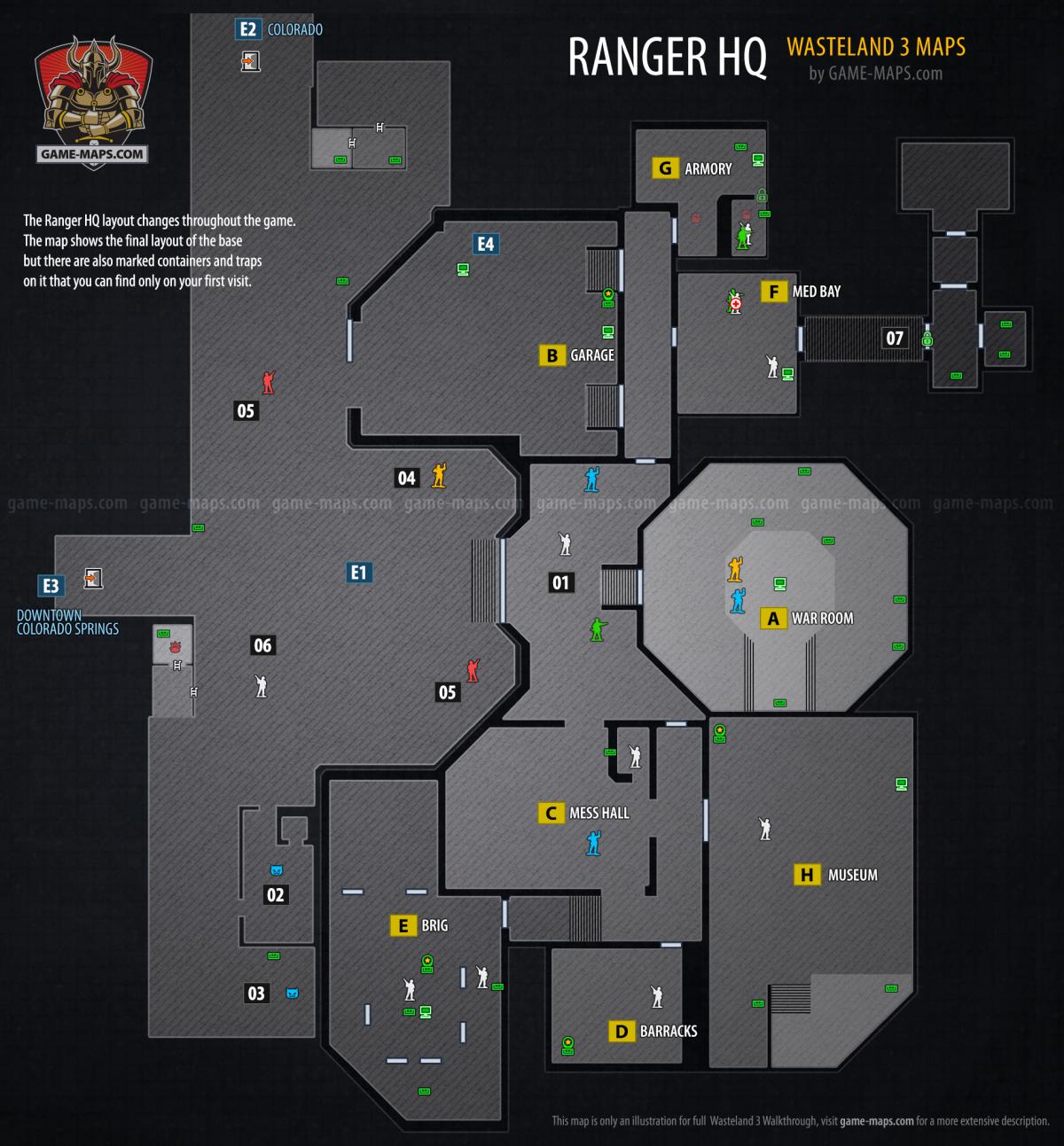 Cornered Rats

Walkthrough
Talk to Sheriff Daisy in Marshals' Station in Downtown Colorado Springs.
Join Lucia Wesson to your team, she is also in Marshals' Station
Exit Downtown Colorado Springs through the north exit to Garden of the Gods
Cheat and [Arrest] first group of Dorseys and send them to Ranger HQ.
Attack second group of Dorseys using P.A.L. Controller and kill the rest.
[Arrest] Isaac Reed and send him to Ranger HQ
Return to Downtown Colorado Springs
Talk to Lucia Wesson about why you doont kill Reed
Return to Sheriff Daisy and finish mission.
Choices and Consequences
If the mission is successful Hope Emerson will become Ranger HQ Brig Warden
Send Isaac Reed to Ranger HQ - Brig Warden in Ranger HQ
Kill (or allow him to die) Isaac Reed - loss of reputation with Hundred Families
Let Lucia Wesson to Kill Isaac Reed - loss your reputation with Hundred Families
Send Isaac Reed to Marshals' Station - raise your reputation with Patriarch's Marshals
Stop Lucia Wesson from killing Isaac Reed - after leaving Garden of the Gods you will be able to talk to her and explain to her why you did it, you will get the next mission.
Full Maps for
Cornered Rats Mission