Buzzkill
Mission Description
Buzzkill is Radio Broadcast Mission, when traveling in Colorado, you will receive the information you need via Radio.
This is Secondary Mission with recommended Level 15.
The story of this mission takes place in: Closed Little Vegas Map.
Mission Steps:
Rosie Wong's got another noise complaint. She says there's a terrible cacophony coming from the boarded-up nightclub. The noise is driving her cats crazy. [Reward: $150]
Clear the Partying Teenagers out of The Abandoned Little Vegas Nightclub.
Rosie thinks a bunch of teenagers have broken into the shut down Little Vegas to throw a party. She wants us to get them to vamoose.
The teens in the main room seem impressed by our party-hardiness. We might be able to convince Troy to lead them somewhere else.
Return to Rosie Wong in Downtown.
The teens have cleared out of the Little Vegas. Let's inform Rosie.
We invited the teens to continue the party at Ranger HQ. Rosie was grateful for the peace and quiet.
Buzzkill

Walkthrough
Enter Closed Little Vegas goes where Little Vegas previously was.
Say "Great party ... Mind if we join in?" to Troy
Go upstairs to Private Party
Talk to Jorge "Why don't you bring your game to our HQ? Nobody will mess with you there."
Return to Main Hall
Smoking Teen - give him a cigarette "Sure kid, here you go"
Drinking Teen "Grab the tap spigot ..."
Discobot Nerd Stuff 3 - "... plays the worst music ever."
Troy - "Thanks. Hey, you know we've got plenty of room out at our HQ ..."
Go to Rosie Wong in Sans Luxe Apartments to finish mission.
Choices and Consequences
If you complete the mission correctly, both groups of nerdy teenagers and partying teenagers will join you in Ranger HQ.
Full Maps for
Buzzkill Mission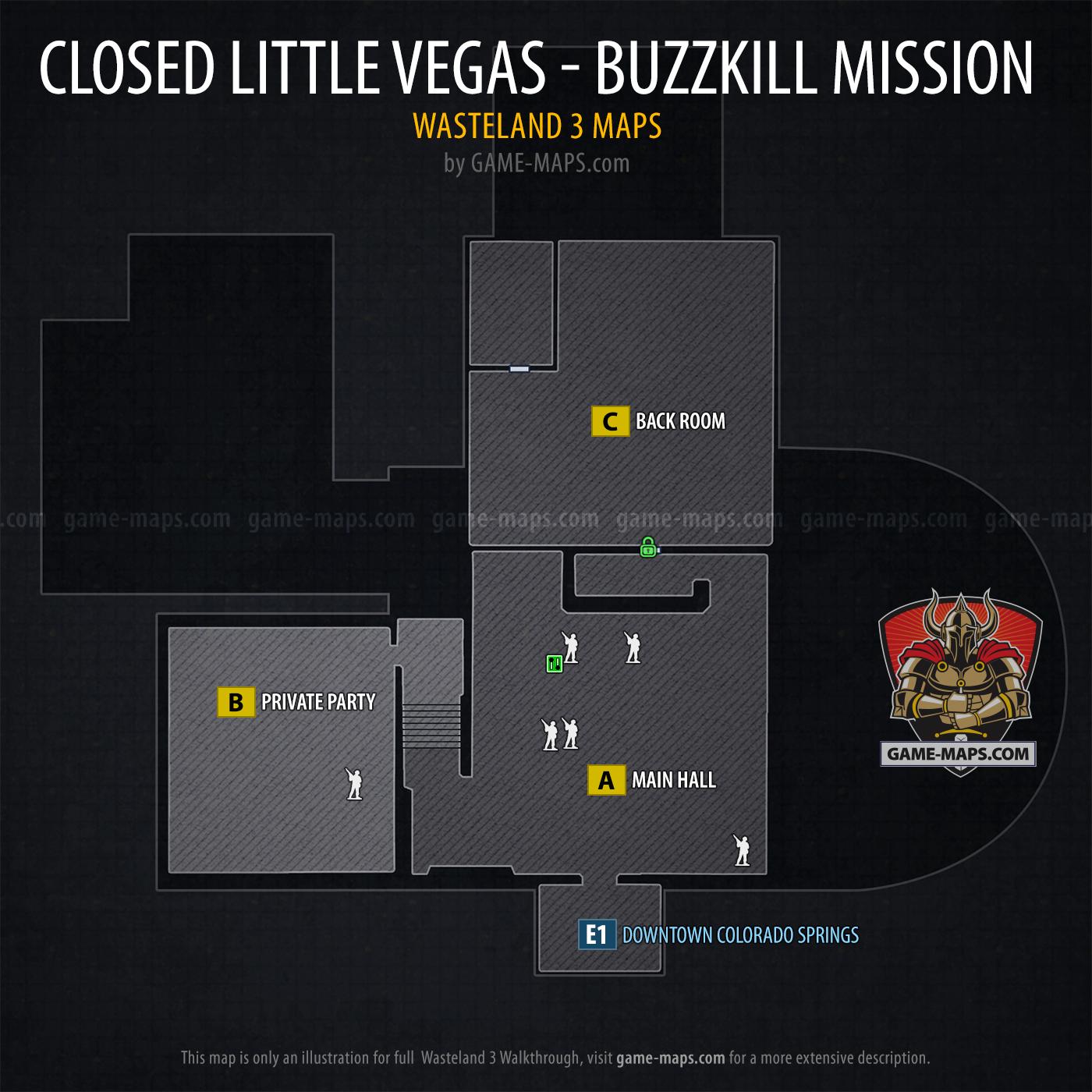 Closed Little Vegas
Closed Little Vegas - Wasteland 3