Wrothgar Skyshards Location Map The Elder Scrolls Online (ESO)
Map of Skyshard Locations in Wrothgar The Elder Scrolls Online (ESO) Maps & Walkthrough.
Wrothgar Skyshards Location Map
Wrothgar Skyshards Location Map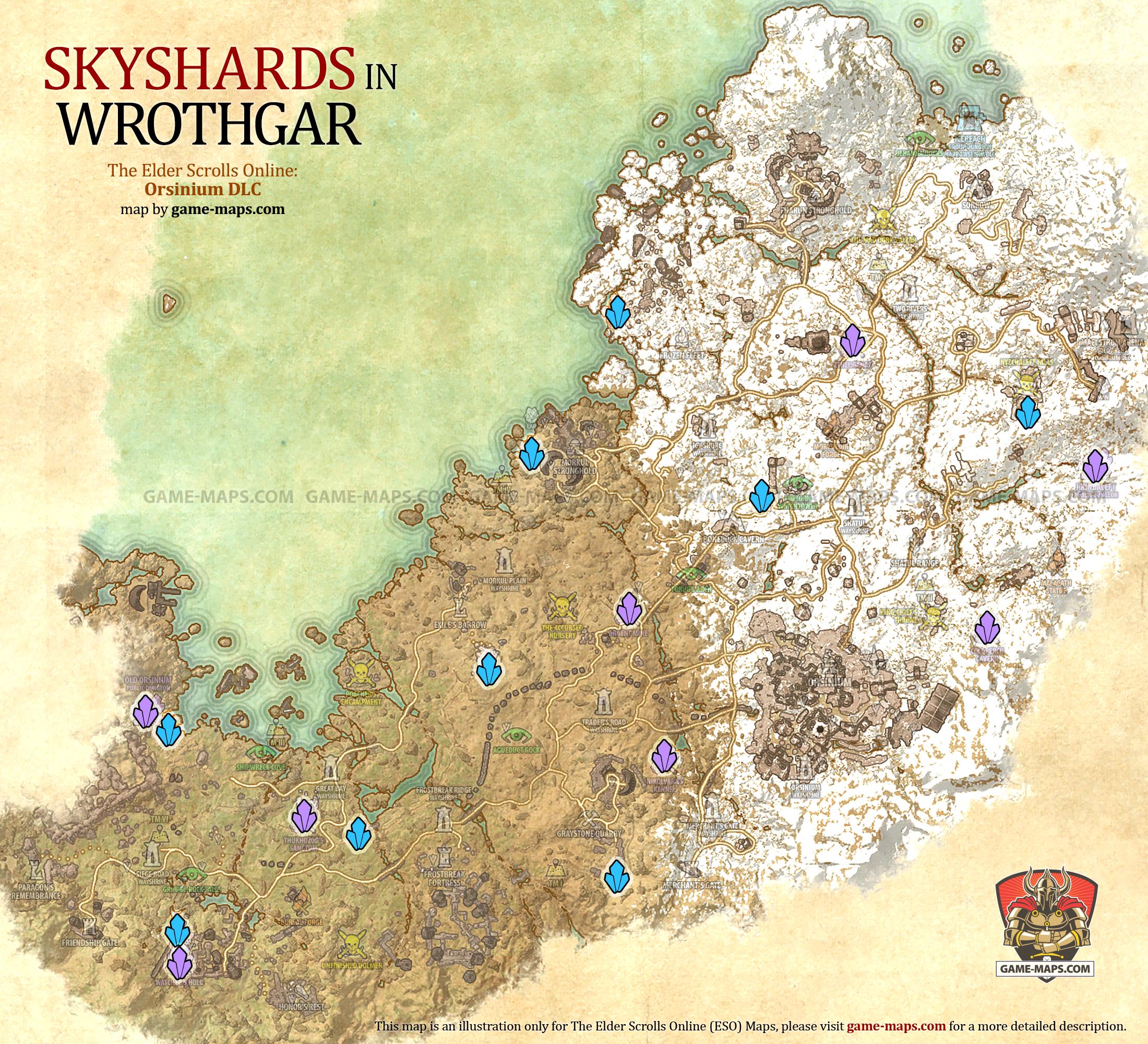 Skyshards in The Elder Scrolls Online are scattered throughout the world and can be identified by the bright beam of white light they emanate. Discovering each three Skyshards will grant you a skill point, which can be used to unlock or morph new abilities. Skyshards are easy way to obtain experience points.
Skyshards Skyshard on the ground level or above. Every three skyshards a player collects will yield one skill point.

Underground Skyshards Normal Skyshards but located inside the Delves and Public Dungeons.
Wrothgar Skyshards
Discover all 17 Skyshards in Wrothgar.
Beneath the ruined aqueduct.
West of the cliff jumper's falls.
Smuggled away in Shipwreck Cove.
On a stonecutter's scaffold.
A seaside view from the cliffs of Morkul.
Above the ancient barrow.
Lost cargo on a frozen freighter.
Atop the frozen waterfall.
Overlooking the ice-bound Centurion.
Caught in the webs of the old city.
Washed down river by Dwarven boilers.
Surrounded by silver.
An unusual egg for harpies.
Pried from a necromancer's cold, dead hands.
Kept as a prize in the cold Dwarf tomb.
In a subterranean spider oasis.
Amidst the crumbling gargoyles.
Skyshards Location Maps
Chapter Zones
Story DLC Zones
Neutral & PvP
Ebonheart Pact
Aldmeri Dominion
Daggerfall Covenant