Glenumbra Skyshards Location Map The Elder Scrolls Online (ESO)
Map of Skyshard Locations in Glenumbra The Elder Scrolls Online (ESO) Maps & Walkthrough.
Glenumbra Skyshards Location Map
Glenumbra Skyshards Location Map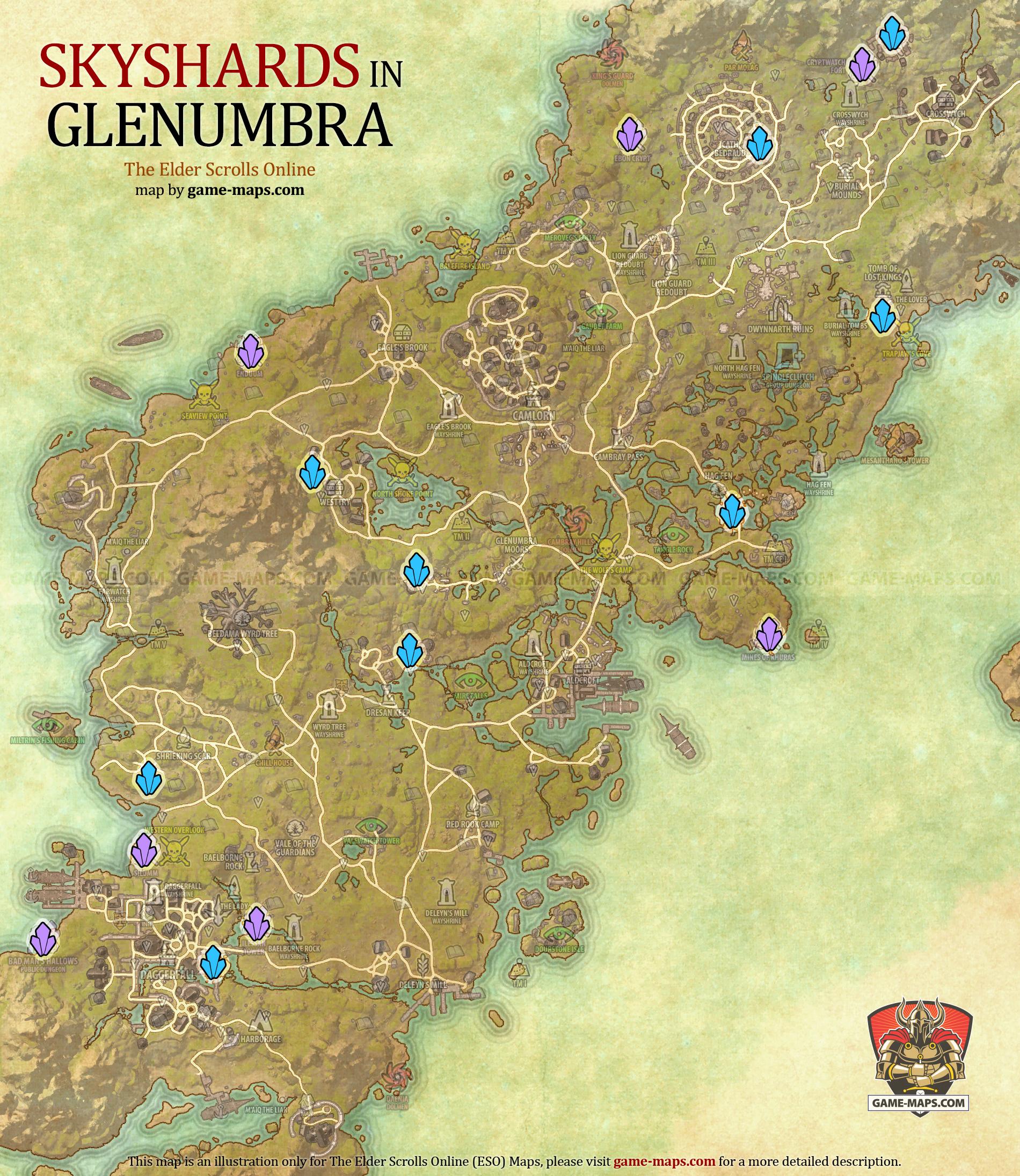 Skyshards in The Elder Scrolls Online are scattered throughout the world and can be identified by the bright beam of white light they emanate. Discovering each three Skyshards will grant you a skill point, which can be used to unlock or morph new abilities. Skyshards are easy way to obtain experience points.
Skyshards Skyshard on the ground level or above. Every three skyshards a player collects will yield one skill point.

Underground Skyshards Normal Skyshards but located inside the Delves and Public Dungeons.
Glenumbra Skyshards
Discover all 16 Skyshards in Glenumbra.
Guarding Daggerfall's eastern gates.
Before Dresan's headless sentinel.
Search amongst the shrieks.
Westtry's dead slept underneath.
Far behind the Elf-haters' lines.
Beneath a Hag's footbridge.
Where vines strangle the sleeping dead.
Close to finding the kings.
A climb above Crosswych.
A tower explored is Ilessen learned.
Near Silumm's well on Daggerfall shores.
Within a mine of blood and thorns.
Behind a wall to Enduum all.
Where Ebon Crypts become Ebon Caves.
In the bowels of Cryptwatch.
In the roots of the Hallows.
Skyshards Location Maps
Chapter Zones
Story DLC Zones
Neutral & PvP
Ebonheart Pact
Aldmeri Dominion
Daggerfall Covenant