The Rift Skyshards Location Map The Elder Scrolls Online (ESO)
Map of Skyshard Locations in The Rift The Elder Scrolls Online (ESO) Maps & Walkthrough.
The Rift Skyshards Location Map
The Rift Skyshards Location Map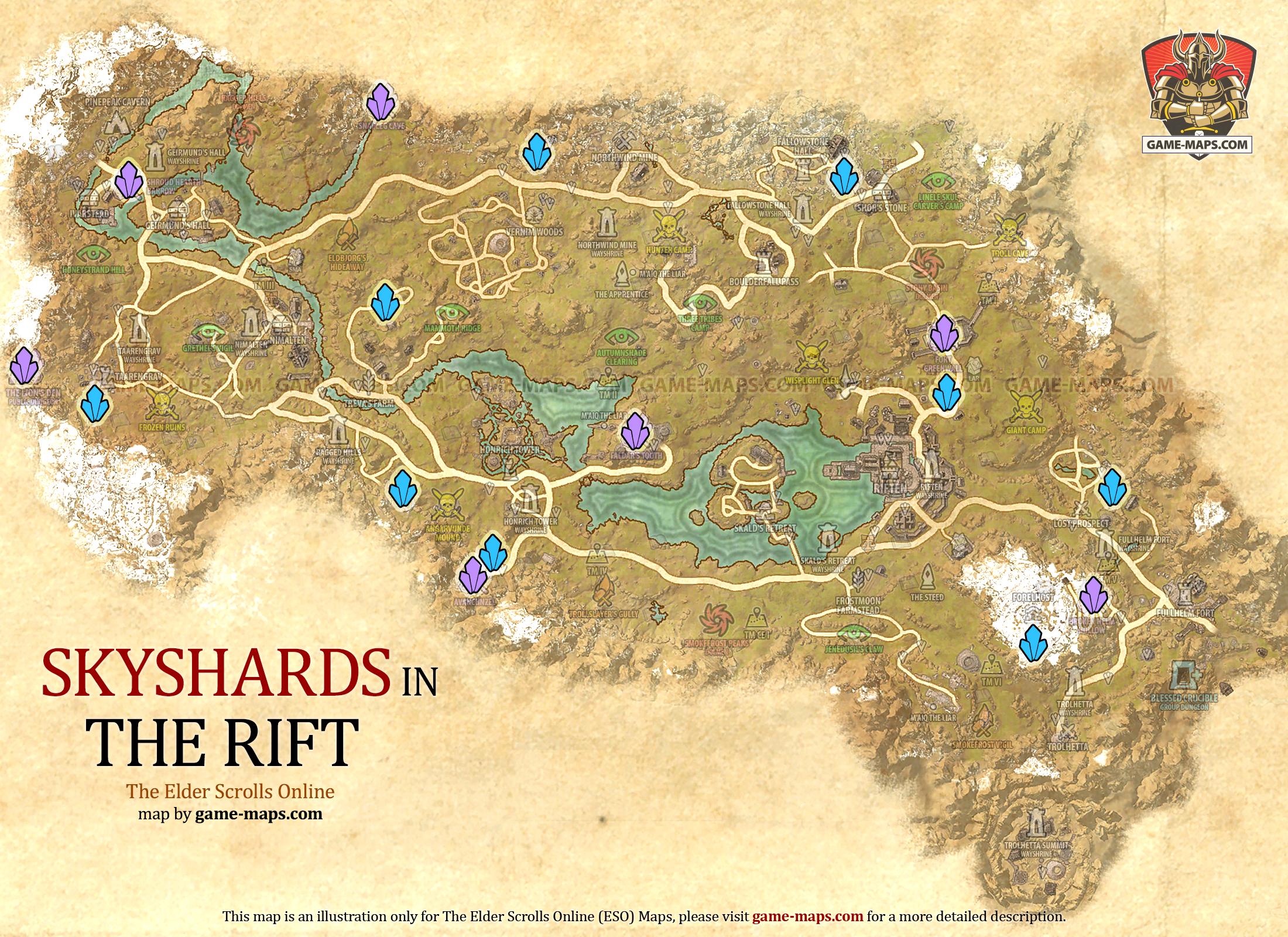 Skyshards in The Elder Scrolls Online are scattered throughout the world and can be identified by the bright beam of white light they emanate. Discovering each three Skyshards will grant you a skill point, which can be used to unlock or morph new abilities. Skyshards are easy way to obtain experience points.
Skyshards Skyshard on the ground level or above. Every three skyshards a player collects will yield one skill point.

Underground Skyshards Normal Skyshards but located inside the Delves and Public Dungeons.
The Rift Skyshards
Discover all 16 Skyshards in The Rift.
Braced against wind near the mine.
Be Shor to search all over the stone.
Nearly discovered by a mauled stablehand.
Cultists' prize near Ragged Hills.
Scour the crags near Avanchnzel.
South where worms swarm the barrow.
A prospect found.
Walk above the clouds.
Stay alert between Riften and Greenwall.
Clank of gears and hiss of steam.
Guarded by bears in the hollow.
Deep in the roots of the tooth.
Where green grows in the fort's wall.
Take a shrouded approach.
Tread carefully and don't break a leg.
Skyshards Location Maps
Chapter Zones
Story DLC Zones
Neutral & PvP
Ebonheart Pact
Aldmeri Dominion
Daggerfall Covenant