Elsweyr Map ESO - The Elder Scrolls Online
The Elder Scrolls Online ESO Maps, Walkthrough & Game Guide
Elsweyr zone map for The Elder Scrolls Online: Elsweyr Chapter. Delves, World Bosses, Quest Hubs, Dungeosn and Skyshards in Murkmire. Main settlements in Elsweyr is Rimmen. This is homeland of the Khajiit race. The Elder Scrolls Online: Elsweyr Chapter will be available in June 2019.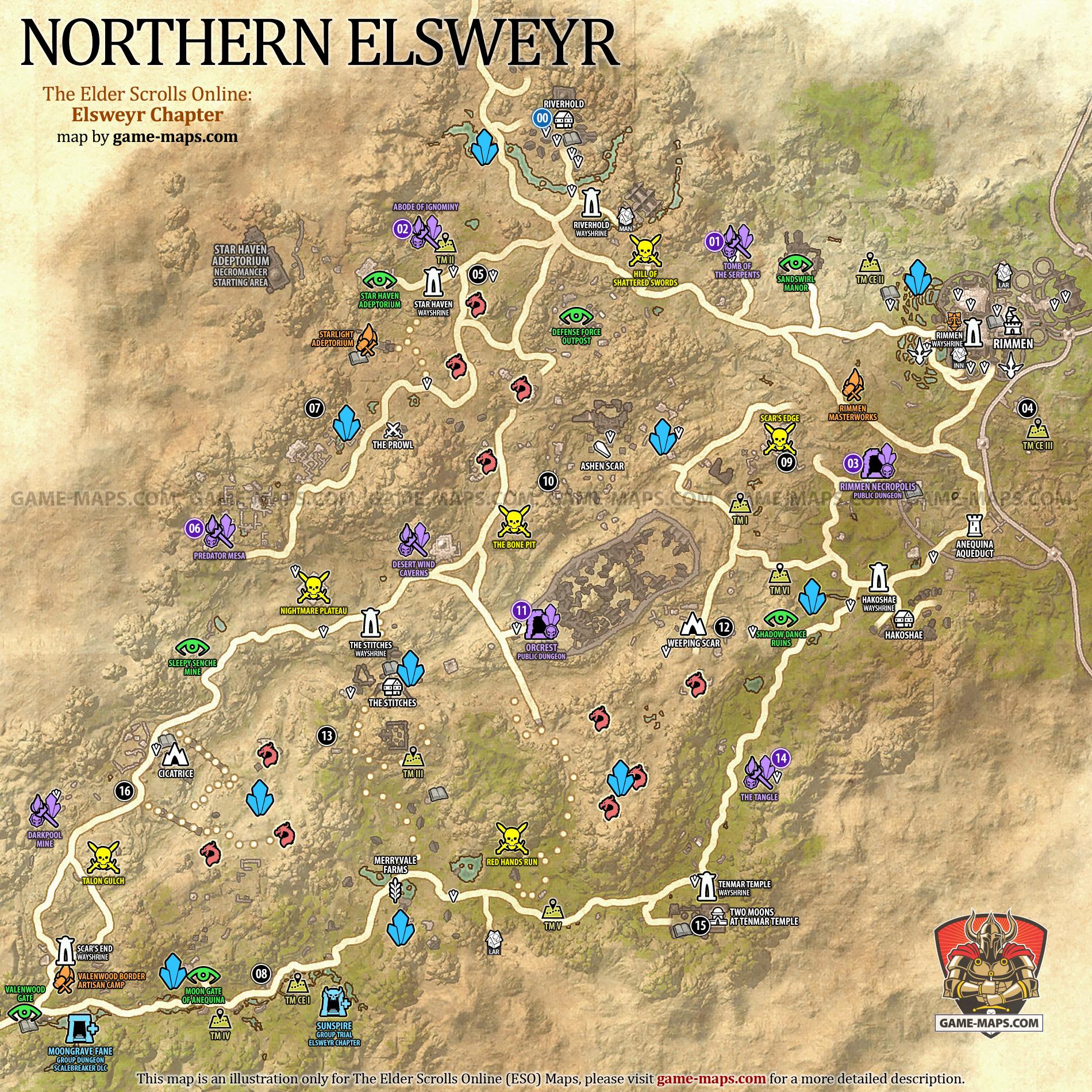 The Elder Scrolls Online: Elsweyr Chapter is coming June 2019 part of The Season of the Dragon adventure, which it consists of Wrathstone DLC, Elsweyr Chapter, DLC in Q3 2019 and DLC in Q4 2019.
Elsweyr will bring new Necromancer Class with three unique Skill Lines: Reaper, Bone Tyrant, Living Death.
Elsweyr is a homeland of Khajiiti race.
Reaper - Imbue the dead with frost, fire, and lightning to bring ruin upon your enemies. Raise relentless hordes of the undead and allow your fallen enemies to intensify your unyielding assault.
Bone Tyrant - Bend and break the dead to your will and use their remains to create impenetrable barriers and extend your own life. Control the battlefield with the bones of the departed.
Living Death - Draw from the power of life and death to replenish and restore your allies. Resurrect your defeated comrades and keep them in the fight.
Sunspire - 12 player trial.
The Elder Scrolls Online Map Legend
Wayshrines - if visited allow you to teleport to this location. Fast Travel between wayshrines is free, although fast traveling to a wayshrine from anywhere will cost gold.
Locales - Area of Interest, visit every locale on map for achievement.
Group Locales - Group Area of Interest, areas designed to explore in a group with other players.
Skyshards (ground level) - Skyshard on the ground level or above. Every three skyshards a player collects will yield one skill point.
Skyshards (inside dungeon) - Skyshard in dungeon. Every three skyshards a player collects will yield one skill point.
World Bosses - powerful elite encounter(s), to defeat him you will need the help of other players.
Delve - caves, delves, dungeons, instance or dungeon intended for solo or cooperative play.
Group Dungeon - group dungeons, raid dungeons, group instances intended for groups of players.
Dark Anchors - spawn points of Molag Bal forces, every few minutes you will find a group activity here.
Mundus Stones - visiting will grant you a permanent blessing, but only one blessing at a time.
Guild Trader - Shops contain Guild Traders offering wares from various players guilds.
Crafting Site - Special crafting stations where you can create specific item sets.
Lore Books - collect Lore for skills upgrade and for Mage Guild experience.
Ancestral Tomb - for The Ancestral Tombs Quest visit them all to reveal location of lost Library of Andule (Morrowind).
Strider Caravaner Tower - Use them for quick travel for free in Vvardenfell (Morrowind).
Inn - Player Housing
Apartment - Player Housing
Small House - Player Housing
Medium House - Player Housing
Large House - Player Housing
Manor - Player Housing, biggest
Quest Hubs