Stormhaven Map - The Elder Scrolls Online
Stormhaven zone map. Wayrest, Alcaire Castle, Koeglin Village. Central region of Daggerfall Covenant Alliance territory. Situated at the head of the strategic Iliac Bay, Stormhaven is the geographic center of High Rock, and also the home of the great trading city of Wayrest, capital of the Daggerfall Covenant. Elder Scrolls Online: Tamriel Unlimited. Locales, Wayshrines, Skyshards, Solo, Public and Group Dungeons, Cities, World Bosses, Taverns, Dark Anchors, Quest Hubs, Lore Books, Merchants, Crafters. The Elder Scrolls Online - ESO Maps, Guides & Walkthroughs. Stormhaven is 15-24 level zone.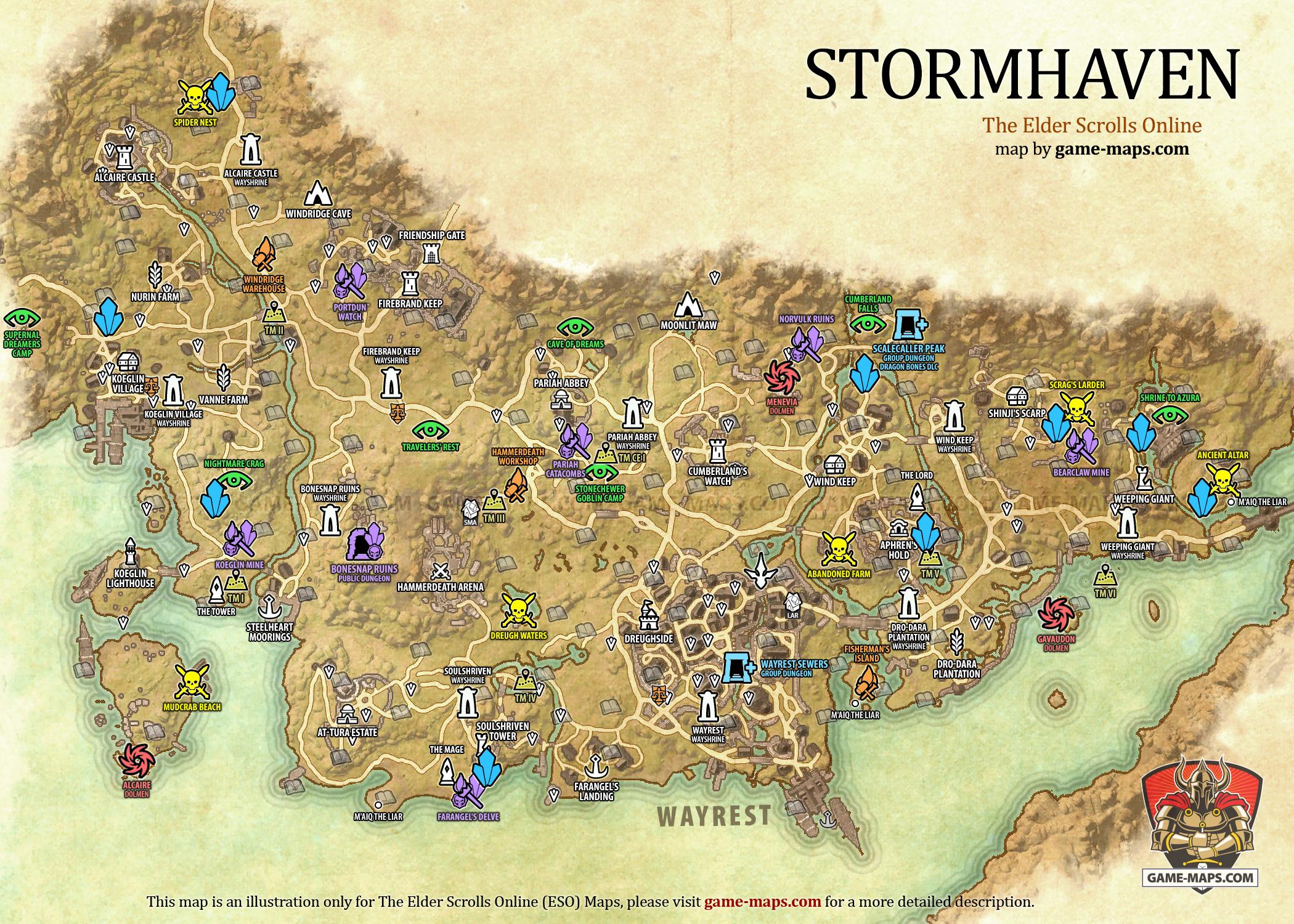 Stormhaven Delve Maps
Delve Maps in Stormhaven with Skyshards and Bosses. All Delve Maps
The Elder Scrolls Online Map Legend
Wayshrines - if visited allow you to teleport to this location. Fast Travel between wayshrines is free, although fast traveling to a wayshrine from anywhere will cost gold.
Locales - Area of Interest, visit every locale on map for achievement.
Group Locales - Group Area of Interest, areas designed to explore in a group with other players.
Skyshards (ground level) - Skyshard on the ground level or above. Every three skyshards a player collects will yield one skill point.
Skyshards (inside dungeon) - Skyshard in dungeon. Every three skyshards a player collects will yield one skill point.
World Bosses - powerful elite encounter(s), to defeat him you will need the help of other players.
Delve - caves, delves, dungeons, instance or dungeon intended for solo or cooperative play.
Group Dungeon - group dungeons, raid dungeons, group instances intended for groups of players.
Dark Anchors - spawn points of Molag Bal forces, every few minutes you will find a group activity here.
Mundus Stones - visiting will grant you a permanent blessing, but only one blessing at a time.
Guild Trader - Shops contain Guild Traders offering wares from various players guilds.
Crafting Site - Special crafting stations where you can create specific item sets.
Lore Books - collect Lore for skills upgrade and for Mage Guild experience.
Ancestral Tomb - for The Ancestral Tombs Quest visit them all to reveal location of lost Library of Andule (Morrowind).
Strider Caravaner Tower - Use them for quick travel for free in Vvardenfell (Morrowind).
Inn - Player Housing
Apartment - Player Housing
Small House - Player Housing
Medium House - Player Housing
Large House - Player Housing
Manor - Player Housing, biggest
Quest Hubs
Stormhaven Skyshards Map
Stormhaven Locales Achievement
5 Points - Discover all of the striking locales on Stormhaven
Nightmare Crag
Pariah Abbey Mine
Roadside Camp
Shrine to Azura
Stonechewer Goblin Camp
Supernal Dreamer's Camp
Stormhaven Quests Achievement
50 Points - Complete 64 quests in Stormhaven.
Known Quests for Stormhaven
A Dangerous Dream (16 lvl)
Can't Leave Without Her (16 lvl)
Captive Crewmembers (16 lvl)
False Accusations (16 lvl)
Lighthouse Attack Plans (16 lvl)
Repair Koeglin Lighthouse (16 lvl)
The Slavers (16 lvl)
The Slumbering Farmer (16 lvl)
To Alcaire Castle (16 lvl)
A Family Affair (17 lvl)
Army at the Gates (17 lvl)
Divert and Deliver (17 lvl)
Legacy of the Three (17 lvl)
Plan of Attack (17 lvl)
Rozenn's Dream (17 lvl)
Scamp Invasion (17 lvl)
Sir Hughes' Fate (17 lvl)
Two Sides to Every Coin (17 lvl)
Unanswered Questions (17 lvl)
False Knights (18 lvl)
Life of the Duchess (18 lvl)
One Last Game (18 lvl)
Retaking Firebrand Keep (18 lvl)
The Flame of Dissent (18 lvl)
The Safety of the Kingdom (18 lvl)
Tracking Sir Hughes (18 lvl)
Azura's Guardian (19 lvl)
Blood Revenge (19 lvl)
Dreams to Nightmares (19 lvl)
Fire in the Fields (19 lvl)
Injured Spirit Wardens (19 lvl)
Next of Kin (19 lvl)
Pursuing the Shard (19 lvl)
A Gang of Thugs (20 lvl)
A Means to an End (20 lvl)
A Prison of Sleep (20 lvl)
A Ransom for Miranda (20 lvl)
An Offering to Azura (20 lvl)
Another Omen (20 lvl)
Do as I Say (20 lvl)
Rat in a Trap (20 lvl)
Revenge Against Rama (20 lvl)
Stolen Ashes (20 lvl)
The Debt Collector's Debts (20 lvl)
The Dreugh Threat (20 lvl)
The Gate to Quagmire (20 lvl)
The Signet Ring (20 lvl)
The Sower Reaps (20 lvl)
They Dragged Him Away (20 lvl)
Waiting for Word (20 lvl)
Word from the Dead (20 lvl)
A Final Request (21 lvl)
A Woman Wronged (21 lvl)
Abominations from Beyond (21 lvl)
Azura's Aid (21 lvl)
Curse of Skulls (21 lvl)
Evidence Against Adima (21 lvl)
Godrun's Dream (21 lvl)
Saving Hosni (21 lvl)
The Perfect Burial (21 lvl)
The Return of the Dream Shard (21 lvl)
Vaermina's Gambit (21 lvl)
A Look in the Mirror (22 lvl)
Ending the Ogre Threat (22 lvl)
General Godrun's Orders (22 lvl)
Gift from a Suitor (22 lvl)
Ogre Teeth (22 lvl)
Old Adventurers (22 lvl)
A Predator's Heart (23 lvl)
Azura's Relics (23 lvl)
King Aphren's Sword (23 lvl)
Plowshares to Swords (23 lvl)
Stormhaven Skyshards Achievement
15 Points - Find all 16 Skyshards in Stormhaven. Each skyshard can be obtained single time for each player. Every 3 skyshards will give you 1 skill point.
Atop the soulless tower.
Atop the stairs of Newgate.
Before a breach in Aphren's wall.
Beside the henge of Nightmare Crag.
Camped in sight of the eastern gate.
Comb the abbey's catacombs.
Delve deep with the bear's claw.
Explore the ruins north of Wind's Keep.
Explore the ruins of broken marrow.
In the monster's pantry.
Locked behind Farangel's iron bars.
Mine your manners outside Steelheart.
On Koeglin's crown.
The foot of Wind Keep's falls.
West of Firebrand, deep beneath the tower.
Where the giant's tears fall.
Stormhaven Angler Fishing Achievement
5 Points - Catch all 12 rare fish in Stormhaven. To fish first find a fishing hole in the world and target it. You must have bait before you can fish.
Alcaire Pike
Barfish
Dab
Dreugh Shrimp
Grass Carp
Gray Loach
River Stingray
Sawfish
Silver Walleye
Stormhaven Flounder
Yellow Bass
Yellow Moray
Stormhaven Cave Explorer Achievement
15 Points - Discover and clear all 6 caves in Stormhaven.
Bearclaw Mine
Farangles' Delve
Koeglin Mine
Norvolk Ruins
Pariah Catacombs
Portdun Watch
Stormhaven Treasure Maps
There are 6 normal Stormhaven Treasure Maps, and 1 Imperial Edition Stormhaven Treasure Map. You have to read map before you will be able to dig treasure. Maps are blur drop from mobs.
Stormhaven Quest Hubs
Alcaire Castle, Aphren's Hold, At-Tura Estate, Bonesnap Ruins, Cumberland's Watch, Dreughside, Dro-Dara Plantation, Farangel's Landing, Firebrand Keep, Koeglin Lighthouse, Koeglin Village, Moonlit Maw, Nurin Farm, Pariah Abbey, Shinji's Scarp, Soulshriven Tower, Steelheart Moorings, Vanne Farm, Weeping Giant, Wind Keep, Windridge Cave. Each Quest Hub has its own line of quests related to a common story.
Stormhaven Wayshrines
Alcaire Castle, Bonesnap Ruins, Dro'dara Plantation, Firebrand Keep, Koeglin Village, Pariah Abbey, Soulshriven, Wayrest, Weeping Giant, Wind Keep. If you die, you will be revived at the nearest Wayshrine.You can quickly travel from one Wayshrine to another by interacting with one.
Stormhaven World Bosses
Abandoned Farm, Ancient Altar, Dreugh Waters, Mudcrab Beach, Scrag's Larder, Spider Nest. World Bosses powerful elite encounters ranges from solo bosses to multiple enemies.
Stormhaven Public Dungeons
Bearclaw Mine, Farangles' Delve, Koeglin Mine, Norvolk Ruins, Pariah Catacombs, Portdun Watch. Dungeons that are open to the public, you may encounter other players and groups of players while adventuring there.
Stormhaven Group Dungeons
Wayrest Sewers Dungeon. Group Dungeons will give you a private version of dungeon, just for you and your group.
Stormhaven Dark Anchors
Alcaire Dolmen, Gavaudon Dolmen, Menevia Dolmen. Dark Anchors are rifts that Molag Bal has created to join Tamriel with his Daedric Plane, spawn points of his forces.
Wayrest, Jewel Of The Bay
by Sathyr Longleat the Elder
Wayrest is one of the most glorious cities of western Tamriel sparkling in her contemporary beauty, lustrous by her past. She is prized above all cities in High Rock. No other city has contributed so much to the culture of the Bretons. The spirits of her genius children continue to haunt the streets. You can see them in the gabled roofs, grand boulevards, and aromatic marketplaces. The people of Wayrest have an instinctive appreciation of their past, but are not obsessed by it, as the people of Daggerfall seem to be. One feels that one is in a modern city when one visits Wayrest, but there is a magic in the air that could only come from centuries of civilization.
It is difficult for historians to declare a certain date for the foundation of Wayrest. Where the Bjoulsae River feeds the Iliac Bay, a settlement of some variety has existed since at least 1E 800. The traders and fishermen of Wayrest were surrounded by hostile parties. The Orc capital Orsinium had grown like a weed to the north, and pirates and raiders crowded the islands to the west. There is no mystery to Wayrest's name. After what most travelers had to endure at the eastern end of the Iliac Bay, the little fishing village on the Bjoulsae was a welcome rest.
Nowhere in the much-vaunted censuses of the Skyrim Occupation is Wayrest mentioned. In the Annals of Daggerfall, King Joile's letter to Gaiden Shinji of 1E 948 contains the following reference: "The Orcs have been plaguing the Wayresters and impeding traffic to the heart of the land."
Wayrest only truly bloomed after the razing of Orsinium in 1E 980. Hard-working traders and merchants were instrumental in forming a trade alliance, thus reducing pirate activity on the bay. A successful mercantile family, the Gardners, built a walled palace in town and, over time, allowed banks and other businesses within its walls. A Gardner, Farangel, was proclaimed king when Wayrest was granted the right to call itself a kingdom in 1E 1100.
Although Wayrest was ruled by one family, the merchants continued to wield incredible power. Many economists have alleged that Wayrest's eternal wealth, despite her hardships, comes from this rare relationship between merchants and crown. The Gardner Dynasty was followed by the Cumberland Dynasty, but never has a king of Wayrest been deposed by revolution or assassination. Every king of Wayrest can trace his line back to a merchant prince of Wayrest. The merchants and king respect one another, and this relationship strengthens both.
Wayrest has survived blights, droughts, plagues, piracy, invasions, and war with good humor and practicality. In 1E 2702, the entire population of the city was forced to move into the walled estate of the Gardners as protection against pirates, raiders, and the Thrassian plague. A less resourceful community would have withered, but the Wayresters have survived to enrich Tamriel generation after generation.