Hew's Bane Map - The Elder Scrolls Online
Hew's Bane zone map. Added with the Thieves Guild DLC.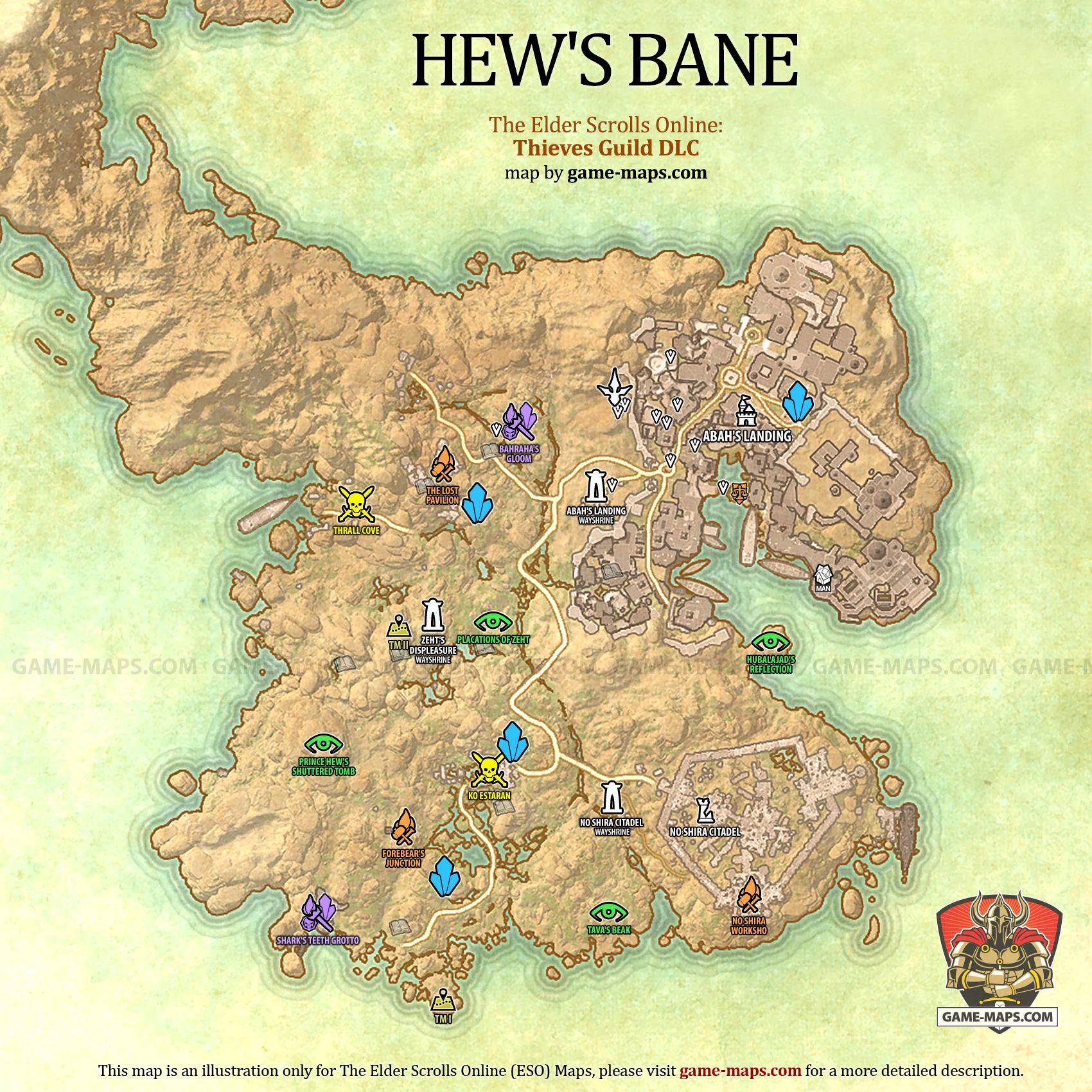 The Elder Scrolls Online Map Legend
Wayshrines - if visited allow you to teleport to this location. Fast Travel between wayshrines is free, although fast traveling to a wayshrine from anywhere will cost gold.
Locales - Area of Interest, visit every locale on map for achievement.
Group Locales - Group Area of Interest, areas designed to explore in a group with other players.
Skyshards (ground level) - Skyshard on the ground level or above. Every three skyshards a player collects will yield one skill point.
Skyshards (inside dungeon) - Skyshard in dungeon. Every three skyshards a player collects will yield one skill point.
World Bosses - powerful elite encounter(s), to defeat him you will need the help of other players.
Delve - caves, delves, dungeons, instance or dungeon intended for solo or cooperative play.
Group Dungeon - group dungeons, raid dungeons, group instances intended for groups of players.
Dark Anchors - spawn points of Molag Bal forces, every few minutes you will find a group activity here.
Mundus Stones - visiting will grant you a permanent blessing, but only one blessing at a time.
Guild Trader - Shops contain Guild Traders offering wares from various players guilds.
Crafting Site - Special crafting stations where you can create specific item sets.
Lore Books - collect Lore for skills upgrade and for Mage Guild experience.
Ancestral Tomb - for The Ancestral Tombs Quest visit them all to reveal location of lost Library of Andule (Morrowind).
Strider Caravaner Tower - Use them for quick travel for free in Vvardenfell (Morrowind).
Inn - Player Housing
Apartment - Player Housing
Small House - Player Housing
Medium House - Player Housing
Large House - Player Housing
Manor - Player Housing, biggest
Quest Hubs
Abah's Landing
Abah's Landing Wayshrine
Bahraha's Gloom
Forebear's Junction
Hubalajad's Reflection
Ko Estaran
No Shira Citadel
No Shira Citadel Wayshrine
No Shira Workshop
Placations of Zeht
Prince Hew's Shuttered Tomb
Prince's Gate
Shark's Teeth Grotto
Tava's Beak
The Lost Pavilion
Thieves Den
Thrall Cove
Zeht's Displeasure Wayshrine
All your comments, suggestions and corrections are very welcome. Your experience helps other players. We invite you to add comments, thank you.