Alik'r Desert Map - The Elder Scrolls Online
Alik'r Desert zone map. Sentinel. Southern part of Daggerfall Covenant Alliance territory. Sandy desert full of ancient ruins. The Alik'r is rich in mineral resources, but its fierce creatures and harsh terrain are daunting to most. The ancient Dwarven city of Volenfell was long lost to the sands of the Alik'r Desert. But its ruins have recently been discovered, prompting a race between scholars and treasure-hunters to be the first to search its storied depths. Elder Scrolls Online: Tamriel Unlimited. Locales, Wayshrines, Skyshards, Solo, Public and Group Dungeons, Cities, World Bosses, Taverns, Dark Anchors, Quest Hubs, Lore Books, Merchants, Crafters. The Elder Scrolls Online - ESO Maps, Guides & Walkthroughs. Alik'r Desert is 31-38 level zone.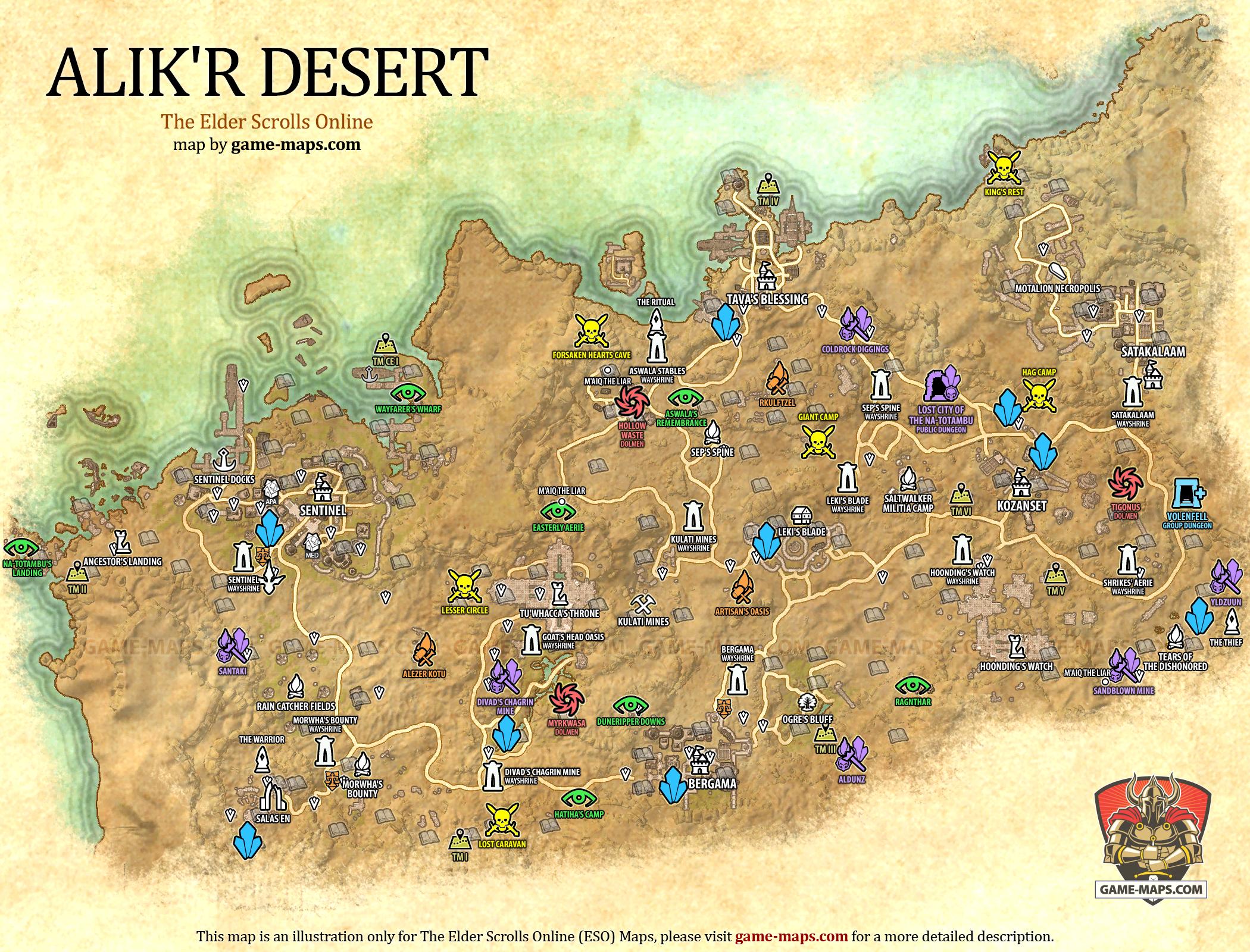 Alik'r Desert Delve Maps
Delve Maps in Alik'r Desert with Skyshards and Bosses. All Delve Maps
The Elder Scrolls Online Map Legend
Wayshrines - if visited allow you to teleport to this location. Fast Travel between wayshrines is free, although fast traveling to a wayshrine from anywhere will cost gold.
Locales - Area of Interest, visit every locale on map for achievement.
Group Locales - Group Area of Interest, areas designed to explore in a group with other players.
Skyshards (ground level) - Skyshard on the ground level or above. Every three skyshards a player collects will yield one skill point.
Skyshards (inside dungeon) - Skyshard in dungeon. Every three skyshards a player collects will yield one skill point.
World Bosses - powerful elite encounter(s), to defeat him you will need the help of other players.
Delve - caves, delves, dungeons, instance or dungeon intended for solo or cooperative play.
Group Dungeon - group dungeons, raid dungeons, group instances intended for groups of players.
Dark Anchors - spawn points of Molag Bal forces, every few minutes you will find a group activity here.
Mundus Stones - visiting will grant you a permanent blessing, but only one blessing at a time.
Guild Trader - Shops contain Guild Traders offering wares from various players guilds.
Crafting Site - Special crafting stations where you can create specific item sets.
Lore Books - collect Lore for skills upgrade and for Mage Guild experience.
Ancestral Tomb - for The Ancestral Tombs Quest visit them all to reveal location of lost Library of Andule (Morrowind).
Strider Caravaner Tower - Use them for quick travel for free in Vvardenfell (Morrowind).
Inn - Player Housing
Apartment - Player Housing
Small House - Player Housing
Medium House - Player Housing
Large House - Player Housing
Manor - Player Housing, biggest
Quest Hubs
Alik'r Desert Skyshards Map
Alik'r Desert Locales Achievement
5 Points - Discover all of the striking locales on Alik'r Desert
Abandoned Camp
Duneripper Downs
East Sentinel Docks
Hatiha's Camp
Ragnthar
Tended Graves
Yokudan Ruins
Alik'r Desert Quests Achievement
50 Points - Complete 47 quests in Alik'r Desert.
Known Quests for Alik'r Desert:
Badwater Mine (31)
In Search of the Ash'abah (31)
Monkey Magic (31)
Seize the Moment (31)
The Nature of Fate (31)
Ash'abah Rising (32)
Lady Laurent's Favor (32)
Lizard Racing (32)
Past in Ruins (32)
Revered Ancestors (32)
Rise of the Dead (32)
Risen From the Depths (32)
Satak was the First Serpent (32)
Tharayya's Trail (32)
The Impervious Vault (32)
The Oldest Orc (32)
The Scholar of Bergama (32)
Trouble at the Rain Catchers (32)
Word from the Throne (32)
Morwha's Curse (33)
The Initiation (33)
The Search is Over (33)
Thwarting the Aldmeri Dominion (33)
Trouble at Tava's Blessing (33)
Undying Loyalty (33)
Warship Designs (33)
A Blessing for the Dead (34)
A Reckoning with Uwafa (34)
Gone Missing (34)
Left at the Altar (34)
Shiri's Research (34)
Tu'whacca's Breath (34)
Crawling Chaos (35)
Malignant Militia (35)
Master of Leki's Blade (35)
Past Due (35)
The Nature of Fate: Part Two (35)
The Search for Shiri (35)
Tracking the Hand (35)
Whose Wedding? (35)
Alasan's Plot (36)
Feathered Fiends (36)
Honoring the Dishonored (36)
March of the Ra Gada (36)
Restoring the Ansei Wards (36)
Snakes in the Sands (36)
Trapped in the Bluffs (36)
Trials of the Hero (36)
Amputating the Hand (37)
Imperial Incursion (37)
Kingdom in Mourning (37)
Temple's Treasures (37)
The Real Snake (37)
Alik'r Desert Skyshards Achievement
15 Points - Find all 16 Skyshards in Alik'r Desert. Each skyshard can be obtained single time for each player. Every 3 skyshards will give you 1 skill point.
A caravan's wreckage marks the path.
Across the ruin from the Warrior.
Beside a drydocked stern.
Blown down a mine shaft.
Buried respite from desert heat.
Dig deep, don't be embarrassed.
Left out in the open by Kozanset Mages.
Monumental find in the Lost City.
Near a paid feather-finder.
Second stop on her search for the Pearl.
Sentinel of a domed tower.
Shedding shame in the oasis.
Stored on a Bergama roof.
Tears shed for a toppled spire.
Trapped within the steam closet.
Walltop view of the broken blade.
Alik'r Desert Angler Fishing Achievement
5 Points - Catch all 12 rare fish in Alik'r Desert. To fish first find a fishing hole in the world and target it. You must have bait before you can fish.
Alewife
Banded Killifish
Bonefish
Cutthroat Eel
Desert Pupfish
Driftfish
Lungfish
Midget Salmon
Sablefish
Sand Eel
Sand Moray
Saw Belly
Alik'r Desert Cave Explorer Achievement
15 Points - Discover and clear all 6 caves in Alik'r Desert.
Aldunz
Coldrock Diggings
Divad's Chagrin Mine
Sandblown Mine
Santaki
Yldzuun
Alik'r Desert Treasure Maps
There are 6 normal Alik'r Desert Treasure Maps, and 1 Imperial Edition Alik'r Desert Treasure Map. You have to read map before you will be able to dig treasure. Maps are blur drop from mobs.
Alik'r Desert Quest Hubs
Ancestor's Landing, Bergama, HoonDing's Watch, Kozanset, Kulati Mines, Leki's Blade, Lost City of the Na-Totambu, Morwha's Bounty, Motalion Necropolis, Rain Catcher Fields, Salas En, Satakalaam, Sentinel, Sentinel Docks, Sep's Spine, Tava's Blessing, Tears of the Dishonored, Tu'whacca's Throne. Each Quest Hub has its own line of quests related to a common story.
Alik'r Desert Wayshrines
Aswala Stables, Bergama, Divad's Chagrin Mine, Goat's Head Oasis, HoonDing's Watch, Kulati Mines, Leki's Blade, Morwha's Bounty, Satakalaam, Sentinel, Sep's Spine, Shrikes' Aerie. If you die, you will be revived at the nearest Wayshrine.You can quickly travel from one Wayshrine to another by interacting with one.
Alik'r Desert World Bosses
Forsaken Hearts Cave, Giant Camp, Hag Camp, King's Rest, Lesser Circle, Lost Caravan. World Bosses powerful elite encounters ranges from solo bosses to multiple enemies.
Alik'r Desert Public Dungeons
Aldunz, Coldrock Diggings, Divad's Chagrin Mine, Sandblown Mine, Santaki, Yldzuun. Dungeons that are open to the public, you may encounter other players and groups of players while adventuring there.
Alik'r Desert Group Dungeons
Volenfell Dungeon. Group Dungeons will give you a private version of dungeon, just for you and your group.
Alik'r Desert Dark Anchors
Hollow Waste Dolmen, Myrkwasa Dolmen, Tigonus Dolmen. Dark Anchors are rifts that Molag Bal has created to join Tamriel with his Daedric Plane, spawn points of his forces.
Sentinel, The Jewel Of Alik'r
By The Unveiled Azadiyeh, Songbird of Satakalaam
Know, O Prince, that in the time of the Ra Gada, the Forebears did come to Hammerfell from doomed Yokuda. First they landed at Hegathe, which they freed of the affliction of the beast-peoples. Then spread they bothwise along the coasts, seeking out goodly harbors and well-watered oases.
To the north and west went the warrior-sailors of the Grandee Yaghoub, in the great ships they had brought from Akos Kasaz, until they rounded Cape Shira. Then was Yaghoub the first of the Ra Gada to behold the Iliac Bay, and he deemed it laudable, and praised its excellences, and vowed to make his home thenceforth upon its shores.
And as Yaghoub sailed toward the Steed at dawning of the seventeenth of Second Seed, his watchman cried out that he spied a desirable harborage. And Yaghoub, perceiving it, agreed, and said, "This harborage shall belong to us, for we shall take it to be ours. And I do name it Sentinel, after the one who first espied it."
Then Sentinel (for thus ever after was it known) already contained a port on its harbor, which port was the haunt of low Elves, and Men who did consort with Elves. And the shores were green with the leaves of pomegranate, and fig, and olive, and the men of the Grandee saw this and were hungry, and sought to come ashore, despite the warnings and cries of the port-rabble.
But when Yaghoub landed with his warrior-sailors, with their bright swords and peaked helms, the port-rabble were cowed, and spake, cringing, "What would you with us, O mighty sword-singers? Slay us not, for we have done you no harm."
And Yaghoub said to them, "Nay, though you are infidels and partake of unclean practices, I will not slay you. For I have a thought to build me a palace upon the height above the harbor, and such labor is not meet for my noble warrior-sailors. Therefore you shall live, and become masons, and stonewrights, and servants of the house."
And thus was the true port of Sentinel founded. The port-rabble found purpose in their new labors, and built the walls, and the marketplace, and the palace of Yaghoub. And this was Samaruik, of glorious name, and legendary are the mighty kings and queens who have reigned from it since. For the Crowns who followed the Forebears found Sentinel a worthy seat, and many were the Na-Totambu who settled there.
Even today, O Prince, above the city gates flies always a banner of the crescent moon, for this was the banner of the Grandee Yaghoub, which has become the symbol of Sentinel in remembrance of him. And the faithful celebrate the Grandee on the Koomu Alezer'i Yaghoub, every seventeenth of Second Seed, when we share pomegranates in honor of our esteemed ancestor.