Glenumbra Map - The Elder Scrolls Online (ESO)
Detailed and revealed map of Glenumbra Zone in (ESO) The Elder Scrolls Online, Base Alliance Zone with Delves Maps, Skyshards Location, Points of Interest, Quest Hubs, Striking Locales, Wayshrines, Public Dungeons, Group Dungeons, Storyline Quests, World Bosses, World Events, Mundus Stones, Crafting Set Stations, Shalidor's Library Books, Treasure Maps, Outlaws Refuge, Player Housing, Quest Starters.
Glenumbra Map (ESO)
Glenumbra Map for The Elder Scrolls Online, Base Alliance Zone (ESO).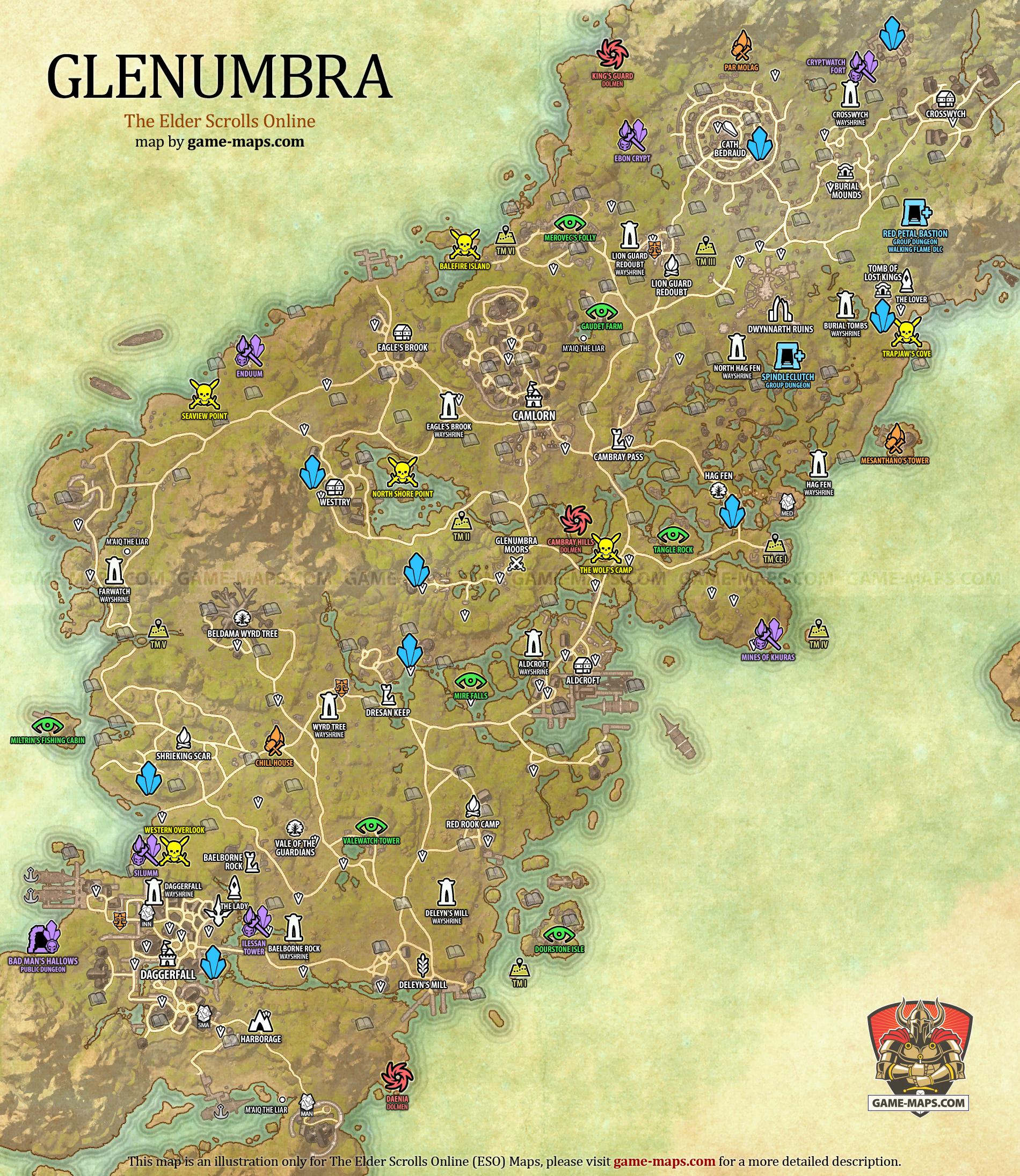 ESO Glenumbra Zone Guide
Glenumbra is zone in The Elder Scrolls Online, it is Base Alliance Zone.
Glenumbra is a part of Daggerfall Covenant.
Cities: Daggerfall, Camlorn.
Glenumbra, the westernmost region of High Rock, contains the city-states of Daggerfall and Camlorn, the great cemetery of Cath Bedraud, and the wild areas of Hag Fen, Glenumbra Moors, and the forests of Daenia.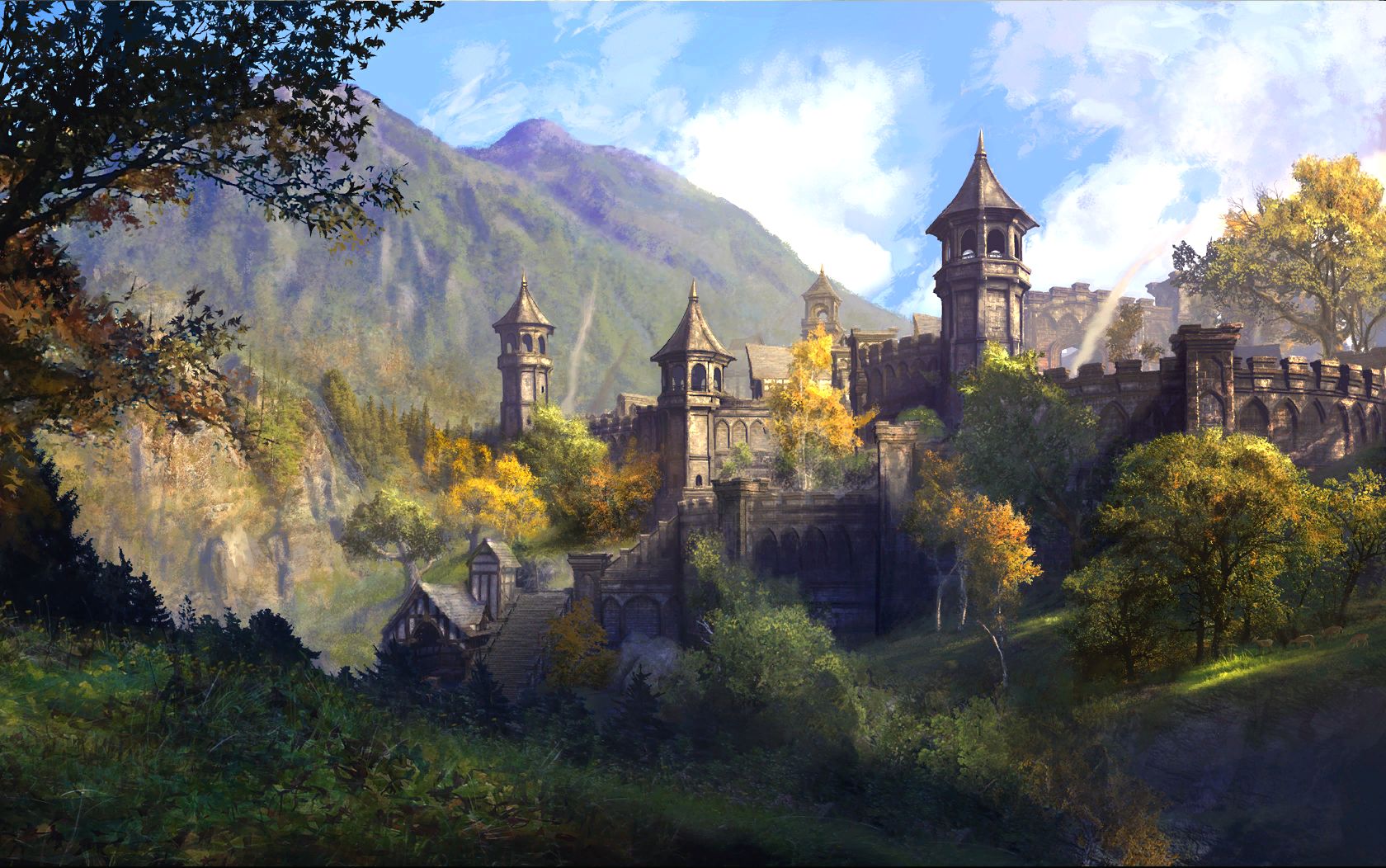 ESO Glenumbra Zone.
ESO Glenumbra Zone
Map Completion
Glenumbra

Glenumbra Adventurer Complete 53 unique quests in Glenumbra.

Bad Man's Group Event Slay the Giant Snake Mother in Bad Man's Hallows.

Bad Man's Hallows Conqueror Defeat all of the in Bad Man's Hallows: Bloatgut, Skitterflame, Rutmange, Bloodcraw.

Glenumbra Angler Catch all 12 rare fish in Glenumbra: Hag Fen Hagfish, Cambray Perch, Brook Trout, Azurain Flounder, Rock Bass, Powen, Catfish, Warmouth, Lamprey, Dragonfish, Tuna, Finless Sole.

24
Zone Storyline Quests

12
Wayshrines

6
Delves

21
Points of Interest

7
Striking Locales

3
Crafting Set Stations

2
Mundus Stones

1
Public Dungeons

3
World Events

6
World Bosses

16
Skyshards

32
Lore Books

Delve Maps
in Glenumbra
Delves are rather easy, solo or cooperative, small dungeons or caves with single Skyshard and named Boss who drops set gear. Delves are accessible to everyone at any time, see all Delve Maps.
There are 6 Delves in Glenumbra, discovering them is necessary for Zone Completion.
To complete a Delve you need to kill a named Boss, you will get Explorer Achievement for that. Additionally, finishing all Delves in a given zone will give you a Glenumbra Cave Delver Achievement.

Skyshards Location
in Glenumbra
Skyshards are scattered throughout the world and can be identified by the bright beam of white light they emanate. Discovering three Skyshards will grant you a skill point, which can be used to unlock or morph new abilities, check All Skyshards Location.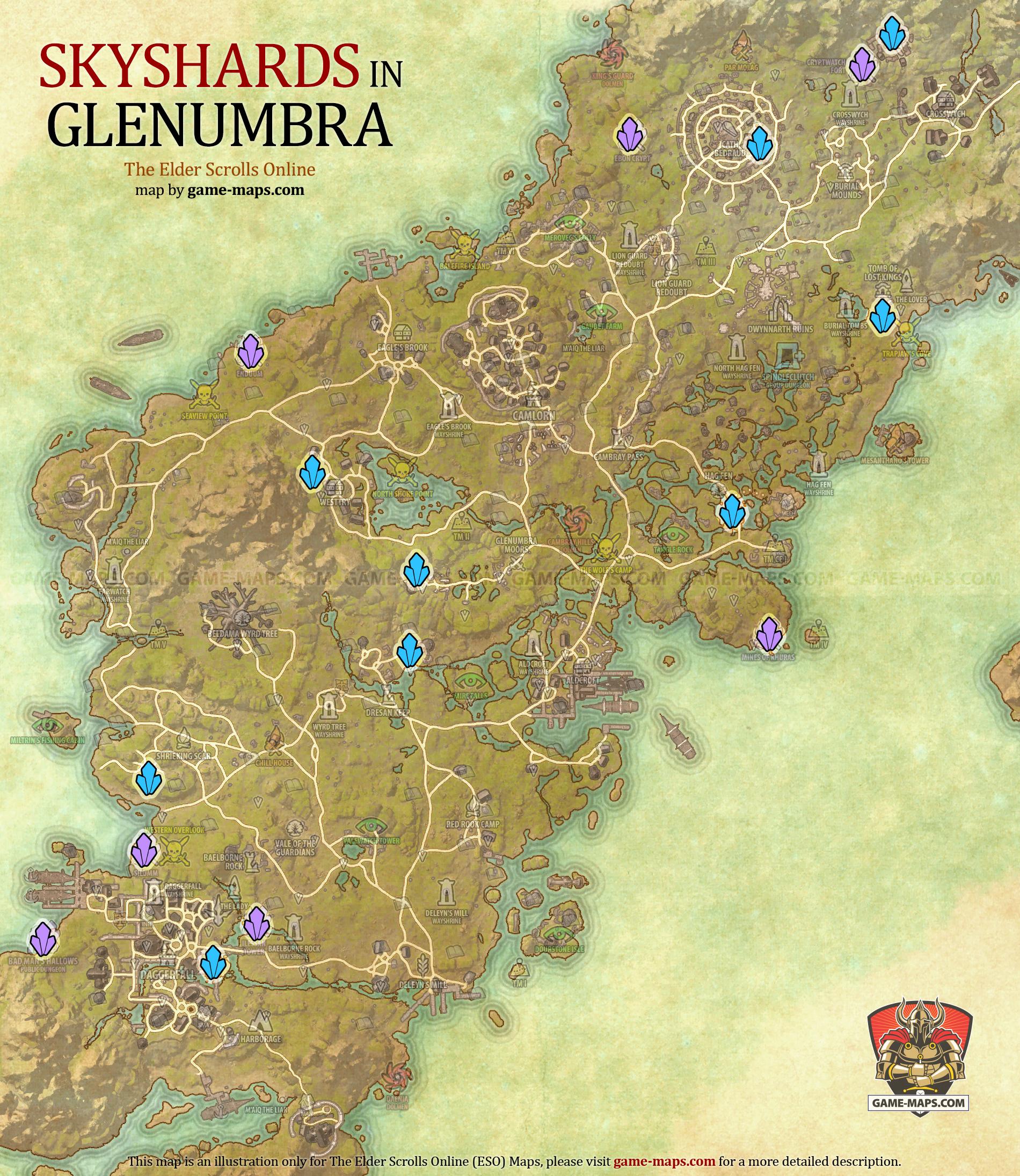 Glenumbra Skyshards
Skyshards Location Map
Glenumbra Skyshards Location Map for ESO
Discover all 16 Skyshards in Glenumbra.
Guarding Daggerfall's eastern gates.
Before Dresan's headless sentinel.
Search amongst the shrieks.
Westtry's dead slept underneath.
Far behind the Elf-haters' lines.
Beneath a Hag's footbridge.
Where vines strangle the sleeping dead.
Close to finding the kings.
A climb above Crosswych.
A tower explored is Ilessen learned.
Near Silumm's well on Daggerfall shores.
Within a mine of blood and thorns.
Behind a wall to Enduum all.
Where Ebon Crypts become Ebon Caves.
In the bowels of Cryptwatch.
In the roots of the Hallows.

Points of Interest
in Glenumbra
Points of Interest are self-contained stories, Quest Hubs that explore the lore, characters, and locations within a zone. These can award you with experience, gold, and gear.
There are 21 Points of Interest in Glenumbra, discovering them is necessary for Zone Completion.
Red Rook Camp
Hag Fen
Burial Mounds
Daggerfall
Deleyn's Mill
Aldcroft
Shrieking Scar
Glenumbra Moors
Westtry
Lion Guard Redoubt
Vale of the Guardians
Eagle's Brook
Camlorn
Beldama Wyrd Tree
Tomb of Lost Kings
Crosswych
Cath Bedraud
Dresan Keep
Baelborne Rock
Dwynnarth Ruins
Cambray Pass

Bad Man's Hallows
Public Dungeon in Glenumbra
Larger, harder, open world dungeons for groups or cooperative players, includes own quest lines, a Skyshard and a few Bosses. Accessible to everyone. Completing different parts of Public Dungeons can award you with a skill point, experience, gold, and gear, check all Public Dungeon Maps in ESO.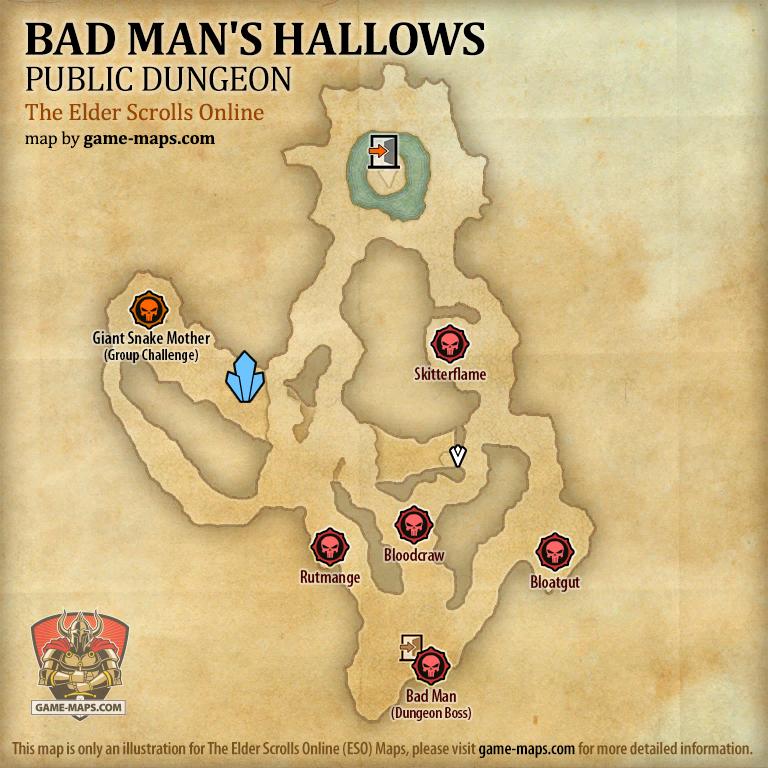 Bad Man's Hallows
Public Dungeon in Glenumbra
Bad Man's Hallows Public Dungeon Map for ESO
Bad Man's Hallows Bosses
Bloatgut
Skitterflame
Rutmange
Bloodcraw
Bad Man (Dungeon Boss)
Giant Snake Mother (Group Challenge)

Group Dungeons
in Glenumbra
4 player instances (no players outside your group) with own quest line, Normal and Veteran mode. Talk to Undaunted in the taverns for dungeons location.
Spindleclutch I Group Dungeon in Glenumbra
Spindleclutch II Group Dungeon in Glenumbra

Zone Story Quests
in Glenumbra
Zone Story Quests are the main story arc for the zone. Completing these quests can award you with skill points, experience, gold, and gear.
There are 24 Zone Story Quests in Glenumbra.
Blood and the Crescent Moon

The bustling city of Daggerfall holds many mysteries. It appears that I stumbled right into one of them.

Bloodthorn Assassins

Bloodthorn assassins plan to kill King Casimir. If the King dies, the entire Daggerfall Covenant could fall apart.

Turning of the Trees

The forest itself seems to have turned against the village of Deleyn's Mill and the villagers are in danger. I should see if I can help.

Ash and Reprieve

The village of Deleyn's Mill is under siege. Fire threatens to burn the village to the ground while enraged forest creatures attack the remaining villagers. The witches of the Beldama Wyrd are trying to contain the situation. I should help them.

The Wyrd Tree's Roots

The Beldama Wyrd want to use the roots of the Wyrd Tree to help the villagers get away. But the same corruption that caused all this trouble has sapped the roots of their power.

Seeking the Guardians

The Beldama Wyrd asked for my help. The Wyrd rely on the elemental guardians for guidance and counsel, but the spirits have become mysteriously silent.

Champion of the Guardians

Angof Gravesinger has imprisoned the elemental guardians that the Beldama Wyrd rely on for protection and counsel. I agreed to help the Wyrd set the guardians free.

Reclaiming the Elements

Angof's Bloodthorn cultists threaten the Wyrd Tree. I should help the Beldama Wyrd save the tree.

Purifying the Wyrd Tree

The guardians wait inside the Wyrd Tree, ready to assist me against the Corruption of the Tree. Once the Corruption of the Tree is destroyed, the Wyrd Tree will be purified. Then the corruption will start to fade.

A Duke in Exile

Duke Sebastien of Camlorn has been kidnapped by Bloodthorn cultists.

Wolves in the Fold

Duke Sebastien thinks that werewolves may be trying to infiltrate and take over Aldcroft, just as they overthrew Camlorn.

Lineage of Tooth and Claw

The Duke told me that Gloria has a plan to learn more about Faolchu and how to defeat him. She wants me to capture a living werewolf for the ritual she needs to perform.

Ripple Effect

The Mages Guild is studying the site of the Battle of Glenumbra Moors. It's said that Faolchu, the invader of Camlorn, was originally slain here. They hope to find out what killed him in the past.

A Step Back in Time

The spirit of Alana Relin has led me to a crypt that will provide a doorway to the past. Now we'll finally learn how Faolchu was originally killed.

The Nameless Soldier

Alana and her soldiers were ambushed on their way to confront Faolchu. Now Alana has been taken captive and the remaining soldiers are too few to divide their attention. Moreover, I still need to figure out how Faolchu was killed in this time period.

Rally Cry

The city of Camlorn has fallen to Faolchu and his werewolf legion. The Lion Guard struggles to retake the city, but the odds are against them.

A Lingering Hope

General Gautier believes his son Darien, the Captain of the Camlorn Guard is still alive inside the city. He hopes to use Darien's master key to unlock the Camlorn gates. Then the Lion Guard can surround Faolchu's werewolves and retake the city.

Hidden in Flames

Alinon the Alchemist is working on a way to cure the unique lycanthropy that Faolchu has spread through the city. General Mandin asked me to help him complete the cure.

The Fall of Faolchu

I stand with Captain Darien Gautier and the rescued Camlorn citizens. The time to retake Camlorn from Faolchu has arrived.

The Lion Guard's Stand

To hold back Angof's undead army, the Lion Guard built a redoubt on a hill outside Cath Bedraud. As they struggle to find a way to breech Angof's defenses, they have to fend off hordes of Bloodthorn cultists and zombie thralls.

Mastering the Talisman

The wizard Gabrielle Benele asked me to help her recharge the Midnight Talisman. It could be a powerful weapon in the battle against Angof the Gravesinger.

Mists of Corruption

Sir Lanis and the Knights of the Dragon are ready to march into Cath Bedraud to deal with Angof, but the mist rising from Angof's vines creates a hazard they can't overcome.

The Labyrinth

The final battle against Angof begins now. I need to get inside and navigate the labyrinth of catacombs to find a safe place for Gabrielle and the soldiers to teleport into.

Angof the Gravesinger

Darien discovered that we need three shard-keys to open the three locks that protect Angof's inner sanctum.

Wayshrines
in Glenumbra
Wayshrines allow free, instantaneous travel between wayshrines that have been discovered and unlocked. You can also travel directly to any unlocked wayshrine from anywhere in the world for a small amount of gold.
There are 12 Wayshrines in Glenumbra, discovering them is necessary for Zone Completion.
Wyrd Tree Wayshrine
Aldcroft Wayshrine
Deleyn's Mill Wayshrine
Eagle's Brook Wayshrine
North Hag Fen Wayshrine
Lion Guard Redoubt Wayshrine
Crosswych Wayshrine
Farwatch Wayshrine
Baelborne Rock Wayshrine
Daggerfall Wayshrine
Burial Tombs Wayshrine
Hag Fen Wayshrine

Crafting Set Stations
in Glenumbra
Set Stations are locations in the world where you can craft items with specific item set bonuses.
There are 3 Crafting Set Stations in Glenumbra, discovering them is necessary for Zone Completion.
Night's Silence
In Mesanthano's Tower Crafting Set Station (need 2 traits).
2 items: Adds 25-1096 Maximum Stamina
3 items: Adds 3-129 Stamina Recovery
4 items: Adds 19-833 Weapon Critical
5 items: Ignore the Movement Speed penalty of Sneak.
Death's Wind
In Chill House Crafting Set Station (need 2 traits).
2 items: Adds 34-1487 Armor
3 items: Adds 28-1206 Maximum Health
4 items: Adds 28-1206 Maximum Health
5 items: When you take melee damage while you are under 35% Health, you knockback and stun all enemies within 8 meters of you for 4 seconds. This effect can occur once every 15 seconds.
Ashen Grip
In Par Molag Crafting Set Station (need 2 traits).
2 items: Adds 28-1206 Maximum Health
3 items: Adds 3-129 Weapon Damage
4 items: Adds 19-833 Weapon Critical
5 items: When you deal melee damage, you breathe fire to all enemies in front of you for 124-5350 Flame damage. This effect can occur once every 4 seconds.

Treasure Maps
in Glenumbra
Treasure Maps can be found in game as a loot or can be obtained with the Collector's Editions. Each map shows a place where you can dig up a treasure chest. You can only do this if you have a map.
There are 7 Treasure Maps in Glenumbra.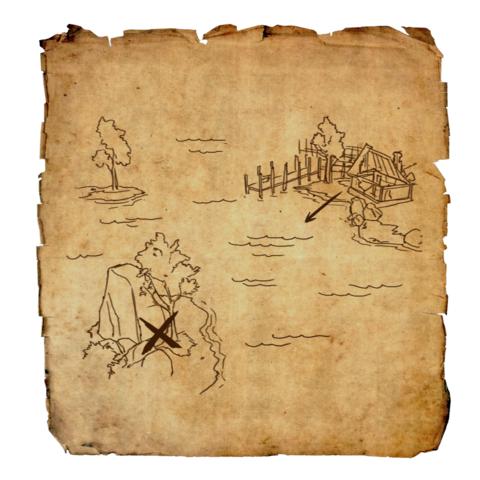 TM I - Glenumbra Treasure Map I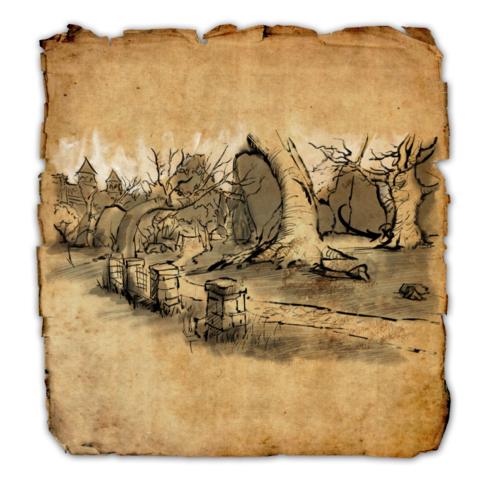 TM II - Glenumbra Treasure Map II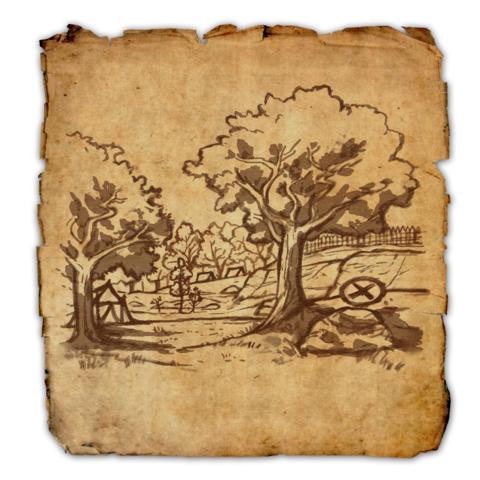 TM III - Glenumbra Treasure Map III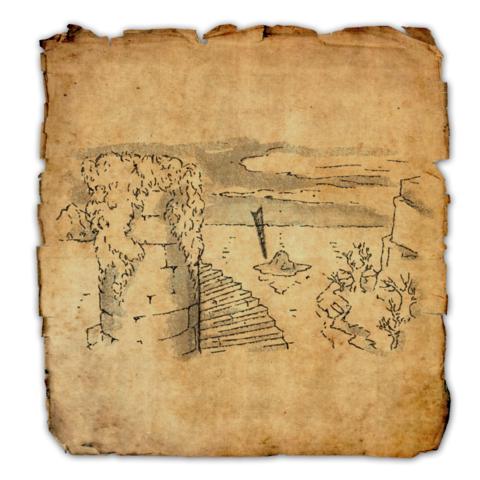 TM IV - Glenumbra Treasure Map IV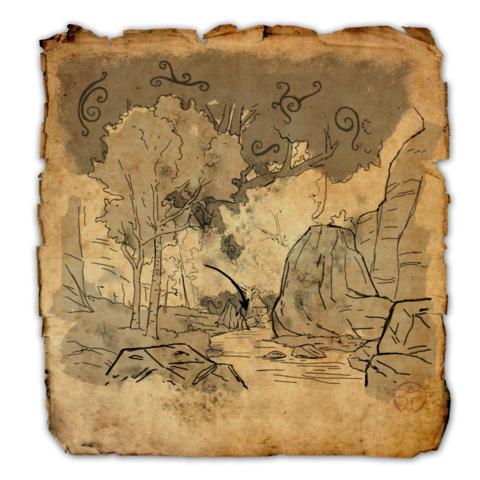 TM V - Glenumbra Treasure Map V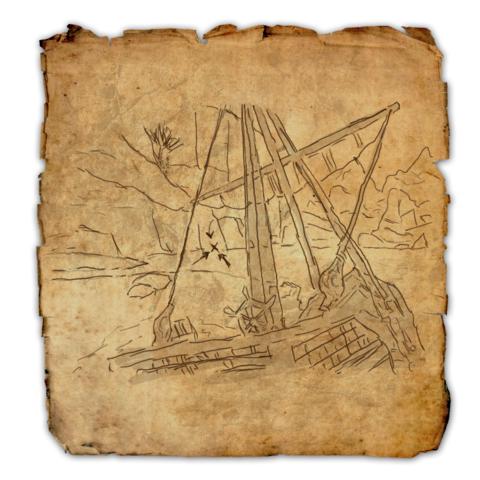 TM VI - Glenumbra Treasure Map VI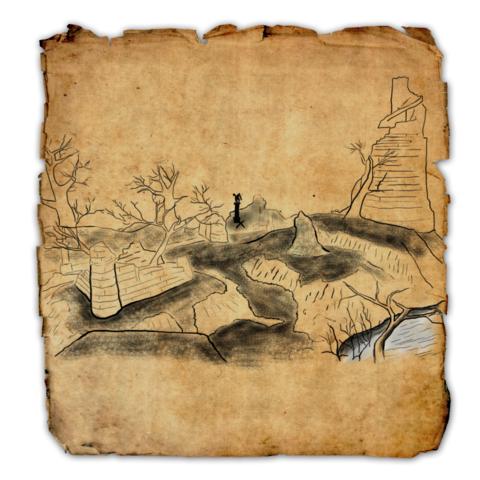 TM CE I - Glenumbra CE Treasure Map I

World Bosses
in Glenumbra
World Bosses (Group Bosses) are powerful elite encounters, to defeat them you will generally need the help of other players. Defeating a world boss can award you higher tier gear.
There are 6 World Bosses in Glenumbra, defeat them is necessary for Zone Completion.
Seaview Point
Western Overlook
The Wolf's Camp
North Shore Point
Trapjaw's Cove
Balefire Island

World Events
in Glenumbra
World Events are open to everyone, events repeated in a specific place at a specific time, intended for more players at the same time. Completing a World Event can award you experience, gold, and higher tier gear, more about World Events.
There are 3 World Events in Glenumbra, finishing them is necessary for Zone Completion.
Daenia Dolmen
Cambray Hills Dolmen
King's Guard Dolmen

Striking Locales
in Glenumbra
Striking Locales are places of interest within the world. Discovering all of the Striking Locales in a zone will award that zone's Pathfinder achievement.
There are 7 Striking Locales in Glenumbra, discovering them is necessary for Zone Completion.
Valewatch Tower
Merovec's Folly
Tangle Rock
Mire Falls
Miltrin's Fishing Cabin
Gaudet Farm
Dourstone Isle

Mundus Stones
in Glenumbra
Mundus Stones are objects in the world that grant a boon (one of 13 permanent blessings) in the form of a temporary player buff. This buff will persist until replaced with a different Mundus Stone boon, more about Mundus Stones.
There are 2 Mundus Stones in Glenumbra, discovering them is necessary for Zone Completion.

Outlaws Refuge
in Glenumbra
Outlaws Refuge with fence, moneylender, merchant and guild trader - shelter when the guards are looking for you.
Daggerfall Outlaws Refuge

Guild Marketplace
in Glenumbra
Market locations where you'll find Guild Traders.

Side Quests
in Glenumbra
Side Quest are not related to the main story in the zone, but complement it. They start in both Quest Hubs and open ground.
A Brush With Death
A Mysterious Curio
Back-Alley Murders
Blood Relations
Can't Take It With Them
Crocodile Bounty
Crosswych Reclaimed
Cursed Treasure
Cutting Off the Source
Deadly Whispers
Disorganized Crime
Farlivere's Gambit
Forgotten Ancestry
Fortune in Failure
Garments by Odei
Lady Eloise's Lockbox
Legacy of Baelborne Rock
Legitimate Interests
Memento Mori
Pride of the Lion Guard
Red Rook Resources
Season of Harvest
Servants of Ancient Kings
Signals of Dominion
Swine Thief
The Corpse Horde
The Dagger's Edge
The Dresan Index
The End of Extortion
The Ghosts of Westtry
The Hidden Treasure
The Jeweled Crown of Anton
The Miners' Lament
The White Mask of Merien
Vines and Villains
Vital Inheritance
Wayward Scouts
Wicked Trade
Wyrd and Coven

Player Housing
in Glenumbra
There are Inn Rooms, Apartments, Small Houses, Medium Houses, Large Houses and Manors that you can buy and furnish.
The Rosy Lion - Room
Captain Margaux's Place - Small House
Exorcised Coven Cottage - Medium House
Daggerfall Overlook - Manor

Shalidor's Library Books
in Glenumbra
Shalidor's Library Books are scattered throughout the world. These books are identified by their distinctive purple glow. Discovering these books will improve your Mages Guild rank and advance the associated skill line.
Theoretically, the Shalidor's Library Books assigned to a given Zone should be found within that area. Practically as the areas available to players expand, it starts to get mixed up and the specific Lore Book can be found in other parts of Tamriel as well.
There are 32 Shalidor's Library Books assigned to Glenumbra. Some of them can also be found in other Zones. Each of the Lore Books has more than one probable spot where you can find it. Discovering them is necessary for Zone Completion.
The Code of Mauloch
A Warning to the Aldmeri Dominion
True Heirs of the Empire
The Werewolf's Hide
Guide to the Daggerfall Covenant
The True Nature of Orcs (Banned Ed.)
Varieties of Faith: The Bretons
Varieties of Faith: The Orcs
Wyresses: The Name-Daughters
Schemes of the Reachmage
Aedra and Daedra
Boethiah's Proving
Galerion the Mystic
Great Harbingers of the Companions
The Illusion of Death
Jorunn the Skald-King
Triumphs of a Monarch, Ch. 3
Triumphs of a Monarch, Ch. 6
Triumphs of a Monarch, Ch. 10
Trials of Saint Alessia
The Anuad Paraphrased
The Lunar Lorkhan
Monomyth: Dragon God & Missing God
Ancient Scrolls of the Dwemer I-A
Ancient Scrolls of the Dwemer II
Ancient Scrolls of the Dwemer III
Ayleid Inscriptions Translated
Frontier, Conquest
History of the Fighters Guild Pt. 1
History of the Fighters Guild Pt. 2
Origin of the Mages Guild
Where Magical Paths Meet
Not existing in Glenumbra:

No Solo Arenas

No Group Arenas

No Group Trials

No Group Delves

No Great Lifts

No Battlegrounds
Glenumbra's Towns And Cities
by Ansur Belote
There are a number of cities and towns across the region of High Rock known as Glenumbra that a traveler should be familiar with.
Daggerfall: Crown jewel of Glenumbra and one of the oldest cities in High Rock, Daggerfall was the capital of the largest kingdom in High Rock prior to the ascendence of Wayrest. Any traveler would do well to buy provisions in Daggerfall, as the services in the bustling city are second to none.
Aldcroft: A small town between the forests of Daenia and the coastal swamplands of the Cambray Hills, Aldcroft has come to prominence in recent years as a key port that services Camlorn from trade routes along the Iliac Bay. Aldcroft is well known for its spicy stews, a treat that I recommend those travelers with weak constitutions to avoid.
Camlorn: A city that has grown in recent times to rival Daggerfall in size and cultural influence, Camlorn is in the west center of Glenumbra. The citizens of Camlorn see themselves as more urbane and metropolitan then their neighbors to the south. Travelers are advised to try Camlorn's excellent pastries and baked goods, as they are worth the trip. Ignore the haughtiness of the locals, as this is just their way and they usually don't mean any offense.
Westtry: This town suffered some great catastrophe in the past that has left it devoid of living citizens and haunted by the dead. The wise traveler would do well to avoid it.
Eagle's Brook: Whereas Aldcroft serves as Camlorn's primary connection to Iliac Bay, Eagle's Brook is its corresponding port on the Eltheric Ocean. Many of the artisans and craftsmen that serve the high houses of Camlorn actually live in nearby Eagle's Brook. Travelers are advised to sample the excellent seafood brought in daily by Eagle's Brook's fishing boats.
Crosswych: Straddling the mountainous border pass marking the end of Glenumbra and the beginning of Stormhaven, Crosswych makes much of its gold from the travelers passing back and forth between the two most populous regions of High Rock. Travelers heading to Wayrest from Daggerfall must pass through Crosswych, which is as good a place as any to rest and resupply.
Glenumbra's People
by Aldous Brousseau
To the outside observer, the assorted peoples of the region of High Rock known as Glenumbra often seem more similar than different. While it's true that most people in the region take their cues for culture, architecture, food, and dress from a common Breton template, it would be foolhardy to dismiss the cultural differences between the larger populations and the multitude of diverse subcultures present throughout the region.
Daenia: Dominated by the cultural influence of Daggerfall, Daenia is the home and heartland of Breton's quest obsession. For those unfamiliar with the term, it refers to the practice by which young members of the poor and serf classes can partake in heroic tasks to elevate themselves to the ranks of the nobility. The cultural narratives of Daenia are filled with tales of the lowly taking on a great quest to win the respect and accolades of those above them. It is my suspicion that the famed independent spirit of the Daenian people is an extension of this narrative of upward mobility. Of note, this area is also home to the Wyrd subculture, and several witches' covens dedicated to the worship of nature inhabit the vast forests of Daenia.
Cambray Hills: Camlorn and its surrounding villages are a hodgepodge of different Breton cultures. The nobility of Camlorn fancy themselves an aristocracy of poets and artists. Often taking a pacifistic tact in the dealings between Daggerfall and Wayrest, Camlorn has benefited much as a go-between for trade and an open market for goods from both Iliac Bay and the Eltheric Ocean. The Cambray Hills are well-known as being haunted, and any given member of the populace usually has a unique ghost story or two to share. The largest subculture of note are the swamp-dwelling Bretons of the eastern bogs that stretch from the Hag Fen to Aldcroft.
King's Guard: This region is so named for the mountainous ridge that form a natural barrier between Glenumbra, Rivenspire, and Stormhaven. Crosswych is a crossroads for trade moving between these major regions of High Rock, and the place has become a melting pot of dress, food, and culture of the Breton city-states. Not so much a subculture, but a subgroup of note for King's Guard is the Red Rook bandit clan. While the Red Rooks are present throughout Glenumbra, they originated in the mountains and foothills of King's Guard as a loose collection of hunters and highwaymen that preyed upon caravans moving across the pass.