Murkmire Map ESO - The Elder Scrolls Online
Full Map of Murkmire zone for (ESO) The Elder Scrolls Online: Murkmire DLC, Skyshards Map, Delve Maps, World Bosses, Quest Hubs, Striking Locales, Wayshrines and Treasure Maps. Teeth of Sithis Map and Tsofeer Cavern Map, Chronic Chronologer Quest and Vine-Tongue Traveler.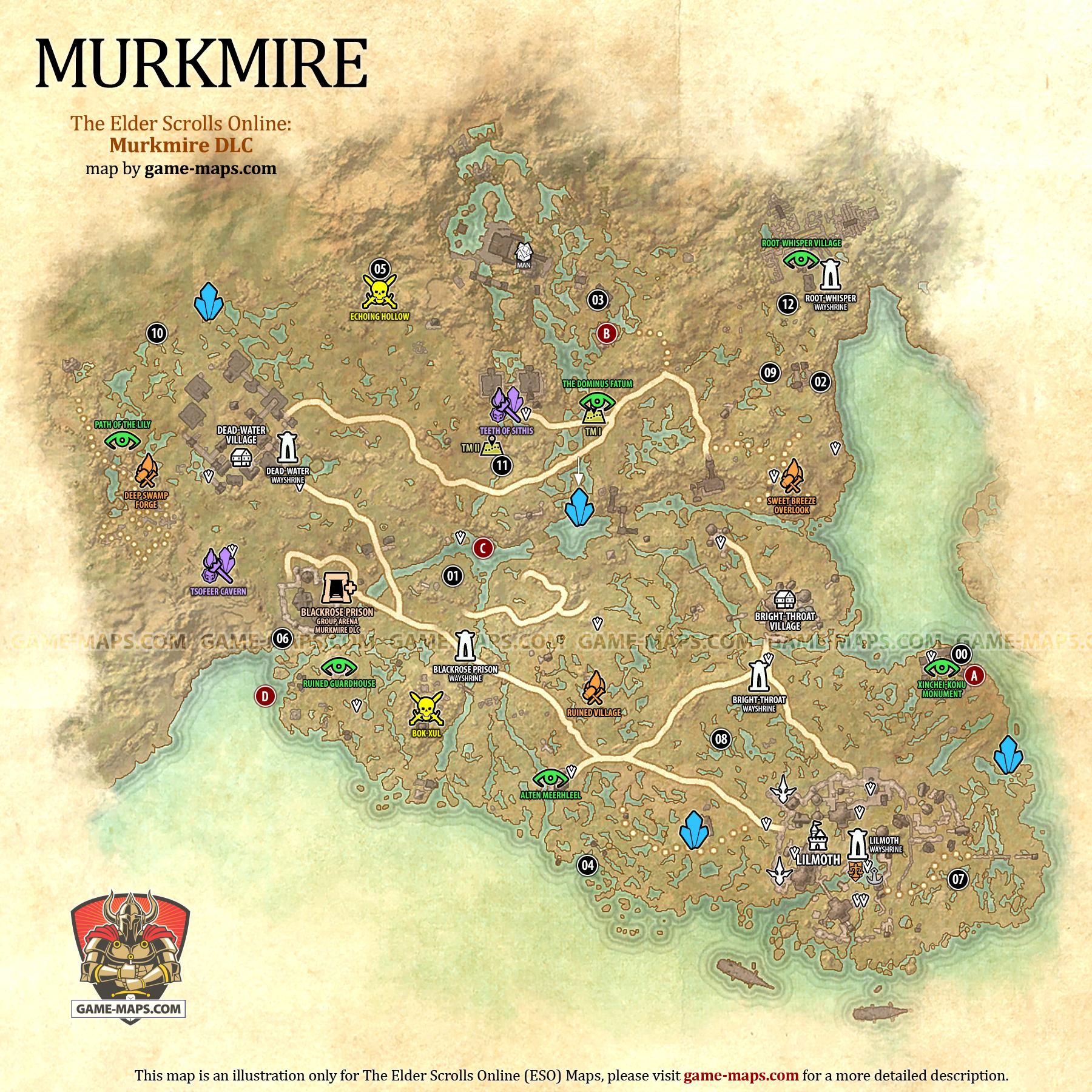 Murkmire Map Completion

Murkmire Adventurer Complete 20 Story Quests in Murkmire.

Chronic Chronologer Collect and restore all the stone tablets in the XincheiKonu, an ancient Argonian calendar.

Vine-Tongue Traveler Read the six Vine-Tongue books by activating various vine-tongues throughout Murkmire.

Murkmire Master Angler Catch all 12 rare fish in Murkmire.
7
Story Quests Main Zone Storyline
5
Wayshrines
2
Delves solo-able dungeons
3
Points of Interest Quest Hubs
6
Striking Locales Pathfinder achievem.
3
Set Stations for Crafting Sets
2
World Bosses for groups
6
Skyshards for skill points
Murkmire Guide for ESO
At the southernmost extremity of Black Marsh, the region informally known as Murkmire gradually slopes away from the interior uplands of the north until it fades into the ocean. Legend holds that the land once extended much further south before it sank beneath the waves.
Murkmire Zone is a part of Murkmire DLC (PvE and Argonian themed Story DLC - Included in ESO Plus / Crown Store). Delve into the treacherous swamps and jungles of Argonia and discover a hidden world as dangerous as it is beautiful.
Reaching some areas in Murkmire requires Fire Rock Memento which can be obtained by completing the Death Among the Dead-Water quest.
Questing
in Murkmire
Chronic Chronologer
Collect and restore all the stone tablets in the XincheiKonu, an ancient Argonian calendar.
01. Vakka Tablet
02. Xeech Tablet
03. Sisei Tablet
04. Hist-Deek Tablet
05. Hist-Dooka Tablet
06. Hist-Tsoko Tablet
07. Thtithil-Gah Tablet
08. Thtithil Tablet
09. Nushmeeko Tablet
10. Shaja-Nushmeeko Tablet
11. Saxhleel Tablet
12. Xulomaht Tablet
Vine-Tongue Traveler
Read the six Vine-Tongue books by activating various vine-tongues throughout Murkmire.
A. Vine-Tongues: Introduction
B. Vine-Tongues: Preparations
C. Vine-Tongues: Happy Plants
D. Vine-Tongues: Nourishment
E. Vine-Tongues: A Happy Home
F. Vine-Tongues: Common Mistakes
Main Story Quests
There are 8 main Story Quests for Murkmire zone.
Sunken Treasure
Missing in Murkmire
Whispers in the Wood
Death and Dreaming
The Swamp and the Serpent
The Remnant of Argon
By River and Root
Murkmire Side Quests
A Life in Carvings
Art of the Nisswo
The Assassin's Arbitration
The Burnt Branch
Death Among the Dead-Water
Death-Hunts
Empty Nest
Frog Totem Turnaround
Lost in Murkmire
The Lost Legion
Monument of Change
Ritual of Change
She Who Eats the Light
Something About Stibbons
Swamp Jelly Sonata
The Skin Taker
The Sounds of Home
Unsuitable Suitors
Murkmire

Treasure Maps
Murkmire Treasure Map I
Murkmire Treasure Map II
Murkmire

Wayshrines

Wayshrines allow free, instantaneous travel between wayshrines that have been discovered and unlocked. You can also travel directly to any unlocked wayshrine from anywhere in the world for a small amount of gold.
Blackrose Prison Wayshrine
Bright-Throat Wayshrine
Dead-Water Wayshrine
Lilmoth Wayshrine
Root-Whisper Wayshrine
Murkmire

Cave Delver

Explore and clear two explorable caves in Murkmire.

Delves are solo-able dungeons found throughout the world. Delves will always contain a single skyshard and a boss who drops item set gear.
Teeth of Sithis
As Sithis is Change, there are naturally no standards for Sithis altars or chapels-but in Murkmire, there is certainly no larger temple to the Dread Father than the Teeth of Sithis.
Boss: Shuxaltsei
Tsofeer Cavern
A spacious and well-watered cave system in Murkmire would normally be used or inhabited by some of the local Argonians, but Tsofeer Cavern is avoided even by the aggressive Dead-Water tribe, all because of one dread word: "Wuju-Ka."
Boss: Wuju-Ka Guardian
Murkmire

Points of Interest

Points of Interest are self-contained stories that explore the lore, characters, and locations within a zone. These can award you with experience, gold, and gear.
Lilmoth
Bright-Throat Village
Dead-Water Village
Murkmire

Pathfinder

Discover all the striking locales in Murkmire.

Striking Locales are places of interest within the world. Discovering all of the Striking Locales in a zone will award that zone's Pathfinder achievement.
Alten Meerhleel
Path of the Lily
Root-Whisper Village
Ruined Guardhouse
The Dominus Fatum
Xinchei-Konu Monument
Murkmire

Set Stations

Set Stations are locations in the world where you can craft items with specific item set bonuses.
Deep Swamp Forge - Naga Shaman Set
Ruined Village - Might of the Lost Legion Set
Sweet Breeze Overlook - Grave-Stake Collector set
Murkmire

World Bosses

World Bosses are difficult enemies meant to be tackled by a group of adventurers. Defeating a world boss can award you higher tier gear.
Murkmire

Skyshard Hunter

Discover all 6 Skyshards in Murkmire.

Skyshards are scattered throughout the world and can be identified by the bright beam of white light they emanate. Discovering three Skyshards will grant you a skill point, which can be used to unlock or morph new abilities.
Player Houses in
Murkmire
Lakemire Xanmeer Manor - Manor
Dungeons in
Murkmire
Blackrose Prison - Group-Based Arena
The Elder Scrolls Online Map Legend
Wayshrines - if visited allow you to teleport to this location. Fast Travel between wayshrines is free, although fast traveling to a wayshrine from anywhere will cost gold.
Locales - Area of Interest, visit every locale on map for achievement.
Group Locales - Group Area of Interest, areas designed to explore in a group with other players.
Skyshards (ground level) - Skyshard on the ground level or above. Every three skyshards a player collects will yield one skill point.
Skyshards (inside dungeon) - Skyshard in dungeon. Every three skyshards a player collects will yield one skill point.
World Bosses - powerful elite encounter(s), to defeat him you will need the help of other players.
Delve - caves, delves, dungeons, instance or dungeon intended for solo or cooperative play.
Group Dungeon - group dungeons, raid dungeons, group instances intended for groups of players.
Dark Anchors - spawn points of Molag Bal forces, every few minutes you will find a group activity here.
Mundus Stones - visiting will grant you a permanent blessing, but only one blessing at a time.
Guild Trader - Shops contain Guild Traders offering wares from various players guilds.
Crafting Site - Special crafting stations where you can create specific item sets.
Lore Books - collect Lore for skills upgrade and for Mage Guild experience.
Ancestral Tomb - for The Ancestral Tombs Quest visit them all to reveal location of lost Library of Andule (Morrowind).
Strider Caravaner Tower - Use them for quick travel for free in Vvardenfell (Morrowind).
Inn - Player Housing
Apartment - Player Housing
Small House - Player Housing
Medium House - Player Housing
Large House - Player Housing
Manor - Player Housing, biggest
Quest Hubs