Bangkorai Map - The Elder Scrolls Online
Bangkorai zone map. Evermore and Hallin's Stand. Eastern part of Daggerfall Covenant Alliance territory. This region takes its name from its most famous feature, the Bangkorai Pass, which has served as High Rock's defense against the wild raiders of Hammerfell for countless generations. The uplands north of the pass and the desert to the south are both ruled from the port city of Evermore. Elder Scrolls Online: Tamriel Unlimited. Locales, Wayshrines, Skyshards, Solo, Public and Group Dungeons, Cities, World Bosses, Taverns, Dark Anchors, Quest Hubs, Lore Books, Merchants, Crafters. The Elder Scrolls Online - ESO Maps, Guides & Walkthroughs. Bangkorai is 37-43 level zone.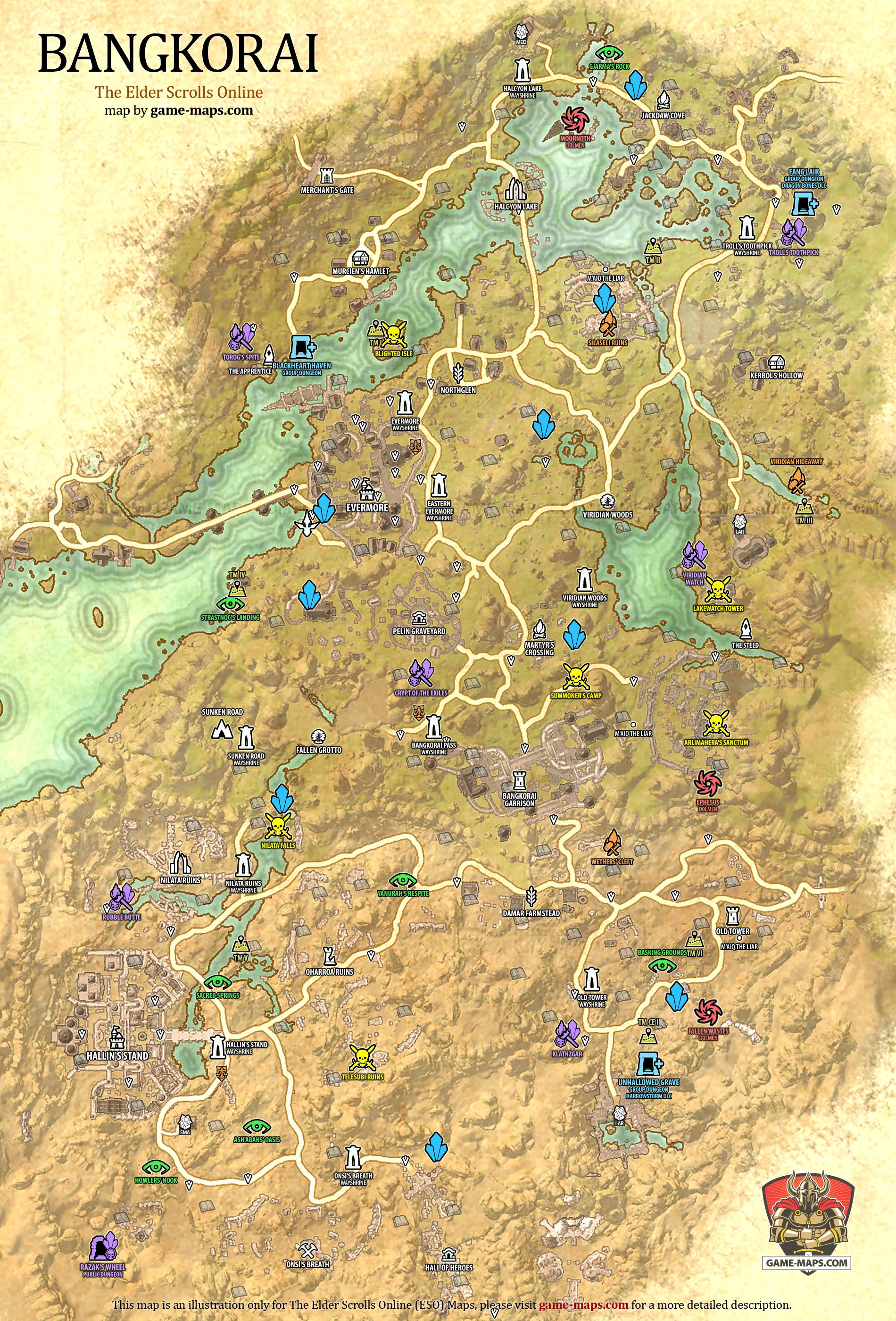 Bangkorai Delve Maps
Delve Maps in Bangkorai with Skyshards and Bosses. All Delve Maps
The Elder Scrolls Online Map Legend
Wayshrines - if visited allow you to teleport to this location. Fast Travel between wayshrines is free, although fast traveling to a wayshrine from anywhere will cost gold.
Locales - Area of Interest, visit every locale on map for achievement.
Group Locales - Group Area of Interest, areas designed to explore in a group with other players.
Skyshards (ground level) - Skyshard on the ground level or above. Every three skyshards a player collects will yield one skill point.
Skyshards (inside dungeon) - Skyshard in dungeon. Every three skyshards a player collects will yield one skill point.
World Bosses - powerful elite encounter(s), to defeat him you will need the help of other players.
Delve - caves, delves, dungeons, instance or dungeon intended for solo or cooperative play.
Group Dungeon - group dungeons, raid dungeons, group instances intended for groups of players.
Dark Anchors - spawn points of Molag Bal forces, every few minutes you will find a group activity here.
Mundus Stones - visiting will grant you a permanent blessing, but only one blessing at a time.
Guild Trader - Shops contain Guild Traders offering wares from various players guilds.
Crafting Site - Special crafting stations where you can create specific item sets.
Lore Books - collect Lore for skills upgrade and for Mage Guild experience.
Ancestral Tomb - for The Ancestral Tombs Quest visit them all to reveal location of lost Library of Andule (Morrowind).
Strider Caravaner Tower - Use them for quick travel for free in Vvardenfell (Morrowind).
Inn - Player Housing
Apartment - Player Housing
Small House - Player Housing
Medium House - Player Housing
Large House - Player Housing
Manor - Player Housing, biggest
Quest Hubs
Bangkorai Skyshards Map
Bangkorai Locales Achievement
5 Points - Discover all of the striking locales on Bangkorai
Ash'abahs' Oasis
Basking Grounds
Gjarma's Rock
Howlers' Nook
Sacred Springs
Silaseli Ruins
Strastnoc's Landing
Bangkorai Quests Achievement
50 Points - Complete 53 quests in Bangkorai.
Known Quests for Bangkorai:
A City in Black (37)
A Grave Matter (37)
Beyond the Call (37)
Conflicted Emotions (37)
Imperial Infiltration (37)
Leading the Stand (37)
Mistress of the Lake (37)
The Will of the Woods (37)
Dark Wings (38)
Destroying the Dark Witnesses (38)
Freedom's Chains (38)
Heart of Evil (38)
Sunken Knowledge (38)
The Constellation Shard (38)
The Last Spriggan (38)
The Parley (38)
The Water Stone (38)
Troll's Dessert (38)
The Charge of Evermore (39)
The Waking Darkness (39)
We Live In Fear (39)
Publish or Perish (40)
A Favor Between Kings (40)
Back in Time (40)
News on the Garrison (40)
Present in Memory (40)
Raiders at the Crossing (40)
Rendezvous at the Pass (40)
Report to Evermore (40)
Searching for the Searchers (40)
Storming the Garrison (40)
The Heart of the Beast (40)
The Prince's Health (40)
A Handful of Stolen Dreams (41)
A Marriage in Ruins (41)
A Thirst for Revolution (41)
A Token Trophy (41)
Hallin's Burden (41)
Scavenging for a Scarab (41)
The Lion's Den (41)
The Returned (41)
The Shifting Sands of Fate (41)
To Aid the Enemy (41)
Tongues of Stone (41)
Urenenya's Lament (41)
Imperial Curiosity (42)
Rising Against Onsi's Breath (42)
Striking Back (42)
To Walk on Far Shores (42)
Trials and Tribulations (42)
Bangkorai Skyshards Achievement
15 Points - Find all 16 Skyshards in Bangkorai. Each skyshard can be obtained single time for each player. Every 3 skyshards will give you 1 skill point.
A scenic view of Evermore's bridge.
Answer the call to battle.
Bjoulsae bandits' hidden lair.
Found in spite.
Hears hags but sees mobile limbs.
Listening to Silaseli's whispers.
Meddling Imperials disrupt the wheel.
Nested in an Imperial camp.
Secret shrine by Pelin's Church.
Sent away to stay with the dead.
Stuck in a troll's maw.
Take a fall from the grotto.
Tossed into a coveside tower.
Tragic tale of architect and princess.
Waiting to be inducted to the Hall.
Where a stormy ritual brews.
Bangkorai Angler Fishing Achievement
5 Points - Catch all 12 rare fish in Bangkorai. To fish first find a fishing hole in the world and target it. You must have bait before you can fish.
Bjoulsae hake
Gar
Lake snapper
Lenok
Morid Cod
Paddlefish
Panga
Prickleback
Pupfish
Scaly lungfish
Toadfish
Bangkorai Cave Explorer Achievement
15 Points - Discover and clear all 6 caves in Bangkorai.
Crypt of the Exiles
Klathzgar
Rubble Butte
Torog's Spite
Troll's Toothpick
Viridian Watch
Bangkorai Treasure Maps
There are 6 normal Bangkorai Treasure Maps, and 1 Imperial Edition Bangkorai Treasure Map. You have to read map before you will be able to dig treasure. Maps are blur drop from mobs.
Bangkorai Quest Hubs
Bangkorai Garrison, Damar Farmstead, Evermore, Fallen Grotto, Halcyon Lake, Hall of Heroes, Hallin's Stand, Jackdaw Cove, Kerbol's Hollow, Martyr's Crossing, Murcien's Hamlet, Nilata Ruins, Northglen, Old Tower, Onsi's Breath, Pelin Graveyard, Qharroa Ruins, Razak's Wheel, Sunken Road, The Parley, Viridian Woods. Each Quest Hub has its own line of quests related to a common story.
Bangkorai Wayshrines
Bangkorai Pass, Eastern Evermore, Evermore, Halcyon Lake, Hallin's Stand, Nilata Ruins, Old Tower, Onsi's Breath, Sunken Road, Troll's Toothpick, Viridian Woods. If you die, you will be revived at the nearest Wayshrine.You can quickly travel from one Wayshrine to another by interacting with one.
Bangkorai World Bosses
Arlimahera's Sanctum, Blighted Isle, Lakewatch Tower, Nilata Falls, Summoner's Camp, Telesubi Ruins. World Bosses powerful elite encounters ranges from solo bosses to multiple enemies.
Bangkorai Public Dungeons
Crypt of the Exiles, Klathzgar, Rubble Butte, Torog's Spite, Troll's Toothpick, Viridian Watch. Dungeons that are open to the public, you may encounter other players and groups of players while adventuring there.
Bangkorai Group Dungeons
Blackheart Haven Dungeon. Group Dungeons will give you a private version of dungeon, just for you and your group.
Bangkorai Dark Anchors
Ephesus Dolmen, Fallen Wastes Dolmen, Mournoth Dolmen. Dark Anchors are rifts that Molag Bal has created to join Tamriel with his Daedric Plane, spawn points of his forces.
Bangkorai, Shield Of High Rock
(King Eamond's Final Address to His Troops)
"Knights of Saint Pelin; Evermore Guard; freeborn militia of Mournoth and Ephesus: soldiers of Bangkorai! Ever have we been the shield of High Rock, the first line of defense for the Breton Kingdoms against invaders from the east. Time and again the Bretons of Evermore and her surrounding regions have taken up arms to garrison Bangkorai Pass and turn away those who would pillage and plunder our homeland. In the year 874 of the First Era, when Warlord Thulgeg's army of Orcs and Goblins was driven from Hammerfell by the Redguards, we denied them passage through the Pass and forced them to flee northeast, trudging all the way through the Dragontail Mountains before they finally reached Orsinium. Not a single Goblin made its way through our pickets into our homeland.
"Then, in 1029, when the legions of Empress Hestra deposed King Styriche, the Vampire of Verkarth, he fled west at the head of his dreaded Gray Host, burning and killing as they came. But when his army of bat-men and wolves reached the Bangkorai Garrison, they broke like a wave on a rock. Hestra's legions caught and killed the survivors, and the Empress was so impressed that she honored High Rock with admission into the First Empire.
"When, after almost a thousand years under the Ruby Throne, the excesses of the Alessian Order forced High Rock to secede from the First Empire, the Monks of Cyrodiil decided not to let us go peaceably. In 2305, under Abbot-General Priscus Mactator, the Legions of Piety and Grace were sent to bring the Bretons back into the fold. Mactator's fanatics filled the Fallen Wastes from end to end, but they could not pass the Bangkorai Garrison, and after a five-month siege, with the pious turning on the graceful, the Abbot-General was forced to admit defeat and plod back to Cyrodiil in disgrace.
"Only once has the Garrison failed to protect High Rock: when Durcorach's Reachmen Horde poured down the south shore of the Bjoulsae, filtering through the Northwest Spine that had always protected us before. Then, Evermore was sacked, and the Garrison was taken from behind. But even then, we bought High Rock enough time that the Breton Kingdoms were able to muster their troops and eventually repulse Durcorach at Daggerfall.
"Today, invaders from the east threaten us once again, in the form of an Imperial Legion from Cyrodiil. But these are not the legendary warriors of an Empress Hestra, or the disciplined soldiers of an Emperor Reman: these are the degraded mercenaries of the Tharn usurpers. Indeed, this legion is even led by a cousin of that decadent and faithless family!
"And who is this Magus-General Septima Tharn? What battles has she won, beyond bullying freeholders for their back taxes? What barrel-scrapings are these so-called 'legionaries' she brings to pollute our homeland with their heretical, Daedra-worshiping ways?
"I say they are scum, a desecration of the once-noble name 'Imperial Legion.' I say they are a rabble. And I say that, with us manning the walls, they shall not pass the Bangkorai Garrison!
"What say you, Knights of Saint Pelin; Evermore Guard; freeborn militia of Mournoth and Ephesus - soldiers of Bangkorai! Will we betray the blood of our ancestors and allow enemies through the Pass? Never, I say! Not today, not tomorrow, not ever!"