Bangkorai Skyshards Location Map The Elder Scrolls Online (ESO)
Map of Skyshard Locations in Bangkorai The Elder Scrolls Online (ESO) Maps & Walkthrough.
Bangkorai Skyshards Location Map
Bangkorai Skyshards Location Map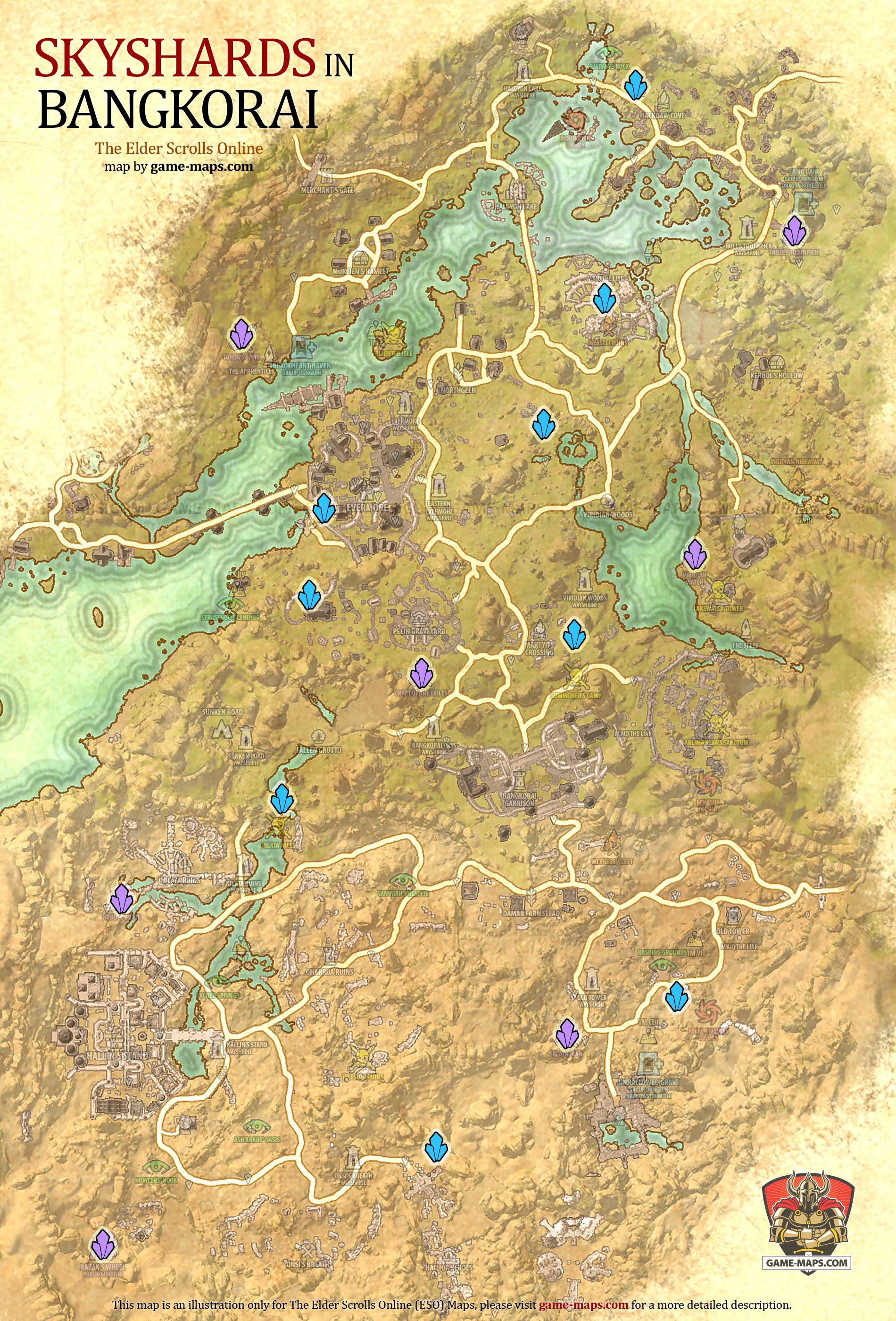 Skyshards in The Elder Scrolls Online are scattered throughout the world and can be identified by the bright beam of white light they emanate. Discovering each three Skyshards will grant you a skill point, which can be used to unlock or morph new abilities. Skyshards are easy way to obtain experience points.
Skyshards Skyshard on the ground level or above. Every three skyshards a player collects will yield one skill point.

Underground Skyshards Normal Skyshards but located inside the Delves and Public Dungeons.
Bangkorai Skyshards
Discover all 16 Skyshards in Bangkorai.
A scenic view of Evermore's bridge.
Listening to Silaseli's whispers.
Tossed into a coveside tower.
Answer the call to battle.
Secret shrine by Pelin's Church.
Hears hags but sees mobile limbs.
Waiting to be inducted to the Hall.
Take a fall from the grotto.
Nested in an Imperial camp.
Sent away to stay with the dead.
Tragic tale of architect and princess.
Found in spite.
Where a stormy ritual brews.
Stuck in a troll's maw.
Bjoulsae bandits' hidden lair.
Meddling Imperials disrupt the wheel.
Skyshards Location Maps
Chapter Zones
Story DLC Zones
Neutral & PvP
Ebonheart Pact
Aldmeri Dominion
Daggerfall Covenant