Deshaan Skyshards Location Map The Elder Scrolls Online (ESO)
Map of Skyshard Locations in Deshaan The Elder Scrolls Online (ESO) Maps & Walkthrough.
Deshaan Skyshards Location Map
Deshaan Skyshards Location Map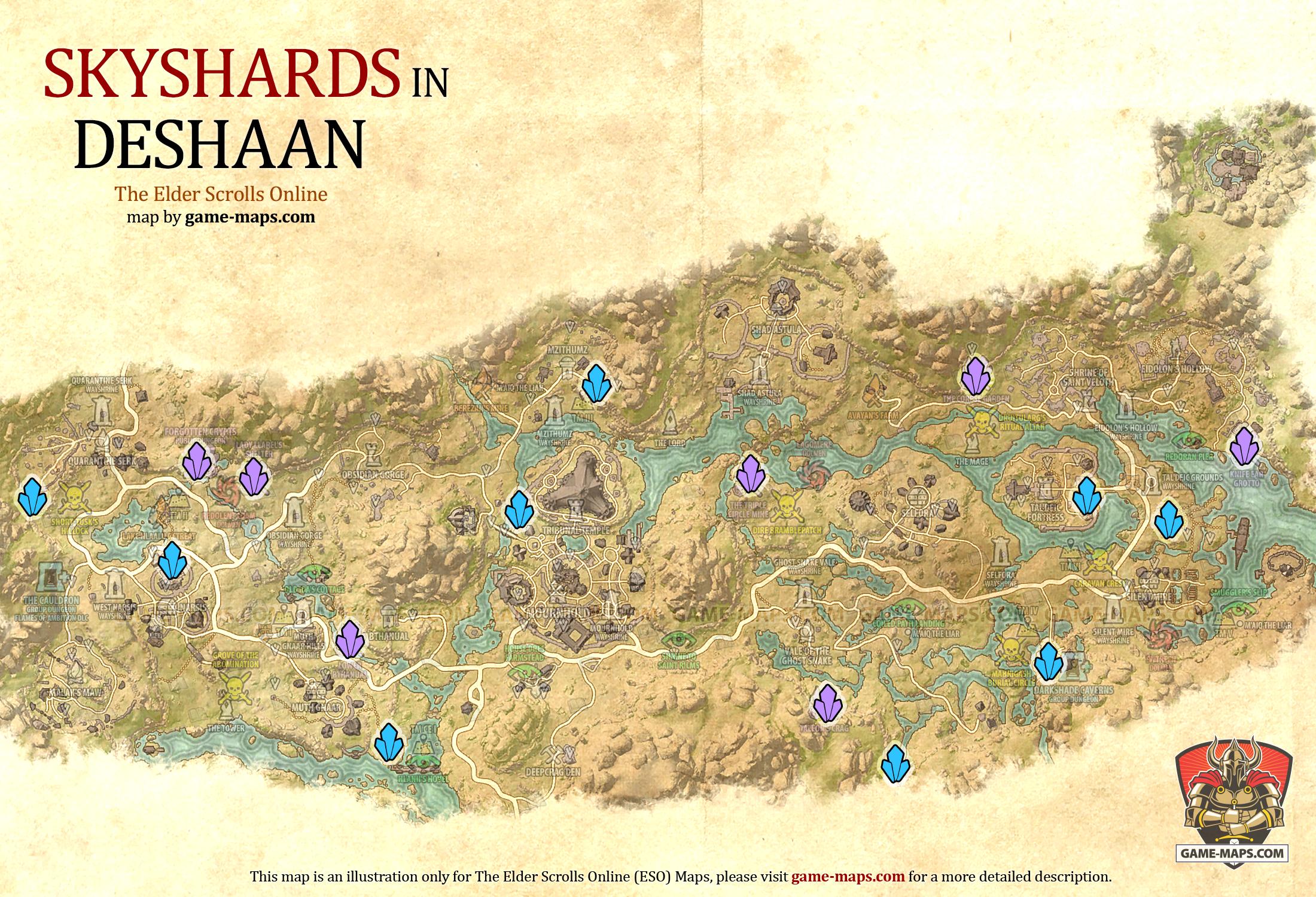 Skyshards in The Elder Scrolls Online are scattered throughout the world and can be identified by the bright beam of white light they emanate. Discovering each three Skyshards will grant you a skill point, which can be used to unlock or morph new abilities. Skyshards are easy way to obtain experience points.
Skyshards Skyshard on the ground level or above. Every three skyshards a player collects will yield one skill point.

Underground Skyshards Normal Skyshards but located inside the Delves and Public Dungeons.
Deshaan Skyshards
Discover all 16 Skyshards in Deshaan.
Free from quarantine.
A Hlaalu victory in Narsis.
A river view on Muth Gnaar's outskirts.
A twin falls in Mournhold.
Near the remnants of a House caravan.
Follow the river that snakes south to its source.
Search near the cavern with three eyes.
The right tower is Tal'Deic's left.
Where ships dock and mushrooms Mire.
Where the dead walk and no memories linger.
Lend me your ear.
Where a lady seeks kwama before the storm.
Asleep in the depths, the Dwemer awakens.
Mind your step where the water drops in.
Go from Crags to riches.
Where corpses till a garden of sand.
Skyshards Location Maps
Chapter Zones
Story DLC Zones
Neutral & PvP
Ebonheart Pact
Aldmeri Dominion
Daggerfall Covenant