Grahtwood Skyshards Location Map The Elder Scrolls Online (ESO)
Map of Skyshard Locations in Grahtwood The Elder Scrolls Online (ESO) Maps & Walkthrough.
Grahtwood Skyshards Location Map
Grahtwood Skyshards Location Map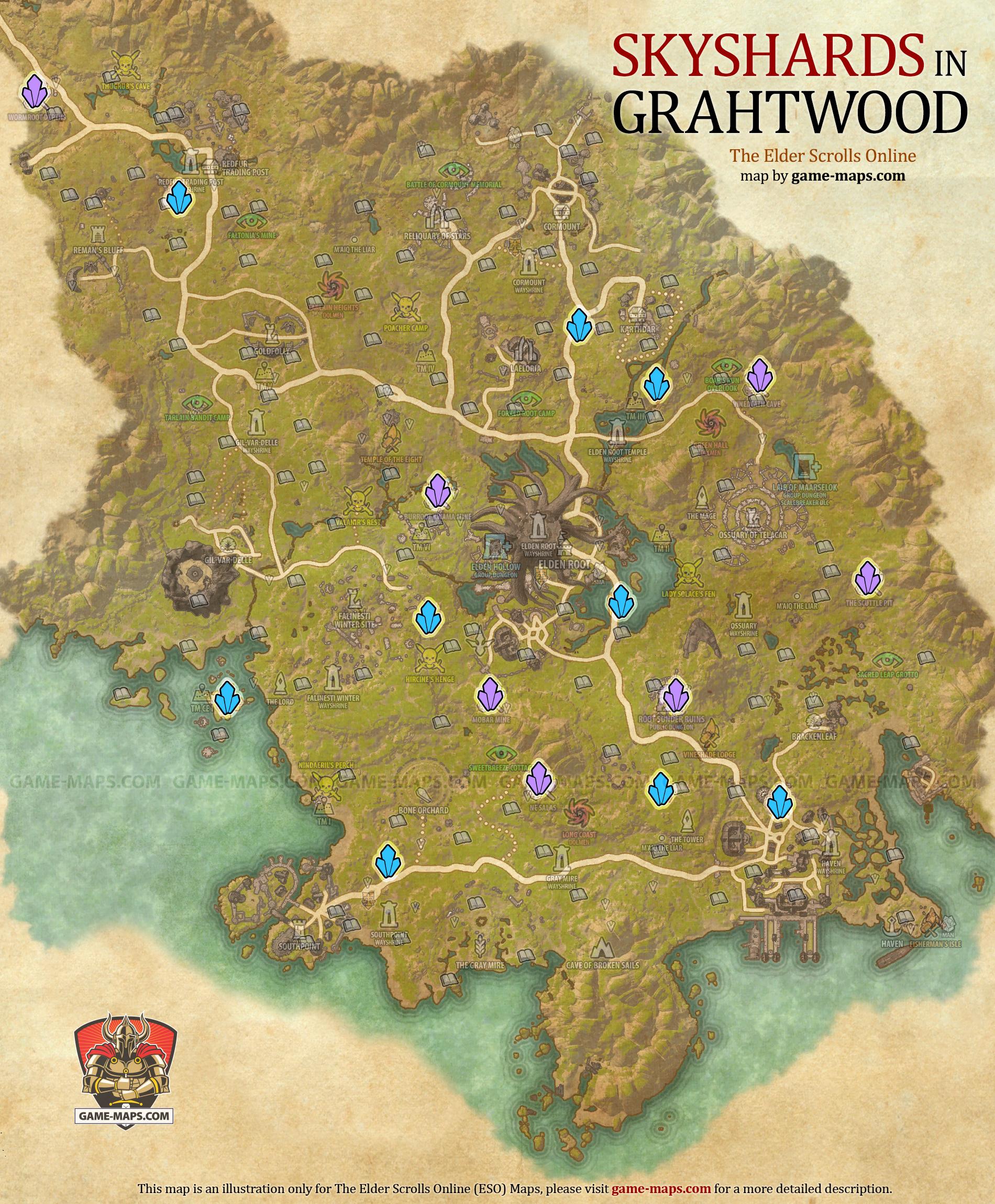 Skyshards in The Elder Scrolls Online are scattered throughout the world and can be identified by the bright beam of white light they emanate. Discovering each three Skyshards will grant you a skill point, which can be used to unlock or morph new abilities. Skyshards are easy way to obtain experience points.
Skyshards Skyshard on the ground level or above. Every three skyshards a player collects will yield one skill point.

Underground Skyshards Normal Skyshards but located inside the Delves and Public Dungeons.
Grahtwood Skyshards
Discover all 16 Skyshards in Grahtwood.
Granted safe haven by the mages.
The shrine of the south leads north.
Cooling off on the way to the Tower.
Where the road to the root is an isle.
Atop falls that feed the temple.
Spotted from a treehouse vantage.
A doorway to trolls near Redfur.
Among ancient words in the stones.
Above a seasonal site of return.
Where Covenant forces pour forth.
A scrabbling, a skittering, a scurrying.
Six-legged thunder invades.
Not yet dead on the vine.
Stolen starlight in wormy depths.
Mined by the bandits of Mobar.
Crocs claimed a meal in the sunder.
Skyshards Location Maps
Chapter Zones
Story DLC Zones
Neutral & PvP
Ebonheart Pact
Aldmeri Dominion
Daggerfall Covenant