Stonefalls Skyshards Location Map The Elder Scrolls Online (ESO)
Map of Skyshard Locations in Stonefalls The Elder Scrolls Online (ESO) Maps & Walkthrough.
Stonefalls Skyshards Location Map
Stonefalls Skyshards Location Map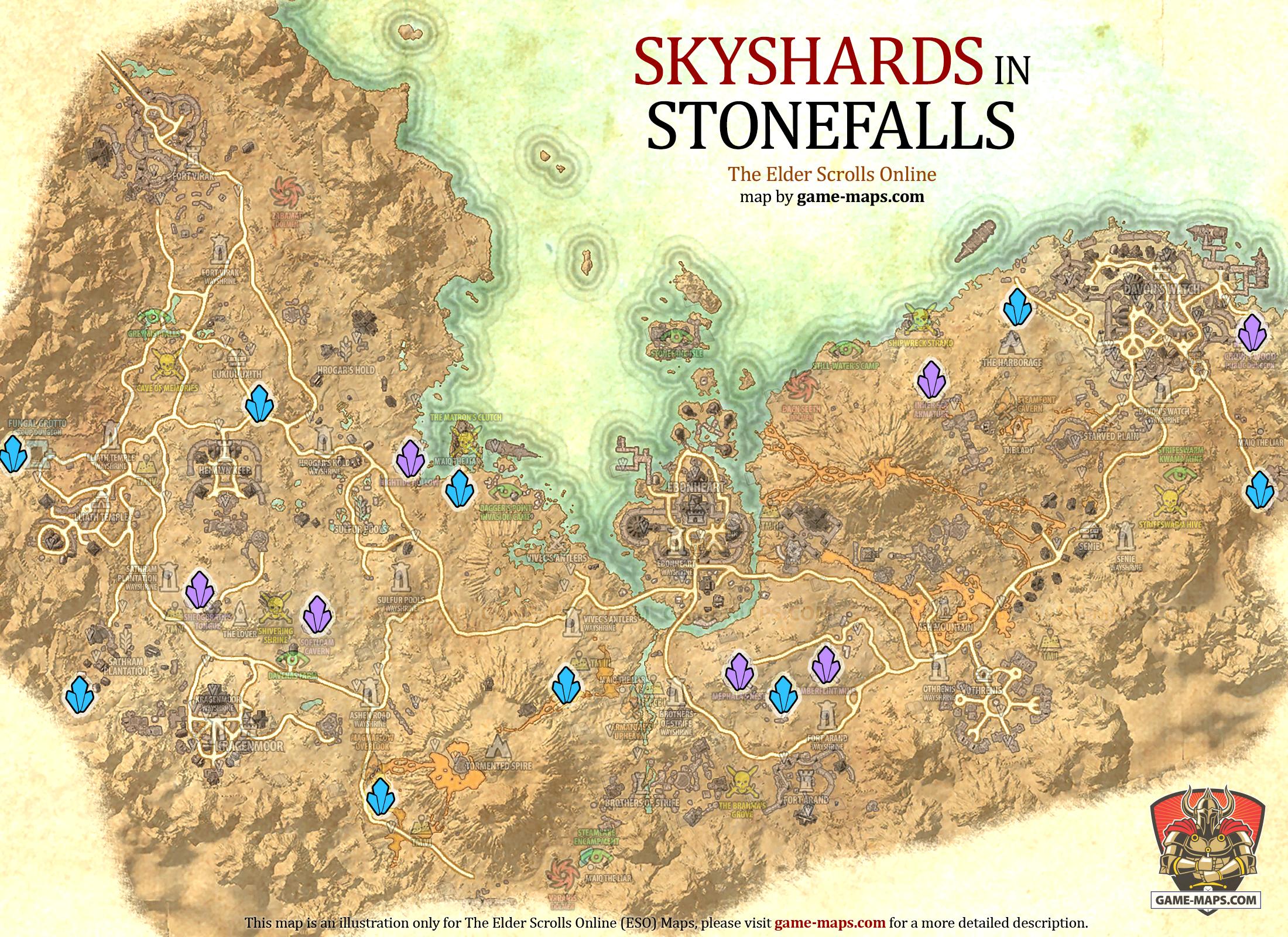 Skyshards in The Elder Scrolls Online are scattered throughout the world and can be identified by the bright beam of white light they emanate. Discovering each three Skyshards will grant you a skill point, which can be used to unlock or morph new abilities. Skyshards are easy way to obtain experience points.
Skyshards Skyshard on the ground level or above. Every three skyshards a player collects will yield one skill point.

Underground Skyshards Normal Skyshards but located inside the Delves and Public Dungeons.
Stonefalls Skyshards
Discover all 16 Skyshards in Stonefalls.
Watching lions swim to shore.
Near Bal Foyen's gate.
Staging an attack on Arand.
A lady on a cliff, beyond Sulfur Pools.
Among mushrooms, high above Lukiul Uxith.
Among pools of fire, above Vivec's Wayshrine.
South on the Ashen Road, where lava flows.
Tucked away on a grotto's mantel.
On a hillside behind a plantation.
Left to rust beside ancient arms.
Used to strike flames underground.
Listening to the Spinner's whispers.
Where a fiery tide rises.
Found in soft dirt by daggers.
Discovering a taste for madness.
Drowned in the south by a clever bird.
Skyshards Location Maps
Chapter Zones
Story DLC Zones
Neutral & PvP
Ebonheart Pact
Aldmeri Dominion
Daggerfall Covenant