Eastmarch Skyshards Location Map The Elder Scrolls Online (ESO)
Map of Skyshard Locations in Eastmarch The Elder Scrolls Online (ESO) Maps & Walkthrough.
Eastmarch Skyshards Location Map
Eastmarch Skyshards Location Map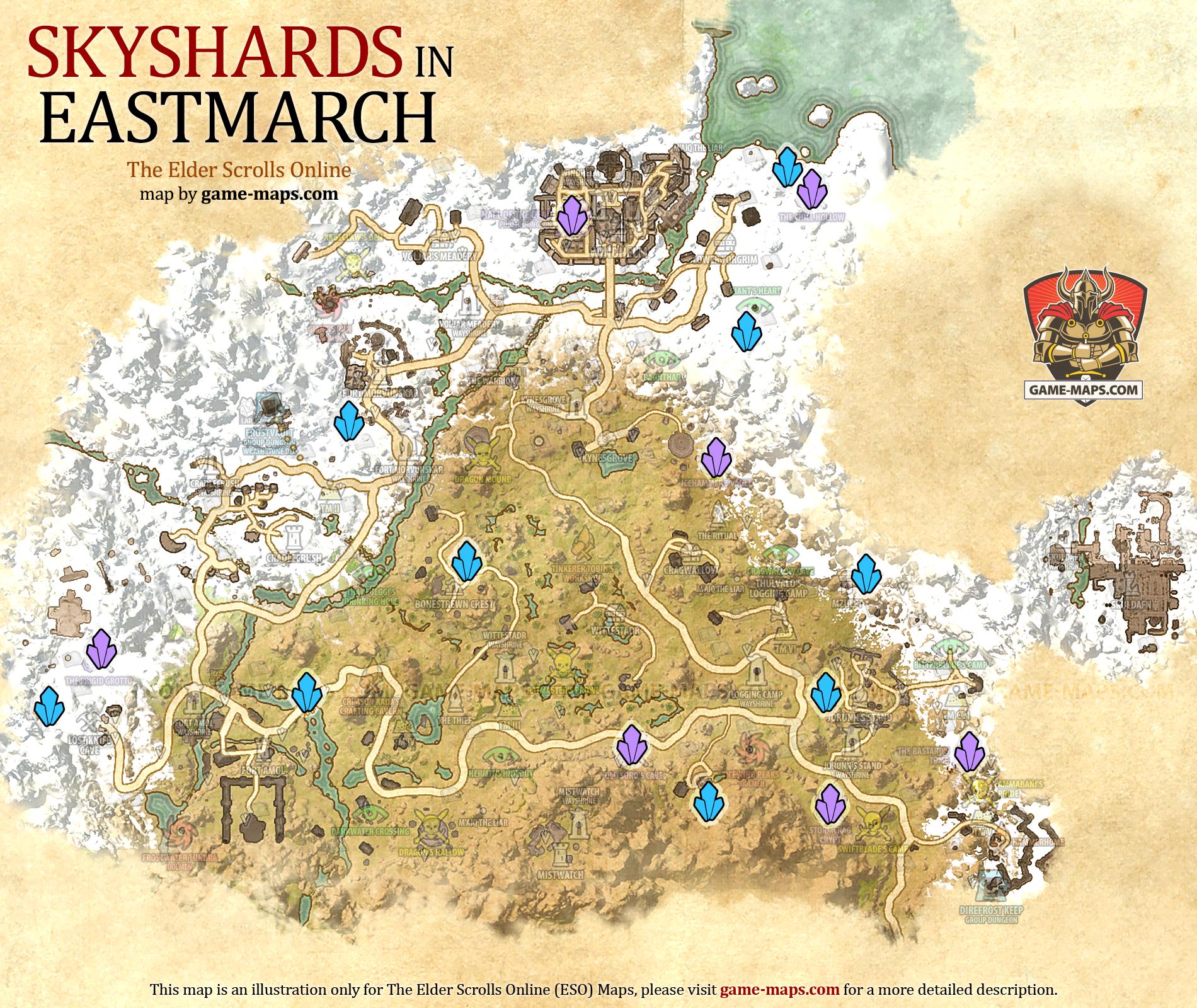 Skyshards in The Elder Scrolls Online are scattered throughout the world and can be identified by the bright beam of white light they emanate. Discovering each three Skyshards will grant you a skill point, which can be used to unlock or morph new abilities. Skyshards are easy way to obtain experience points.
Skyshards Skyshard on the ground level or above. Every three skyshards a player collects will yield one skill point.

Underground Skyshards Normal Skyshards but located inside the Delves and Public Dungeons.
Eastmarch Skyshards
Discover all 16 Skyshards in Eastmarch.
Nestled beside Morvunskar's royal tomb.
Giants despoil the village below.
Leave the hollow to cure the chill.
Strewn between tusks near the barrow.
Beside a bridge to Amol.
Lost in ruins beyond the grotto.
Mzulft's secrets are not all underground.
Attempting to spy on Aelif.
Stashed near a farm in icy winds.
An illegitimate child's reading material.
Search the slipperiest places in the hollow.
Three eyes gleam, a frigid prize.
Crashed from the sky to open the vault.
Old Sord excelled at hide-and-seek.
Among the dead, sheltered from storms.
Near a throne in the Hall of the Dead.
Skyshards Location Maps
Chapter Zones
Story DLC Zones
Neutral & PvP
Ebonheart Pact
Aldmeri Dominion
Daggerfall Covenant