Coldharbour Skyshards Location Map The Elder Scrolls Online (ESO)
Map of Skyshard Locations in Coldharbour The Elder Scrolls Online (ESO) Maps & Walkthrough.
Coldharbour Skyshards Location Map
Coldharbour Skyshards Location Map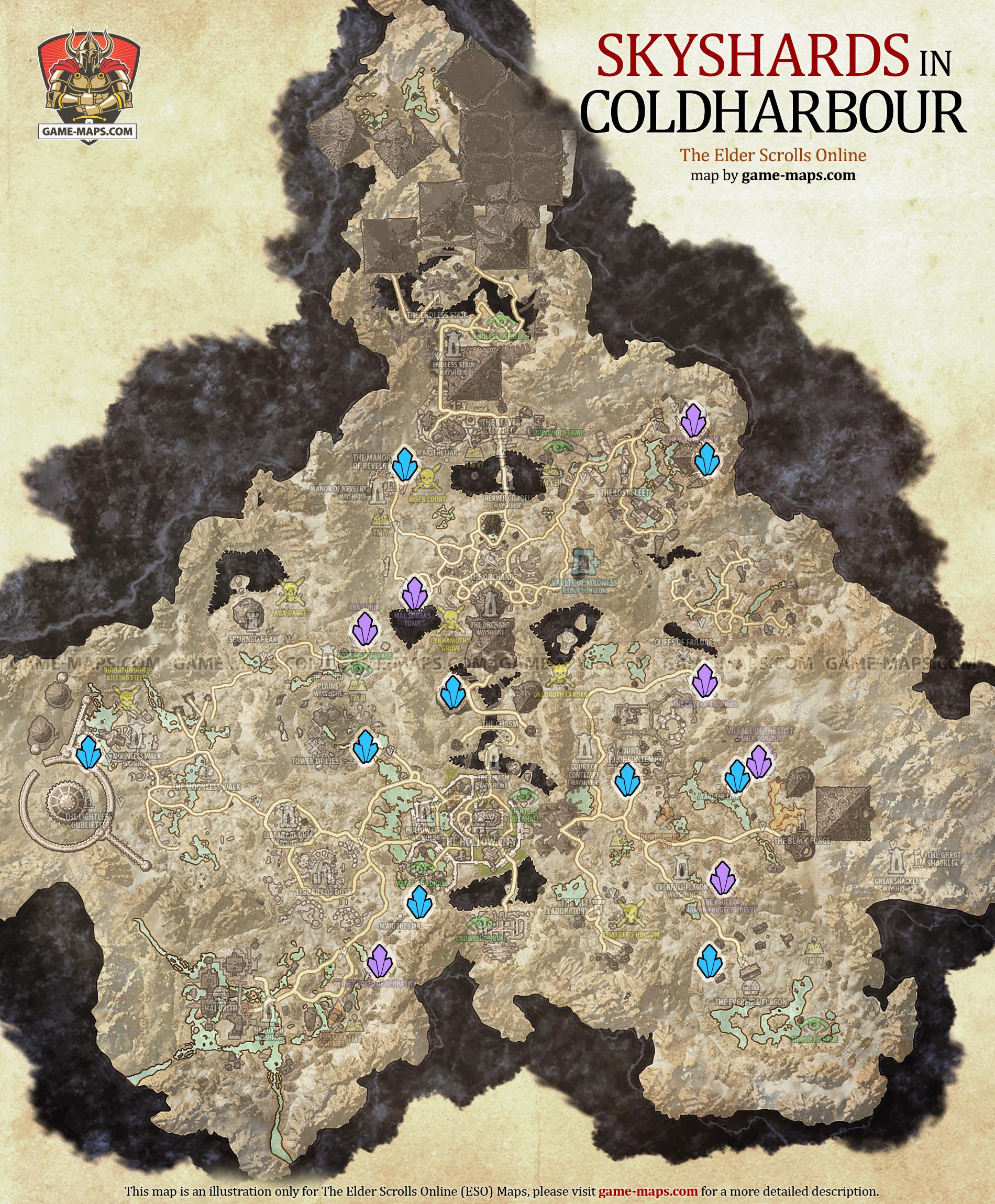 Skyshards in The Elder Scrolls Online are scattered throughout the world and can be identified by the bright beam of white light they emanate. Discovering each three Skyshards will grant you a skill point, which can be used to unlock or morph new abilities. Skyshards are easy way to obtain experience points.
Skyshards Skyshard on the ground level or above. Every three skyshards a player collects will yield one skill point.

Underground Skyshards Normal Skyshards but located inside the Delves and Public Dungeons.
Coldharbour Skyshards
Discover all 16 Skyshards in Coldharbour.
East of the bastion of deceit.
Discarded from the mages' walls.
Seek a shattered bridge suspended.
Unfit for court.
Ejected from the Village.
Among the vessel's burnt cousins.
In the Chasm's western watchtower.
Not invited into the plotting wives' home.
Washed to strange shores with the fleet.
Among the bones of Aba-Loria.
Enduring Forgefire's flames.
Seek the deepest depravity.
Entombed in the Orchard.
One of the hunters' many prides.
Where endless cries issue forth.
Behind disaster-claimed Dunmer hall.
Skyshards Location Maps
Chapter Zones
Story DLC Zones
Neutral & PvP
Ebonheart Pact
Aldmeri Dominion
Daggerfall Covenant