Northern Elsweyr Skyshards Location Map The Elder Scrolls Online (ESO)
Map of Skyshard Locations in Northern Elsweyr The Elder Scrolls Online (ESO) Maps & Walkthrough.
Northern Elsweyr Skyshards Location Map
Northern Elsweyr Skyshards Location Map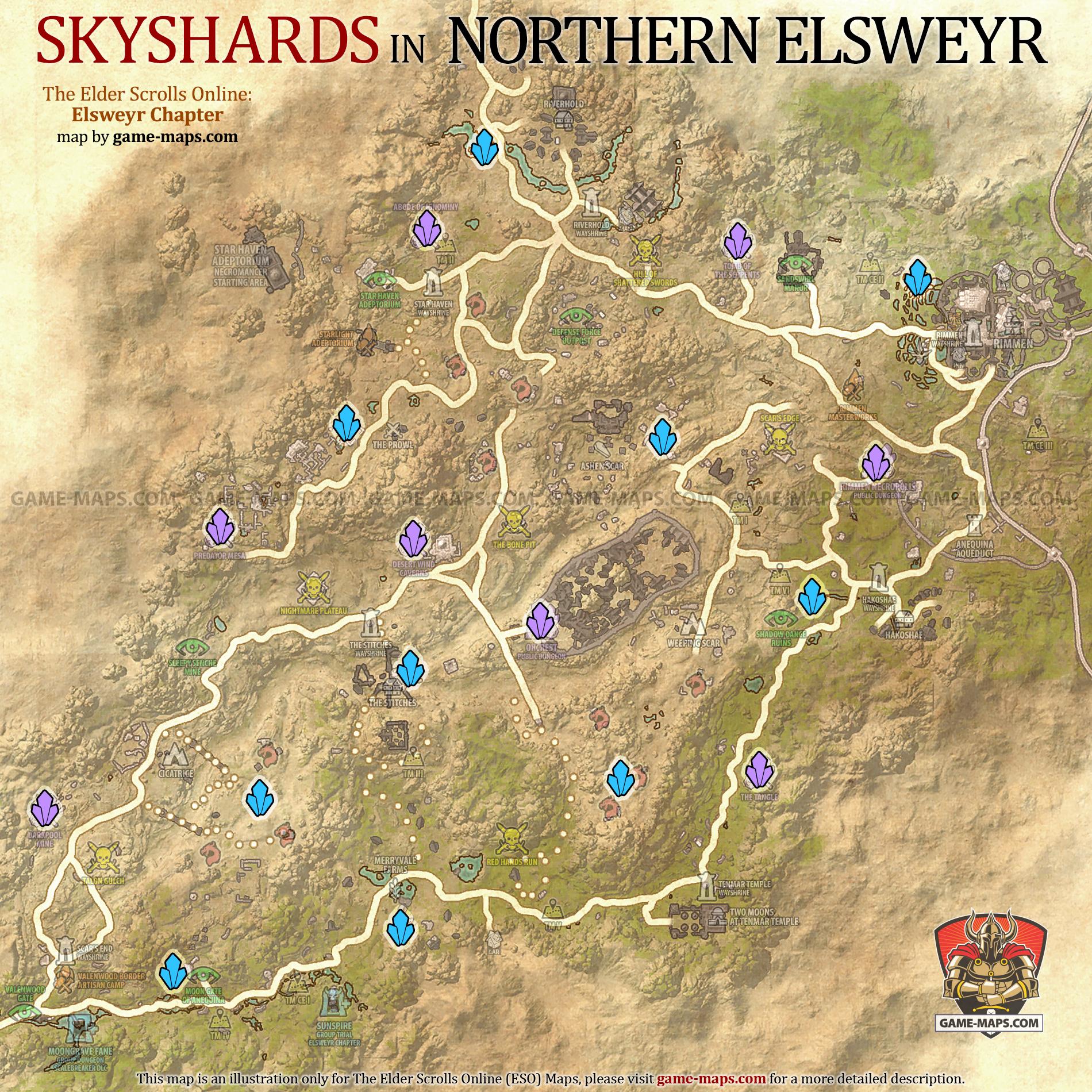 Skyshards in The Elder Scrolls Online are scattered throughout the world and can be identified by the bright beam of white light they emanate. Discovering each three Skyshards will grant you a skill point, which can be used to unlock or morph new abilities. Skyshards are easy way to obtain experience points.
Skyshards Skyshard on the ground level or above. Every three skyshards a player collects will yield one skill point.

Underground Skyshards Normal Skyshards but located inside the Delves and Public Dungeons.
Northern Elsweyr Skyshards
Discover all 18 Skyshards in Northern Elsweyr.
Near Riverhold, where the river falls.
In the ruins where poachers Prowl.
At the creek's end, where shadows dance.
In a cart among Rimmen's canes.
In a shattered crate beneath the Stitches.
In a hidden cave beneath the Moon Gate of Anequina.
Overlooking the buzzing hives of Merryvale Farms.
Behind a burned out farmhouse.
In the shadow of a Dragon's wings.
On the ridgeline overlooking the Ashen Scar.
In the darkest depths of Orcrest, where all the pipes converge.
On an altar, deep within the Rimmen Necropolis.
On an unsteady ledge, buffeted by the Desert Wind.
Tucked away on the highest scarp of Predator Mesa.
At the mouth of a cave, in an ignoble abode.
On an oil-slick island in Darkpool Mine.
Hidden in the Tangle undergrowth.
Protected by the armored guardians of the serpents' tomb.
Skyshards Location Maps
Chapter Zones
Story DLC Zones
Neutral & PvP
Ebonheart Pact
Aldmeri Dominion
Daggerfall Covenant