Greenshade Skyshards Location Map The Elder Scrolls Online (ESO)
Map of Skyshard Locations in Greenshade The Elder Scrolls Online (ESO) Maps & Walkthrough.
Greenshade Skyshards Location Map
Greenshade Skyshards Location Map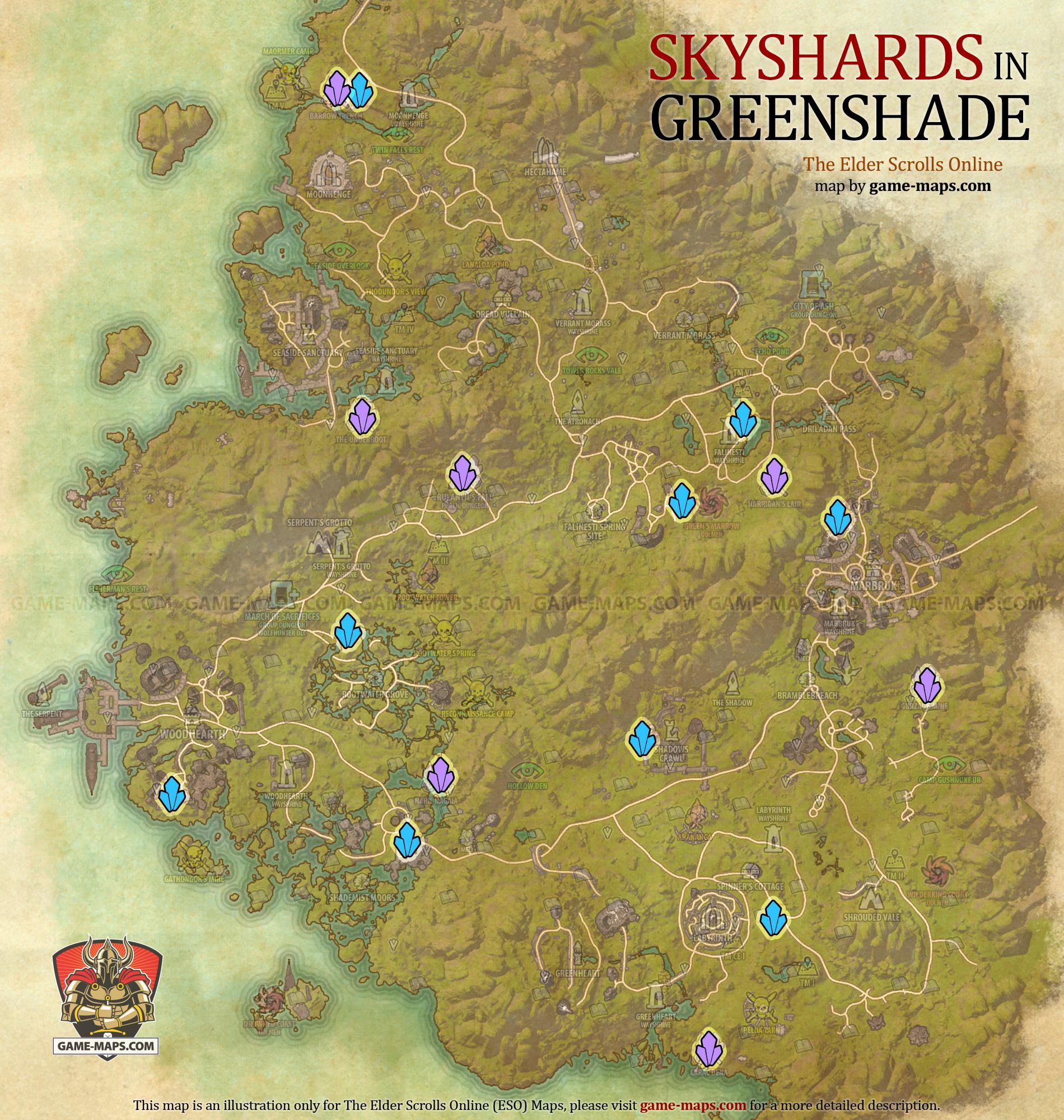 Skyshards in The Elder Scrolls Online are scattered throughout the world and can be identified by the bright beam of white light they emanate. Discovering each three Skyshards will grant you a skill point, which can be used to unlock or morph new abilities. Skyshards are easy way to obtain experience points.
Skyshards Skyshard on the ground level or above. Every three skyshards a player collects will yield one skill point.

Underground Skyshards Normal Skyshards but located inside the Delves and Public Dungeons.
Greenshade Skyshards
Discover all 16 Skyshards in Greenshade.
Flee the labyrinth of words and stone.
In crumbled keep where shadow creeps.
Breath of fresh air for Marbruk's mages.
Find an eclectic outskirt by the sea.
Where moor becomes moat.
Stay dry where the Wooded Eye wards.
No longer entrenched.
Unheeded by Wood Orc lookouts.
Down in the gorge of rope bridges.
In Gurzag's supplies.
Halls ruined further by blue-skinned brutes.
A pretender in Naril Nagaia.
Under root, but hidden high.
Batted around in the purring lair.
Mined up in a barrow.
Outside the Harbinger's chamber.
Skyshards Location Maps
Chapter Zones
Story DLC Zones
Neutral & PvP
Ebonheart Pact
Aldmeri Dominion
Daggerfall Covenant