Southern Elsweyr Map ESO - The Elder Scrolls Online
Full Map of Southern Elsweyr zone for (ESO) The Elder Scrolls Online: Dragonhold DLC, Delve Maps, World Bosses, Quest Hubs, Striking Locales and Skyshards. Pieces of History Locations for Masterpieces Quest. Southern Elsweyr is also known as Pellitine with settlement, Senchal.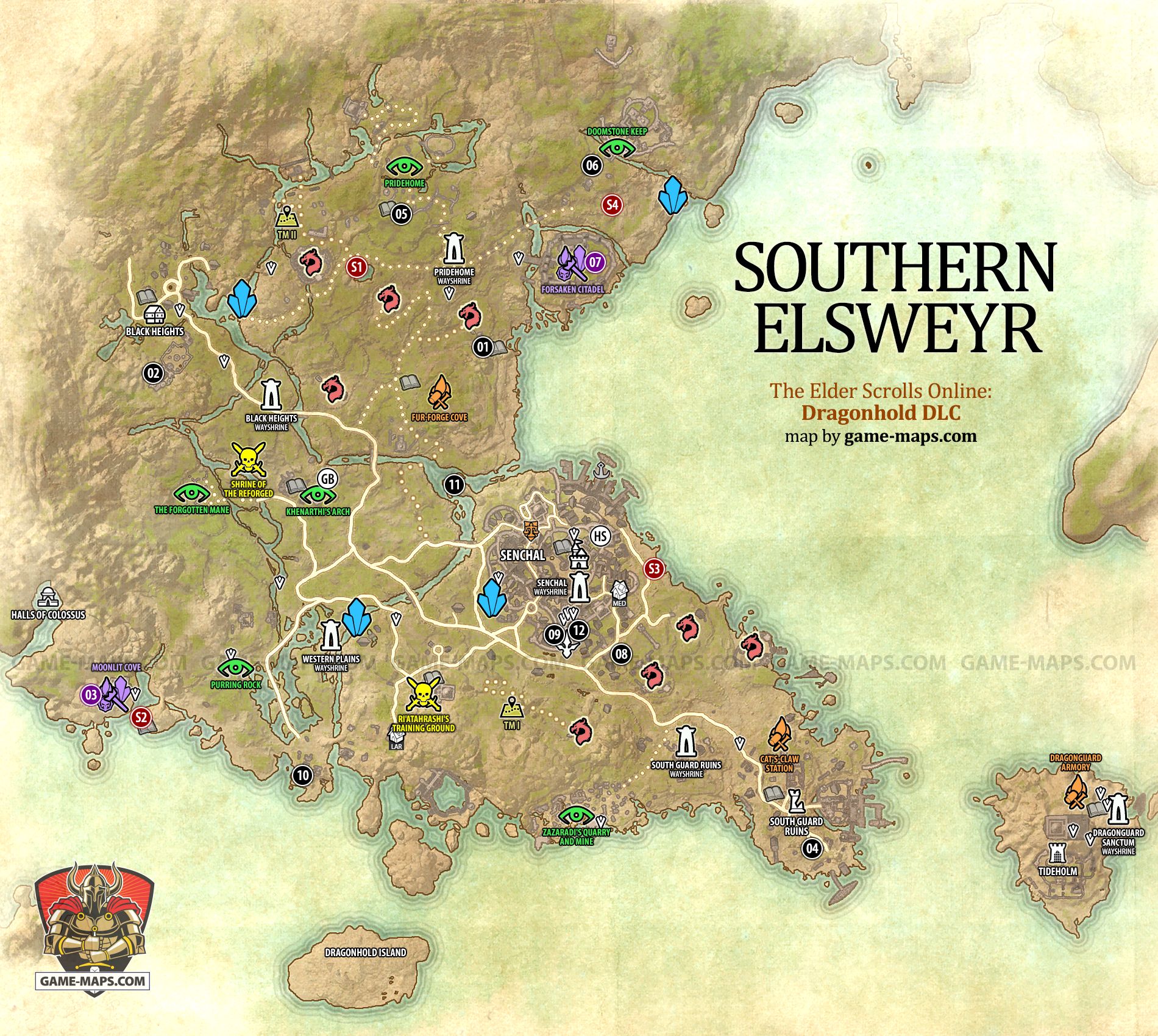 Southern Elsweyr Map Completion

Welcome to Pellitine Enter Southern Elsweyr for the first time.

Southern Elsweyr Master Explorer Discover and clear all delves and striking locales in Southern Elsweyr.

Pellitine's Pride and Joy Complete 16 Story Quests in Southern Elsweyr.

Pellitine Master Angler Catch all 12 rare fish in Southern Elsweyr.
6
Story Quests Main Zone Storyline
6
Wayshrines
2
Delves solo-able dungeons
3
Points of Interest Quest Hubs
6
Striking Locales Pathfinder achievem.
3
Set Stations for Crafting Sets
2
World Bosses for groups
6
Skyshards for skill points
10
Lore Books for Mages Guild
Southern Elsweyr Guide for ESO
Also known as Pellitine, this land's complex history stretches back into antiquity. Long ago, Khajiiti aristocrats ruled the southern kingdoms with grace and refinement. Now, in the wake of Knahaten Flu, criminals, Imperial remnants, and Khajiiti patriots all compete for the reins of power.
The Elder Scrolls Online: Dragonhold DLC is part of The Season of the Dragon adventure, which it consists of Wrathstone DLC, Elsweyr Chapter, Scalebreaker DLC and Dragonhold DLC.
Dragonhold DLC restore the mysterious Dragonguard order, and fight back against the Dragon menace:
Reforge The Dragonguard - Gather unlikely allies and help Sai Sahan reform the Dragonguard, an ancient order of Dragon hunters thought lost to history
Explore A Lost Province - Restore order in a lawless region beset by Dragons, pirates, and slavers, and bring hope to the once-proud Khajiiti kingdom of Pellitine
The Season Of The Dragon - Put an end to Kaalgrontiid's terrible schemes with bonus quests that bring the Season of the Dragon year-long adventure to its exciting conclusion
Claim Untold Riches - Uncover powerful item sets and a massive host of collectibles buried deep within Pellitine's ruins, including titles, furnishings, costumes, and more
Pieces of History - Masterpieces
Starting by Bebbia Sleek-fur in Senchal Palace.
Gather pieces of the priceless Khajiit tapestry, Khajiit of the Moons, to honor its history and inspire the citizens of Senchal.
01. Nishzo's Tapestry Piece
02. Amaffi's Tapestry Piece
03. Oranu's Tapestry Piece
04. Magpie's Tapestry Piece
05. Bufasa's Tapestry Piece
06. Seleiz's Tapestry Piece
07. Hiijar's Tapestry Piece
08. Grastia's Tapestry Piece
09. Dancer's Tapestry Piece
10. Farro's Tapestry Piece
11. Kesta's Tapestry Piece
12. Jarro's Tapestry Piece
Questing
in Southern Elsweyr
Main Story Quests
There are 6 main Story Quests for Southern Elsweyr zone.
The Dragon's Lair
Reformation
Uneasy Alliances
Order of the New Moon
The Pride of Alkosh
The Dragonguard
Southern Elsweyr Side Quests
Another Khajiit's Tale
A Childhood in Flames
Chiaroscuro Crossroads
The Deadliest Prey
Dreams of the Forsaken
The Herbalist's Product
Little Lost Cat
Masterpieces
Out of Murkmire
Skooma Sequela
Song of the Sand-Whale
Take Your Lumps
J'saad's Stone
The Good Bits
Southern Elsweyr

Treasure Maps
Southern Elsweyr Treasure Map I
Southern Elsweyr Treasure Map II
Southern Elsweyr

Wayshrines

Wayshrines allow free, instantaneous travel between wayshrines that have been discovered and unlocked. You can also travel directly to any unlocked wayshrine from anywhere in the world for a small amount of gold.
Black Heights Wayshrine
Dragonguard Sanctum Wayshrine
Pridehome Wayshrine
Senchal Wayshrine
South Guard Ruins Wayshrine
Western Plains Wayshrine
Southern Elsweyr

Cave Delver

Explore and clear two explorable caves in Southern Elsweyr.

Delves are solo-able dungeons found throughout the world. Delves will always contain a single skyshard and a boss who drops item set gear.
Moonlit Cove
"The caverns of Moonlit Cove support a wealth of unique flora and fungus. A naturalist could lose themselves in that place for days were it not for those uncouth brigands!" - Felixa Caprenia, Senchal's Naturalist in Residence
Boss: The Tigershark
Forsaken Citadel
Formerly known as the Topal Legionary Academy, this venerable structure produced some of the Akaviri Potentate's greatest commanders. Now, little more than ghost stories haunt its ruined interior.
Boss: Commandant Weston
Southern Elsweyr

Points of Interest

Points of Interest are self-contained stories that explore the lore, characters, and locations within a zone. These can award you with experience, gold, and gear.
Senchal
Black Heights
South Guard Ruins
Pellitine

Pathfinder

Discover all the striking locales in Southern Elsweyr.

Striking Locales are places of interest within the world. Discovering all of the Striking Locales in a zone will award that zone's Pathfinder achievement.
Zazaradi's Quarry and Mine
Pridehome
Doomstone Keep
The Forgotten Mane
Purring Rock
Khenarthi's Arch
Southern Elsweyr

Set Stations

Set Stations are locations in the world where you can craft items with specific item set bonuses.
Cat's-Claw Station - Daring Corsair Set
Fur-Forge Cove - New Moon Acolyte set
Dragonguard Armory - Ancient Dragonguard Set
Southern Elsweyr

World Bosses

World Bosses are difficult enemies meant to be tackled by a group of adventurers. Defeating a world boss can award you higher tier gear.
Ri'Atahrashi's Training Ground
Shrine of the Reforged
Southern Elsweyr

Skyshard Hunter

Discover all 6 Skyshards in Southern Elsweyr.

Skyshards are scattered throughout the world and can be identified by the bright beam of white light they emanate. Discovering three Skyshards will grant you a skill point, which can be used to unlock or morph new abilities.
Overlooking the coast, southeast of Doomstone Keep
Lurking inside a burned ruin in west Senchal
Where water falls in the Western Plains
Where falling water meets the natural arch east of Black Heights
Across a rope bridge in Moonlit Cove
Within the lower tunnels of the Forsaken Citadel
Southern Elsweyr

Shalidor's Library Books

Shalidor's Library Books are scattered throughout the world. These books are identified by their distinctive purple glow. Discovering these books will improve your Mages Guild rank and advance the associated skill line.
A Mother's Nursery Rhyme
On the Knahaten Flu
Pirates of the Abecean
A Nereid Stole My Husband
Varieties of Faith: The Khajiit
The Moon Cats and their Dance
The Eagle and the Cat
Elven Eyes, Elven Spies
Master Zoaraym's Tale, Part 1
Master Zoaraym's Tale, Part 2
The Elder Scrolls Online Map Legend
Wayshrines - if visited allow you to teleport to this location. Fast Travel between wayshrines is free, although fast traveling to a wayshrine from anywhere will cost gold.
Locales - Area of Interest, visit every locale on map for achievement.
Group Locales - Group Area of Interest, areas designed to explore in a group with other players.
Skyshards (ground level) - Skyshard on the ground level or above. Every three skyshards a player collects will yield one skill point.
Skyshards (inside dungeon) - Skyshard in dungeon. Every three skyshards a player collects will yield one skill point.
World Bosses - powerful elite encounter(s), to defeat him you will need the help of other players.
Delve - caves, delves, dungeons, instance or dungeon intended for solo or cooperative play.
Group Dungeon - group dungeons, raid dungeons, group instances intended for groups of players.
Dark Anchors - spawn points of Molag Bal forces, every few minutes you will find a group activity here.
Mundus Stones - visiting will grant you a permanent blessing, but only one blessing at a time.
Guild Trader - Shops contain Guild Traders offering wares from various players guilds.
Crafting Site - Special crafting stations where you can create specific item sets.
Lore Books - collect Lore for skills upgrade and for Mage Guild experience.
Ancestral Tomb - for The Ancestral Tombs Quest visit them all to reveal location of lost Library of Andule (Morrowind).
Strider Caravaner Tower - Use them for quick travel for free in Vvardenfell (Morrowind).
Inn - Player Housing
Apartment - Player Housing
Small House - Player Housing
Medium House - Player Housing
Large House - Player Housing
Manor - Player Housing, biggest
Quest Hubs