Shadowfen Skyshards Location Map The Elder Scrolls Online (ESO)
Map of Skyshard Locations in Shadowfen The Elder Scrolls Online (ESO) Maps & Walkthrough.
Shadowfen Skyshards Location Map
Shadowfen Skyshards Location Map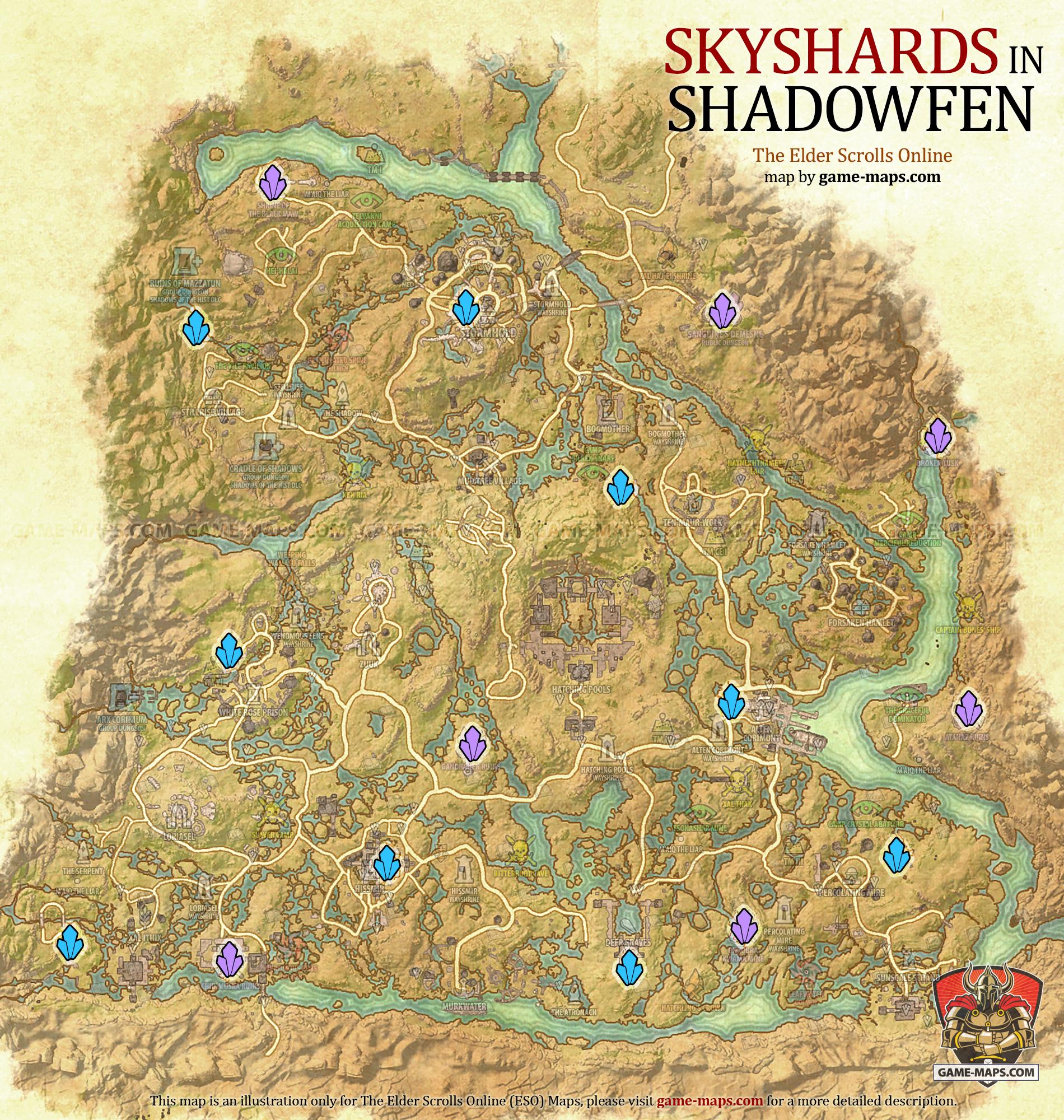 Skyshards in The Elder Scrolls Online are scattered throughout the world and can be identified by the bright beam of white light they emanate. Discovering each three Skyshards will grant you a skill point, which can be used to unlock or morph new abilities. Skyshards are easy way to obtain experience points.
Skyshards Skyshard on the ground level or above. Every three skyshards a player collects will yield one skill point.

Underground Skyshards Normal Skyshards but located inside the Delves and Public Dungeons.
Shadowfen Skyshards
Discover all 16 Skyshards in Shadowfen.
Above the mages' eye between the falls.
Still shrouded by spray past a western rise.
Sneak behind the relic-thieves' camp.
Beside a bowsprit among pirates.
Ritual flames brew trouble in the mire.
Where wisps waylay wanderers.
Like the sound of steam or snakes.
Overlooking the murk of Xal Ithix.
Imprisoned in a crumbling tower.
Peek behind pillars in Atanaz.
Skittering, slithering, a tusk once whole.
Unearthed by an outlaw excavation.
Crown in hand, leave and look right.
Climb, little kwama, to reach your goal.
Digesting in the belly of the Black Maw.
Deep in the den of debauchery.
Skyshards Location Maps
Chapter Zones
Story DLC Zones
Neutral & PvP
Ebonheart Pact
Aldmeri Dominion
Daggerfall Covenant