Starfield Map of the Galaxy
Starfield Map of the Galaxy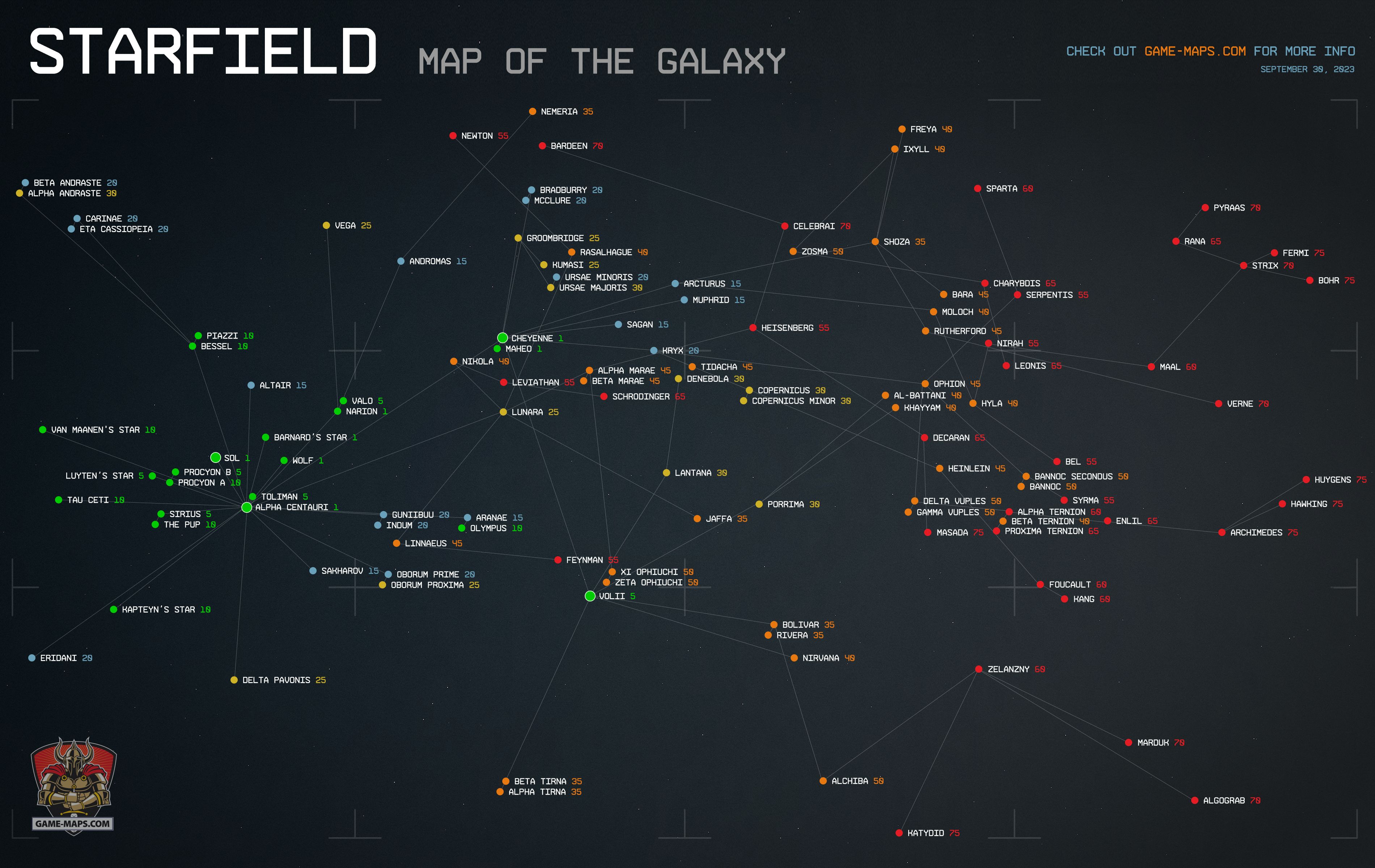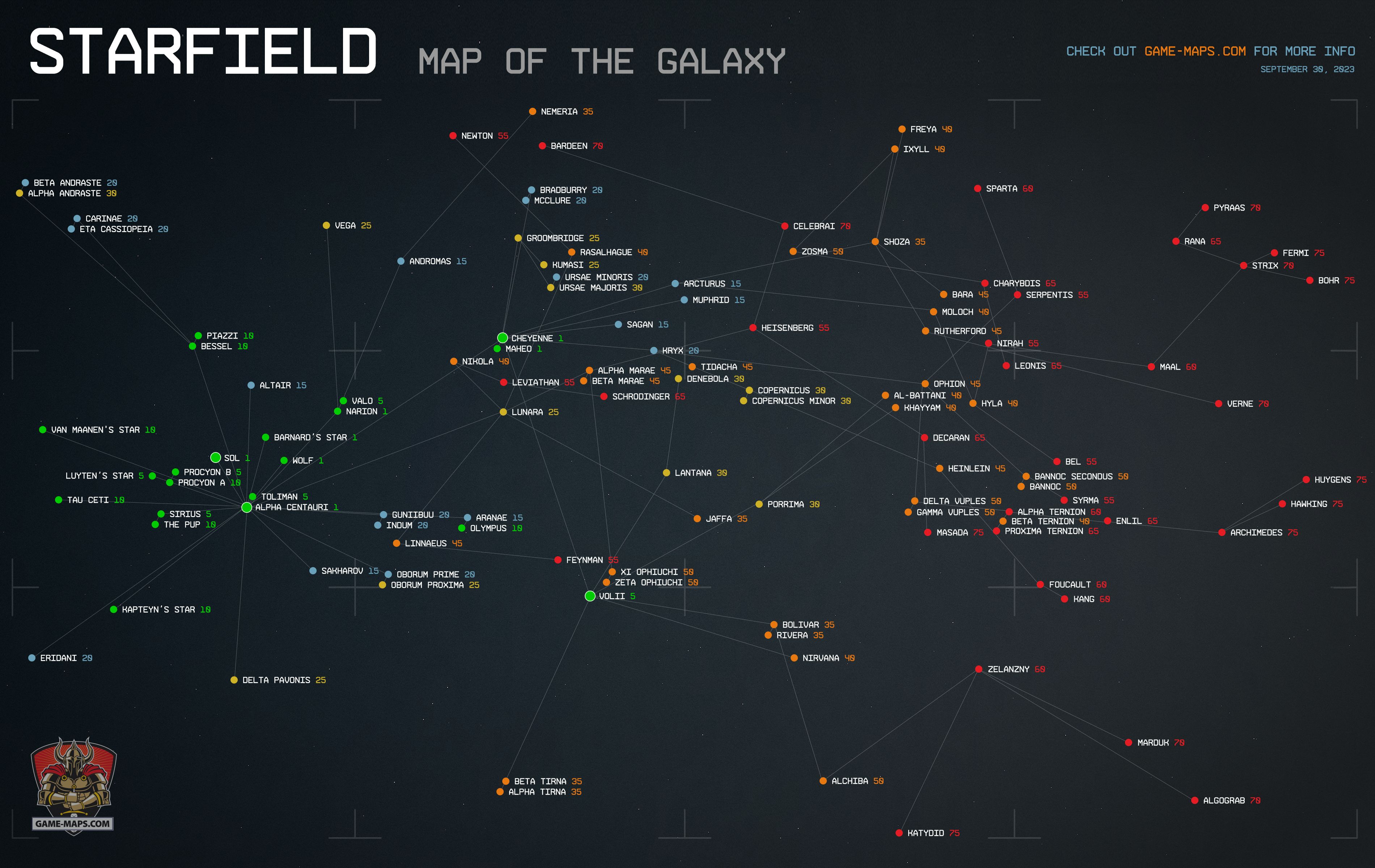 The Starfield Map of the Galaxy describes the location of 120 Starfield Solar Systems quite accurately, although the flat 3D map does not always reflect the true distances between the stars.
As you can see on the Starfield Map, the difficulty level increases from left to right side of the map.
Each of the solar systems marked on the Starfield Map contains from a few to a dozen or so planets, moons and some space stations. The System Level suggests what experience level you should be at before landing there.
Starfield Maps
Maps of planets and selected locations in Starfield.
Starfield Map - list of all star systems with level and resources
The Starfield Map allows you to see all solar systems across the galaxy. In game initially, you will only see basic information about the planet on the Starmap. Scanning the planet will reveal more information as well as landmarks where you can land and explore. You can only scan a planet if you are orbiting it. You can land at a landmark or a custom landing marker.
I've added a list of Inorganic Resources locations to selected solar systems. These are not all the resources locations found on the planets and moons of a given system, as well as in the entire galaxy. Common Resources are found in many more systems. For each Resource, I chose at least 3 lowest level systems, so that it is easy and close to find them.
Alpha Centauri - 1 lvl - Alpha Centauri System Map

Aluminum
Argon
Chlorine
Copper
Helium-3
Iron
Lead
Nickel
Uranium
Water
Benzene
Chlorosilanes
Cobalt
Tungsten
Platinum
Vanadium
Dysprosium
Palladium
Xenon

Barnard's Star - 1 lvl - Bernard's Star System Map
Cheyenne - 1 lvl - Cheyenne System Map

Alkanes
Carboxylic Acids
Gold
Mercury
Ionic Liquids
Neon

Maheo - 1 lvl
Narion 1 lvl - Narion System Map

Aluminum
Argon
Chlorine
Copper
Helium-3
Iron
Lead
Nickel
Uranium
Water
Alkanes
Benzene
Beryllium
Chlorosilanes
Fluorine
Iridium
Silver
Tungsten
Neodymium
Tetrafluorides
Vanadium
Antimony
Caesium
Europium
Ionic Liquids
Neon
Plutonium

Sol - 1 lvl - Sol System Map

Aluminum
Argon
Chlorine
Copper
Helium-3
Iron
Lead
Nickel
Uranium
Water
Benzene
Beryllium
Chlorosilanes
Cobalt
Fluorine
Silver
Carboxylic Acids
Mercury
Neodymium
Titanium
Dysprosium

Luyten's Star - 5 lvl

Lithium
Tantalum

Procyon B - 5 lvl

Neodymium

Sirius - 5 lvl

Lithium
Xenon

Toliman - 5 lvl
Valo - 5 lvl
Volii - 5 lvl
Wolf - 5 lvl

Mercury

Bessel - 10 lvl
Kapteyn's Star - 10 lvl
Olympus - 10 lvl

Alkanes
Iridium
Carboxylic Acids
Tantalum
Europium

Piazzi - 10 lvl
Procyon A - 10 lvl

Cobalt
Fluorine
Iridium
Tungsten
Tetrafluorides
Titanium
Ionic Liquids
Neon

Tau Ceti - 10 lvl

Beryllium
Lithium
Platinum
Tantalum
Vanadium
Caesium
Palladium
Ytterbium

The Pup - 10 lvl

Caesium

Van Maanen's Star - 10 lvl
Altair - 15 lvl

Beryllium
Silver
Gold
Platinum
Tetrafluorides
Palladium
Plutonium

Andromas - 15 lvl

Xenon

Aranae - 15 lvl
Arcturus - 15 lvl
Muphrid - 15 lvl

Antimony

Sagan - 15 lvl
Sakharov - 15 lvl
Beta Andraste - 20 lvl

Antimony

Bradburry - 20 lvl
Carinae - 20 lvl

Rothicite

Eridani - 20 lvl

Gold
Titanium
Europium
Plutonium

Eta Cassiopeia - 20 lvl
Guniibuu - 20 lvl
Indum - 20 lvl

Ytterbium

Kryx - 20 lvl
Mcclure - 20 lvl
Oborum Prime - 20 lvl
Ursae Minoris - 20 lvl
Delta Pavonis - 25 lvl
Groombridge - 25 lvl
Kumasi - 25 lvl
Lunara - 25 lvl
Oborum Proxima - 25 lvl
Vega - 25 lvl

Dysprosium

Alpha Andraste - 30 lvl
Copernicus - 30 lvl
Copernicus Minor - 30 lvl
Denebola - 30 lvl
Lantana - 30 lvl
Porrima - 30 lvl
Ursae Majoris - 30 lvl
Al-Battani - 35 lvl
Alpha Tirna - 35 lvl
Beta Tirna - 35 lvl
Bolivar - 35 lvl
Jaffa - 35 lvl
Nemeria - 35 lvl
Rivera - 35 lvl
Shoza - 35 lvl
Beta Ternion - 40 lvl
Freya - 40 lvl
Hyla - 40 lvl
Ixyll - 40 lvl
Khayyam - 40 lvl
Moloch - 40 lvl
Nikola - 40 lvl
Nirvana - 40 lvl
Rasalhague - 40 lvl
Alpha Marae - 45 lvl
Bara - 45 lvl
Beta Marae - 45 lvl
Heinlein - 45 lvl
Linnaeus - 45 lvl
Ophion - 45 lvl
Rutherford - 45 lvl
Tidacha - 45 lvl

Ytterbium

Alchiba - 50 lvl
Bannoc - 50 lvl
Bannoc Secondus - 50 lvl
Delta Vuples - 50 lvl
Gamma Vuples - 50 lvl
Xi Ophiuchi - 50 lvl
Zeta Ophiuchi - 50 lvl
Zosma - 50 lvl
Bel - 55 lvl
Feynman - 55 lvl
Heisenberg - 55 lvl
Leviathan - 55 lvl
Newton - 55 lvl
Nirah - 55 lvl
Serpentis - 55 lvl
Syrma - 55 lvl
Alpha Ternion - 60 lvl
Decaran - 60 lvl

Vytinium

Foucault - 60 lvl
Kang - 60 lvl
Maal - 60 lvl
Sparta - 60 lvl
Zelanzny - 60 lvl
Charybdis - 65 lvl
Enlil - 65 lvl
Leonis - 65 lvl
Proxima Ternion - 65 lvl
Rana - 65 lvl
Schrodinger - 65 lvl

Aldumite

Algograb - 70 lvl
Bardeen - 70 lvl
Celebrai - 70 lvl
Marduk - 70 lvl
Pyraas - 70 lvl
Strix - 70 lvl
Verne - 70 lvl

Veryl

Archimedes - 75 lvl
Bohr - 75 lvl
Fermi - 75 lvl
Hawking - 75 lvl
Huygens - 75 lvl

Tasine

Katydid - 75 lvl

Indicite

Masada - 75 lvl