Gorkinovich's Distillery Map - Arizona - Wasteland 2
Gorkinovich's Distillery Walkthrough - Wasteland 2 Video Game Walkthrough with Maps & Game Guide. Quests, NPCs, Items, Secrets & Hints, Enemies, Skills to Use.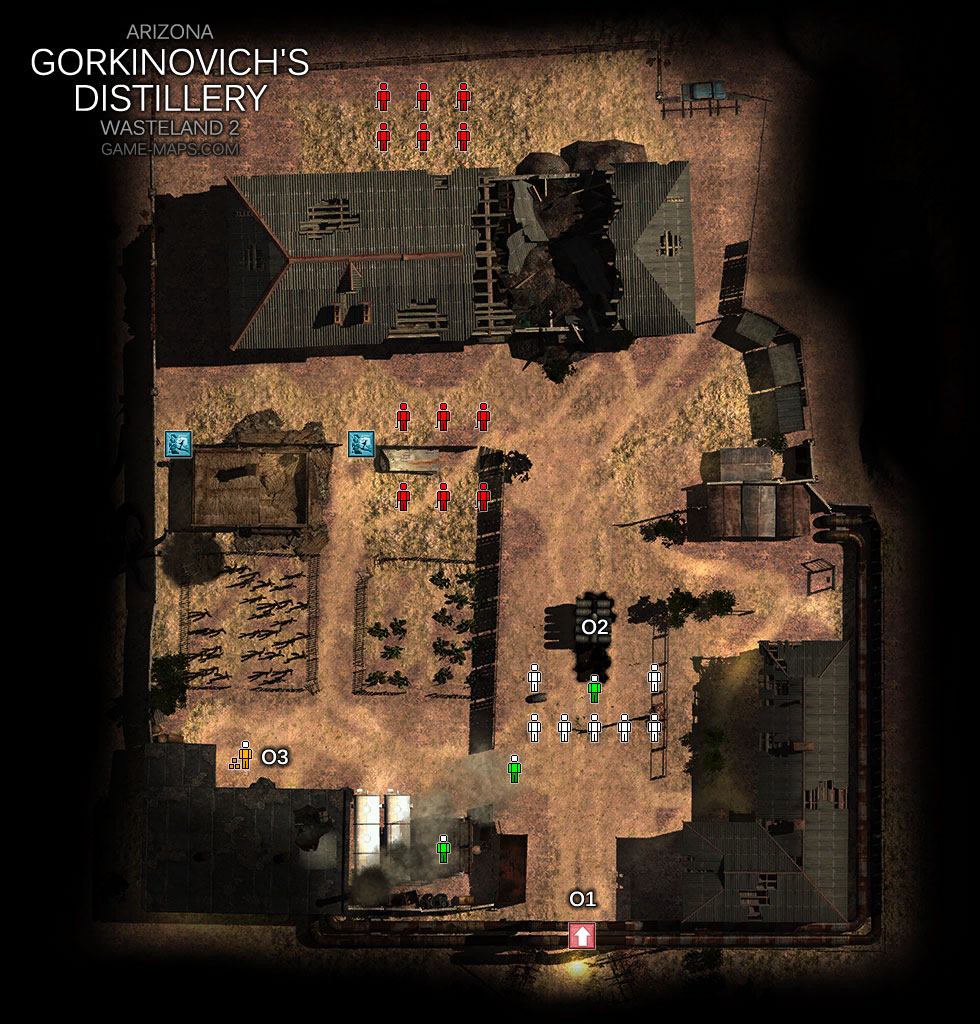 You will gain access to Gorkinovich's Distillery after talk with Gorkinovich in Rail Nomads Camp (20)
Its very important that yo DO NOT start to talk with Gorkinovich until you got Kiss Ass 4+ skill. Other way you will lost access to this location.
Join Scotchmo to you party before you enter here.
01 Exit to Wasteland
02 The barrels on the wagon are all branded with a picture of a cactus and the words 'Gorkinovich Brand Snake Squeezins - XXX.' The hobos have already pulled one barrel down to the road, and are reaching for more.
NPCLarry Start to talk to him, during a talk, switch to Scotchmo. He will calm down attackers.
QuestRail Nomads CampLook for Gorkinovich's missing squeezin's shipment. We managed to diffused the situation with Larry and the hobos.
NPCIvan
Ivan ask us to kill honey badgers.
03
NPCBen Trader
Ben wants Dessicated Juniper Berries from Prison Valley (15)
Map Legend

Allies - Rangers, Allies NPC

Neutrals - Neutral NPCs

Hostiles - Nostile NPCs, Enemies

Followers - NPCs to join your team.

Merchants - Trading Post, Trader

Shovel - Dig Site

Alarm Disarming

Lockpicking

Safecracking

Mechanical Repair

Computer Science

Demolitions

Toaster Repair

Brute Force

Animal Whisperer

Surgeon

Containers Chests, items.

Shrine, Statue Bonus Skills

Exit Exit / Entrance