Rick's RV Map - Arizona - Wasteland 2
Rick's RV Walkthrough - Wasteland 2 Video Game Walkthrough with Maps & Game Guide. Quests, NPCs, Items, Secrets & Hints, Enemies, Skills to Use.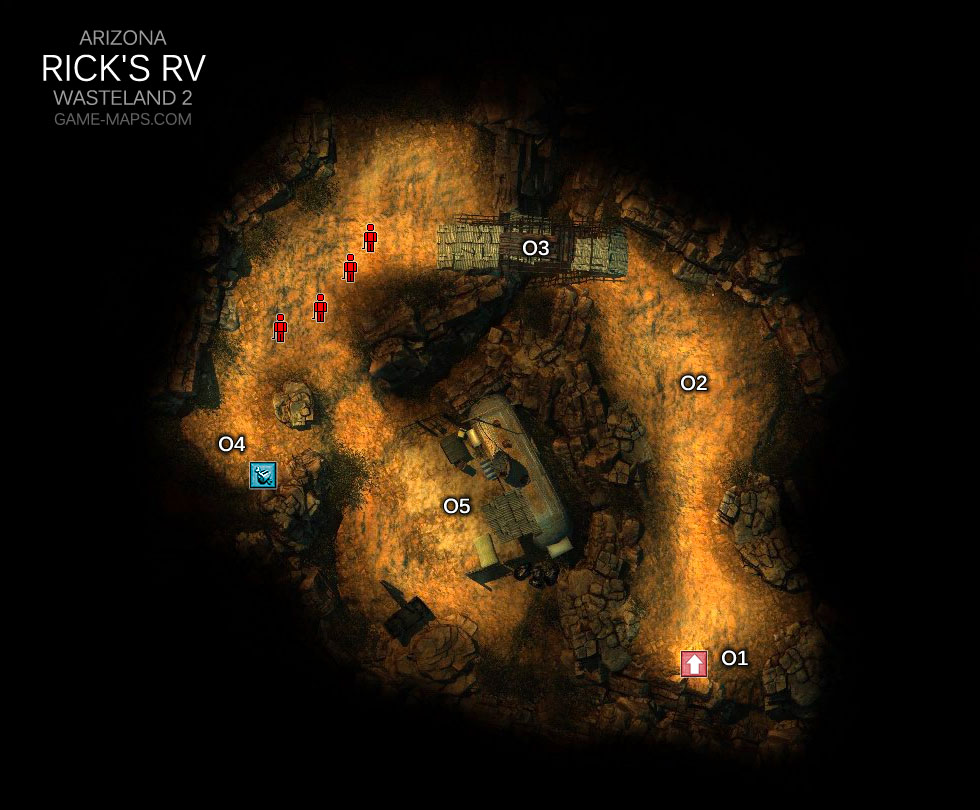 You will gain access to Rick's RV after talk with Rick Baychowski in Ranger Citadel (09)
01 Exit to Wastelands
02 Rick will ask if he can go. If "Yes" he will give us a code to safe 733
QuestRanger CitadelRelease Rick Baychowski from jail - or not. In return for leading us to his cache of rad suits, we have given Rick his freedom.
03 On radio question from Citadel about Rick we report "dead".
QuestPrisonFind a way to reach Damonta and set up a second radio repeater. When we freed Rick he mentioned the code for the safe is 733.
04 Broken Toaster
ItemFaded Photograph item from Toaster. You can give it to Deputy Mona Shera in Angel Oracle (16)
05 Safe code is 733
ItemRadiation Suits +4
QuestPrisonFind a way to reach Damonta and set up a second radio repeater. We discovered high quality rad suits in Rick Baychowski's safe. With the rad suits in hand, we are now ready to search for Damonta. We'll need to find a way through the radiation cloud and into the canyon that separates Ranger territory and Damonta.
Map Legend

Allies - Rangers, Allies NPC

Neutrals - Neutral NPCs

Hostiles - Nostile NPCs, Enemies

Followers - NPCs to join your team.

Merchants - Trading Post, Trader

Shovel - Dig Site

Alarm Disarming

Lockpicking

Safecracking

Mechanical Repair

Computer Science

Demolitions

Toaster Repair

Brute Force

Animal Whisperer

Surgeon

Containers Chests, items.

Shrine, Statue Bonus Skills

Exit Exit / Entrance