Wrecking Crew Stronghold Map - Arizona - Wasteland 2
Wrecking Crew Stronghold Walkthrough - Wasteland 2 Video Game Walkthrough with Maps & Game Guide. Quests, NPCs, Items, Secrets & Hints, Enemies, Skills to Use.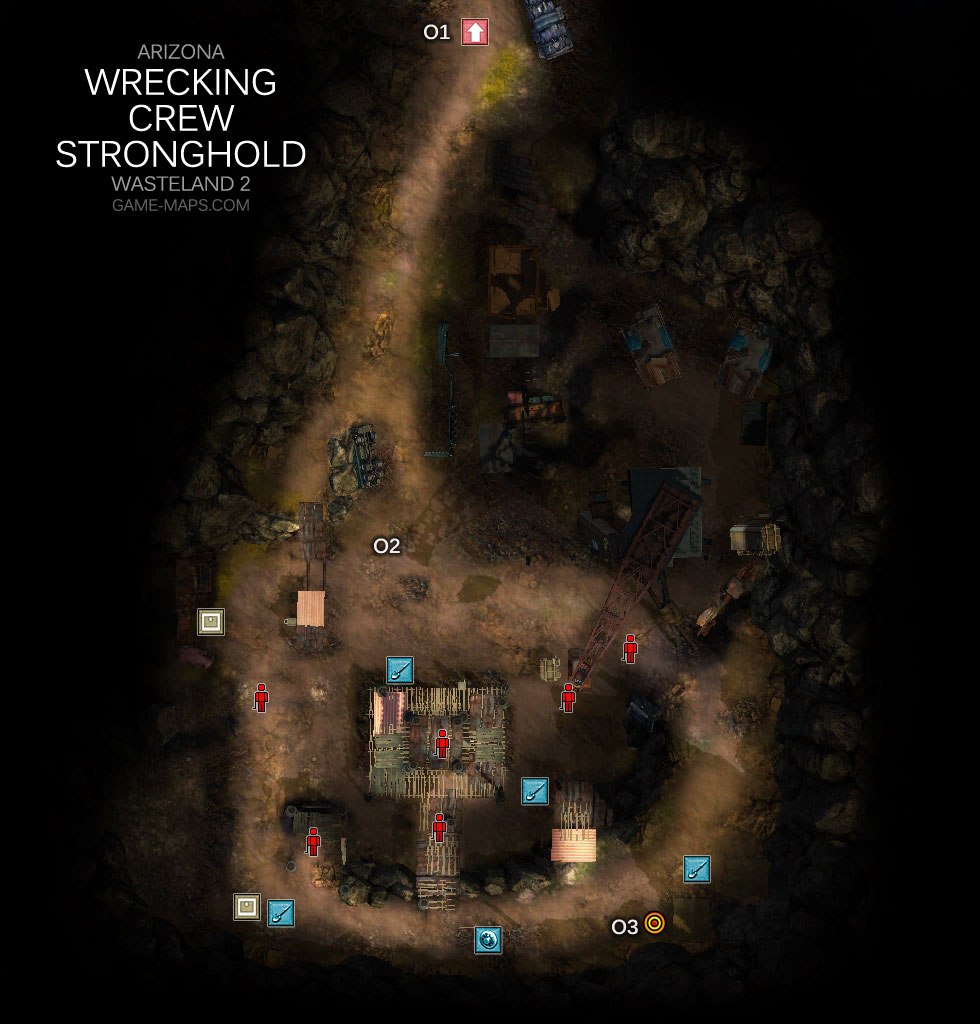 You will discover Wrecking Crew Stronghold in quest Protect Highpool from the Wrecking Crew given by Sean Bergin in Highpool
QuestHighpoolProtect Highpool from the Wrecking Crew Now that we've defeated the Wrecking Crew in Highpool, Sean Bergin wants us to finish them off at their main camp so they can't regroup and come back for vengeance. He's shown us where to find them on our map.
01 Exit to Wasteland
02 Kill all Wrecking Crew Members
QuestHighpoolProtect Highpool from the Wrecking Crew We followed up our victory over the Wrecking Crew at Highpool by tracking the rest of the gang to their camp and finishing them off for good. Kate Preston will be happy to hear about it.
03 Shrine
Map Legend

Allies - Rangers, Allies NPC

Neutrals - Neutral NPCs

Hostiles - Nostile NPCs, Enemies

Followers - NPCs to join your team.

Merchants - Trading Post, Trader

Shovel - Dig Site

Alarm Disarming

Lockpicking

Safecracking

Mechanical Repair

Computer Science

Demolitions

Toaster Repair

Brute Force

Animal Whisperer

Surgeon

Containers Chests, items.

Shrine, Statue Bonus Skills

Exit Exit / Entrance