Arizona World Map - Wasteland 2
Arizona World Map Walkthrough - Mysterious Shrines, Oasis with Water, Caches with Loot, Radiation Radius, Wasteland 2 Video Game Walkthrough with Maps & Game Guide. Quests, NPCs, Items, Secrets & Hints, Enemies, Skills to Use.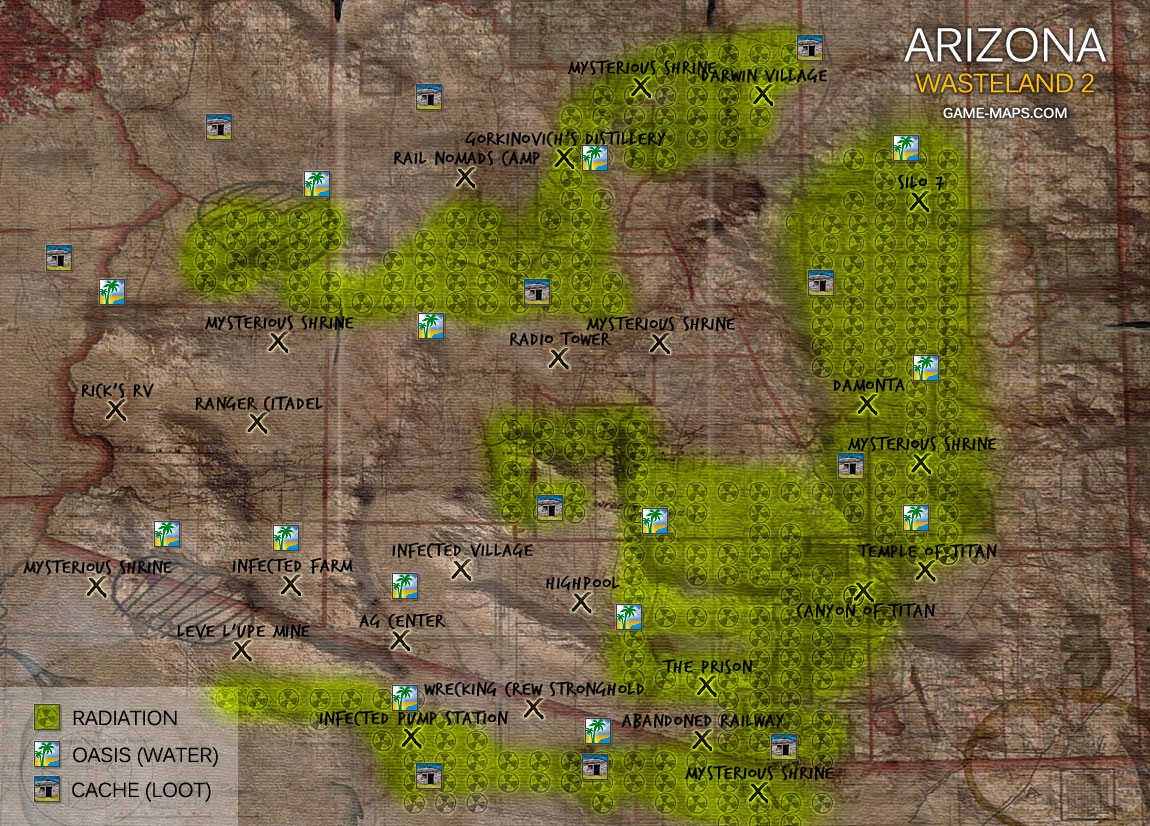 Available Locations in Arizona
Ranger Citadel Interior & Exterior
Radio Tower
Ag Center
Highpool
Infected Village
Infected Farm
Infected Pump Station
Wrecking Crew Stronghold
Rail Nomads Camp
Gorkinovich's Distillery
Rick's RV
Leve L'Upe Mine
The Prison
Abandoned Railway
Darwin Village
Canyon of Titan
Temple of Titan
Damonta
Silo 7
Map Legend

Allies - Rangers, Allies NPC

Neutrals - Neutral NPCs

Hostiles - Nostile NPCs, Enemies

Followers - NPCs to join your team.

Merchants - Trading Post, Trader

Shovel - Dig Site

Alarm Disarming

Lockpicking

Safecracking

Mechanical Repair

Computer Science

Demolitions

Toaster Repair

Brute Force

Animal Whisperer

Surgeon

Containers Chests, items.

Shrine, Statue Bonus Skills

Exit Exit / Entrance