Eastern Badlands Map - Badlands - Cyberpunk 2077 (CP77)
Detailed and revealed Map for Eastern Badlands located in Badlands outside of Night City in Cyberpunk 2077 Maps & Walkthrough (CP77).
Map of Eastern Badlands in Badlands District for Cyberpunk 2077
Eastern Badlands Map in Badlands District - Cyberpunk 2077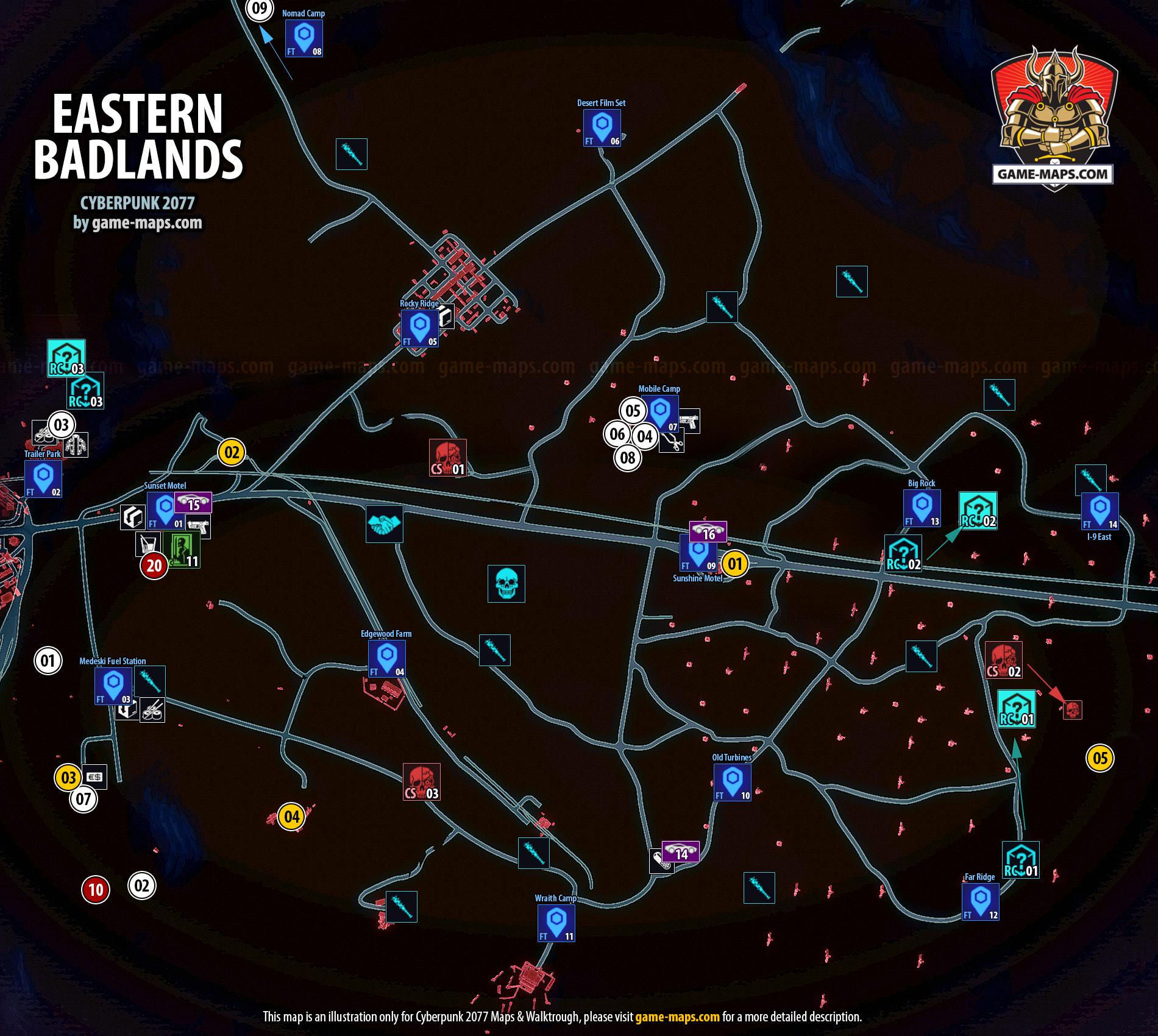 Eastern Badlands Subdistrict Info
Eastern Badlands is an game zone for players with 18-36 experience levels.
Main Jobs
starting in Eastern Badlands

Main Jobs in Cyberpunk 2077 are quests related to the main plot of the game. You can check the order in which they appear on the diagram Main Jobs.
Playing For Time
ACT 2
Johnny Silverhand Viktor Goro Takemura
Landfill Viktor's clinic V's Apartment Tom's Diner
You have to escape the landfill and get back to Night City, to your apartment. Once you recover, Takemura will contact you. You meet him at the bar.
After this Main Job all Night City is open to you.
Don't trust that Takemura. Mett with him, sure, check him out, but keep your eyes open. He's a corporat, meaning he's looking to use you.
Well, border, looks like we got ourselves into a real fix. No chance in hell I'm wriggling myself out of this one, but you're still alive. And as Misty says, "As long as you're alive, there's hope". Fate's given you a second chance, so use it – get back on your feet. Do that, and consider your best friend's last wish fulfilled.
Lightning Breaks
ACT 2
Panam Palmer
Sunset Motel Satwave Power Plant
Another joint quest with Panam Palmer, this time at the power plant.
Panam Palmer. Gotta say, I like her. Girl's got a pair – and clearly a plan, too. Let's see if it's enough to grab Hellman. Honestly, V, never thought I'd ride with the nomads again. I know, she left the Aldecaldos, but you can feel it too, can't you? Clan's in her blood and bones. In her heart. Don't think she'll let us down.
Side Jobs
in Eastern Badlands

Side Jobs will appear with the completion of specific storyline Main Jobs or other Side Jobs. Some of the Side Jobs are closed episodes, others open up more Side Jobs. There are also important Side Jobs influencing the game endings called Major Side Job.
Do not reject any calls to Side Jobs so as not to close the storyline variants. You can check all Side Jobs and their availability on the Side Job List
Epistrophy: Badlands
Tune Up
Over the mountains, through the woods, nestled on the hills beyond North Oak – that's where your pal Delamain lost one of his cabs. He's a goddamn talking car himself and, apparently, has more cars of his own. I dunno, but I just say we continue this little fairy tale, find that cab, save the princess and claim half the kingdom.
Find the Delamain cab in the Badlands.
Approach the Delamain cab.
Get in the cab.
Talk to the divergent Delamain.
Get out of the cab.
Wait for Delamain to call.
Talk to Delamain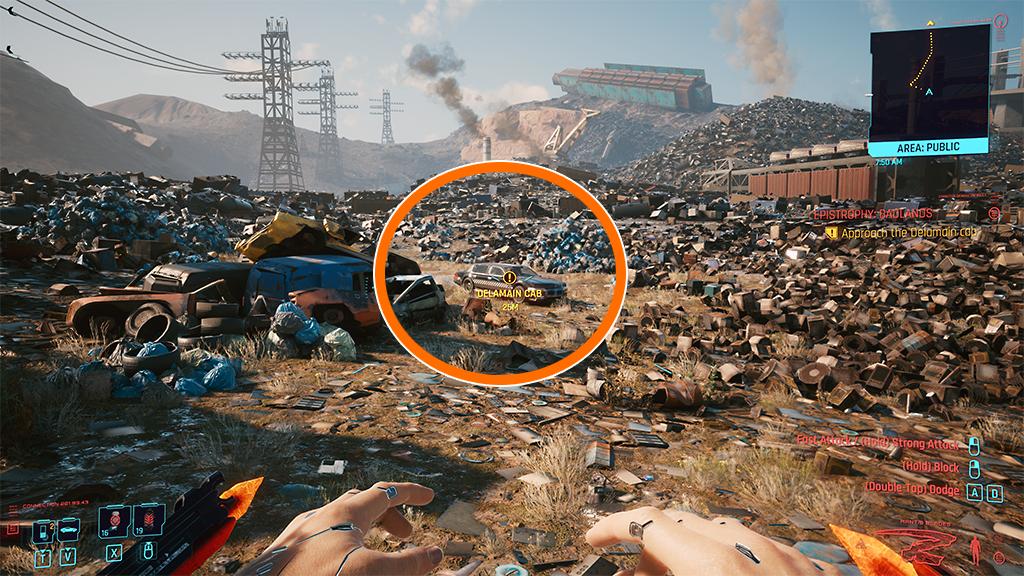 Cab for Epistrophy: Badlands
Kold Mirage
Ghost Town
Always somethin' interesting to be found at the dump. Take a half-dead, half-brain merc with an experimental chip in their head for example. Or, in this case, a freezer from 2020… a glimpse into the past.
You need to find a large refrigerator left in the garbage dump.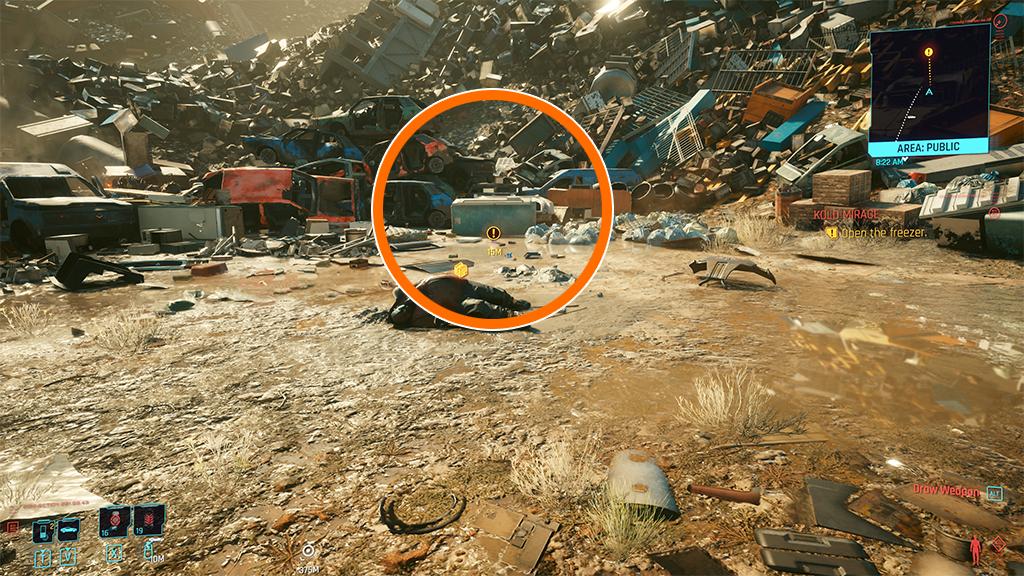 Refrigerator for Kold Mirage
Open the freezer.
Talk to Johnny.
Scan the freezer.
Take the deck.
Go to the Afterlife and talk to Nix.
Place the deck on Nix's desk.
Wait for Nix to finish the decryption.
Find a way to save Nix.
Talk to Nix.
Following the River
Major Side Job The Hunt +24h
Riders on the Storm
Major Side Job Life During Wartime +24h
With a Little Help from My Friends
Major Side Job Riders on the Storm +24h
Queen of the Highway
Major Side Job With a Little Help from My Friends +24h
These Boots Are Made for Walkin'
Ghost Town + Nomad Lifepath
I'll Fly Away
Riders on the Storm + talk to Mitch
Fortunate Son
At Nomad Camp
Queen of the Highway
Unique Weapons
in Eastern Badlands
For more, check All Unique Weapons List.
Plan B
Power Pistol
Location: Eastern Badlands, Dex Body near Side Job Kold Mirage starting location
Base Weapon: Liberty - Apply Bleeding, shot costs a money instead of a bullet.
Widow Maker
Tech Assault Rifle
Location: Eastern Badlands, Main Job Ghost Town, looted from nash
Base Weapon: M-179 Achilles - Fires two bullets per shot, chemical damage and Poison.
Crash
Power Revolver
Location: Eastern Badlands, Side Job Following the River, River on top of water tower.
Base Weapon: Overture
Overwatch
Power Sniper Rifle
Location: Eastern Badlands, Side Job Riders on the Storm, reward for saving Saul.
Base Weapon: SPT32 Grad - Custom silencer and increased reload speed.
Problem Solver
Power Submachinegun
Location: Eastern Badlands, Side Job Riders On the Storm, dropped by enemy.
Base Weapon: M221 Saratoga - Increased ammo clip size and fire rate.
Amnesty
Power Revolver
Location: Eastern Badlands, Main Job We Gotta Live Together (Panam Ending), Cassidy's bottle shooting challenge.
Base Weapon: Overture - Improved handling and firepower.
Stinger
Knife
Location: Eastern Badlands, Side Job I'll Fly Away
Base Weapon: Knife - additional chemical damage and Poison.
Gigs
in Eastern Badlands

Gigs are additional tasks that you get from the Fixer in a given district. More Gigs spawn as your Street Cred Level increases. Gigs are not related to the main plot of the game but provide experience points, equipment and resources.
Gig: Radar Love
Gig type: Thievery
Objective: Steal mobile radar station, model P9D/2.161
Location: Militech base at Lone Star Motel
The Badlands are a fragile ecosystem where each piece has an important role to play. Change one thing and the whole circle of life starts to unwind. Militech doesn't seem to understand and set up a whole operation to cement the borders. They have a prototype mobile radar unit they use to track Aldecaldo transports currently moored at their latest outpost. We get our mitts on that, the Aldecaldos can reverse engineer themselves a jamming signal designed to beat the new Militech toy. Once those transports are invisible again, the ecosystem will be restored to balance.
Bring the mobile radar to Dakota.
Get inside the Militech base.
Find the radar van P9D/2.161.
Steal the mobile rader P9D/2.161.
Deliver the P9D/2.161 radar to Dakota's garage.
Leave the garage.
Mobile Radar is hidden in a car parked in the garage. If you kill all your opponents, there will be no chase.
Gig: Flying Drugs
Gig type: Agent Saboteur
Objective: Eliminate cause for drone disappearance
Location: Union RR
A good friend of mine, Mosquito, is running an op in the Badlands. He packs a chem shipment in a drone and sends it off to the city, then when he gets his eddies wired, he slices off a piece for me. The problem now is those drones aren't making roost at their destinations. Someone's plucking them out of the sky along the way.
We sent the last drone with a GPS tag. The thieves took the bait and we're getting pinged from the transmitter. You follow that ping then make sure Mosquito's birds can fly free once again.
Go to the signal source
Find out how the drones were intercepted.
Destroy the antenna.
Leave the outpost
The antenna is at the top of the tower, you don't have to destroy it physically, just kill the opponents and turn it off.
Watch out for defense turrets, the area is heavily guarded.
Gig: Sparring Partner
Gig type: Thievery
Object: Retrieve data from broken training bot
Location: Warbler Lake Hazardous Waste Facility, Anderson St.
There's this kid – folks call him Joe. Red Joe. Now, this Joe kid has talent, knows his hooks and jabs. I swear he could knock a horse's teeth out. Point is, kid's got what it takes to go pro. Problem is, coaches aren't easy to come by in the Badlands. But lo and behold! Word is a next-gen sparring bot's landed in a scrapyard there – still in working order. That's city folk for ya – second a piece of tech glitches, it gets tossed out in the trash. Soft included.
Anyway, back to the bot. Find it and download its software before they recycle it into metal straws or whatever it is NC people like.
P.S. Oh and one more thing – the guy that runs the landfill? Watch out for him. Real piece of work.
Go to the landfill.
Find the broken bot.
Pull the shard from the bot.
Deposit the shard in the Drop Point.
The task is relatively easy to complete without violence, if you approach from the back of the location. There are two cameras, the Shard is inside the van.
Gig: No Fixers
Gig type: SOS: Merc Needed
Objective: Rescue Iris Tanner
Location: Edgewood Ln.
Iris Tanner is the best tech specialist I've met in decades of living outside the city. Car broke down? Trouble with water filters? Ailing generator? Call Iris and give her five minutes with it.
One thing she's not great with though: People. Reading them, at least.
Foolish girl started doing biz with the Wraiths. Making them angry is bad, sure, but making them happy is almost worse. Rather than just pay for a job well done, they kidnapped her instead. You ask why they'd kidnap someone who's capable of putting out an SOS from a rickety old radio? I – Dakota "Mad Coyote" Smith, eldest daughter of the Pomo tribe, eldest fixer in the Badlands – will offer my expert opinion: They're stupid.
Infiltrate the Wraiths' territory.
Find Iris Tanner.
Get rid of Iris' guard.
Talk to Iris Tanner.
Retrieve Iris's car.
Park Iris' car in the garage.
Take Iris Tanner to Dakota.
Talk to Dakota.
Start by taking over or destroying the defense turrets in front of the garage on the right side. Kill all enemies to avoid the chase. Go through the garage to the main building and talk to Iris. Go back to the garage, put Iris in her car and drive to Dakota.
Gig: Dancing on a Minefield
Gig type: Special Delivery
Objective: Retrieve the abandoned car from the minefield and deliver it to Dakota
Location: Nearest road off Interstate 9
The Badlands are peppered with disarmed minefields from 2071. Though, after several folk were "dislegged" by these "disarmed" mines, most decided to steer clear of these areas. That is, except the smuggling types. A number of their routes run through those fields.
Risky, yes, but brilliant all the same. Why would anyone guard the border when the practically do your job for you
But listen up: a smuggler and his rig got stranded out in the middle of one of those minefields. Maybe his tank went dry, maybe he had a heart attack, or maybe he set out on some vision quest – who knows, doesn't matter. What's important is I don't know the routes these fellas run and now they're getting dropped in my lap.
Get me this stranded vehicle. I know some nomads who'd pay handsomely for that GPS data.
Find the vehicle.
Approach the vehicle.
Examine the body.
Get in the vehicle.
Deliver the vehicle to the garage.
Park in the garage.
Exit the vehicle.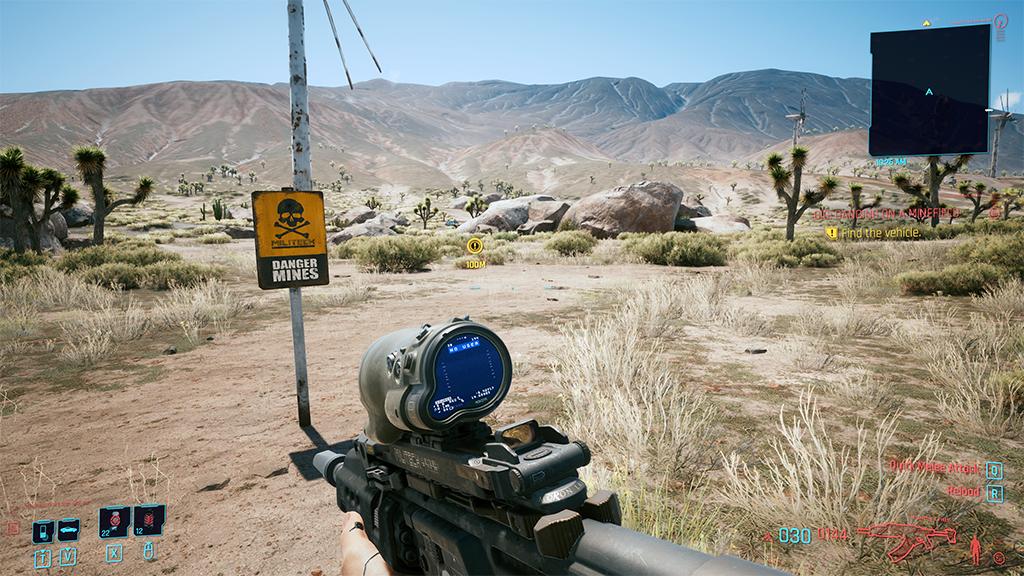 There are mines behind this sign for Gig: Dancing on a Minefield
This Gig is also about mines. Destroy three drones circling the car from a distance.
Clear the road to the car from mines so that you can drive back in the car when you come back.
Reported Crimes
in Eastern Badlands


Reported Crimes are NCPD Scanner Hustles in which you are looking for clues leading you to the next location where you are carrying out the task.
Reported Crime: I Don't Like Sand
You know, there are some days when anything that can go wrong, will. Some days you burn your toast and forget your keys, other days... Militech comes and fucks you up for losing a car in a sandstorm.
Go to the abandoned car.
Get the loot from the car.
Reported Crime: Blood in the Air
Looks like this choomba wanted to climb the turbine to fix something. Militech didn't want him to. 1 determined person + 1 unhappy corp = 1 dead dude. Easy math.
Go toward the wind turbine.
Search the crate.
Reported Crime: Comrade Red
Soviets in the American desert. If that doesn't sound like a good spy story to you, go swap those ears! And check out the stash they were writing about.
Open door to underground bunker.
Search the stash.
Search the corpse on the roof of the motorhome, watch out for the defense turret. Go down to the underground shelter nearby and search the body on the chair.
Cyberpsycho Sighting
in Eastern Badlands

There are 17 Cyberpsycho Sighting in Cyberpunk 2077. Treat your opponents like Mini Bosses, choosing the right tactics for each one.
Cyberpsycho Sighting: House on a Hill
Shots were heard on the outskirts of NC – rare given the seemingly peaceful area. We oughta go and take a closer look. Why wait for the clean-up crew when there could still be lives that need saving?
Find the cyberpsycho.
Neutralize the threat
Search the area to collect information.
Message Regina about Cyberspycho Sighting: House on a Hill
The Cyberpsycho is in the garage, before you enter, watch out for the mines at the entrance to the property near the gate, get rid of the drones. As soon as you open the garage door, two defense turrets will appear on the roof of the house. The information is in the laptop in the garage.
Cyberpsycho Sighting: Second Chances
Everyone deserves a second chance, V. I know that better than most. But who's granting that chance and who's getting it are important questions that oughta be asked.
Find the cyberpsycho.
Scan the area for clues.
Neutralize the threat
Search the area to collect information.
Read the shard "I have seen the light".
Message Regina about Cyberpsycho Sighting: Second Chances
Follow southeast from the starting marker and scan the tracks, including Tire Tracks.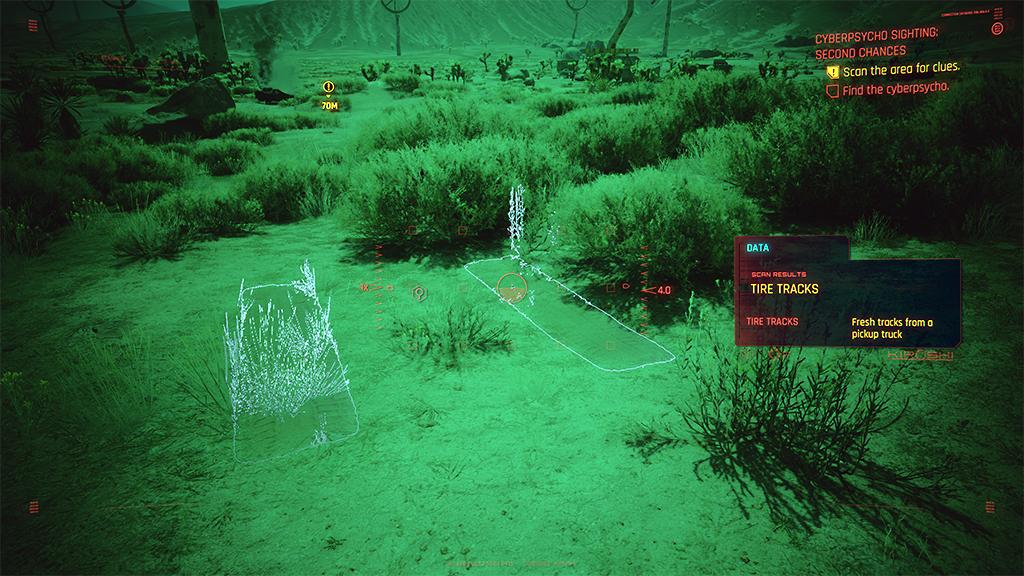 Scan area for CS: Second Chances
Stay far from the tower. In the distance you will see Zion Wylde, the sniper hidden in the tower. Don't come closer to him.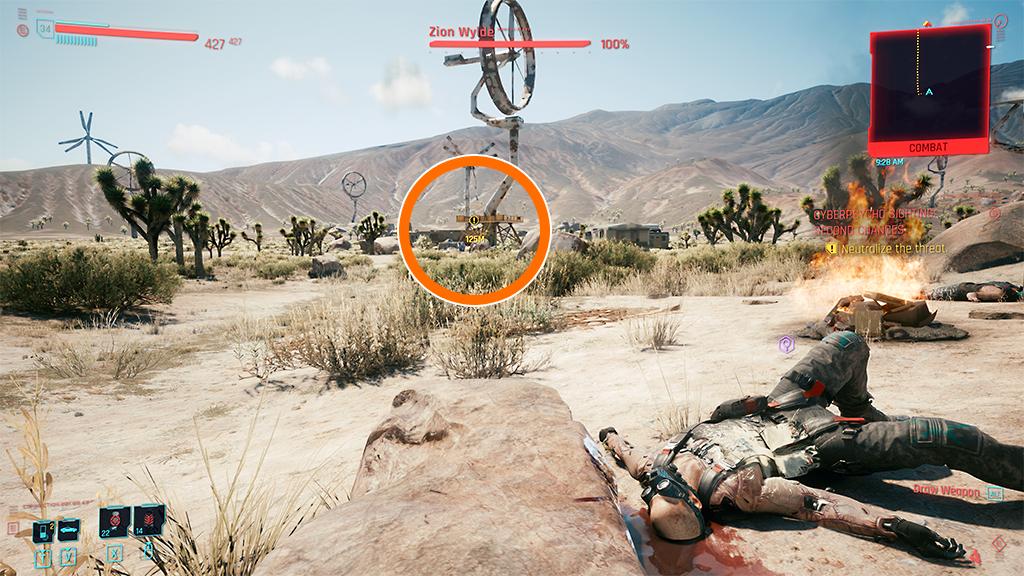 Stop far from the tower for CS: Second Chances
Kill Wylde from a distance with a Heavy Sniper Rifle.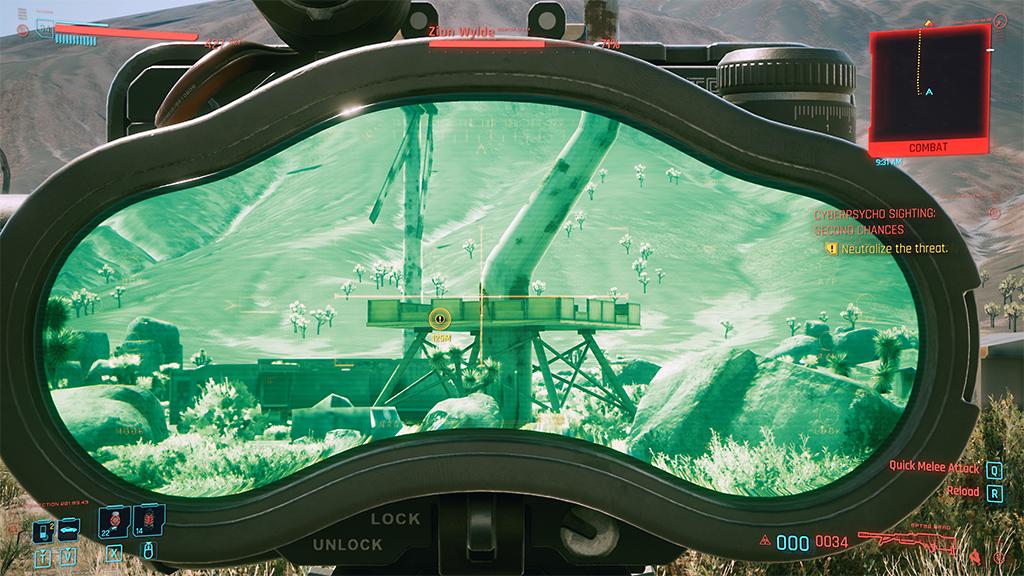 Kill Wylde from a distance with a Heavy Sniper Rifle for CS: Second Chances
When you kill Wylde, approach the tower.
Watch out for the mines around the tower.
The ladder is also mined with two mines, go in very slowly.
You can disarm mines remotely, or you can detonate them by shooting them from a distance.
Cyberpsycho Sighting: The Wasteland
Life During Wartime
Does a cyclone of dust and sand stirred up by a dash cyberpsychosis sound exciting? Then I do have some good news for you.
Fast Travel
Dataterms in Eastern Badlands

Fast Travel is a way to travel fast in Cyberpunk 2077. If you discover a particular Dataterm by approaching it, you will be able to move there from any other Fast Travel point.
FT 01 Sunset Motel
FT 02 Trailer Park
FT 03 Medeski Fuel Station
FT 04 Edgewood Farm
FT 05 Rocky Ridge
FT 06 Desert Film Set
FT 07 Mobile Camp - later in game this FT will disappear and will chenge to Nomad Camp in the north.
FT 08 Nomad Camp - comes after Jobs for Panam, and replaces Mobile Camp.
FT 09 Sunshine Motel
FT 10 Old Turbines
FT 11 Wraith Camp
FT 12 Far Ridge
FT 13 Big Rock
FT 14 I-9 East
Known locations in Eastern Badlands
Recognizable locations in Eastern Badlands related to Cyberpunk 2077 Lore.
Nomad Camps
The life of a nomad is one of constant motion. But although their camps are temporary, they're always designed with function, order and comfort in mind. Setting up a new camp is a quick operation because everyone knows their responsibilities, working together like parts in a well-oiled machine. As the nomad Santiago once said: "Whenever we make camp, for a short while we become farmers again. And the earlier a farmer finishes his work, the sooner he cracks open a beer."
To those who don't buy into the propaganda, nomads are known as hospitable folk. Still, it's better to signal your peaceful intentions from afar, as their camps are well protected.
Rocky Ridge
It was supposed to measure up to Rancho Coronado – cozy, practical, self-sufficient, offering a roof over the head for the families of every worker building the nearby highway. Rocky Ridge was sold to people as a paradise guaranteeing peace and quiet, but also just a stone's throw away from the big city and everything it had to offer. Unfortunately, it ended like most investments end in California – the construction became too expensive and Rocky Ridge was no longer economically viable. From one day to the next the construction sides were deserted, contractors lost their jobs and the houses of Rocky Ridge became vacant. Today the area is completely abandoned and almost entirely forgotten by Night City – perfect for looters and the occasional band of Raffen Shiv.
Dakota's Place
You'll find Dakota in an auto repair shop in Rocky Ridge. In Night City, that choice of headquarters might seem strange; out in the middle of nowhere, the garage is nothing short of an oasis. This is where Dakota tugs the strands of her intricate web stretching over the Badlands. If you want to be part of her crew, sooner or later you'll have to pay Rocky Ridge a visit.
Wind Farms
The wind farms in the Badlands – property of Night City – once played a major role in the city's power generation before gradually falling into disrepair over the years.
Tarot Cards
Location in Eastern Badlands

Access to Tarot Cards will become open to you (you will see them on the walls) at the beginning of Act 2, during the "Fool on the Hill" mission for Misty. You have to scan them with Scanner, check the location of all Cards on All Tarot Cards Location.
Wheel of Fortune - Tarot Card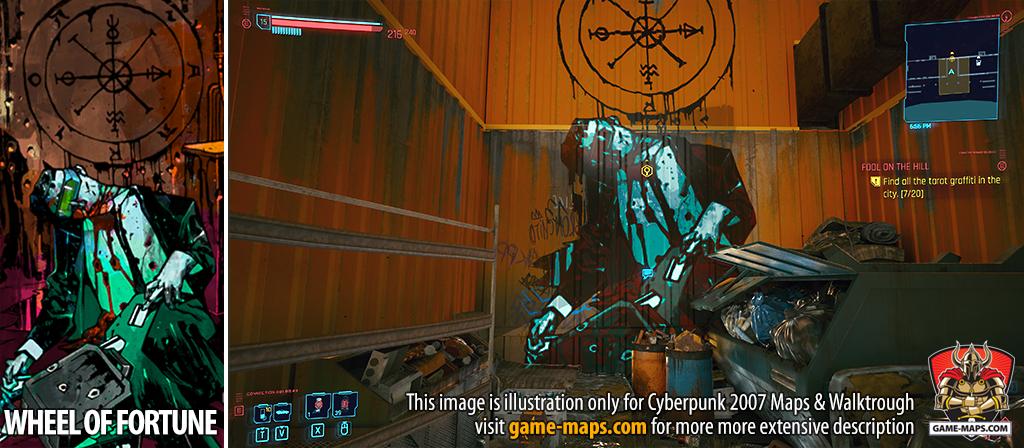 Wheel of Fortune - Cyberpunk 2077 Tarot Card
The danger is greater than you think. It will come suddenly, without warning. Conflict is unavoidable.
The Wheel of Fortune means that change is coming. One's destiny could turn out for the better or the worse, yet it is also bears the promise of new possibilities. The Wheel reminds us that nobody remains at the top forever, but also that not every situation is hopeless.
Cars and Vehicles
to Buy in Eastern Badlands

Once you start Act 2, the fixer in the district will start sending you offers for cars that you can buy. Besides the amount you have to pay, it is sometimes up to your Street Cred to get an offer. You have to go to the place marked by the marker on the map and make the transaction.
For more check Full Car and Bike List.
Thorton Galena "Gecko"
Location: Eastern Badlands
Price: 21,000
Street Cred: 1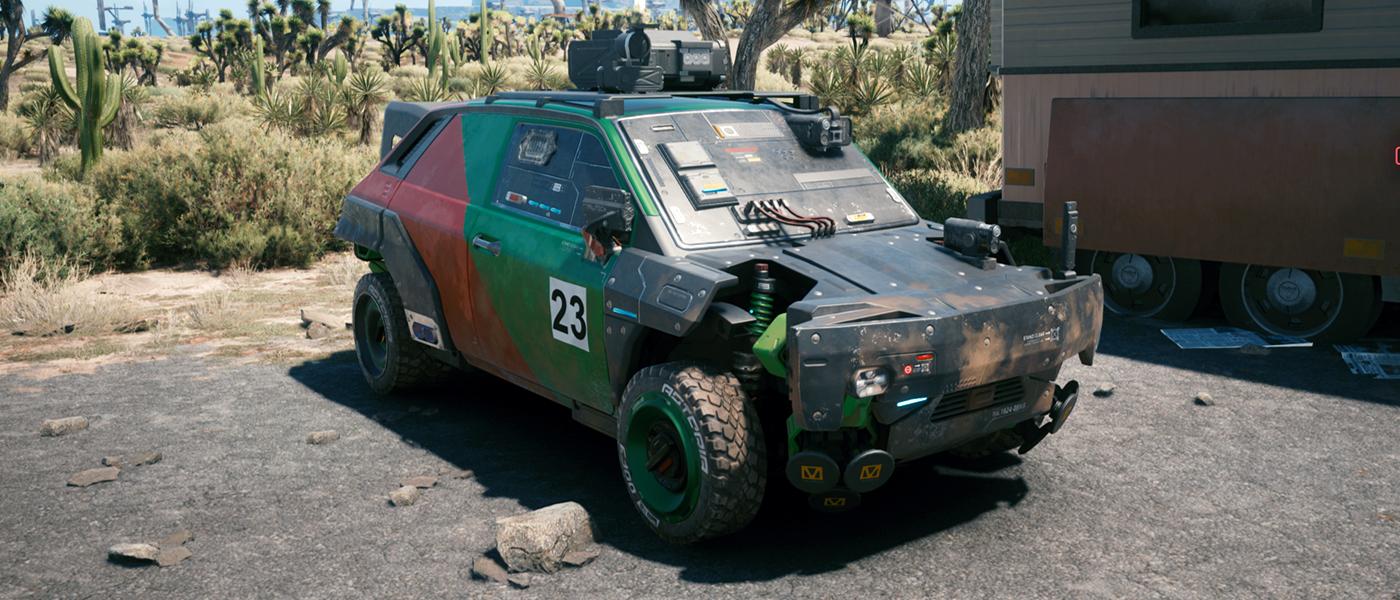 Thorton Galena Gecko
The Galena's standard model wouldn't survive a day in the desert; but, with the proper aftermarket modifications installed, it looks right at home. The nomad-altered Galena, affectionally referred to as the Gecko, comes equipped with CrystalDome technology, various Militech combat accessories and a cleverly tuned engine. Folks in the wasteland used to laugh at the sight of a Galena, but no one's laughing now.
Thorton Colby "Little Mule"
Location: Eastern Badlands
Price: 49,000
Street Cred: 12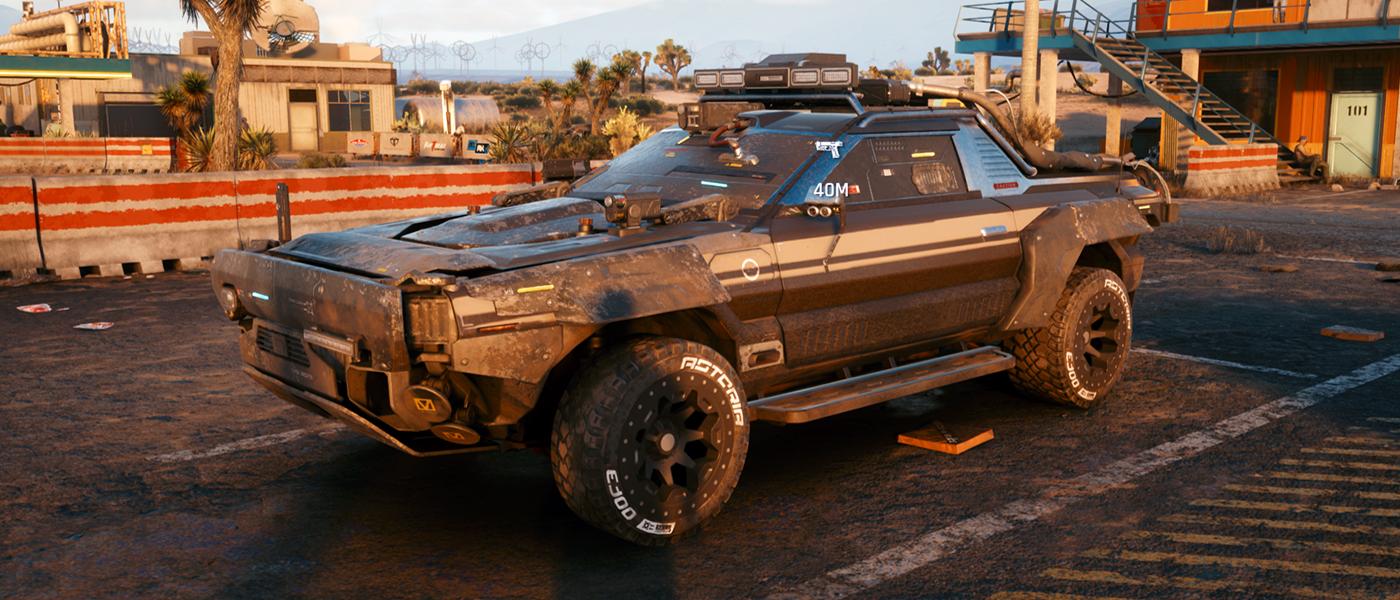 Thorton Colby Little Mule
Nomads, as the name suggests, don't linger too long in any one place. They're constantly on the move and that means bringing that belongings with them. It comes as no wonder the truck-bed variant of the Colby has become so popular with them. Little Mule – that's what they call this Thorton Colby model. But beyond the name they also swap out the standard engines for strongers ones, add light armor to the body and install an environment projection system based on CrystalDome tech in the cabin.
Mizutani Shion "Coyote"
Location: Eastern Badlands
Price: 115,000
Street Cred: 20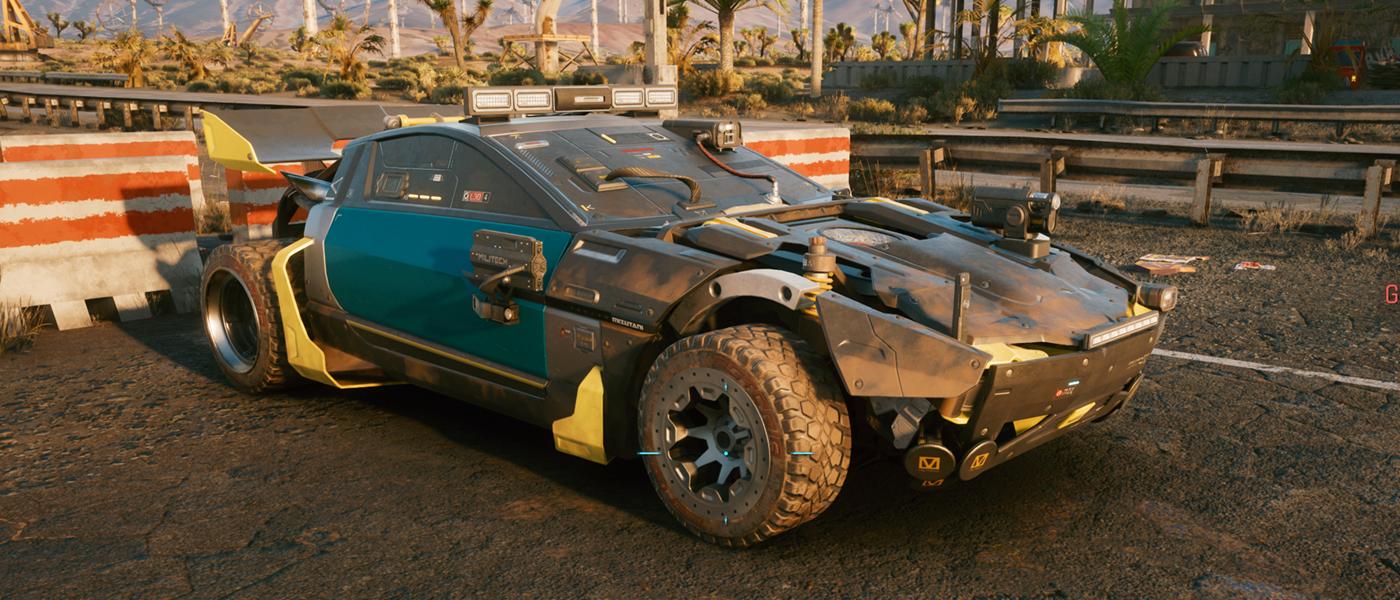 Mizutani Shion Coyote
By looking at it, you'd think the Mizutani Shion was a city car, built for thin-crust roads and unsuited for the desert wasteland. And you'd be right – the standard edition would grind to a dead halt at the first rocky knoll. But with upgrades, reinforcement and improved suspension, the Shion cuts through harsh terrain like a lazer knife through butter.