Fort Tarsis Map - Anthem Game
Fort Tarsis, Fort Tarsis is your the main base in world of Anthem, you can find here Forge, Barracks, Store ad Vault, it is also place where you can start most of Missions.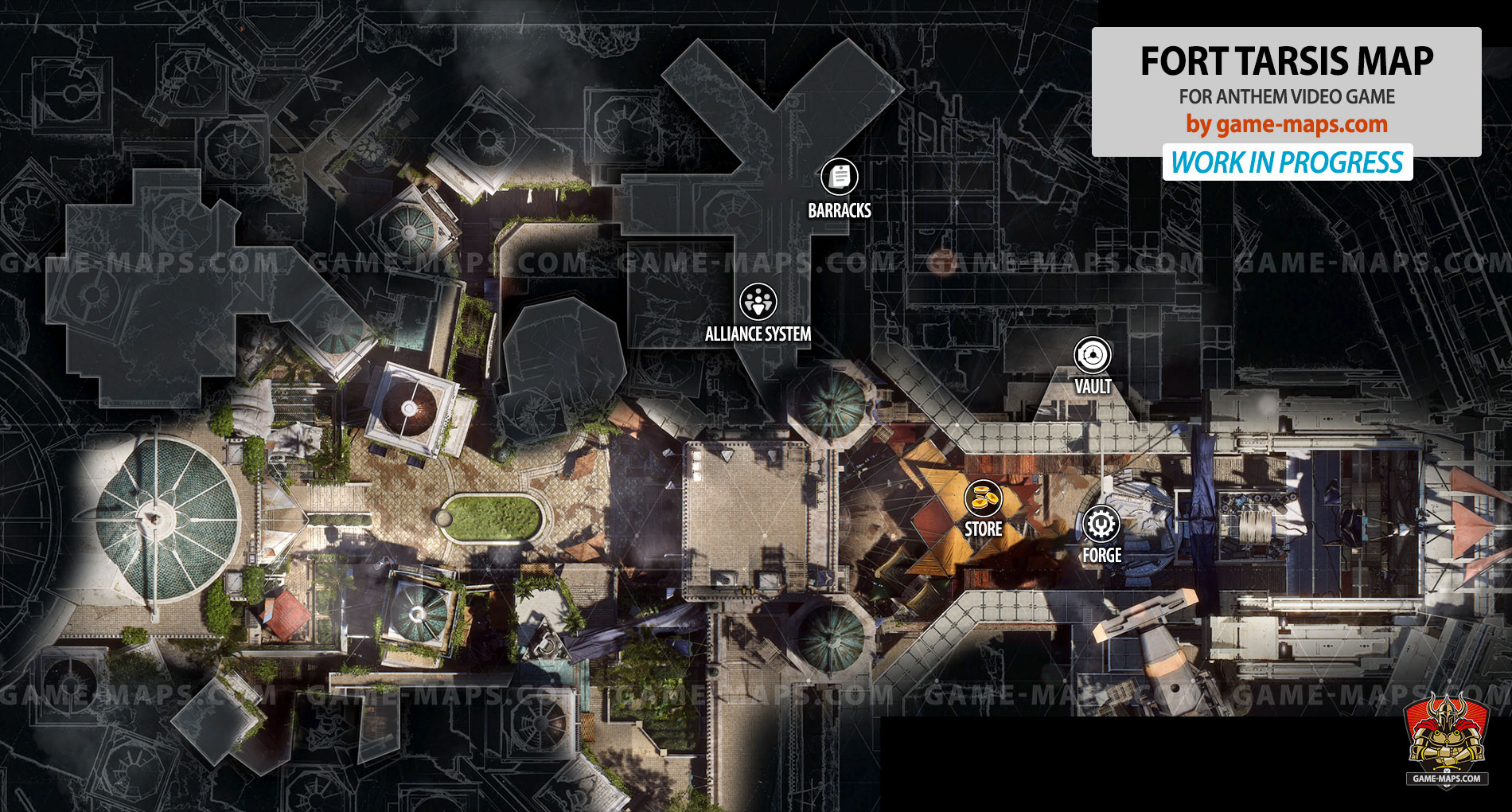 Welcome home, Freelancer. Fort Tarsis, named for the famous General Tarsis, is a frontier town in Bastion. It's hard to dispute that the place has seen better days. Still, there's a Freelancer Enclave where you and Owen might pick up a contract or two. With the Heart of Rage still burning and the entire world trying to kill you, there are worse places to be than safe behind these walls.
Fort Tarsis is the main base, strengthened and protected from the dangers of the outside world in which you start the game in Anthem.
Forge
in Fort Tarsis
A crafting workstation that transforms raw materials into precise components. Forges allow people to build, modify, and repair numerous machines, including javelins. Ironically, forge parts themselves are built with forges, prompting the philosophical conundrum, "Which came first, the tool or the Forge?".
Barracks
Store
in Fort Tarsis
Alliance System
Your Alliance consists of players on your Friends list and anybody you've played with recently. Each week, the XP they earn by playing Anthem can generate Coin for you through the Alliance System.
As your Alliance plays during the week, the XP they've earned counts towards your Alliance Tier. At the end of the week, that Tier pays out in Coin that you can use to unlock appearance options or other special offers in the store.
Only your top five contributors count towards your Tier. Friends get bonuses to their contributions, which are larger if you've played a mission with them.
Vault
in Fort Tarsis
Everything you collect or salvage is stored here. Manage your inventory, move items onto the Junk tab [R], or convert them to salvage straight from Inventory [F]. In the Junk tab, you can mass-salvage items [R].