Origin Lake Map, Kashyyyk for Star Wars Jedi Fallen Order
Origin Lake Map, Planet Kashyyyk for Star Wars Jedi Fallen Order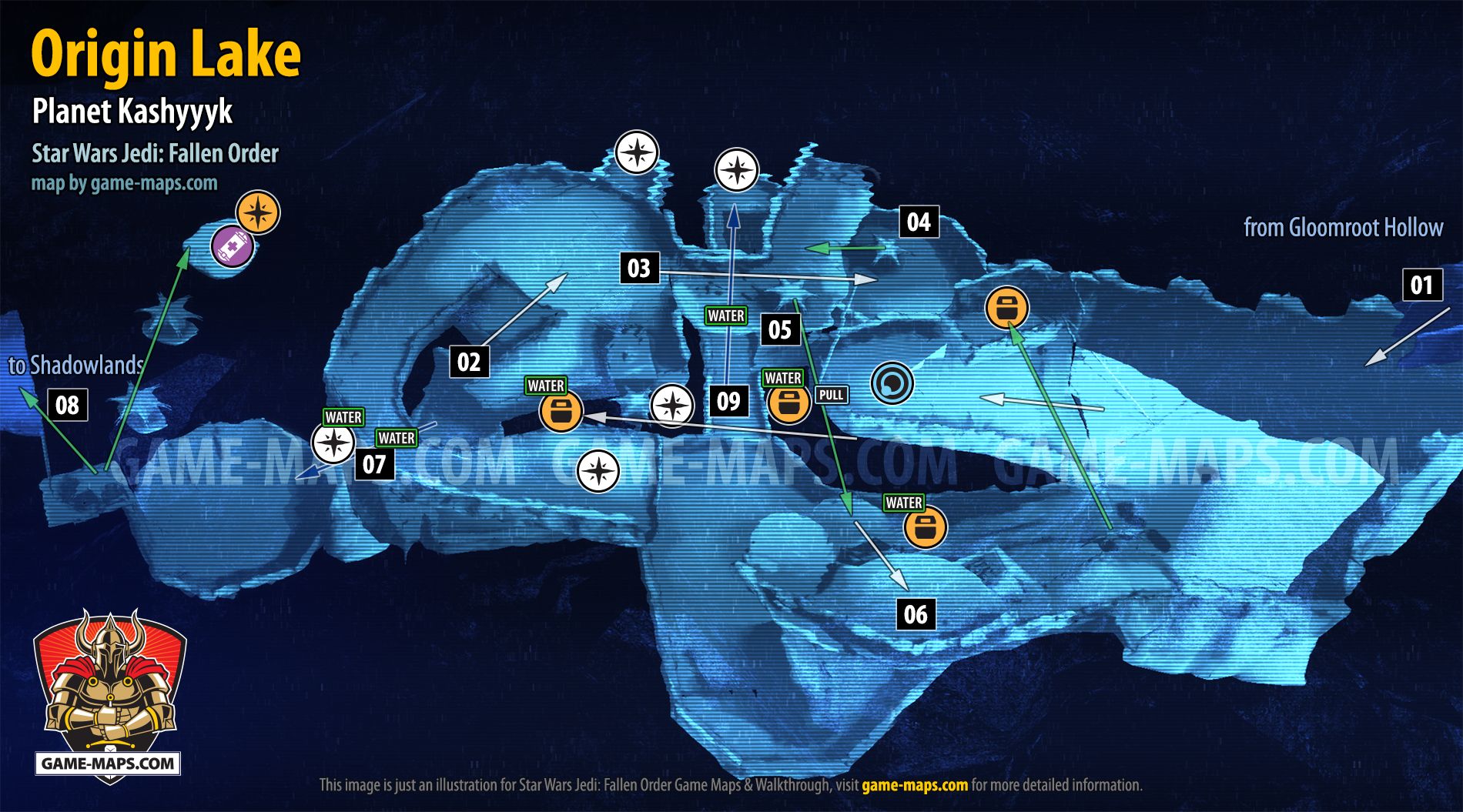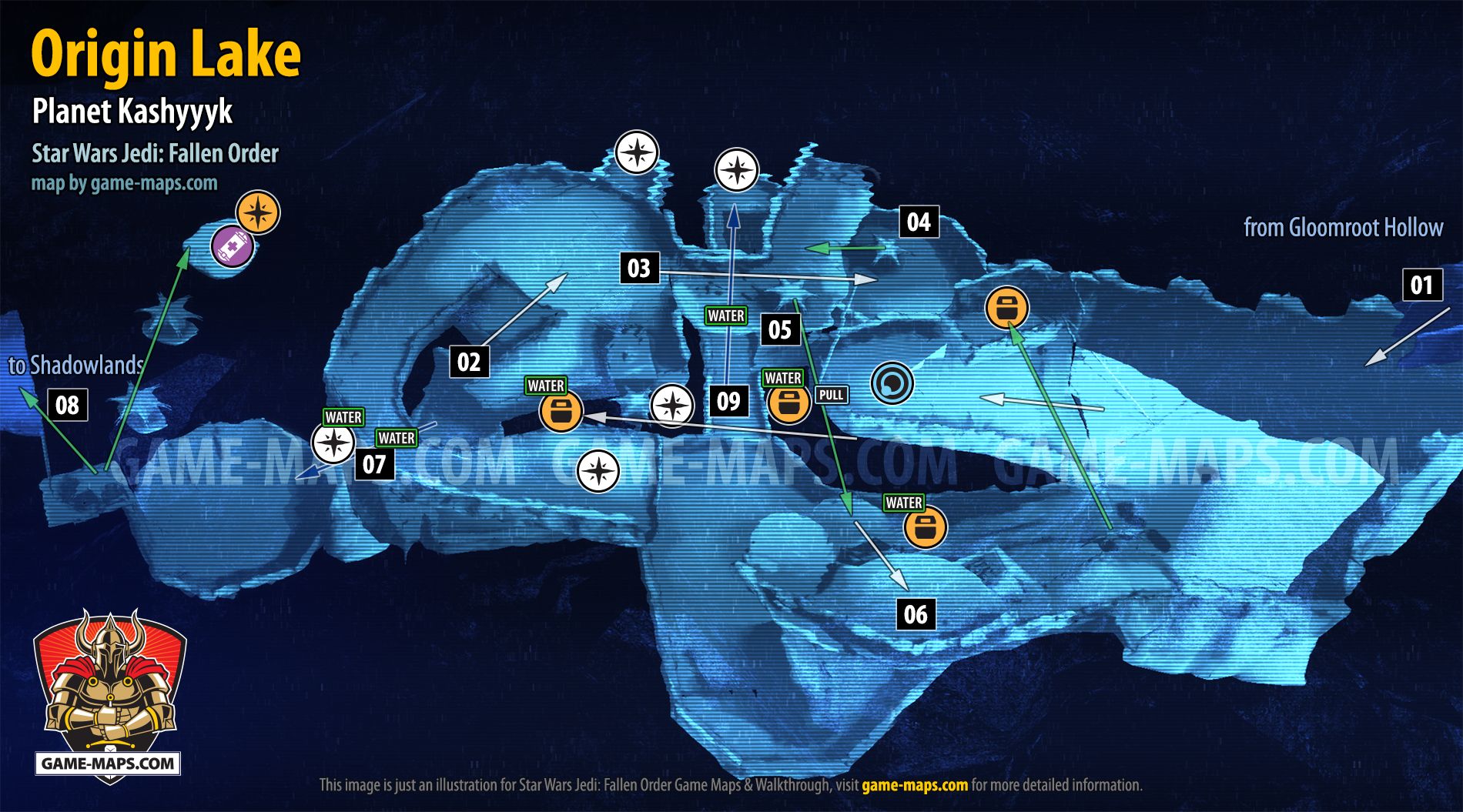 Other Location Maps for Kashyyyk
Origin Lake Completion
Kashyyyk Planet

Chests
4

Secrets
1

Force Echoes
5

Save Points
1

Stim Canisters
1
Required Abilities


You will not be able to discover all the mysteries of the Kashyyyk planet during the first visit. You will have to come back here again at least once with Force Powers, Abilities and Doid Upgrades you earn in the following locations.
Origin Lake Walkthrough
on Kashyyyk Planet
Entrence from Gloomroot Hollow
Swim here, turn right and come ashore.
Use plant to jump and pull line
Platform with Tarfful and Mari
Talk with Mari KosanNPC and Chieftain TarffulNPC.
You will get Underwater BreatherITEM, now you can explore undewater locations and dive under water.
Now you have to find path to the Origin Tree
After you get Underwater Breather
Underwater passage

Origin Lake 92%
If you are stuck in the Origin Lake location on 92% of the map exploration, you probably haven't visited the underwater corridor leading through the cave in the central part of the location.
Secrets
in Origin Lake

Secret - Stim Canister
Chests
in Origin Lake

Chest: Poncho Material - Shyyyo


Chest: Lightsaber Material - Duralium


Chest: Lightsaber Switch - Peace and Justice II


Chest: Lightsaber Material - Electrum-Plated
Stim Canisters
in Origin Lake

Stim Canister
Force Echoes
in Origin Lake

- Databank
Insurgent Activity
(8)

2. Rescue
The retreating Partisans were ultimately rescued from Imperial forces by the Wookiee Chieftain Tarfful.
Wookiee Culture
(10)

4. Spiritual Connection
There was a special connection between the Wookiees and their forest.

5. Wookiee Mourning Ritual
The Wookiees mourned the loss of someone close to them here. An elder known for their wisdom.
Flora And Fauna
(6)

4. Lung Plant
When threatened, the lung plant fills its body cavity with air to appear larger. If a slyyyg still tries to graze on its leaves, the lung plant instantly releases the held air to force it back.
Imperial Tech
(5)

3. (LAAT/I)
The Low Altitude Assault Transport (LAAT), also known as the Republic attack gunship, was an armed troop carrier used by the Grand Army of the Republic during the Clone Wars and in the early years of the Empire. Maneuverable and formidable, it provided troops the ability for quick deployment and extraction in heavy combat through extensive types of terrain and climates.
Abilities and Upgrades
giving access to locations.
Force Power Abilities, BD-1 Droid Upgrades and other Abilities will alow you, as they are discovered, to visit previously inaccessible locations. If you encounter a place you can't reach or enter, go exploring further to find more skills or abilities , then come back and try again.
Force Power Abilities

Force Slow - you know this power from the beginning of the game, it allow you to slow down time.

Wall Run - you will learn this power relatively early on the planet Bogano in Subterranean Refuge, it allow you to run for a short while on some vertical ridged walls.

Force Push - you will learn this on planet Zeffo in Tomb of Eilram, it allow you to push objects and enemies.

Force Pull - you will learn this on planet Zeffo in Tomb of Miktrull, it allow you to pull objects, enemies abd open passages.

Jedi Flip - you will learn this on planet Kashyyyk. it is long double jump.
BD-1 Droid Upgrades

Scomp Link - you can find Scomp Link on planet Zeffo but you will need Force Push, it will allow you open locked doors and chests.

Overcharge - you will get this on planet Kashyyyk, BD-1 can turn machinery on and off.

Slice - First Slice: Security Droid you will find on planet Kashyyyk, it allow BD-1 to control damaged security droids. Second Slice: Probe Droid you will find on Zeffo, it allow to control damaged probe droids.

Powered Zipline - on Zeffo after Kashyyyk, it will allow you to travel up and down ziplines.
Equipment

Underwater Breather - you can learn it on Kashyyyk, it allow to explore undewater locations, You need this skill to dive under water.

Climbing Claws - you will find Climbing Claws on planet Dathomir, they will allow you to climb on new types of walls.