Crystal Caves Map, Ilum for Star Wars Jedi Fallen Order
Crystal Caves Map, Planet Ilum for Star Wars Jedi Fallen Order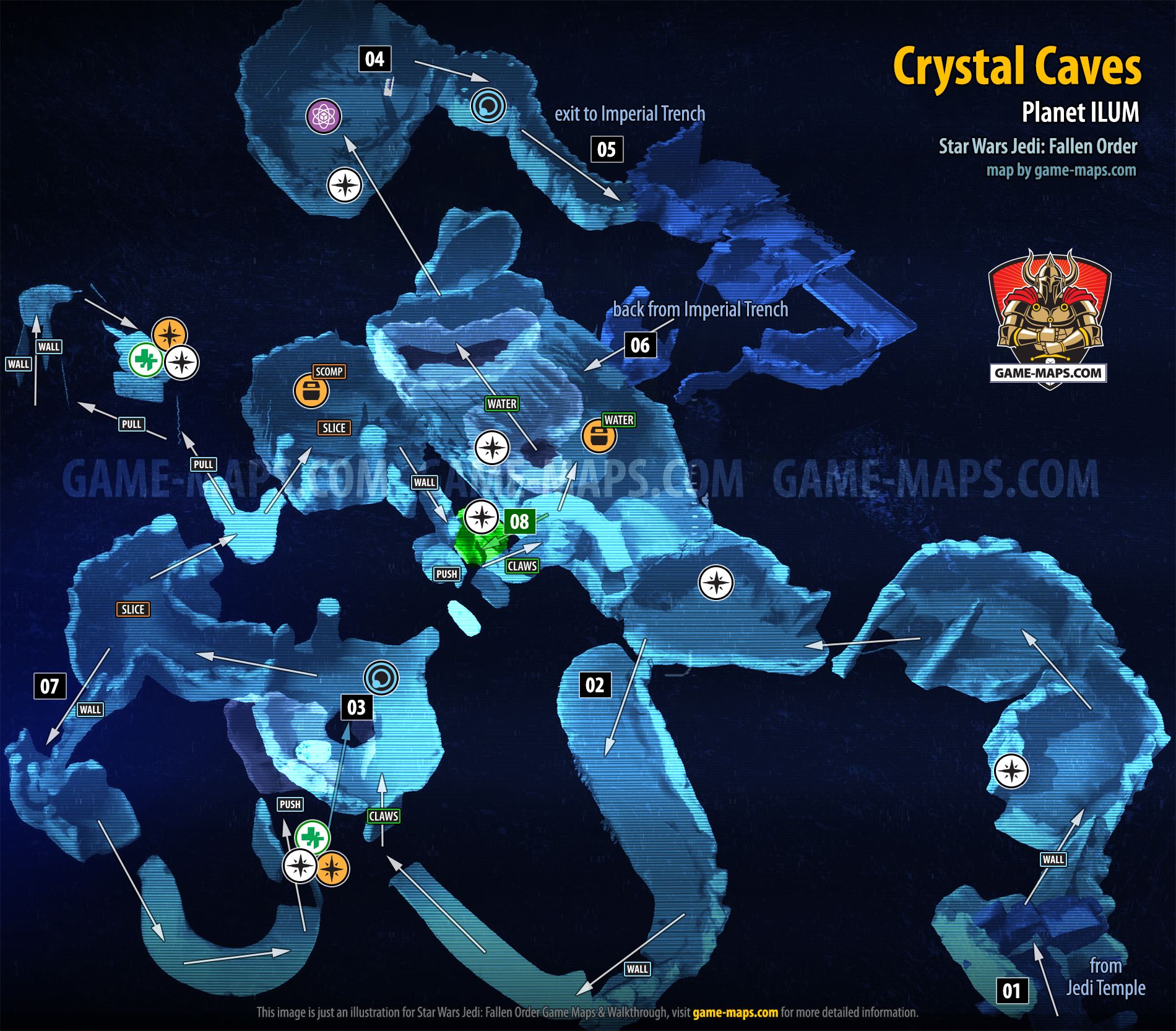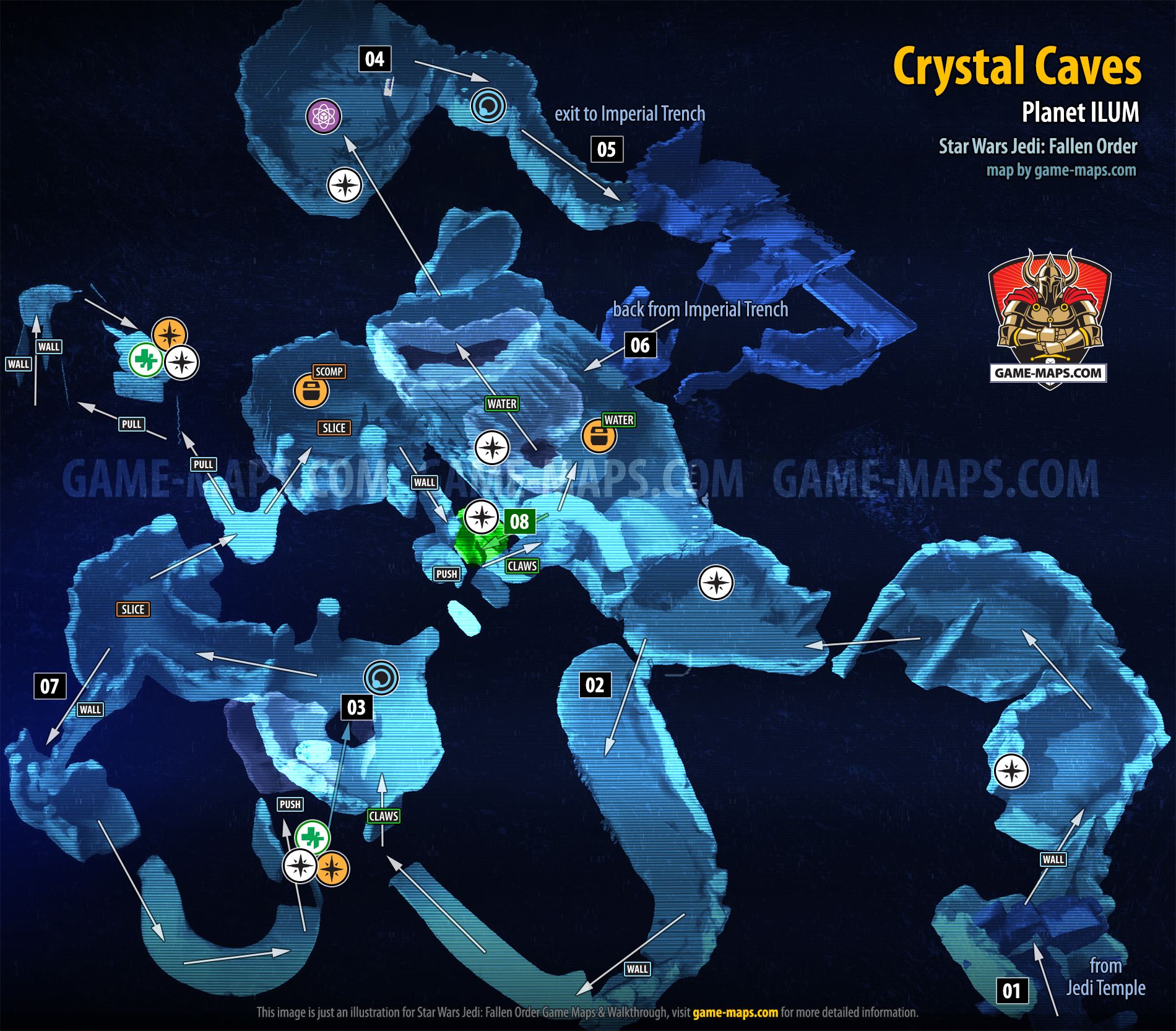 Other Location Maps for Ilum
Crystal Caves Completion
Ilum Planet

Chests
2

Secrets
2

Encrypted Logs
1

Force Echoes
7

Save Points
2

Life Essences
2
Required Abilities







You will be able to discover all the mysteries of the Ilum planet during the first visit (one run only). You got all needed Force Powers, Abilities and Doid Upgrades.
Crystal Caves Walkthrough
on Ilum Planet
Entrance from Jedi Temple
Objective: Find Your Kyber Crystal
Well in the middle is an exit, not an entrance
Workbench Create Lightsaber
Split Saber Ability
After you got back Lightsaber
Back from Imperial Trench
Cut passage with Lightsaber and go down.
You can return by climbing to [03]
Crystal Caves 96% to 100%
This is the most-often-missed element of the map, which stops exploration at 96%.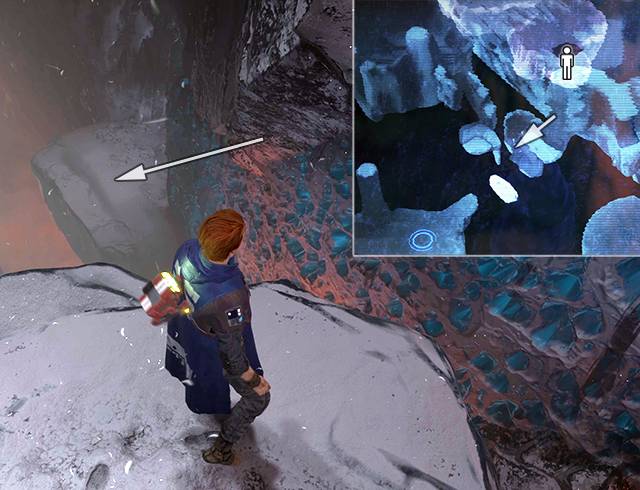 Crystal Caves 96% to 100%
Return to Mantis
During you return to Mantis, you will encounter strong resistance from Empire forces
Secrets
in Crystal Caves

Secret - Life Essences

Secret - Life Essences
Chests
in Crystal Caves


Chest: Lightsaber Sleeve - Power and Control II


Chest: Lightsaber Switch - Power and Control
Life Essences
in Crystal Caves

Life Essence

Life Essence
Encrypted Logs
in Crystal Caves
Archive Seven - Goodbye (2) - Cordova's Journey

1. My Friend
BD-1, This may be the last you see of me. I can sense the doom of the Jedi Order is upon us. I must leave the holocron behind - if anything happens to me, I trust that another will come to find it. You agreed to guard this secret, at the cost of your own memories. I will never forget that sacrifice. I believe in you, as I always have. If another Jedi comes to Bogano, you will be their guide. Thank you. Goodbye, my friend.
Force Echoes
in Crystal Caves

- Databank
Ilum Terrain
(4)

1. Geodes
llum is naturally abundant in geological formations found within mineral-rich underground rock. Billions of years of accumulated mineral matter deposited from hydrothermal fluids have infused the rock walls with valuable constituents, including rare crystals.

3. Kyber Crystals
Powerful kyber crystals grow naturally on llum, one of the rare planets in the galaxy where they may be found. Such crystals resonate with concentrated energy in a unique manner through the Force, exhibiting a "collective consciousness," that allows them to communicate with one another and living beings. As part of Jedi training, Younglings were sent to the Crystal Caves of llum to mine these crystals in order to construct their own lightsabers.

4. Minerals
The cavern systems under llum are rich in mineral substances formed during ancient geothermal evolution. The ice caves are home to several mineral classes native to the planet.
The Gathering
(6)

2. Finding The Crystals
A crystal discovered by a Youngling but mysteriously left behind.

3. Youngling Pride
This bag belonged to a Jedi Master who fried to provide their Youngling with wisdom.

4. Youngling Afraid
A supply pouch left by a Youngling dealing with fear and frustration.

6. Youngling Lost
Remains of a camp. A Jedi Master was concerned for a Youngling that was missing in the caves.
Abilities and Upgrades
giving access to locations.
Force Power Abilities, BD-1 Droid Upgrades and other Abilities will alow you, as they are discovered, to visit previously inaccessible locations. If you encounter a place you can't reach or enter, go exploring further to find more skills or abilities , then come back and try again.
Force Power Abilities

Force Slow - you know this power from the beginning of the game, it allow you to slow down time.

Wall Run - you will learn this power relatively early on the planet Bogano in Subterranean Refuge, it allow you to run for a short while on some vertical ridged walls.

Force Push - you will learn this on planet Zeffo in Tomb of Eilram, it allow you to push objects and enemies.

Force Pull - you will learn this on planet Zeffo in Tomb of Miktrull, it allow you to pull objects, enemies abd open passages.

Jedi Flip - you will learn this on planet Kashyyyk. it is long double jump.
BD-1 Droid Upgrades

Scomp Link - you can find Scomp Link on planet Zeffo but you will need Force Push, it will allow you open locked doors and chests.

Overcharge - you will get this on planet Kashyyyk, BD-1 can turn machinery on and off.

Slice - First Slice: Security Droid you will find on planet Kashyyyk, it allow BD-1 to control damaged security droids. Second Slice: Probe Droid you will find on Zeffo, it allow to control damaged probe droids.

Powered Zipline - on Zeffo after Kashyyyk, it will allow you to travel up and down ziplines.
Equipment

Underwater Breather - you can learn it on Kashyyyk, it allow to explore undewater locations, You need this skill to dive under water.

Climbing Claws - you will find Climbing Claws on planet Dathomir, they will allow you to climb on new types of walls.