Auger Pulverisers Map | Zeffo for Star Wars Jedi Fallen Order
Walkthrough for Auger Pulverisers zone with Auger Pulverisers Map on planet Zeffo in Star Wars Jedi Fallen Order with location of Puzzles, Secrets, Chests, Databank Force Echoes, Stim Canisters, Encrypted Logs, Force Essence, Life Essence and Terrarium Seeds, Enemies and Legendary Beasts to Scan for Tactical Guide. Star Wars Jedi: Fallen Order Maps & Walkthrough.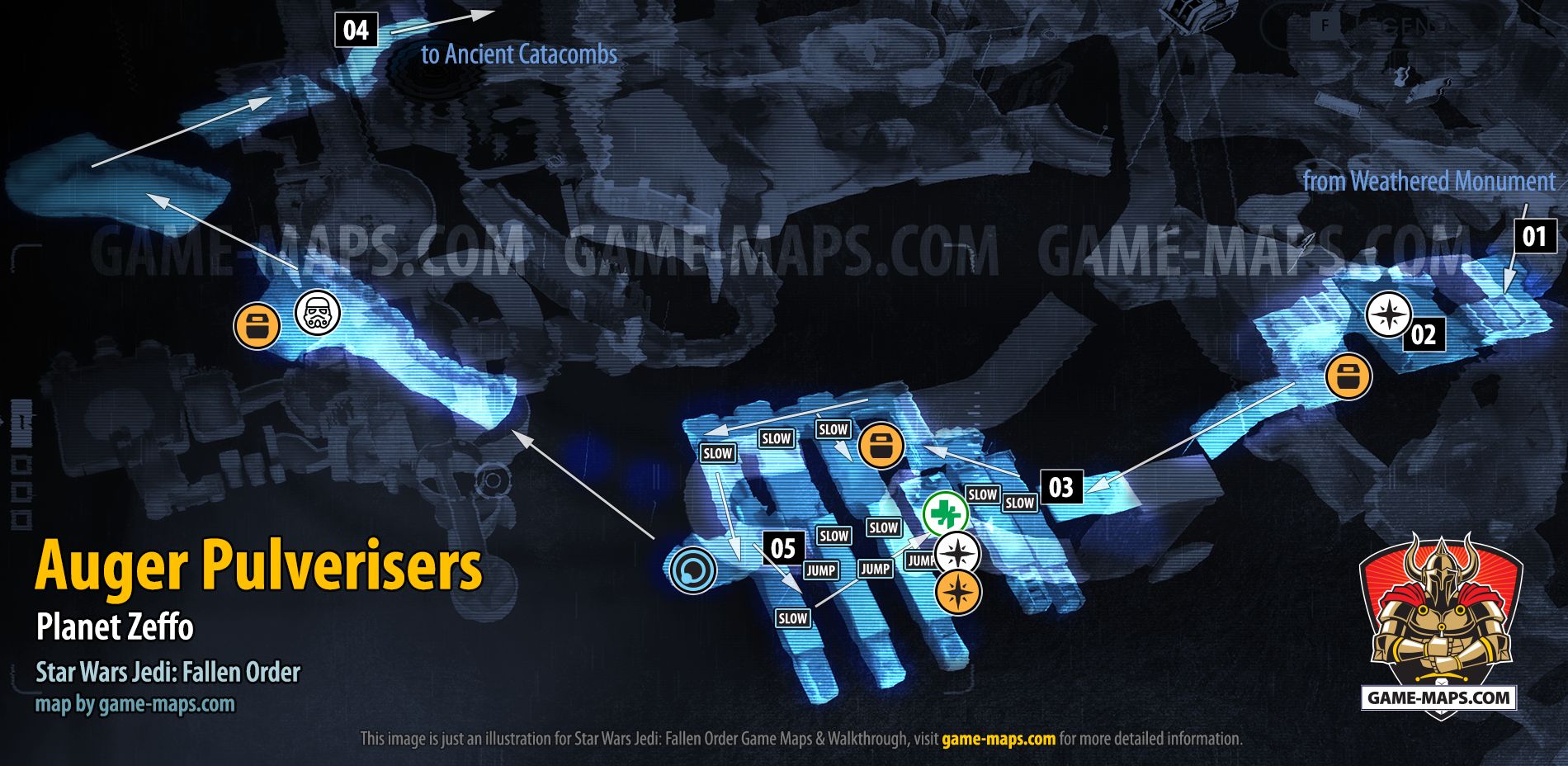 Auger Pulverisers Completion
Zeffo Planet

Chests
3

Secrets
1

Force Echoes
2

Save Points
1

Enemies to Scan
1

Life Essences
1
Required Abilities


You will not be able to discover all the mysteries of the Zeffo planet during the first visit. You will have to come back here again at least once with Force Powers, Abilities and Doid Upgrades you earn in the following locations.
Auger Pulverisers Walkthrough
on Zeffo Planet
01
Entrance from Weathered Monument
02
Interact with Stormtrooper Hologram
03

Use Slow
To pass it use Slow and Normal Jump twice.
04
Exit to Ancient Catacombs
🔃
After you learn Jedi Flip on Kashyyyk
05
Get Secret
Cut fence, use Slow and Jedi Flip to reach Life Essence.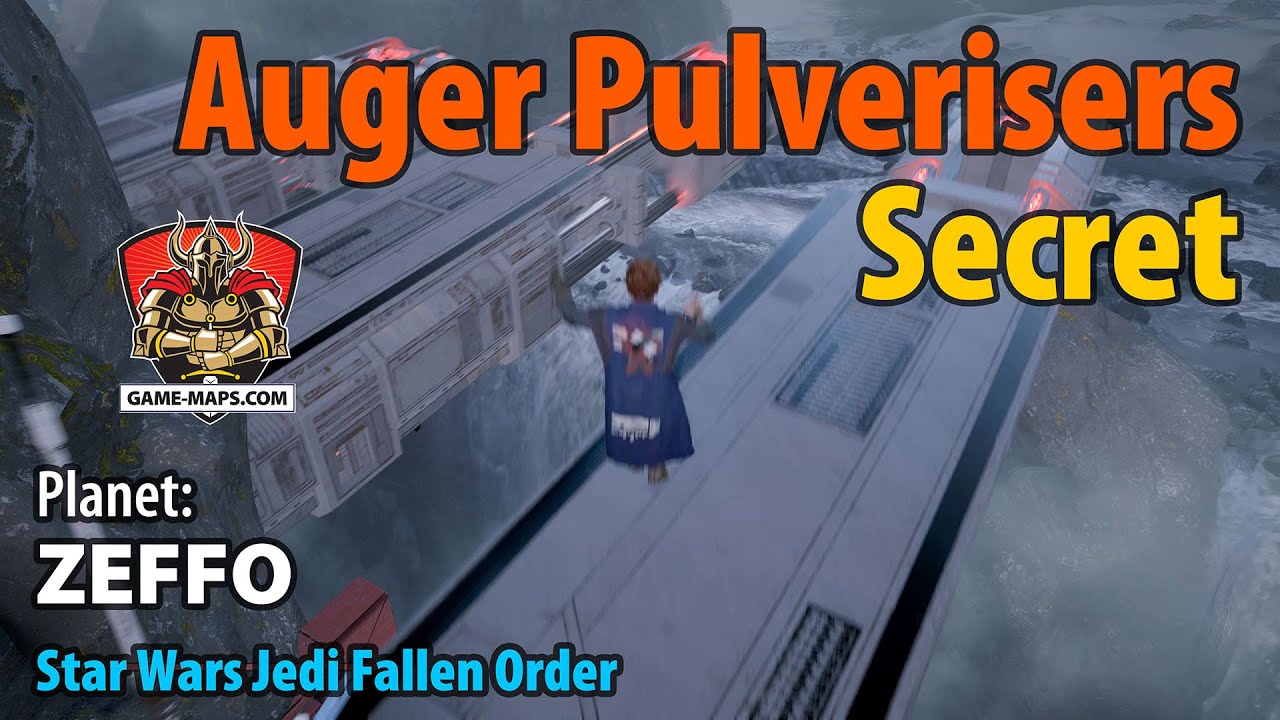 Auger Pulverisers Secret Walkthrough YouTube
Secrets
in Auger Pulverisers

Secret - Life Essence
Chests
in Auger Pulverisers

Chest: Lightsaber Switch - Duty and Resolve


Chest: Lightsaber Material - Durasteel

Chest: Mantis Paint Job - Starfighter
Life Essences
in Auger Pulverisers

Life Essence
Force Echoes
in Auger Pulverisers
Project Auger Officer
(08)

1. Project Auger
In accordance with the Emperor's will we've occupied Zeffo, "redistributing" its inhabitants. This planet has failed to yield significant data or relics for Project Auger. Its electromagnetic winds have rendered the bulk of our mining technology useless. Meanwhile, more troopers lose their lives to dangerous fauna. We will not be able to fulfill our directive here. It is my recommendation that we disband the project and leave a token outpost to keep scavengers from stealing our technology.

2. A New Officer
A riot baton that belonged to the new commander of Project Auger. She was determined to make progress and prove herself.
Tactical Guide Updates
in Auger Pulverisers
Empire
(11)

Scout Trooper Commander
Able to block, parry and use specialized spin techniques. Stronger stamina than their subordinates.
Scout Trooper Commanders lead squads of specially trained Stormtroopers into combat for the Galactic Empire. Scout Commanders armed with riot batons are extremely adept in melee combat and should not be taken lightly.
Abilities and Upgrades
giving access to locations.
Force Power Abilities, BD-1 Droid Upgrades and other Abilities will alow you, as they are discovered, to visit previously inaccessible locations. If you encounter a place you can't reach or enter, go exploring further to find more skills or abilities , then come back and try again.
Force Power Abilities

Force Slow - you know this power from the beginning of the game, it allow you to slow down time.

Wall Run - you will learn this power relatively early on the planet Bogano in Subterranean Refuge, it allow you to run for a short while on some vertical ridged walls.

Force Push - you will learn this on planet Zeffo in Tomb of Eilram, it allow you to push objects and enemies.

Force Pull - you will learn this on planet Zeffo in Tomb of Miktrull, it allow you to pull objects, enemies abd open passages.

Jedi Flip - you will learn this on planet Kashyyyk. it is long double jump.
BD-1 Droid Upgrades

Scomp Link - you can find Scomp Link on planet Zeffo but you will need Force Push, it will allow you open locked doors and chests.

Overcharge - you will get this on planet Kashyyyk, BD-1 can turn machinery on and off.

Slice - First Slice: Security Droid you will find on planet Kashyyyk, it allow BD-1 to control damaged security droids. Second Slice: Probe Droid you will find on Zeffo, it allow to control damaged probe droids.

Powered Zipline - on Zeffo after Kashyyyk, it will allow you to travel up and down ziplines.
Equipment

Underwater Breather - you can learn it on Kashyyyk, it allow to explore undewater locations, You need this skill to dive under water.

Climbing Claws - you will find Climbing Claws on planet Dathomir, they will allow you to climb on new types of walls.