Bogano Maps for Star Wars Jedi: Fallen Order
Walkthrough with Maps for Bogano Planet in Star Wars Jedi Fallen Order with location of Puzzles, Secrets, Chests, Databank Force Echoes, Stim Canisters, Encrypted Logs, Force Essence, Life Essence and Terrarium Seeds, Enemies and Legendary Beasts to Scan for Tactical Guide. Star Wars Jedi: Fallen Order Maps & Walkthrough.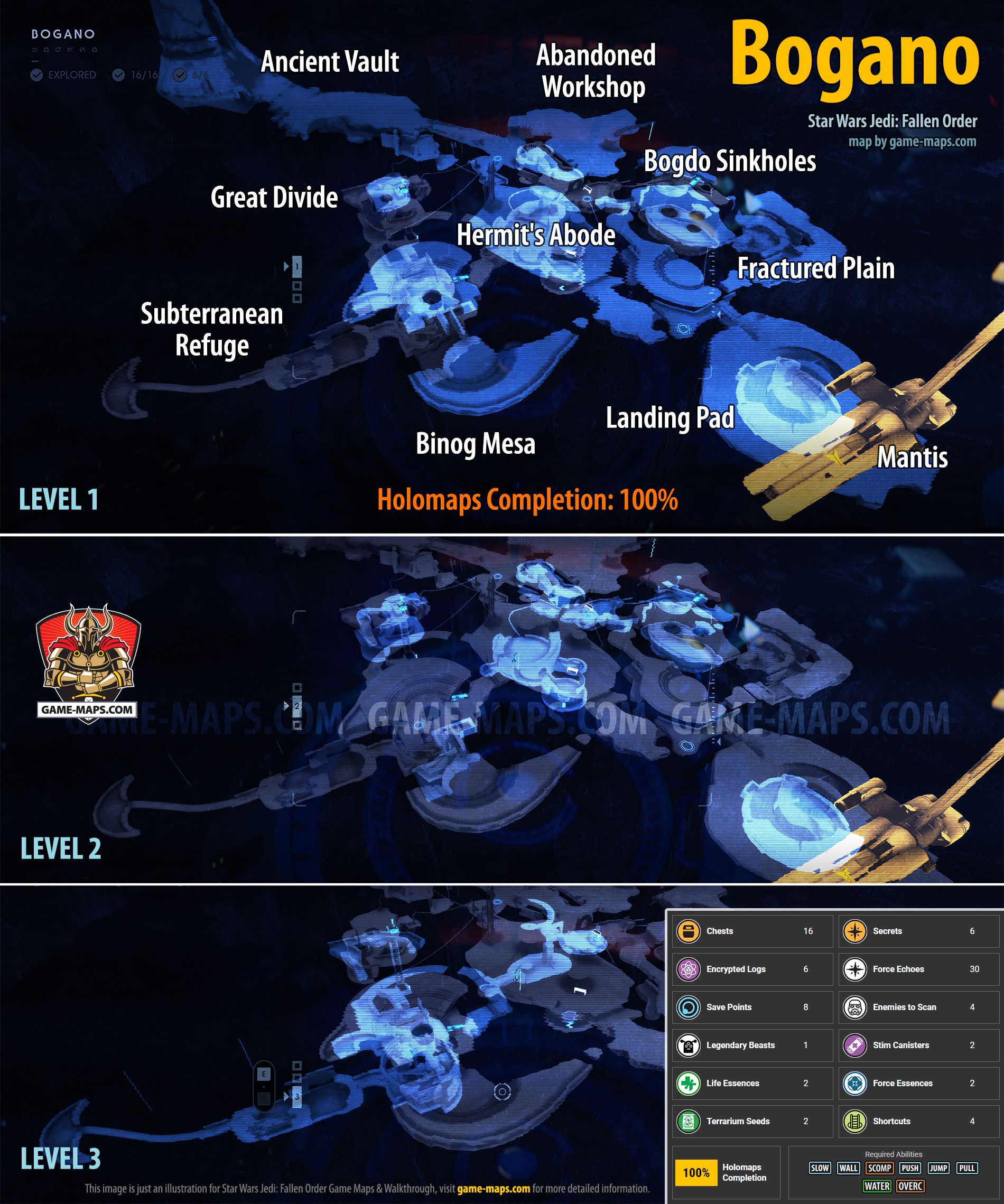 Detailed maps
of areas on planet Bogano
To find all Chests, Secrets, Force Echoes, Enemies to Scan, Legendary Beasts, Stim Canisters, Encrypted Logs and Terrarium Seeds on the planet Bogano, look at the maps of the locations to which links you will find below.
Remember that not all locations will be available to you without having specific Jedi Force Power, Abilities or BD-1 Droid Upgrades.
Bogano
YouTube Walkthroughs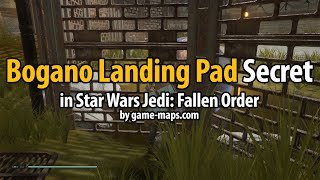 Bogano - Landing Pad Secret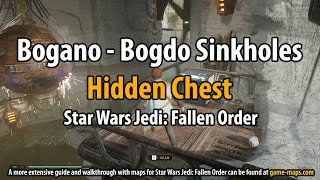 Bogano - Bogdo Sinkholes Hidden Chest Walkthrough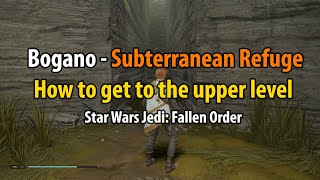 Bogano Subterranean Refuge - How to get to Upper Level
Bogano Planet Completion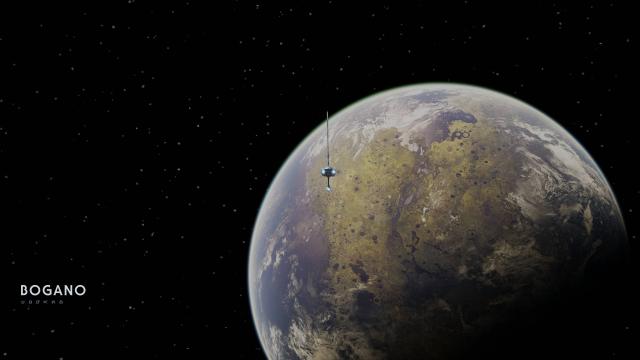 Chests
16

Secrets
6

Encrypted Logs
6

Force Echoes
30

Save Points
8

Enemies to Scan
4

Legendary Beasts
1

Stim Canisters
2

Life Essences
2

Force Essences
2

Terrarium Seeds
2

Shortcuts
4
Required Abilities








You will not be able to discover all the mysteries of the Bogano planet during the first visit. You will have to come back here again at least once with Force Powers, Abilities and Doid Upgrades you earn in the following locations.
Main tasks on the planet Bogano
Meet BD-1, your droid companion in Fractured Plain
Learn Wall Run Ability in Subterranean Refuge
Listen to the recording of Eno Cordova in Ancient Vault
Unlock Zeffo Planet in Ancient Vault
Unlock Dathomir Planet in Abandoned Workshop
Quests
on Bogano Planet
Chapter 1
1. The Journey Begins
Cal Kestis, a former Jedi Padawan, has been hiding out on Bracca since Order 66. Cal joined a scrapping crew and lived in hiding for years, but blew his cover when he used the Force to save his friend Prauf from a deadly fall. This prompted the ruthless Second and Ninth Sisters to attack him. Cal was narrowly saved by two mysterious individuals: Cere Junda and Greez Dritus. Now, they find themselves on the remote planet Bogano, ready to discover the secrets of an ancient Vault...
2. Rebuilding The Jedi Order
After revealing she no longer uses the Force, Cere sent Cal to an ancient Vault. Along the way, Cal found a friendly droid named BD-1 who joined his quest. On their journey, Cal reached out to the Force, remembering his ability to Wall Run. Inside the Vault, BD projected a message from Master Eno Cordova detailing how he hid a holocron containing a list of known Force-sensitive children within. To access it, Cal must find the tombs of three Zeffo Sages. With BD's aid, Cal embarks on a journey to rebuild the Jedi Order...
Chapter 6
1. The Lost Holocron
Cal and BD brought the Astrium to the Vault and found the holocron. Cal was swept into a vision. Younglings training, only to be ambushed by the Empire! A battle, death, torture, Cal as an Inquisitor. When he awoke, Trilla stood before him. Cal pulled her lightsaber, thrusting him into a Force echo: Cere and Trilla tortured, Trilla's turn, Cere's escape. When he returned, Trilla and the holocron were gone. Cal ran back to the ship and told Cere. She reached out to the Force, took up Trilla's lightsaber and knighted Cal...
Encrypted Logs
on Bogano Planet
There are 6 Encrypted Logs on Bogano.
Archive One - Discovery (3) - Cordova's Journey
1. An Ancient Sphere - Bogdo Sinkholes
2. Sage, Vault And Tomb - Hermit's Abode
Archive Three - Dathomir (3) - Cordova's Journey
1. Discovering Dathomir - Abandoned Workshop
Archive Six - Vision (2) - Cordova's Journey
1. The Premonition - Hermit's Abode
2. Acquiring The Holocron - Abandoned Workshop
Archive Seven - Goodbye (2) - Cordova's Journey
2. Secrets Of The Vault - Ancient Vault
Force Echoes
on Bogano Planet
There are 30 Force Echoes on Bogano.
The Researcher (13)
1. Water Filters - Hermit's Abode
2. Research Notes - Bogdo Sinkholes
3. Research Camp - Great Divide
4. Larder - Hermit's Abode
5. Traveling To The Vault - Great Divide
6. Meditation - Subterranean Refuge
7. Frustration - Subterranean Refuge
8. Secluded Sanctuary - Subterranean Refuge
9. Cordova's Padawan - Subterranean Refuge
10. Old Memoirs - Abandoned Workshop
11. Weather Sensor - Abandoned Workshop
12. Droid Cairn - Abandoned Workshop
13. Faded Mural - Abandoned Workshop
Flora And Fauna (4)
1. Bog Rats And Splox - Hermit's Abode
2. Mysterious Skeleton - Abandoned Workshop
3. Para Fish - Subterranean Refuge
4. Zaur - Subterranean Refuge
Bogling Studies (5)
1. Bogling Corpse - Bogdo Sinkholes
2. Dead Bogling - Fractured Plain
3. Bogling Tunnel - Landing Pad
4. Boglings - Bogdo Sinkholes
5. Dead Splox - Binog Mesa
Remnants Of A Lost Civilization (6)
1. Offerings - Ancient Vault
2. Inscriptions - Ancient Vault
3. Ancient Bones - Great Divide
4. The Vault - Ancient Vault
5. Zeffo Colony - Fractured Plain
6. Resting Place - Great Divide
The Creature (2)
1. Binog Mural - Binog Mesa
2. The Binog - Great Divide
Tactical Guide Updates (4)
Bog Rat - Great Divide
Oggdo - Great Divide
Splox - Great Divide
Oggdo Bogdo - Bogdo Sinkholes