Bogdo Sinkholes Map | Bogano for Star Wars Jedi Fallen Order
Walkthrough for Bogdo Sinkholes zone with Bogdo Sinkholes Map on planet Bogano in Star Wars Jedi Fallen Order with location of Puzzles, Secrets, Chests, Databank Force Echoes, Stim Canisters, Encrypted Logs, Force Essence, Life Essence and Terrarium Seeds, Enemies and Legendary Beasts to Scan for Tactical Guide. Star Wars Jedi: Fallen Order Maps & Walkthrough.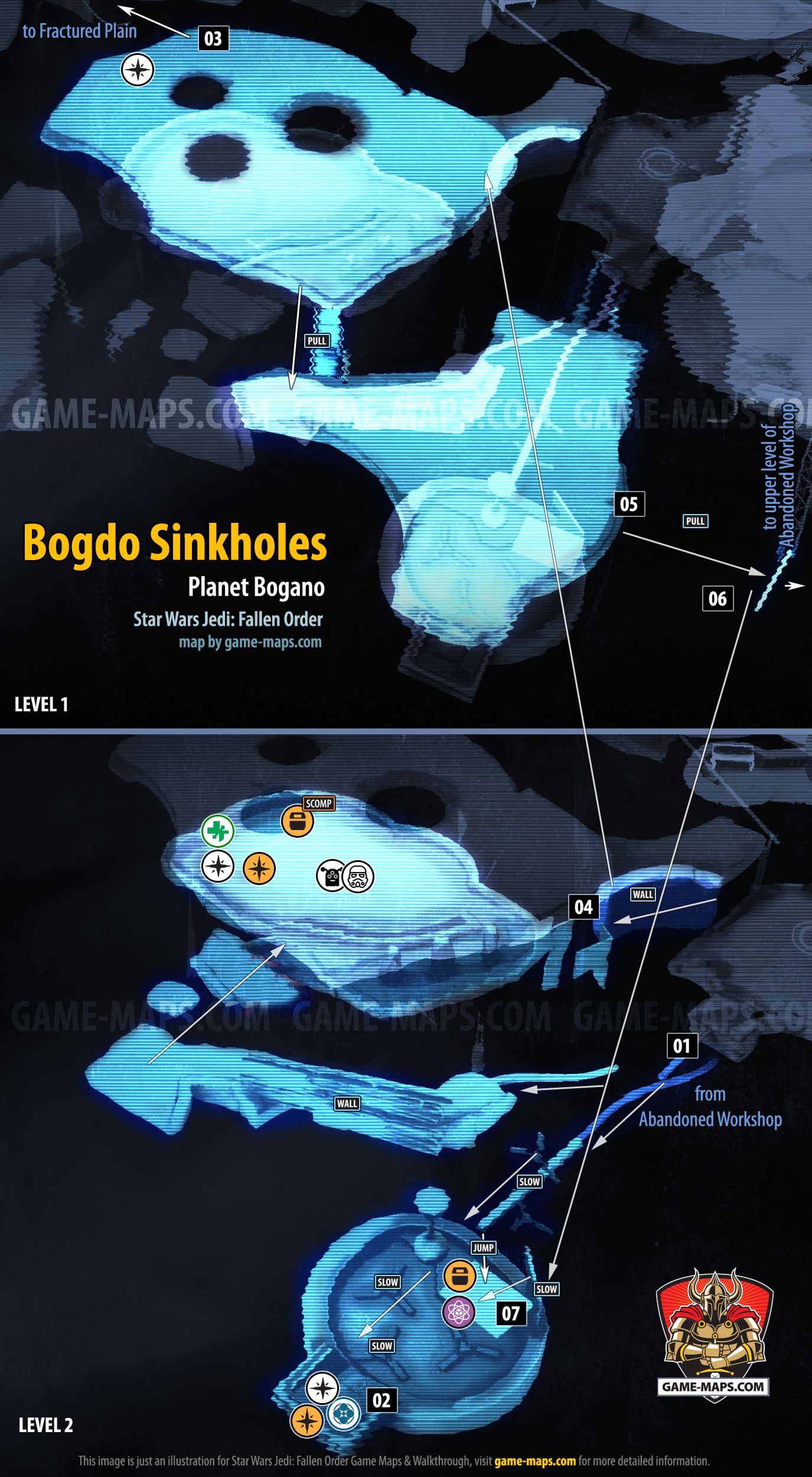 Bogdo Sinkholes Completion
Bogano Planet

Chests
2

Secrets
2

Encrypted Logs
1

Force Echoes
3

Enemies to Scan
1

Legendary Beasts
1

Life Essences
1

Force Essences
1
Required Abilities




You will not be able to discover all the mysteries of the Bogano planet during the first visit. You will have to come back here again at least once with Force Powers, Abilities and Doid Upgrades you earn in the following locations.
Bogdo Sinkholes Walkthrough
on Bogano Planet
01
Passage from Abandoned Workshop
03
Zipline to Fractured Plain
04
To upper Level 1 of Bogdo Sinkholes
🔃
After you learn Force Pull in Tomb of Miktrull on Zeffo
05

Pull Rope
06

Turn round, swing and jump inside to [07].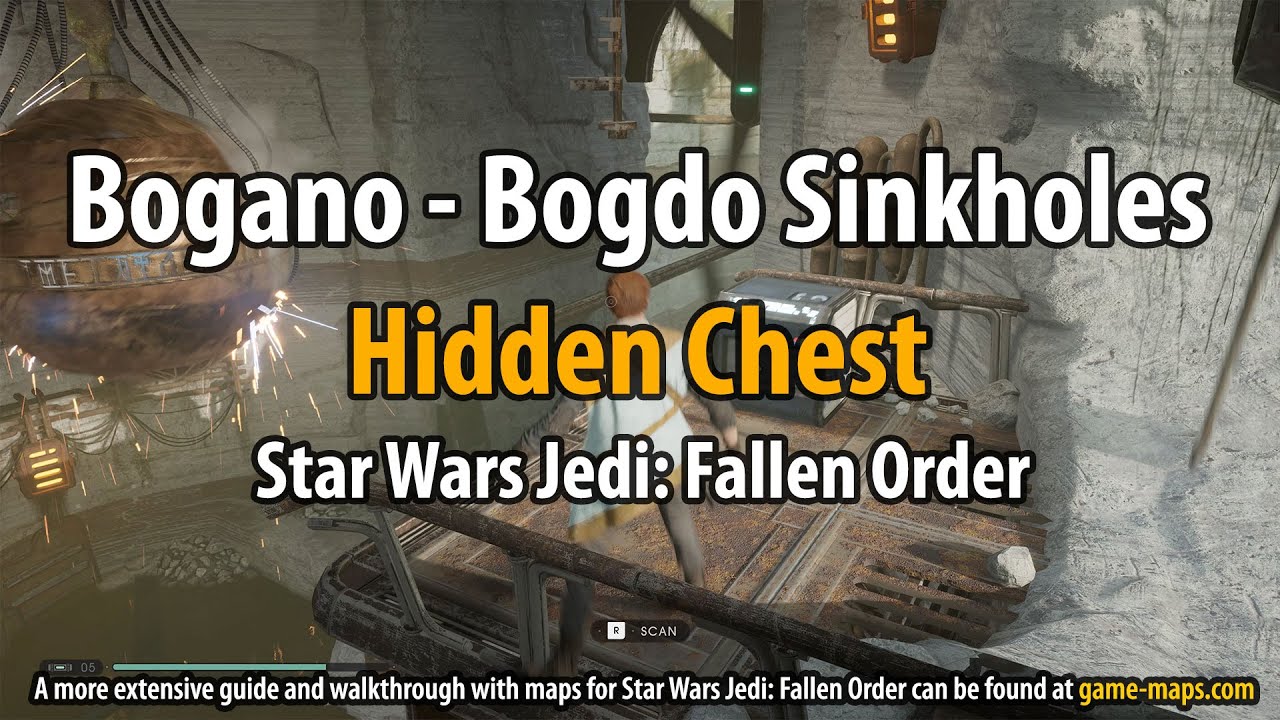 Bogdo Sinkholes Hidden Chest YouTube
07
Chest and Force Echoe
An alternative route to the chest, bypassing [05] and [06] requires Jedi Flip, double jump.
Secrets
in Bogdo Sinkholes

Secret - Force Essence

Secret - Life Essences
Chests
in Bogdo Sinkholes


Chest: Poncho Material - Sumi

Chest: Mantis Paint Job - Republic
Tactical Guide Updates
in Bogdo Sinkholes

Oggdo Bogdo
Sever the tongue with a combination of the Force and lightsaber attacks. Highly aggressive, tremendous speed, powerful stamina, and lightsaber resistant.
The rare Oggdo Bogdo is a fiendishly formidable abomination, even deadlier than its common relative. This hyper aggressive predator attacks with ferocity, constantly maneuvering toward its prey to inflict greater injury at close range. The creature's speed and stamina are unmatched, making it difficult to parry or strike its lightsaber resistant shell straight on.
Legendary Beasts
in Bogdo Sinkholes

Oggdo Bogdo
Force Essences
in Bogdo Sinkholes

Force Essence
Life Essences
in Bogdo Sinkholes

Life Essence
Encrypted Logs
in Bogdo Sinkholes
Archive One - Discovery (3) - Cordova's Journey

1. An Ancient Sphere
"My Friend, I've unearthed a curious artifact. An ancient sphere capable of storing and conducting massive amounts of energy. Whatever civilization crafted this must be the same that created the seemingly impenetrable structure nearby!! believe studying this sphere may yield the information I need to discover who they were and why they built such a landmark."
Force Echoes
in Bogdo Sinkholes
The Researcher
(13)

2. Research Notes
Meticulous hand-crafted notes on the energy sphere left behind by the researcher on Bogano.
Bogling Studies
(5)

1. Bogling Corpse
This bogling fought back against an Oggdo, desperately trying to protect its family.

4. Boglings
Boglings are small creatures endemic to Bogano. Natural escape artists, they evolved to run on their toes. This technique allows them to quickly change direction o jump while navigating Bogano's mix of rocky and marsh-like terrain. Their furry bodies compensate for the heat lost through their bare feet.
Abilities and Upgrades
giving access to locations.
Force Power Abilities, BD-1 Droid Upgrades and other Abilities will alow you, as they are discovered, to visit previously inaccessible locations. If you encounter a place you can't reach or enter, go exploring further to find more skills or abilities , then come back and try again.
Force Power Abilities

Force Slow - you know this power from the beginning of the game, it allow you to slow down time.

Wall Run - you will learn this power relatively early on the planet Bogano in Subterranean Refuge, it allow you to run for a short while on some vertical ridged walls.

Force Push - you will learn this on planet Zeffo in Tomb of Eilram, it allow you to push objects and enemies.

Force Pull - you will learn this on planet Zeffo in Tomb of Miktrull, it allow you to pull objects, enemies abd open passages.

Jedi Flip - you will learn this on planet Kashyyyk. it is long double jump.
BD-1 Droid Upgrades

Scomp Link - you can find Scomp Link on planet Zeffo but you will need Force Push, it will allow you open locked doors and chests.

Overcharge - you will get this on planet Kashyyyk, BD-1 can turn machinery on and off.

Slice - First Slice: Security Droid you will find on planet Kashyyyk, it allow BD-1 to control damaged security droids. Second Slice: Probe Droid you will find on Zeffo, it allow to control damaged probe droids.

Powered Zipline - on Zeffo after Kashyyyk, it will allow you to travel up and down ziplines.
Equipment

Underwater Breather - you can learn it on Kashyyyk, it allow to explore undewater locations, You need this skill to dive under water.

Climbing Claws - you will find Climbing Claws on planet Dathomir, they will allow you to climb on new types of walls.